The best pizza places in Ottawa are serving up the perfect slice!
In Ottawa, there's no shortage of incredible pizza places. In the city you can find authentic Italian pizzas like Neopolitan to modern takes on the dish like Canadian pizza, you can even customize your own pie. So whatever is it you're looking for from hole-in-the-wall spots to upscale restaurants, you can get a taste of Italy right here in Ottawa!
We chose the pizzerias based on customer reviews, the variety of toppings they offer, quick service, and the high-quality taste of their pizzas.
Ottawa is a great city for Italian food. If you can't get enough of Italian fare, you'll love the best plant-based pizzas and the best Italian restaurants in Ottawa!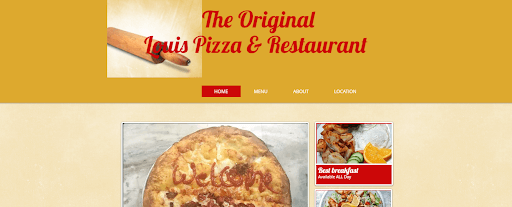 You know the drill – you're hungry, the kids are hungry and there's nothing in the fridge. Again. What you need is a hot, delicious meal that won't break the bank – and Louis Pizza has just what you're looking for. 
From their famous pizza to a range of other mouth-watering dishes, they've got something to satisfy everyone in the family. And if you're short on time, no problem – their take-out service means you can have a piping hot meal on the table in no time at all. 
So next time hunger strikes, head to Louis Pizza – your tummy will thank you for it!
"This pizza is irrationally good. It's fantastic. The cheese is very cheesy and the crust is doughy and good. It's the perfect greasy comfort food."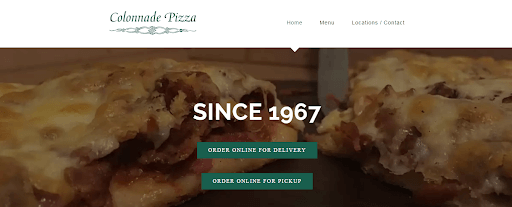 Colonnade Pizza has been serving up some of the best pies for over 25 years, and there's a reason why people keep coming back. The crust is delicious, with a crunchy exterior that's unbeatable. 
Plus, they've got all sorts of specialty pizzas to choose from. If you're feeling adventurous, try the Pizza Burger – it's made with ground beef, mushrooms and green peppers. Or if you're in the mood for something light and fresh, go for the Mediterranean pizza with black olives, feta cheese, sweet red peppers and artichokes. 
Either way, you'll be sure to leave Colonnade Pizza feeling satisfied. 
"It's another level of pizza, with lots of cheese with very nice crunchy edges. Meat lovers and Canadian are amazing. They also have a spicy olive oil (just a little tasty, almost not spicy) that is delicious. I loved getting to know this place, lots of locals and cozy space."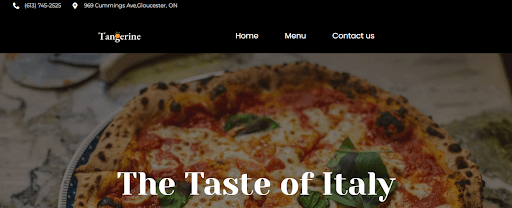 At Tangerine, they take their Italian cuisine very seriously. Every dish is prepared from scratch each day, using only the freshest ingredients sourced from local providers. Their menu features all of the classics that you would expect to find in an authentic Italian restaurant, as well as a few gourmet twists. 
Their signature Tangerine pizza is a must-try, featuring mushrooms, pepperoni, bacon, green peppers, olives and – of course – tangerine sauce. Whether you're in the mood for a simple Margherita or something a little more adventurous, you're sure to find something to your taste at Tangerine. Bon appetit!
"This is the best pizza in the Ottawa area. The crust is soft with a delicate crunch on the outside and the sauce is homemade and flavourful. The cheese is perfect and they do not go shy on toppings.Not to mention their homemade garlic dip is excellent."
4) Fiazza Fresh Fired Byward Market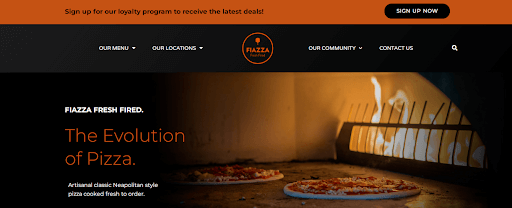 At Fiazza, you can't go wrong with one of their amazing signature pizzas or create your own from the menu. They have Neapolitan-style pizzas that are cooked fresh to order in high-temperature Woodstone Ovens. Fire is what makes them authentic! 
You can order the classic thin crust with mushrooms and it wouldn't disappoint! They also make the vegan crust as well as vegan cheese, pesto sauce, mock meats, tofu, and a bunch of veggie toppings. 
So whether you're a diehard carnivore or a plant-based eater, you'll find something to love at this pizza joint. And trust me, their pizza is so good that you won't even miss the meat!
"The best tasting pizza I've ever had! I loved the large selection of fresh toppings and the incredible pizza dough. I was very impressed with the fast service and the very friendly staff! If you haven't tried Fiazza pizza yet, you are missing out!"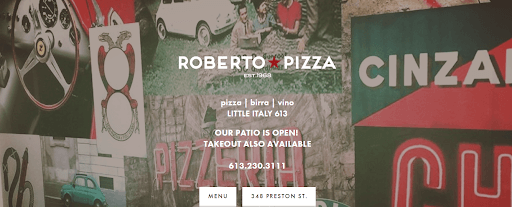 Ottawa is a great place to find good pizza, and Roberto's pizza has the perfect slice. The service is incredibly friendly and the dine-in area is quaint and speaks volumes of their deliciousness. These guys really know how to make some great-tasting pizzas!
They have a variety of different types of pizzas like Pirlo made with homemade tomato sauce, fresh mozzarella, prosciutto, arugula and shaved pecorino. And if you want to try something unique, order Bria. This pizza has some smoked salmon, capers and red onions. It's a great place for pizza lovers to find good pizza.
"Loved my pizza that I got here. The crust was the perfect combo of chewy, but crisp. Toppings were delicious. It was ready within 10 minutes of ordering. Definitely worth checking out for you next pizza craving."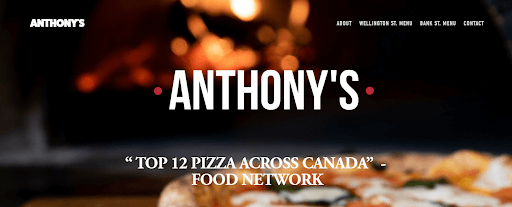 The next time you are looking for a delicious pizza, be sure to check out Anthony's. The Rustica, with cherry tomatoes, arugula and shaved parmesan, is a fantastic option. The toppings come together perfectly to create a light and flavorful pizza.
 In addition to great food, Anthony's also has a cozy atmosphere, perfect for a date night or evening with friends. And if you are worried about being too full after eating an entire pizza, don't worry – they offer individual sizes that are perfect for one person. 
So whether you are looking for an amazing meal or just a slice of heaven, be sure to check out Anthony's.
"Wood oven pizza done to perfection. Some great varieties on the menu - mine had gorgonzola, hers had prosciutto. The crust is so key for these Napoletana pies, and they nail it time after time. Friendly service and simple, comfortable settings."
7) The Grand Pizzeria and Bar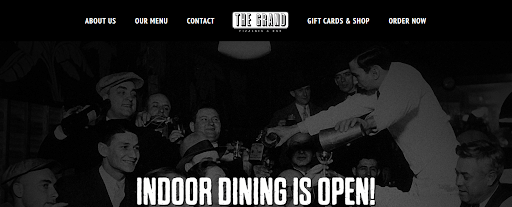 The Grand is an Ottawa landmark. Built on the site of Canada's first tourism hotspot, which opened its doors in 1882 and closed down due to fire nearly 100 years later. In 2009, The Grand was reborn. 
Artfully combining traditional recipes and modern décor they created a beautiful place to have a nice dining experience.  Their real Napoletana pizza has only one size, and it's the perfect combination of deliciousness. 
The dough is made with refined type 00 Italian wheat flour kneaded by hand; topped off with raw tomatoes that have been pureed from San Marzano grown just north in Italy.  They use special mozzarella di Bufala cheese made from water buffalo milk. 
The result is a light and fluffy pizza that is bursting with flavour. If you're looking for a truly unique dining experience, then you need to check out The Grand.
"Absolutely loveeee their pizzas, pastas and the meatballs in marinara sauce. It was so delicious and had great flavours. Quality of food and the overall experience was great!! Thank you so much for serving wonderful food in our community :)"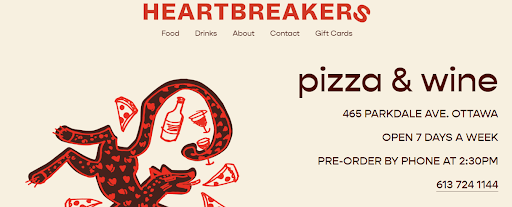 Heartbreakers Pizza is the perfect place to host your next dinner party. Not only do they specialize in delicious food, but their pizzas are made from organic flour and sourced locally. This supports the local farmers who grow their ingredients and prioritizes freshness over anything else. 
You'll find no artificial flavours or preservatives at Heartbreakers Pizza. Their natural wine bottle shop stocks only high-quality wines that go perfectly with different pizzas on their menu. 
For a truly unique experience, try their special Fennel & Sausage pizza with aged and fresh mozzarella, Älska Farms pork sausage and roasted fresh fennel. You won't be disappointed!
"Best pizza in the city hands down. Get the garlic sauce to dip in your crust. I'd also say the celebration cake is a very yummy dessert. Go for the combo if you like kale salad and chicken wings. Never disappoints."
FAQs About Pizza in Ottawa
The pizza parlours in Ottawa are second to none and they have a huge variety of toppings and pizza styles. These pizzerias all have amazing pizzas and are sure to be your new favourite. So whether you want a classic cheap slice or want to visit an upscale, gourmet pizzeria, there's a spot on this list for you!
If you're a pizza fanatic looking for an amazing pizza pie, the best pizza places in Ottawa are a must-visit!