The most expensive restaurants in Ottawa will provide you with an unforgettable experience!
Mark a special occasion by visiting the most expensive restaurants in Ottawa. Ottawa is a city with endless culinary delights. Some of the best restaurants in the country are in the capital and there's something for everyone.
This list features a diverse group of restaurants from huge tasting menus to multi-course meals and Italian fare. We, of course, chose these restaurants based on how expensive they are. But aside from being expensive, they are also excellent in their own right. These restaurants boast inviting, luxe atmospheres, innovative, top-class trained chefs, the freshest ingredients, and amazing menus!
For more upscale dining in the city, vist the best French restaurants in Ottawa and the best Italian restaurants!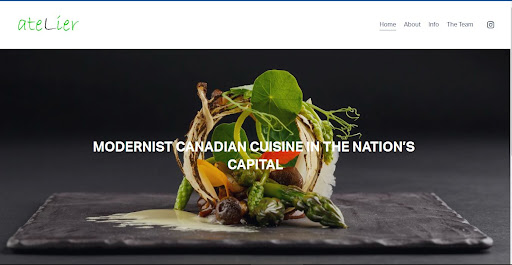 Atelier is a unique dining experience unlike any other. Chef Marc Lepine (the owner) spent time in France and Italy before moving to Canada with the intention of eventually opening his own restaurant. 
He received both sommelier certifications from Algonquin College as well as 6 years working at Courtyard Restaurant where he was twice named 'Ottawa Chef Of The Year' by the Canadian Culinary Federation. 
For $200 per person, guests can enjoy a 44-course tasting menu that is interactive and engaging. With wine pairing options available for an additional cost, Atelier is the perfect place for a special night out. 
The full wine pairing option is $150 per person and includes a selection of red and white wines. The half wine pairing option is $100 per person and includes either all red or all white wines. 
 Chef Marc Lepine and his team will do everything to make your visit to the restaurant unforgettable.
"Excellent restaurant, me and my wife enjoyed every moment of our 4 hour meal which was a 44 course menu with wine peering. Our server was Excellent, the sommelier was outstanding., The meal was amazing and everyone in general was just awesome. The whole experience was a very interactive journey of a night of blind tasting which made for an excellent 13th Anniversary dinner for me and my wife. After our meal we got a chance to go back to the kitchen and also take a few pictures with the chef. EXCELLENT NIGHT. We will most definitely be back and I recommend this place to everyone who is a food lover."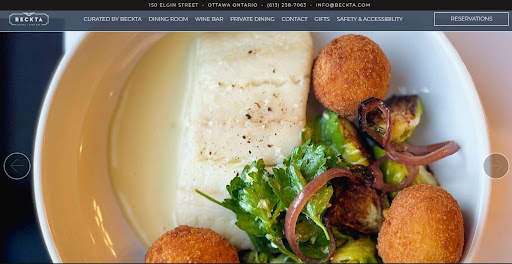 You'll feel like royalty in Beckta's fine dining rooms. They are located on the ground and second floors of their beautifully restored heritage building. You'll be surrounded by history as they make your experience one to remember for years. 
They have assembled an incredible team, known for exceptional hospitality, and to care deeply for you during your time with them. Their five-course tasting menu starts at $125 per person with an optional wine pairing for $75 per person.
Beckta's Wine Bar is the perfect spot to enjoy some wine with friends. The atmosphere there isn't as formal, so you can chat comfortably while enjoying your meal on their high-top tables and bar seating.
Curated by Beckta is a new way to elevate your at-home dining experience. For intimate dinners or group gatherings, they offer passports for adventure in every box. With compelling fine dining meal kits that are individually curated with the perfect selection of wine packages and so much more- you'll never want dinner parties any other way. 
"My fiance and I went for our anniversary dinner and needless to say, it was definitely one of the best meals we've ever had. We chose the tasting menu and every item was delicious. The service was beyond exceptional and they even brought us a glass of champagne at the beginning to wish us happy anniversary. Strongly recommend for a special night out."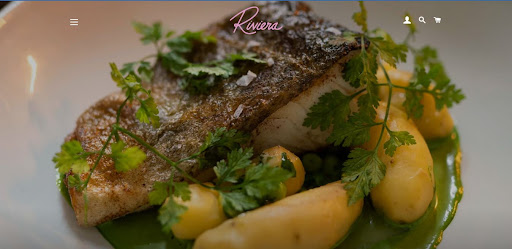 Riviera is one of those restaurants you want to visit again just for the experience and quality service they provide, which gets topped off by excellent food. The food at this restaurant is out of this world. 
Their most expensive item on the menu is a seafood tower that starts at $90, but can go up to $170 with more options. Here you will be served a range of seafood such as lobster and crab legs that are pre cut – so all you have do eat delicious pieces of it!
The steak and frites are both mouth-wateringly delicious, as well as their mushroom toast which (you might agree) would be an excellent choice for someone looking to sample something new on the menu. 
They cook amazing spinach ravioli which sends its taste throughout every inch of your mouth. Purple Rain cocktail is waiting for you if you want something spicy. The raw beef tartar and tuna taco shells paired perfectly on top of some fresh vegetables in their own salsa – what a taste. 
The burrata cheese is also amazing as well as lobster pasta which manages to pack quite an intense flavour considering its simplicity; it makes you want more even after just one bite. And don't forget about desserts: they have lovely options like peanut butter cups covered gently with whipped cream.
The staff throughout your meal are very attentive without being overbearing or hovering – they really take care of customers and also make sure everything comes up correct from start to finish.
"This was the only nice dinner I had out in Ottawa and it didn't disappoint. The host was extremely attentive to my travel itinerary, and the food was great. I was hoping to have the elk bolognese, which was on the online version of their menu, but it wasn't on the current menu so I had the spinach ravioli instead, which was phenomenal! The Martinez cocktail was a great riff on a Manhattan. The Purple Rain cocktail was a bit bland for my tastes, but pretty."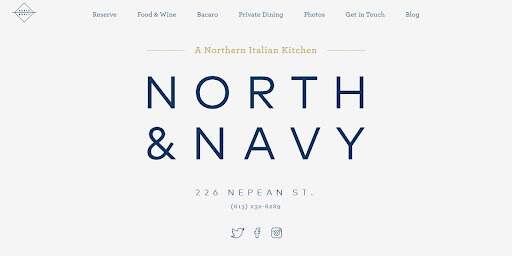 North & Navy is the perfect place to go for an amazing dining experience. With its incredible attention to detail, we guarantee that you will be dreaming about your meal long after it's over. The team is all about taking traditional dishes and making them their own. 
Inspired by the similarities between Eastern Ontario's climate and Northeast Italy, they play off of both cuisines to create something new for you. The food there is delicious. The carpaccio and halibut dishes are definitely worth trying.
The most expensive dish on the menu is the Bistecca alla Fiorentina. At $200, it is certainly not an inexpensive meal, but for those looking to splurge on a truly incredible steak, this is definitely the dish to order. 
The short rib ravioli in jus/whey sauce is an extremely flavourful meal. The squid ink pasta is a must-have, as well as any dish served up with their signature beef. The bar menu is equally tantalizing with an extensive Italian wine list to choose from or you can just order one of their signature cocktails created by Chef Dan; it's clear they take pride in their work.
The staff are friendly beyond belief–they constantly offer you drinks from an amazing selection and make sure everything they bring from the kitchen comes out perfect. 
"Had dinner here with a friend last September and had the best time. The food was delicious (The carpaccio and the halibut in particular were incredible) and the service was wonderful. They brought us a blanket when it got chilly, made us amazing cocktails, and our server (Carlos?) was a delight. Thanks for the great experience!"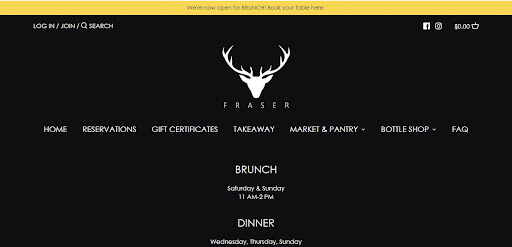 Fraser has been a part of the New Edinburgh scene since 2008, offering seasonal and local dishes with a personalized dining experience. The average cost for a meal here is$90 for two people.
The menu is creative and varied, with a focus on fresh ingredients. The cocktails and wine list are carefully selected to complement the food, and the staff are knowledgeable and passionate about their work. 
The restaurant is cozy and intimate, with candles and nooks creating a romantic atmosphere. Whether you're looking for a special date night or a casual meal with friends, Fraser is the perfect spot.
"Love love love Fraser Café! The food is AMAZING, every bite is so flavourful. Portions are great. I like the atmosphere inside the restaurant and their decor. The servers are cheerful and enthusiastic to be serving you. The food is delicious, the restaurant is classy, we had a wonderful night. Highly recommend for a special dinner date."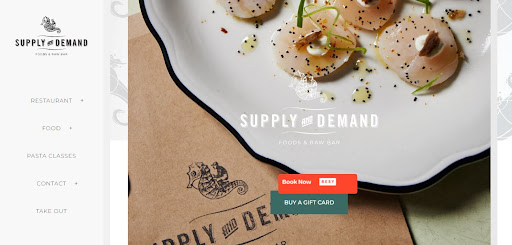 Supply and Demand are excited to offer their guests a warm and inviting atmosphere, whether they're coming in after work or celebrating an important occasion. You can drop in with friends and colleagues to share a few oysters or enjoy some bread & pasta together with your family as well.
They offer a menu of light raw bar dishes, vegetable-focused small plates, as well as savoury, rustic pasta. Fresh rolls that came drizzled in duck fat butter are delicious. The Strozzapreti Verde with Fennel Sausage Ragu gives you the feeling you have never had before. Tuna Crudo is also an awesome dish to try.
Their menu changes are based on what local farmers and suppliers can offer them. If you have any food allergies or dietary restrictions, don't hesitate to let them know when making your reservation- they'll take care of it. They do whatever it takes for a perfect experience at their restaurant.
The staff are incredibly friendly–they make you feel like family from the moment you walk through those doors until your meal is finished.
"Incredible. From the moment you walk in the door, this place makes you feel like you've been welcomed home with a warm hug! The staff are incredibly attentive, entertaining, friendly and knowledgeable about the food, wine and cocktail menus. The owners, Jen and Steve, set the example. They are extremely hard-working and engaged with their business and their customers. The atmosphere is romantic, fun, light, and trendy. They are gladly able to cater to personal dietary needs and preferences and the food, drinks and wine are exceptional. The menu changes regularly, but adoring fans of mind-blowing staples like the tuna crudo, squid ink rigatoni and kale salad will still have their favourites. This place is by far our favourite restaurant...in the WORLD! We love you Supply and Demand!"
FAQs About the Most Expensive Restaurants in Ottawa
Ottawa is home to plenty of luxurious dining experiences. If you have a special cause for celebration, visit these expensive Ottawa restaurants. The high-end restaurants on this list are serving gourmet delights that are sure to please!
If you're looking for a memorable night out, the most expensive restaurants in Ottawa are certainly worth the splurge!