Ottawa is home to a large and vibrant Indian community, so it's no surprise that the city has some of the best Indian restaurants in all of Canada! If you're looking for an authentic Indian culinary experience, Ottawa is definitely the place to be.
From traditional curries and tandoori chicken to modern fusion dishes, there's something for everyone at these six amazing Indian restaurants.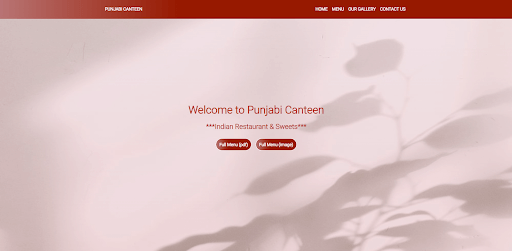 Punjabi Canteen has a variety of food from fast-food to restaurant style dishes. They are known for their spicy, sweet or non veg options which can cater any taste bud! Their drinks and desserts will fill you up nicely after dinner under one roof with friendly service that provides the perfect ending touch no matter what time it is!
You must try their Veg Hakka special which is noodles that are stir fried in soy-based sauce with onion, bell pepper and cabbage. Their mango Lassi is the best!  The Butter chicken, Coconut chicken, Veg Jalfrazi, Tandoori chicken are also great options for the whole family!
"Authentic north indian food, one of the few very good places in Ottawa where the food tastes really fresh and scrumptious. Amritsari kulcha is a must try the chole they give with that is a highlight though. Friendly service by the cashier also."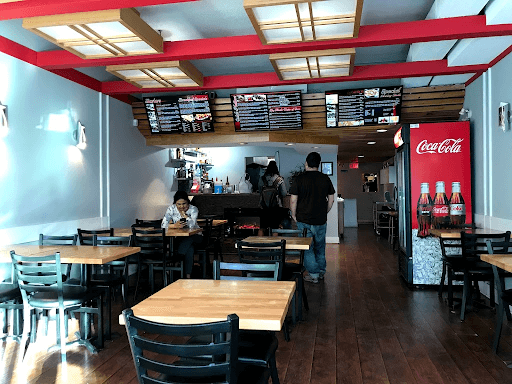 Roast N Curries is the perfect spot for anyone looking for a great meal – whether it's a casual lunch or dinner, family outing, business meeting or date. They have a diverse menu with flavors that will appeal to everyone. 
You can start your meal off with Bhel Puri which is a delicious mixture of puffed rice, tomatoes, chickpeas and veggies served with flavored sauce. If you're looking for something more filling then their combo selection like Shrimp Curry Combo will be just right. 
No matter what you're in the mood for, Roast N Curries has got you covered!
Website: roastncurries.ca
Phone: +16135630111
Address: 197 Bank St, Ottawa, ON K2P 1W7, Canada
"Very nice and yummy experience!! Warm welcome and well seated. Got the Lamb Korma and Chicken butter. We are regular customers of Indian cuisine, and this place really surprised us by the rich flavours of the sauces. The combos are at a decent price, which comes with a drink, a naan bread (nature, garlic...) a samosa (3 types to choose from) and the rice and meat. Would definitely go back on our next visit to OTT-GAT."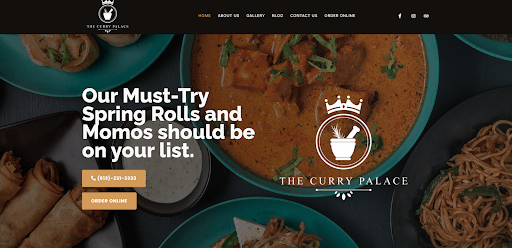 The Curry Palace is the spot in Ottawa to get your Indian culinary cravings fulfilled. From Spring rolls and butter chicken, all of your favorites like maharajah spiced lamb shank or Kingfisher beer fish curry. 
You also will love their specialties such as biryani rice dishes cooked with various spices including saffron which they think makes them really stand out amongst other restaurants' versions – try this one for sure!
The menu at this Indian restaurant is meat heavy, but there are plenty of vegetarian options for those who might not want any beef or pork. You can order the rich Daal Makhani and Paneer Makhan for those who love paneer cheese!
"Wonderful food and fantastic service. They were very kind, they even gave my daughter a free delicious Mango and Yogurt drink. The Butter Chicken was great, the Naan was fabulous and the lamp Kurma was hilarious. I'm definitely repeating my visit to this restaurant."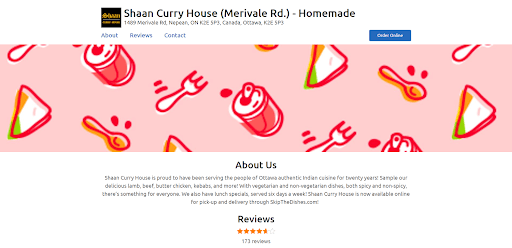 Shaan Curry House has been serving up delicious Indian cuisine to the people of Ottawa for over 20 years now, and there's no sign of them stopping anytime soon! 
With a wide variety of lamb, beef, butter chicken and kebab dishes on their menu – not to mention their vegetarian and non-vegetarian options – everyone is sure to find something they love. They also have lunch specials available six days a week! 
Why not try out their multi-dinner set with friends and family? You'll be able to taste test all sorts of amazing flavours from this amazing restaurant. The chicken tikka masala and chickpea curry are definitely stand out dishes that we can't recommend enough.
Plus, Shaan Curry House caters for those who like seafood as well as meat lovers – so you're guaranteed something special no matter what you order!
"By far, the best Indian food in Ottawa. Quality and authenticity of recipe and ingredients. You can actually taste the cream and the ground cashews in the Butter Chicken. No sugary fillers that a lot of ethnic fast food places use to save time. Terrific selection of vegetarian dishes!!! Super cozy atmosphere inside with huge plants everywhere - you almost feel like you're in a greenhouse. My favourites are goat curry and daal. :)"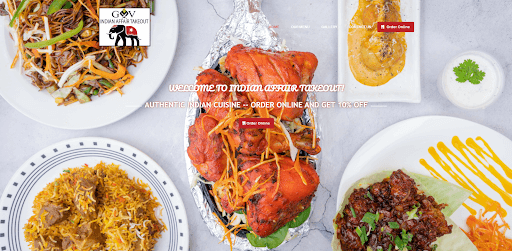 Indian Affair Takeout is a favorite among locals and visitors alike for its modern interpretation on classic dishes, excellent service that's friendly down to the last person who walks through those doors. 
You can try their special dishes like papdi chat which are crispy dough wafers topped with boiled potatoes, sweet yogurt, mint and tamarind sauce or tandoori prawn which are marinated in ginger, garlic, lemon juice and Indian spices. 
Not to mention that they serve some of the best chicken coconut curry and mango lamb curry in town!
"I'm so impressed with this place. Good Indian food is not always easy to find in Ottawa. And most surprising is that they also serve Hakka (Indo-Chinese) food, which is even more rare in Ottawa. Their noodles are on point. For Indians, you can't go wrong with the butter chicken, the vindaloo, the naans, and their tandoori chicken. SO SO SO good, check it out!!"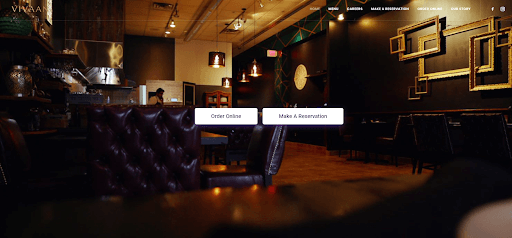 The food here at Vivaan is so authentic. The dishes have amazing flavors and  five-star presentations which makes for a great experience as well! The service there also leaves nothing short of perfect. Their staff will help you with recommendations on the menu if you don't know what to choose. 
The tandoori paneer will bring the true Indian taste in one single bite. Not to mention the Maharani cocktail (gin, rose, lemon) that is so refreshing on a hot summer day. 
And they're incredible signature dessert Shahi Tukda will not disappoint. This restaurant truly provides the gourmet Indian food experience.
Website: vivaanottawa.com
Phone: +16132656444
Address: 225 Preston St Unit 3, Ottawa, ON K1R 7R1, Canada
"Best Indian restaurant in Ottawa. Was a great experience dining here. Presentation of the food was awesome. Had Reshmi Kebab, Vegetable Pulao, Malai Kofta Curry and Onion Kulcha. All items with the perfect blend of spices tasted delicious. We loved Onion kulcha with Malai Kofta curry."
7) Ishina Distinguished Indian Cuisine Inc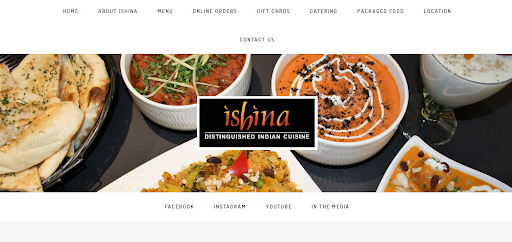 Ishina is a unique Indian restaurant that specializes in providing its customers with the most authentic Indian flavours. The restaurant draws inspiration from India's rich culinary heritage and believes in only delivering high-quality food. Ishina also offers a variety of delicious dishes for vegans, vegetarians and meat-lovers. You can try their amazing beef curry with chana masala, basmati jeera rice and butter naan. 
Beef stew cooked with tomato, onions, fresh ginger garlic and freshly grounded Indian spices, chickpeas cooked with tomatoes, onions and potatoes served with cumin flavored basmati rice and charcoal clay oven baked white flour bread topped with butter will give you an unforgettable Indian flavor of warmth and comfort. Whether you're looking for an intimate dinner date or some delicious snacks to take home, Ishina has something for everyone.
Website: ishina.ca
Phone: +16137211067
Address: 14 Bexley Pl #100, Nepean, ON K2H 8W2, Canada
"We got their Saturday special today Hakka Cuisine. It had fried rice, noodles, Manchurian and also a veggie stir fry. Everything was so yummy. Attached with it was a cute thank you card with an offer of free dessert on next week's order. All the food was fresh and delicious with great portions. We will definitely order next time. Thank you very much for your wonderful service."
FAQs about Indian Restaurants
Indian food is a favourite for many people, and Ottawa has no shortage of amazing Indian restaurants. The six establishments listed above are some of the best in the city, so be sure to check them out if you're looking for an authentic culinary experience.
From spicy curries to fragrant biryani rice, these restaurants have something to satisfy everyone's taste buds. So next time you're in Ottawa, be sure to give one (or all!) of these spots a try!