The best Thai restaurants in Ottawa are serving up a delicious taste of Thailand!
Thailand's cuisine is quickly becoming one of the most popular in the world. It's easy to see why. The country's dishes are packed with all kinds of rich flavours like salty, sweet, bitter, and spicy. Every bite is sure to be as delicious as the next. 
While Ottawa is a ways away from Thailand, the city is home to many wonderful restaurants cooking up authentic dishes! We selected these restaurants based on customer reviews, affordability, inviting atmospheres, and of course, the amazing dishes on the menu!
For more Asian cuisine, head on over to the best Bangladeshi restaurants in Ottawa and the best Korean restaurants in the city!
What are the Most Popular Thai Dishes?
If you're new to Thai cuisine, don't worry! There are plenty of familiar flavours to be found. Many popular Thai dishes feature ingredients like rice, noodles, chicken, beef, shrimp, and tofu. The country's cuisine is also known for its use of fresh herbs and spices like lemongrass, galangal, kaffir lime leaves, and chili peppers.
Thai dishes can be broadly categorized into four main types: 
Tom Yum: A type of soup that is typically sour and spicy.

Tom Kha: A type of soup that is usually coconut milk-based with a strong ginger flavour.

Pad Thai: A stir-fried rice noodle dish that is often served with chicken or shrimp.

Curry: A type of stew that is usually made with coconut milk and a variety of different spices.

These are just a few examples of the many delicious dishes you can find at Thai restaurants!
The Best Thai Restaurants in Ottawa
Now that your mouth is watering, it's time to check out our list of the best Thai restaurants in Ottawa!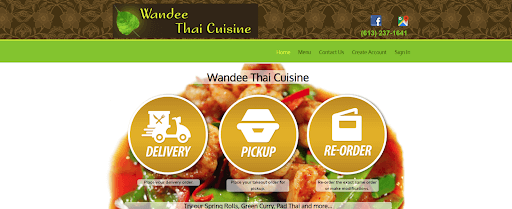 The aromas fill the air as you enter Wandee Thai Cuisine. The staff is very friendly and it's bustling with customers, which tells you they're doing something right. 
You should definitely try the green curry and Pad Ke Mao when you go out for dinner. The Khao Pad Kra Pao (beef curry dish) also tastes amazing – worth checking out whether you're looking forward or away from spice levels since they're balanced pretty well between sweet flavours while maintaining some heat in there as well. 
The portions are great, the prices reasonable and they have no problem giving you more than enough sauce for your meal.
"My husband and I ordered from here for the very first time today and we were so impressed! We have been looking for a place in Ottawa that doesn't serve "Americanized" ketchup-based pad thai for sooo long and we've finally found it! Everything we ordered was amazing. Great portions, great prices, no skimping on the ingredients, and of course, GREAT taste. We will definitely be ordering from here again!"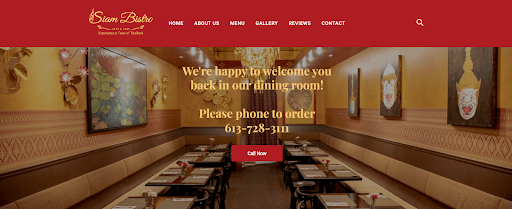 In 1989, Siam Bistro was one of the first Thai restaurants in Ottawa and still stands out for its intimate atmosphere. With over 30 years of experience, Chef Pat creates wonderfully refined flavours that dance on the palate. 
Originally from Thailand's Isaan region and with a background in one popular Bangkok restaurant, she developed high-end skills. The dishes prepared by their team are full of love and care, just as they would be in Thailand.
You will be blown away by the array of flavours that they have prepared. They use fresh ingredients sourced from all over Thailand. The aroma here is just mouthwatering; the spices are incredible.
"My new favourite Thai place. Simply put the food is amazing, highly recommend the Pad Khing. In addition to never disappointing my taste buds, the service is impeccable. Even when picking up an order to go, I'm always met with a warm smile and genuine greeting and thanks."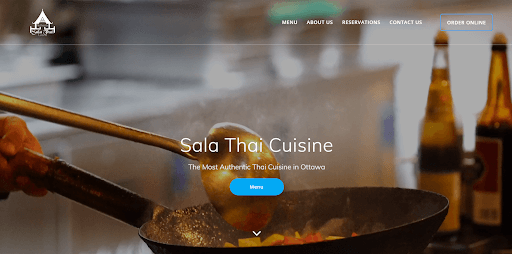 At Sala Thai Cuisine, they offer a warm and welcoming experience for all our guests. Their authentic Thai food is prepared with fresh ingredients and only the finest spices, ensuring that each dish is a work of art.
Their green curry is by far the most popular dish on our menu, but they also offer a variety of other options for those who prefer something different. Their Keow warn and sapparot dishes are milder in spice but are still packed with flavour. 
And for those with dietary restrictions, they always have halal options available. So come to Sala Thai Cuisine and enjoy a truly unique dining experience.
"Ordered 3 different curries, pad thai and the tom yum soup. The curries were amazing, especially the green curry. Keow warn and sapparot were a bit spicy. Tom yum soup is a clear broth, instead of red, as others have said so it was confusing, but the taste is similar. The pad thai was okay for us. They do offer halal options for all the chickens in the menu, which is really great so thank you for having that."
4) Sweet Basil Restaurant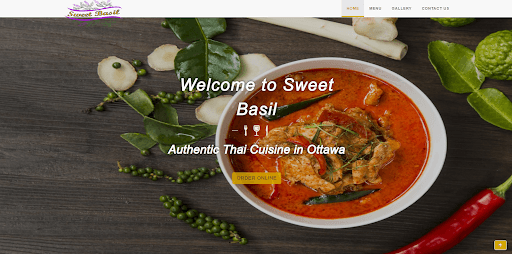 When you want to enjoy Thai food but don't have the time or money for a trip abroad, stop by Sweet Basil. This is one of those places you need to try at least once in your life. The food here tastes so authentic and they have a variety that will satisfy any appetite, not just Thai ones. 
The crispy duck with red curry sauce really hits all your notes perfectly (spice level-wise). For dessert you can have some amazing Mango sticky rice which goes beautifully together after dinner; sweet yet tart like heaven on earth. 
They never disappoint and the food always tastes fresh, with an amazing flavour that will leave your mouth watering after each bite. They take care of all allergens which means you can enjoy their delicious meals without worry – especially when there are such great options on offer. 
Whether you dine in or take out, the team will provide satisfying portion sizes with complex flavours that are sure to please. They're professionals through and through.
"My Wife and I love an actual authentic Thai food. We have tried more than 15 Thai restaurants in Ottawa and hands down Sweet Basil is one of the Top restaurants to satisfy your Thai cravings. We tried their crispy duck, red curry, beef noodles, Jungle curry and every dish was just Excellent!! There seasonal dessert Mango sticky rice is amazing as well! You get those authentic flavours along with just the right spice level! Any Thai food lover MUST try this place and won't be disappointed. There portion size is huge and no compromise on flavours"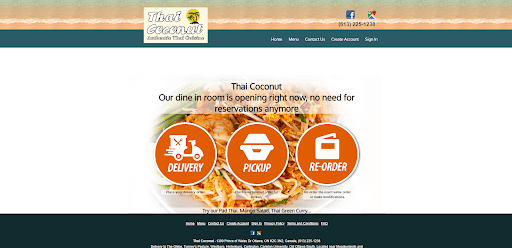 The food at this Thai restaurant is simply delicious. Tom Kha Gai is a must-have if you like lightly spicy + creamy soups. We recommend getting either red or green curry for an amazing variety in taste along with veggies that are fresh off the garden. 
You can also try their fish cakes as an appetizer; they're perfect when dipped into the sauce after tasting all those spices together. This restaurant offers large servings at an affordable price with plenty of variety to choose from.
The staff always goes out of their way with a smile on their face. The environment here feels like home-  they make sure everyone who walks through those doors gets treated right.
"I went for the lunch special and absolutely loved it. Wish I had known about it sooner. Comes with Tom yum and spring rolls. I had the spicy noodles with beef and also tried the veggie red curry. Both were great. Lots of flavour and can request the spice to your liking."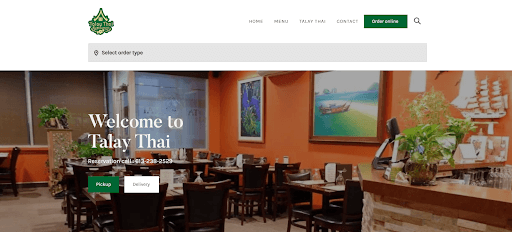 The next time you're in the mood for Thai food, Talay Thai is the place to go. You won't be disappointed by the fresh, flavourful dishes on the menu. The coconut cream soup is a particularly unique and delicious option, but you can't go wrong with any of the main courses. 
The duck in tamarind sauce and beef curry are both hearty and flavourful, while the vegetarian options are equally impressive. The food at Talay Thai is also beautifully presented, and it arrives surprisingly quickly given its high quality. 
They are a great choice for a date night or an intimate meal with friends, and the prices are very reasonable.
"Was in a rush for lunch and ordered from here since it was on my way. Very good food and great prices. Ordered 3 star spicy and thought it was perfect. Usually medium at these places is still burning hot for me. Very good consistency. When I walked in to pickup my order someone immediately greeted me. Great food, service, and fast!"
Thai food is beloved all over the world. Using plenty of fresh ingredients and bold-tasting meals, it's a cuisine unlike anything else. These Ottawa Thai eateries are serving up dishes with yummy unique flavours all for a reasonable price. What's not to love? 
If you're looking for a mouthwatering Thai meal, the best Thai restaurants in Ottawa are an absolute must-visit!