Veganism is on the rise, and Ottawa is no exception. Ottawa is a great city for vegans! There are tons of delicious vegan-friendly restaurants to choose from, and it can be tough to narrow them down. But don't worry, we've got you covered! Here are our nine favourite vegan eateries in Ottawa.
We chose these restaurants based on their variety of vegan options, tasty food, and overall dining experience. So whether you're a die-hard vegan or just looking to try something new, be sure to check out these amazing Ottawa spots. From comfort food favourites to international cuisine, there's something for everyone on this list.
For those new to veganism, we will also be going over some popular vegan foods, as well as answers to some frequently asked questions about the lifestyle.
Did you know that pizza can be made vegan? It's true! Check out our list to find the best plant-based pizza in Ottawa.
What Are Some Popular Vegan Dishes?
There are many delicious vegan dishes to choose from, but here are some of our favourites:
Vegan Pizza: as mentioned before, pizza can absolutely be made vegan! Most restaurants will offer a dairy-free cheese alternative, and there are also tons of amazing vegan toppings to choose from.
Vegetable Curry: this is a great option if you're looking for something hearty and flavourful. Most curry dishes can easily be made vegan by simply omitting meat and dairy.
Vegan Burger: many restaurants are now offering vegan burgers, and they're usually delicious! Be sure to ask about the bun, as some may contain egg or dairy.
Stir-Fry: another great option for those who want something hearty and filling. Stir-fries can be made with a variety of vegetables and vegan protein sources, such as tofu or tempeh.
Raw Vegan Dish: for those looking for a lighter option, many restaurants offer raw vegan dishes. These are usually salads or wraps made with raw fruits and vegetables.
The Best Vegan Restaurants in Ottawa
Hungry yet? Here are our top nine vegan-friendly restaurants in Ottawa!
1) The Green Door Restaurant & Bakery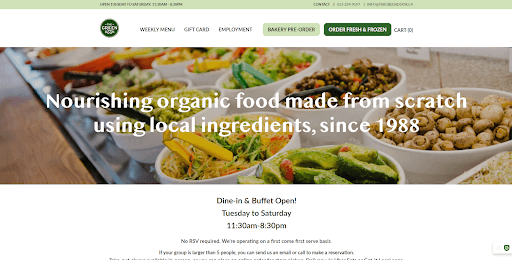 The Green Door Restaurant is Ottawa's oldest vegetarian restaurant and is known for their pay-by-weight buffet and in-house bakery. They have many vegan and gluten-free dishes available. Their food is beyond excellent and they even have vegan pies like chocolate peanut butter pie which are amazing. 
The food there tastes so good you won't be able to resist. Their buffet features a rotating seasonal selection of hot dishes, salads, and desserts. Menu items change weekly, though you can always find some favourites such as the tofu-broccoli stir fry or avocado salad.
"This wonderful vegetarian restaurant has been my monthly and sometimes weekly family lunch spot! We love it! The food is always so tasty, fresh, warm and always changing with the seasons. Their broccoli tofu mix, feta spinach spanakopita, cheesecakes, sweet potato salad etc... all of that is to try out! Their cookies, cakes, pies are also wonderful! I love finishing my meal with their new desserts."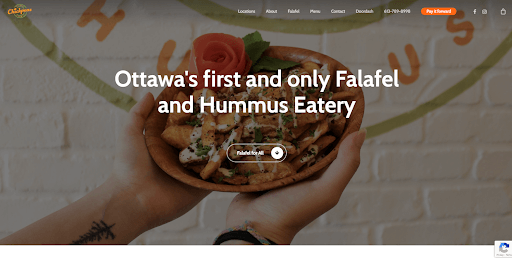 Chickpeas is Ottawa's first and only falafel restaurant. They pride themselves on being as "local as we can be," serving up an unexpectedly exotic vegan menu that will delight even the most die-hard meat lover!
They specialize in serving a variety of delicious, and unique falafel, and hummus options like Green avocado sandwiches with falafel, avocado, hummus, tomatoes, red onion, tahini and other veggies. 
Visit Chickpeas to enjoy delicious Middle-Eastern cuisine in a friendly and welcoming atmosphere. 
"Definitely go check this place out! Absolutely delicious and so fresh! We had the avocado wrap and the roasted pepper wrap, and both were phenomenal! The employees are super friendly, go support this local place as businesses are struggling so much right now!"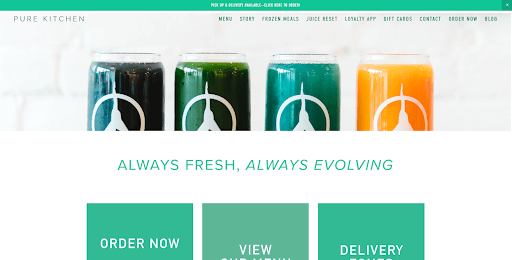 When you're looking for a tasty yet healthy meal, it's hard to beat the offerings at Pure Kitchen Elgin. You need to try everything from their delicious bowls of rice with vegetables and lentils all the way up to some falafel balls that would make any vegan happy!
The buffalo cauliflower sandwich wrap and a classic burger with cashew cheese at this restaurant are delicious! The fries are crispy, and the service is great too. At this restaurant, you definitely can enjoy a nice and big change from the regular vegetarian dishes.
"Awesome place, very friendly staff and really good vegan, vegetarian food. The burgers came with a lot of fries and they had good cashew cheese. Unfortunately I have no pictures, but if I went back there in Ottawa for sure I'll visit Pure Kitchen."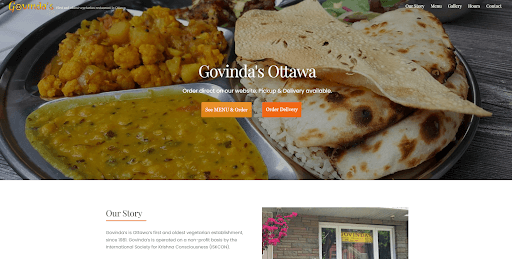 Founded in 1981, GOVINDA'S is Ottawa's first and oldest vegetarian establishment. The restaurant has been operating on a non-profit basis since then with the goal to provide fresh food made from all-natural ingredients at an affordable price for everyone who walks through their doors or calls them up by phone!
The food at this restaurant is so healthy and delicious! You can order rice with curry pakora vegan meatballs. They also serve veggie Kafka balls in a light coconut sauce. For the dessert, the mango blueberry cake is highly recommended.
"Unbelievable food. We knew it the moment we entered, whiff of bliss, smelled aromatic. Food was excellent, delicious, homely and of the highest quality. Loved it."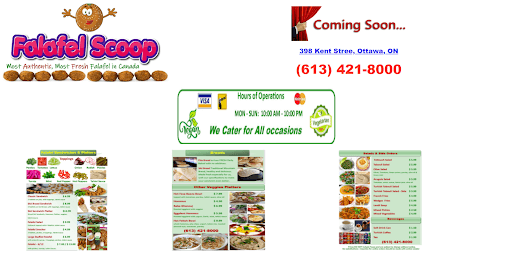 The food at Falafel Scoop is fresh and tasty, with a great atmosphere to match! This place must be on your 'try' list because of its reasonable prices with very good tasting dishes. The ingredients that they use are fresh, and the food is nicely represented.
They offer a wide range of falafel sandwiches and platters like SAJ Bread Sandwich with four falafels on special bread with vegetable toppings and tahini sauce. Besides that, you can try eggplant hummus, hot fava beans bowls or arugula salad which are the tastiest vegan dishes. This will definitely become your new favourite place for quick meals to go!
Website: falafelscoop.com
Phone: +16134218000
Address:  398 Kent St, Ottawa, ON K2P 0R6, Canada
"This restaurant has the best, and I mean best, falafels in Ottawa. Their SAJ sandwiches and Falafel salad are my go-tos, but friends have loved other items on their menu. They also cater, so they would be amazing for a work lunch or family event. Seriously you need to eat here!"
6) Peace-Garden Vegetarian Paradise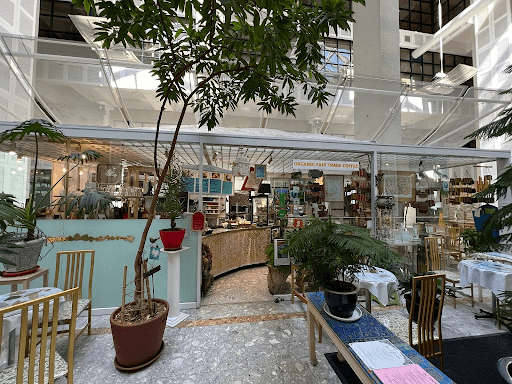 Peace-Garden is a vegetarian oasis in the Byward Market. They offer delivery, takeout and dine-in options for your meal enjoyment! They have a great selection of vegan and gluten-free food. Definitely give their banana bread a try – you won't regret it! 
The atmosphere is super relaxing, with lots of plants around to give it that homely feel. The curry that they serve is as good as the one you can try in India. It's perfect for anyone looking to eat some healthy comfort food or just wants something different than what most restaurants offer on their menu. ™
Phone: +16135622434
Address:  47 Clarence St., Ottawa, ON K1N 9K1, Canada
"This is my favourite restaurant and has been for over a decade. The food is delightful, the atmosphere inviting. Don't miss out on the dal, salads and lemon ginger tea."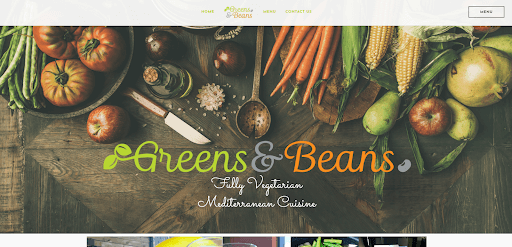 Green & Beans is a great spot for unpretentious vegan Middle Eastern fare. The chicken shawarma plate is flavourful and comes with everything you could possibly want – from delicious meat to three different purees/sauces! Plus, the portion size is generous. 
The service at Green & Beans is outstanding – the staff is attentive and knows what customers need without having them ask twice during their visit. And their signature dish, Baba ghanouj, is a creamy eggplant dip seasoned with spices and topped with olive oil that definitely won't disappoint. 
So if you're in the mood for some good middle eastern food, be sure to check out Green & Beans!
Website: greensbeans.ca
Phone: +16132344040
Address:  137 Main St, Ottawa, ON K1S 1C1, Canada
"I've been many times, and each time was phenomenal. Amazing service, incredibly fresh, healthy and delicious food. I love their daily specials, their falafels are freshly made, and their rice pudding with rose water is to die for! On top of that, they treat you like family when you walk in."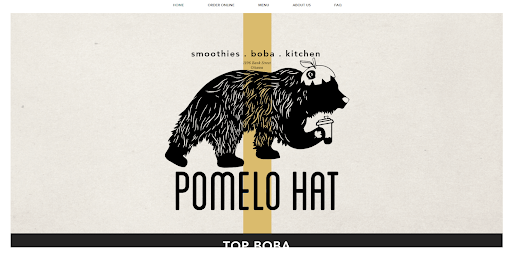 Pomelo Hat is a local Ottawa-born boba shop and kitchen specializing in unique vegan options for bubble tea, Açai Bowl, as well as other dishes like Macclesfieldaa sandwiches or nuggets.
The ingredients in each dish will catch your eye because they're natural: not only does it offer healthy alternatives but also reasonable prices compared to most restaurants nearby. They serve some of the best bubble teas in Ottawa. Their tapioca is nice and chewy with a subtle hint of sweetness.
"Such a great place! They have so many amazing bubble tea options, not to mention how many vegan/dairy free substitutions that are available! The dumplings look delicious too! The staff have always been so incredibly kind and helpful, overall I definitely recommend Pomelo Hat!"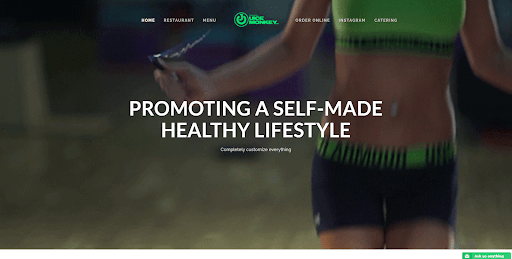 Juice Monkey is one of the best vegan smoothie places in town. Not only are their smoothies refreshingly tasty, but they're also healthy for you! They have many different toppings like peach or caramel to choose from in case your appetite isn't satisfied yet. 
All of the food on the menu is healthy and delicious. Besides smoothies, they serve customizable wraps and bowls for example with cauliflower rice. This definitely will become your to-go lunch spot. 
So what are you waiting for? Make sure to check out Juice Monkey today! You won't regret it.
"Stopped by here for a protein bowl to take with me on a flight. Huge serving of fresh, healthy ingredients at a very fair price. Lots of high quality toppings like chickpeas, cheese and roasted red peppers at no extra cost. The employee working was attentive and friendly! Looking forward to visiting again!"
10) Gather Café + Kitchen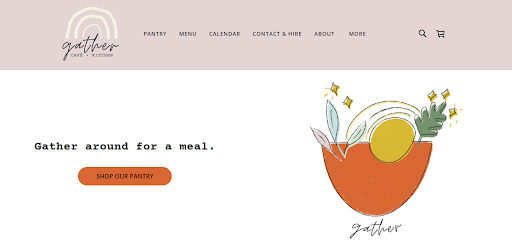 Gather Café + Kitchen is a neighbourhood pop-up café that serves up plant-powered bowls, espresso energised drinks, sweet & savoury baked goods, and handmade pantry staples from their food truck. Chef & Owner Emily Anderson was born and raised in Ottawa and has always had a passion for living locally – whether at home or abroad. After years of travelling to Toronto, she's excited to be back in her hometown of Ottawa and bringing her new culinary concept to the community. 
You can try special seasonal bowls with fusilli pasta, cheesy veggie-cashew sauce, seedy crumble, fresh parsley, red chilli flakes and crunchy sprouts. It's a perfect combination for a cozy winter lunch. You can also try their daily vegan fresh muffins, loaves, scones, and more. At Gather you can enjoy delicious meals made with fresh ingredients sourced right in central Ontario while supporting small businesses like yours!
"My all time favourite food truck!! Everything they have is so delicious and the variety of bowls, toasts, baked goods and beverages will meet whatever you desire that day from savoury to sweet. The staff is always incredibly friendly! I would recommend gathering to all my friends and family whether it's for lunch or just a coffee. I have no complaints!"
11) Hometown Sports Grill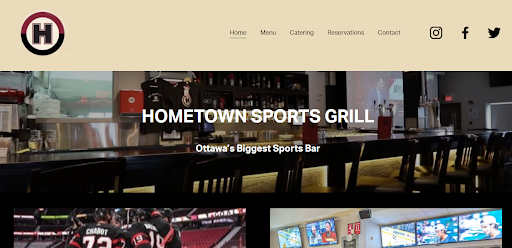 Hometown Sports Grill is a restaurant features an extensive vegan menu options. They serve freshly-made food in house, as well as catering to private, corporate and major events. Their ingredient is carefully selected to ensure that our customers enjoy a truly unique dining experience. Whether you're looking for something casual or special occasioned, they can accommodate your needs with ease.
Their vegan menu is prepared with strict policies in their kitchen to guard against cross contamination using dedicated utensils and appliances. Their vegan mains feature Hometown wrap with seasoned beyond or impossible patty, lettuce, tomatoes, bbq mayo and fresh cut fries. You can also enjoy vegan lasagna with starter garden salad and garlic bread. So wherever your cravings may be, consider Hometown Sports Grill to experience the best vegan meal. 
"This place is a hidden gem! They have a very extensive vegan menu, reasonable prices, generous portions, friendly staff, cheap cocktails, and lots of screens to watch sports. What's not to love?! I had the vegan buffalo chick'n wrap which was delicious. It came with a choice of side too. I would highly recommend this place and I'll definitely be back! Can't wait to try the other vegan menu items."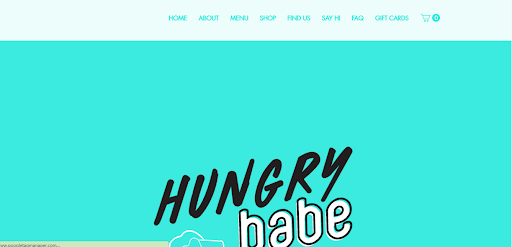 Hungry Babe is a vegan food store that specialises in providing handcrafted Ottawa-made meals. The menu features healthy and affordable meals made with fresh, local ingredients. In addition to vegan fare, Hungry Babe also offers gluten-free options and allergy friendly menus for those who are intolerant of certain foods or allergens. All of the dishes are prepared using only natural cooking methods and without any artificial additives or preservatives. 
Their salad bowls are an amazing way to have a tasty meal. The Pirogi Bowl is made with kale, brown rice, red pepper, green onion, red cabbage, maple brussels sprouts, lentil "bacon", garlic perogies, dill ranch. It's a perfect combination of nutrients and protein to balance your vegan diet. Whether you're looking for a light snack or something hearty enough to serve as a main course, these salads have everything you need and more!
"Delicious salads!! They're original, fun, tasty, filling. Wouldn't believe they're vegan. I also enjoyed the Shephard's pie. I love the deal where you order 5 salads but if you say surprise me, you get a 6th free! Lovely, woman-owned business."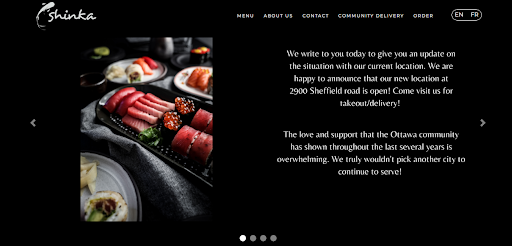 Shinka is a restaurant that offers an authentic experience when it comes to dining out. The team at Shinka aims to procide creative and fresh sushi options, no matter what the customer's preference may be. Whether you're looking for traditional or vegan sushi, you can rest assured that the quality of your meal will be exceptional.
In addition to providing top-quality seafood dishes, Shinka also features a wide range of wine and sake selections so guests can enjoy their evening while savouring some fine Japanese cuisine. 
Their vegan menu includes poke bowls like Vegan Deluxe poke with tempura onion rings, fried sweet potatoes and vegan sauces. You can also order one of the many Maki options. Like the favourite vegan Kamikadze with marinated fried tofu and japanese mint. Thanks to its talented and hard working staff, Shinka continues to be one of Ottawa's favourite restaurants!
"Fresh ingredients and great packaging. This was my first time having vegan sushi and I really liked the taste of everything. I usually don't like Miso soup BUT this place totally changed my mind. Would recommend."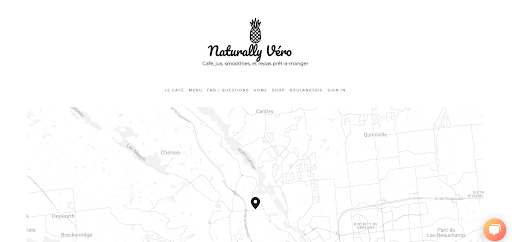 Naturally Vero café is a great place to go for healthy, nourishing food. The café offers amazing specialty coffees and teas, fresh juices, enlightening smoothie bowls, delectable bites and meals to grab on the go. All of the menu items are made with natural ingredients and are designed to help you feel your best. In addition to providing delicious foods, Naturally Vero cafe strives to provide an environment that is conducive to relaxation and stress relief. 
The shop's decor includes soothing colours and soft lighting intended to create a relaxing atmosphere in which you can enjoy your meal or drink. As part of their commitment towards promoting healthfulness among its customers, Naturally Vero cafe also provides educational materials about dieting and nutrition as well as tips for achieving optimum wellness through proper eating habits. 
"This is our favourite spot hands down. The menu is always changing so nothing ever gets old /boring. The service that Maya provides is top tier. She is SUPER personable, friendly, and great to talk to. This place is the whole package"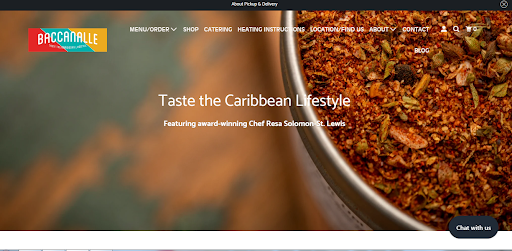 Baccanalle is your destination to taste the Caribbean Lifestyle! Based in Ottawa, Baccanalle offers ready-to-eat and stock-the-freezer individual and family style meals, catering as well as artisan foods & drinks. Preorder pickup and delivery options – same day options available during opening hours. At Baccanale they are all about creating a culinary experience that captures the essence of the sun, sand & palm trees… 
They have everything from freezer prepared meals like signature vegan patties to handmade artisan food items with tips on how you can recreate their dishes at home. You can choose from their classic mixed vegetable or faux vegan "beef" filling, house blend of herbs and spices and scratch pastry for patties.  Perfect to have on hand for snacks, light meals or a quick tapas. They freeze well and are easily heated in the microwave or oven.
"You kinda have to know where it is but the staff was really helpful when I got lost. Food was amazing. Great portion size, really yummy. House made drinks and sauces were particularly good. Can't wait to try what else they have on the menu"
If you're looking for a delicious vegan meal, Ottawa has no shortage of great restaurants to choose from. Whether you're in the mood for Indian food, Thai cuisine, or something else entirely, there's sure to be a vegan restaurant that will satisfy your cravings. And if you know of another great vegan restaurant that we missed, let us know in the comments!