The best Lebanese restaurants in Ottawa are serving up the best food in town!
Lebanese food is taking over Ottawa and it's easy to see why. Discover the mouth-watering flavours and aromas Lebanese food has to discover. Whether you're craving a sub sandwich, traditional Lebanese fare, or want classic fast food options, there's an eatery on this list for you. These amazing Lebanese restaurants in Ottawa will have you coming back for more!
We selected these Lebanese restaurants based on customer reviews, customer service, the fresh, premium ingredients they use, and of course, the delicious food they have on the menu!
For more international cuisine, visit the best dim sum restaurants and the best Italian bakeries in Ottawa!
What are the Most Popular Lebanese Dishes?
Lebanon is well-known for its rich and flavorful cuisine. The most popular Lebanese dishes include:
Falafel: Fried balls or patties made from ground chickpeas, fava beans, or both. They are typically served in a pita with tahini sauce.

Tabbouleh: A salad made from chopped parsley, bulgur wheat, tomatoes, mint, and onion. It is typically seasoned with olive oil, lemon juice, and salt.

Fattoush: A salad made from chopped vegetables, such as cucumber, tomatoes, mint, and onion, and fried or toasted pieces of pita bread. It is typically seasoned with olive oil, lemon juice, and sumac.

Kibbeh: Ground meat (usually lamb or beef) mixed with bulgur wheat, onions, and spices, formed into balls or patties, and fried.

Manakeesh: A type of flatbread that is typically topped with thyme, cheese, or ground meat.

Shawarma: Thin slices of marinated chicken, lamb, or beef that are cooked on a rotating spit and served in a pita with tahini sauce or garlic yogurt.

These are just some of the most popular dishes that you'll find in Lebanese restaurants. Of course, there are many other delicious items on the menu, so be sure to ask your server for recommendations.
The Best Lebanese Restaurants in Ottawa
Now that you know a little bit about Lebanese cuisine, you're probably wondering where you can find the best Lebanese food in Ottawa. Here are some of our top picks: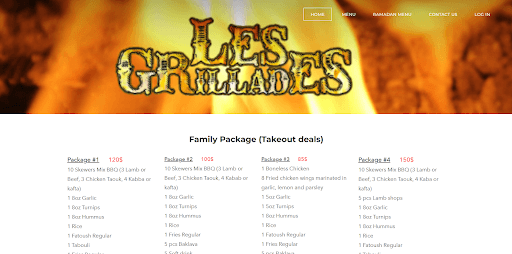 Located in the heart of the city, Les Grillades is a hidden gem that offers a taste of the Mediterranean. The restaurant's namesake dish – grilled meats – is cooked to perfection on real charcoal, and the variety of meats offers something for everyone.
 In addition to the delicious food, Chef Ali is a very nice person who inspires you throughout your visit with his passion for cooking. The hummus with pine nuts is a great starter, and the mix plate is a must-try for anyone looking for a truly unique dining experience. 
If you're looking for a hidden gem that offers a taste of the Mediterranean, Les Grillades is the perfect spot.
"It was the great experience for us. All good was flavourful and mind blowing! Chef Ali was very nice person and inspiring! I recommended specially humus with pine nuts and also mix kebab plate was delicious! It's best kebab restaurant in Canada! When I come back to Ottawa, I'll the first place I'll visit here!"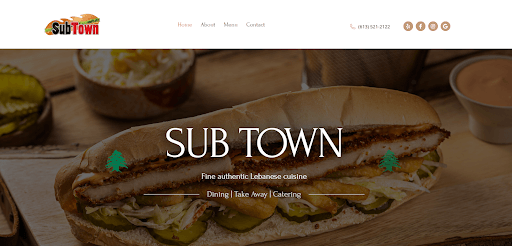 Subtown is the perfect place to go if you're looking for a delicious and perfectly seasoned sandwich. The experienced chefs at Subtown know exactly how to toast each piece of bread so that nothing leaks out while you're eating it.
Their house special avocado sauce is amazing – it's enough on its own without any additions needed. The Philadelphia cheesesteak is also awesome. The meat is never frozen which means it's really tasty, and the veggies are crisp. 
In addition to their incredible sandwiches, Subtown also carries some Baklava and other sweets. So if you're looking for a place where you can get a delicious sandwich and a sweet treat, look no further than Subtown. You won't be disappointed.
"A taste of home indeed. We visited Subtown for the first time today and had the Philadelphia, chicken sub, and fries sandwiches - all of which were amazing to say the least. Everything was halal, fresh, and clean. The staff were very friendly and respectful. Prices are reasonable. Subtown is definitely my go-to sandwich place now. Highly recommended!"
3) Shawarma Garlic & Onion
Shawarma Garlic and Onion is a great restaurant for those who are looking for a more upscale dining experience than the average fast-food joint. The decor is fresh and classy, and the food is equally as delightful. 
The brothers who own the restaurant take an artisanal approach to each dish, adding their personal touch to make each meal special. The beef is extremely tender, and the family platter comes with plenty of potatoes, rice, meat, and veggies to make your meal complete. 
The wings are also exceptional – they have a crunchy outer bite but are still moist and flavorful. The salad is fresh with a nicely flavoured dressing that isn't too heavy. 
Overall, Shawarma Garlic and Onion is a great choice for those who are looking for a delicious and upscale dining experience.
"What a great find! Their shawarma chicken and beef were both tender and flavoured well. The family platter for 4 had a good amount of potatoes, rice, meat, and veggies! I was pleasantly surprised and really enjoyed it. Check out my photos! Really friendly service as well."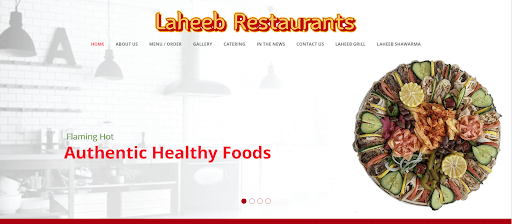 At Laheeb Charcoal Grill, they specialize in charcoal-grilled kebabs. While they do have vegetarian options, including their popular bulgur and kibbeh dish on skewers served with side dishes, their main focus is on the meats. 
All of the meats are halal according to Islamic slaughtering laws, so you know that they're being prepared correctly every time. The guarantee of fresh flavour at affordable prices brings back memories for those who have eaten here before. 
Whether you're looking for an authentic taste of Lebanese cuisine or just want a delicious meal, Laheeb Charcoal Grill is the place to go.
"Placed an order from this place the mixed platter came with beef and chicken fries and some veggies. The portion is not too big but the price is more than reasonable 16$ plus tax . The food was very tasty and you get pita with it . I would definitely try other stuff and order again . I recommend!"
FAQs About Lebanese Restaurants
Lebanese restaurants are popping up all over Ottawa, and they're some of the best spots in town. The Lebanese food in Ottawa is unlike anything else. Get an authentic taste of Lebanon right here in the city. These restaurants will serve up a piping hot delicious and authentic Lebanese dish!
So if you're looking for a great, flavour-packed meal, then you have to check out the best Lebanese restaurants in Ottawa!