The best dim sum restaurants in Ottawa are serving up the best Chinese food in the city!
Dim sum makes for a mouthwatering meal but it's also a fun experience. At dim sum, you can order a variety of small dishes and have yourself a tasting spread of sorts. It's a great way to bond with people over a meal as you try a little bit of everything. Lucky for Ottawa residents, there are plenty of dim sum spots in the city, but we found the very best.
We selected these Ottawa dim sum restaurants based on customer reviews, wonderful ambience, generous portions, and the delicious dim sum dishes they're serving up!
If you can't get enough of Asian food, well you're in luck. Ottawa is home to plenty of great Asian food spots. Head on over to the best Vietnamese restaurants and the best Chinese restaurants in Ottawa! 
What are the Most Popular Dim Sum Dishes?
There are many different types of dim sum dishes, but some of the most popular include:
Steamed dumplings: Dumplings are a staple of Chinese cuisine, and they're often served as a dim sum dish. They can be filled with a variety of ingredients, including pork, shrimp, vegetables, and more.

Steamed buns: Steamed buns are another popular dim sum dish. They can be filled with pork, chicken, or vegetables, and they're often served with a dipping sauce.

Fried dumplings: Fried dumplings are a delicious alternative to steamed dumplings. They're usually filled with pork or shrimp and served with a dipping sauce.

Rice noodle rolls: Rice noodle rolls are a lighter option that's often served with a dipping sauce. They can be filled with chicken, shrimp, or vegetables.

Chicken feet: Chicken feet may not sound appetizing, but they're actually a popular dim sum dish. They're usually served in a spicy sauce.

These are just some of the most popular dim sum dishes, but there are many other options to choose from. So whether you're a dim sum enthusiast or a first-timer, you're sure to find something to your liking at one of these restaurants.
The Best Dim Sums in Ottawa
Now that you know what to expect, here are four of the best dim sum restaurants in Ottawa: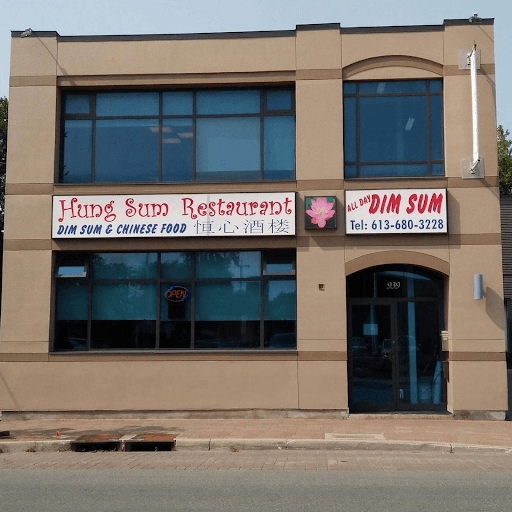 The food at Hung Sum Restaurant is always fresh and delicious. The family that owns it started on the first floor of their home roughly a decade ago and has moved on to building an actual space where they can cook more efficiently. They are true professionals, they always manage to get everything done in a timely manner. 
The menu offers an incredible variety of dishes that will satisfy any appetite. You can't go wrong by ordering any dish from their extensive menu – they're all awesome.
Try their taro dumplings or sticky rice wrapped in lotus leaf – both are absolutely delicious; sesame balls made from fresh ingredients served warm make this the perfect after-dinner dessert.
The shrimp siu mei comes in a delicate wrapping with generous portions of shrimp; this one will definitely be your favourite.
"Recommended by friends, i came for dim sum at this place. First impression, it is pretty busy for a weekday lunch time. Tastes of dim sum are quiet different since they are all homemade explained by the owner. Years ago, many restaurants made their dim sum, but now dim sum are pre-made by big suppliers. It is good to taste homemade stuff…"
2) Ha's Dim Sum Noodle House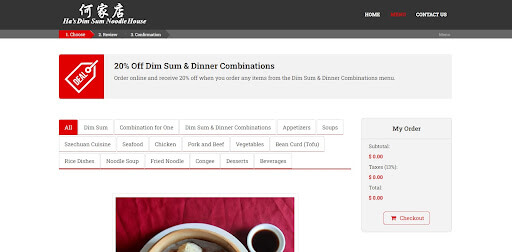 When it comes to Chinese food, there is no better place than Ha's Dim Sum Noodle House. Located in Ottawa's Chinatown on 870 Somerset Street West their restaurant serves up delicious dim sums and more.
The place is so cozy and gives off a warm feeling from their staff that you can tell they care about your experience here. They are prompt and attentive while not being overbearing. 
The Xiaolongbao lives up to your expectations–juicy but not too soupy. 
The tea pairs well against these delectable treats–a very good value indeed considering how much food you get on your plate without breaking your bank accounts along the way. 
"Amazing first experience ordering from Ha's. Everything we ordered was hot and the ingredients were clearly very fresh and cooked perfectly. The various dim sum dishes we ordered all tasted so good! The fried items were not overly greasy, and the steamed items had the perfect texture. We were especially fans of the stuffed bean curd with shrimp paste, the deep fried pork dumplings, steamed BBQ pork buns, and the steamed egg custard buns. We will be ordering from Ha's again!"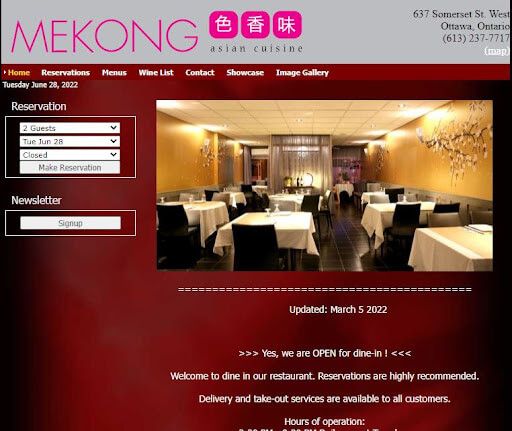 Mekong Restaurant is a staple in the Ottawa dining scene, having served up delicious and flavoursome Asian cuisine to residents for over 30 years. With a focus on the finest Cantonese, Szechwan, Vietnamese or Thai dishes, Mekong is known far and wide for its food. 
The portions are always huge, filling you up for hours, and the hot and sour soup is great. The combination of General Tso and Pineapple sweet-and-sour chicken for your main course, along with some steamed pork buns that are nothing short of perfection, is worth dying for. 
The service is friendly throughout your entire meal – there's no way you could ever go wrong at this place as it follows what they do so well: making sure every customer feels special from start to finish without fail or exception. 
If you're looking for an amazing Asian dining experience, look no further than Mekong Restaurant.
"Mekong is one of the oldest Chinese Restaurants in Chinatown OTTAWA. The ownership has been changed recently. It reopens just couple days ago. It got renovated to a brand-new look inside. Simple but classy. Second floor can host private events for about 40 people. Menu is new. Dishes are very Chinese authentic tasted with Canadian friendly way. For some dishes like whole Peking duck you need to order one day in advance, which make senses for small restaurant like this. It's everything new but same great taste."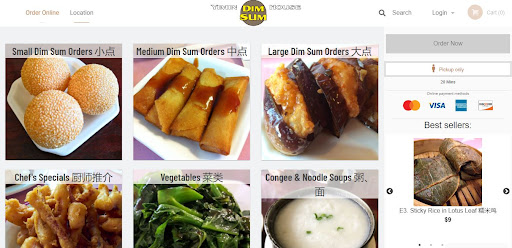 Yimin Dim Sum House is a great place to visit for an authentic meal made with fresh ingredients. 
The restaurant has good-quality ingredients, including aromatic meats cooked simply enough so that every taste vividly shines through (sticky rice wrapped inside lotus leaves), fried turnip patty sandwiches, dipped into savoury black bean sauce, or tangy BBQ pork. The beef dumplings or noodle soup with chicken are both truly world-class. 
The staff gladly help out in any way possible so just let them know what exactly it is that might interest you. You won't be disappointed with the food or service at Yimin Dim Sum House.
"The food is very good (like the texture HongKong Style, meaning not too soft and not too hard). Compare with most Chinese restaurants, this place is the best, and if you don't know the dishes, just ask the waitress, she would gladly help you out. Anyway, I'm very happy with the Food, and the Service."
Dim sum is one of the best dining experiences around! In Ottawa, there are many lovely dim sum restaurants ready for you to enjoy their dishes. At dim sum restaurants, they have everything from traditional Cantonese cuisine to modern spins on classic dishes, so there's something for everyone! 
If you're looking for your new go-to for delicious and comforting food, you have to check out the best dim sum restaurants in Ottawa!