Ottawa's Vietnamese community is one of the largest and most vibrant in all of Canada. This has led to an abundance of amazing Vietnamese restaurants, each with their own unique take on this delicious cuisine. 
From family-owned spots to trendy new venues, Ottawa has something for everyone when it comes to Vietnamese food!
In this article, we will be highlighting 13 of the best Vietnamese restaurants in Ottawa. Whether you are a seasoned pro or a first timer trying out this type of cuisine for the first time, there is something here for everyone!
1) Authentic Vietnamese Pho House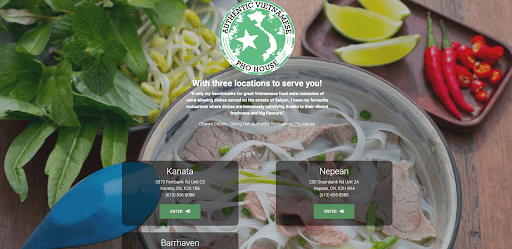 Authentic Vietnamese Pho House is a must-try for anyone who wants to indulge in the most exquisite dishes with an authentic flavour. The staff members are friendly and helpful, always ready to provide outstanding service that will leave you coming back again soon!
Their dishes are all full of texture and flavor and are sure to become your favorite. Lemongrass Grilled Chicken Skewer and Spring Roll Noodle Bowl are a must try as well as Spicy House Special Soup which consist of chicken beef and shrimp with rice noodles in a spicy sate broth. They also offer lots of vegetarian options like Vegetarian rice wraps or Tofu Vermicelli Bowl. 
"Love this place. They are always so nice here. The dry vermicelli bowls are by far my favorite thing to eat here. The meat is always seasoned perfectly with nice crunchy burnt bits. Highly recommend this place."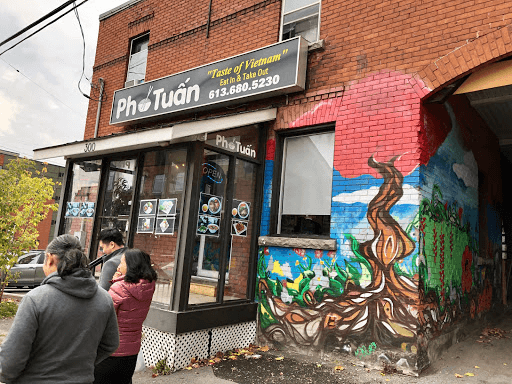 Pho Tuan strives for the best customer service and food quality. Come experience their delicious dishes made from scratch using only premium quality local ingredients! 
They offer a variety of authentic Vietnamese cuisine, including pho (the national soup), signature vermicelli noodles with fried eggs served in beef broth or chicken flavor; rice paper wrap made from sticky rice. 
They are famous for the Hanoi's Style Vermicelli, Special Spring Roll and Spicy Beef Vermicelli Soup. In addition to their regular menu items, they also serve "Special Weekend's" which bring different popular Vietnamese dishes each week – so there's always something new to try!
+16136805230
300 Booth St, Ottawa, ON K1R 6N6, Canada
"My absolute favorite place is hands down to get pho in the city. The family run restaurant is quick on the orders and the flavors are exponentially better than those around the area. They also have traditional 'Hanoi Style' dishes that I haven't had anywhere else. Definitely try the "Hanoi Special", you won't be disappointed!"
3) Angry Dragonz Restaurant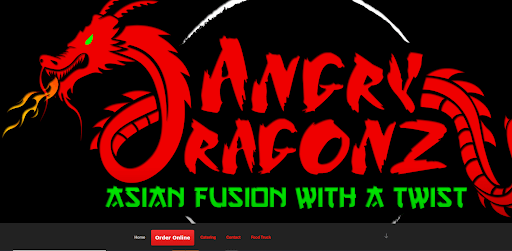 Angry Dragonz Restaurant has an amazing selection of food that will satisfy any appetite. The egg rolls are a must-try, and so too is the rice bowl, which comes served in a warming dish with meat cooked just right! Y

ou can't go wrong at this popular little place – they're awesome at catering for your next event such as corporate office parties, festivals, weddings or birthdays. In addition to their delicious vegetarian options like cauliflower general Tao and the Singapore noodles, you won't be disappointed by anything on their menu!
"Great find. Had lunch there. Huge portions. I pass by the place regularly and hear reviews from friends. Finally, I decided to try it for lunch. Great decision - had the General Tao dish. It was more than enough of a portion for me. There are several vegan and vegetarian choices too. Excellent tasting, really enjoyed. Staff are very friendly. Wish I visited sooner. Definitely plan to return and when downtown look for their food truck."
4) Vietnam Palace Restaurant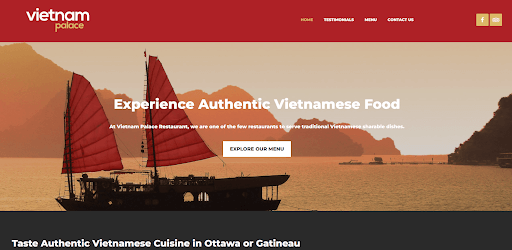 If you're looking for a delicious, traditional Vietnamese meal then look no further than Vietnam Palace Restaurant. They've been serving up authentic cuisine since 1989 and they offer it at competitive prices! Plus, the menu has something for everyone so even those with picky taste buds will be able to find something they enjoy. 
Noodles, seafood and vegetarian dishes – plus a variety of drinks – are all on the menu here! And if you're looking to take your experience up a notch, then why not try their dinner set specials which include spring rolls, hot and sour soup or wonton soup, stir fried shrimp with vermicelli and vegetables OR chicken with lemongrass AND beef with coconut curry? 
There's truly something for everyone at this local hotspot!
"Amazing food, great patio. Probably, one of the best pho I've ever had. We also had fresh shrimp rolls, it was indeed fresh and the sauce was not too salty, just perfect. Definitely recommend this place for a Vietnamese experience in Ottawa!"
5) Huong's Vietnamese Bistro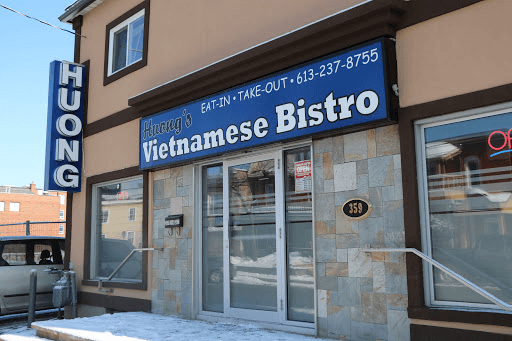 Huong's Vietnamese Bistro is a great place to go for amazing, tasty food that won't break the bank. Plus, they have fantastic customer service which will make you want to come back again soon! 
Their pho soup is the best in town and their broth has a unique flavour that will leave you wanting more. In addition, their portions are sure to fill you up – making it the perfect meal option for those who are looking for something hearty but affordable. 
If that wasn't enough, Huong's also offers Bo Bia – delicious rice wraps that aren't found at other Vietnamese restaurants in town. Filled with bean sprouts, lettuce, basil leaves and egg rolls – this dish is definitely not one to miss out on!
+16132378755
359 Booth St, Ottawa, ON K1R 7K1, Canada
"They never fail to impress! One of the only restaurants in Ottawa that still serves authentic, traditional Vietnamese dishes, true to taste. Great service, family friendly, reasonably priced, good portion, and very efficient. One of mine and my family's favourites!"
6) Saigon Boy Noodle House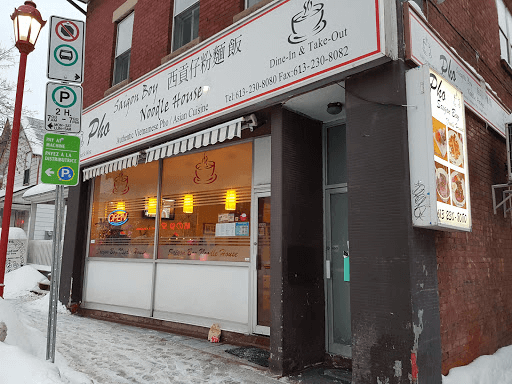 If you're in the mood for some delicious Vietnamese food, there's only one place to go – Saigon Boy Noodle House. This restaurant has everything from pho to noodle dishes with a variety of different spices to choose from; they also have rice paper rolls filled with either meat or vegetables! 
Their vermicelli bowls are always cooked just right – not too dry but still firm enough so that they don't fall apart on you. 
Plus, their fresh spring rolls with grilled pork are great and will truly make you feel like you're in Vietnam. All of their meals here are fresh, rich in flavor and reasonably priced without skimping out on quality or quantity. 
The family who owns and runs this place is friendly and welcoming which makes your dining experience even more enjoyable!
+16132378755
648 Somerset Street West, Ottawa, ON K1R 5K4, Canada
"Spring rolls crispy with excellent sauce, smoked pork rice rolls with a brown hoisin sauce. Rating based on these three items, but regarding the pho specifically, stock is really rich with flavor and excellent portions of seafood not just samplers like other places. Menu price is lower than competition so it has great value."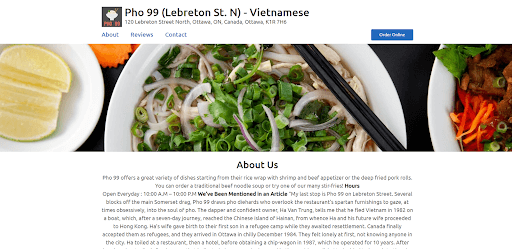 The original Pho location in Ottawa is still serving up some great food! The portion sizes are perfect and you can get an amazing deal for how much quality there really is. If you're looking to eat some genuine Vietnamese cuisine, then visit or order from them now! 
Their pho always tastes so flavourful – the beef tastes just right and the broth complements its fatty texture beautifully while still being rich in flavor thanks to an impeccable seasoned tone from start-to-finish! 
You won't be disappointed with this meal if you're looking for something tasty. Plus, they also have a variety of other delicious dishes like stir fried chicken, cashew and mixed vegetables with rice or vermicelli with grilled pork, spring rolls and salad that will leave your taste buds begging for more.
"The bun bo hue is my favourite to get here and what I believe to be one of the best places to get bun bo hue. All of their other food is amazing and the restaurant has been around for a very long time (20+ Years) Remember going to this place since I was a kid!"
8) Springroll House Restaurant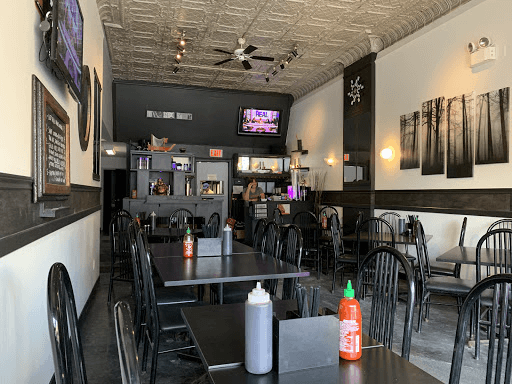 Springroll House is a casual Vietnamese spot with a homey vibe ! All of the dishes here are made from scratch and they take pride in everything that's served. Owner cares deeply for allergy sufferers- you won't be disappointed knowing he closely inspects each dish before serving it up. 
This place has been around for 24 years, so you know that their food is exceptionally delicious – especially their spring rolls which are known to be some of the best in the city!
 And if you're looking for something new to try then we highly recommend their Vietnamese kebabs which have an amazing flavour profile that will leave your taste buds tingling with excitement.
+16137283544
1093 Wellington St. W, Ottawa, ON K1Y 2Y4, Canada
"Best tasting broth I have ever tried- I do believe broth is what truly makes pho. Best Cafe Sua Da (Vietnamese iced coffee), sweet and delicious. Service is timely and efficient, and staff is always very friendly and polite. This is my favourite Vietnamese restaurant/cafe, and my go-to for Cafe Sua Da if I don't feel like making it myself."
9) Sweet Basil Restaurant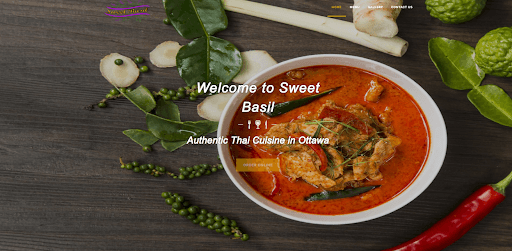 Sweet Basil has been delighting the palates of many Vietnamese food fans for over 25 years now! They work hard to bring authentic dishes from Vietnam straight into your home, that's why they have such an extensive menu selection and new recipes are released all the time! 
Check out their favourite bestsellers such as the Stuffed Chicken Wings, the Panaeng, the Pad Thai, and the Pad Bai Gra Prow! If you are vegetarian try their special Pad Preaw Wan which is stir-fried cucumbers and other vegetables with a sweet and sour sauce. Their Ginger Scallops will definitely satisfy your cravings for a unique flavor and deliciousness.
"Amazing food and even better people. This gem of a restaurant will have you coming back for more. The pad-thai is high quality and done right, giving you layers of flavour with every bite. The stuffed chicken wings are a house specialty and come with a sauce unique to the restaurant. Sweet, salty, savoury, spicy. Everything you'd want in a Thai dish. Loved them! The staff is friendly, professional, and care about the high quality of food they put out."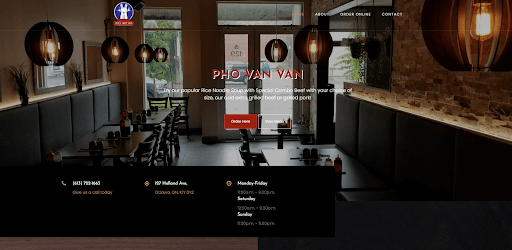 The flavours at Pho Van Van are authentic, fresh and mouth-watering. Whether you're dining in or ordering for delivery – this is one restaurant that will not disappoint! 
They offer both vegetarian options as well vegan friendly choices so there's something perfect no matter what your diet preferences may be. You can try a large bowl of their delicious Pho soup with beef and it has tons of noodles, lots of beef and a great tasting broth. They also make a curry dish which is nice and spicy!
"My fav pho place in Ottawa, fresh and delicious! Consistent, flavorful as I would wish for so I'm truly appreciative of the owners for keeping me coming back time and time again. Vast menu of which really everything so far as been spectacular."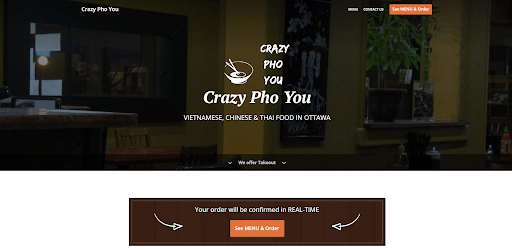 Crazy Pho You is one of the best places in town for Vietnamese and Chinese cuisine. They offer an array of delicious authentic dishes, including rice wraps and Hu Tieu. The key to their success is simple: providing quality consistent food that tastes great every single time – something that all customers can appreciate! 
Their must try dish is Grilled Marinated Meat Fresh Rice Wrap which can include pork, beef or chicken. And Hu Tieu is amazing too! They have vegetarian, spicy and seafood options so everyone will be able to find something they love!
"I like places that engage you, and find out what you like when you don't know their menu. They make a killer sandwich: just ask for the pork sandwich they are famous for, and you'll be happy. They also make real good spring rolls. Once again, the pork ones are the ones to try. They are by far the best of this kind of spring roll I've ever had."
12) New Mee Fung Restaurant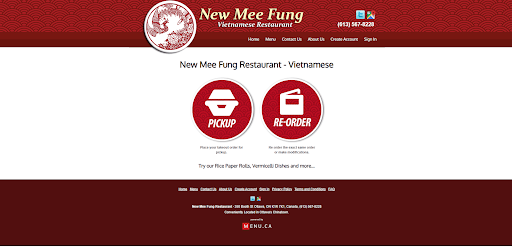 The New Mee Fung has more than 30 years of experience under its belt, and it shows in the delicious food they serve up at an affordable price. Not only is the food great, but their welcoming atmosphere makes each visit a memorable one – you'll feel like part of the family by the time you leave! 
Some must-try dishes on your first visit include Bun Bo Hue as well as Curry Duck noodles – both are amazing and will definitely satisfy your taste buds. 
If you're feeling spicy then why not try out their Spicy Satay Beef with Rice Noodle Soup? The broth is absolutely magical and packs a punch thanks to its combination of spiciness and peanut flavour.
"Nice and tasty Vietnamese cuisine for all individuals. Excellent choices of shrimp and chicken make this my favorite of many. Whether you're craving a bit of rice or noodles there's unlimited varieties for you and all your friends. Their rice wraps served with peanut sauce are also a delight."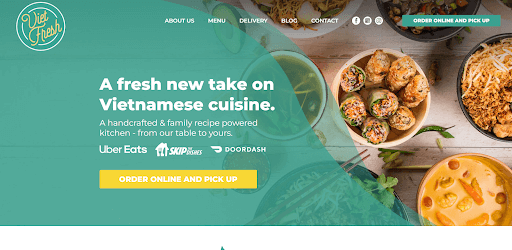 At Viet Fresh, you'll get a delicious and authentic taste of Vietnamese cuisine. All their dishes are made by hand with family recipes that will tantalize your taste buds! From the Banh Mi to the Stew Beef, everything is absolutely amazing – we promise you won't be disappointed. 
Plus, their spring rolls are huge and filled with shrimp and vegetables – perfect for an appetizer or even as a meal on its own! And if that's not enough for you, then definitely try their Coconut Tom Kha Soup which is out-of-this-world delicious. You won't regret giving Viet Fresh a try!
"Their banh mi is honestly better than in Toronto or Montreal, which says a lot. My favorite dish to order from here is their Bo Kho, it just tastes so comforting and just like how my mom cooks it at home. She even approves of how good it tastes, being the picky eater that she is especially in Vietnamese food."
FAQs About Vietnamese Restaurants
When it comes to Vietnamese cuisine, Ottawa has you covered. With 13 amazing restaurants serving up some of the best pho, banh mi and spring rolls in town, there's something for everyone. 
Whether you're a fan of traditional dishes or prefer more modern interpretations, these restaurants have got you covered.
 So if you're looking for an amazing Vietnamese meal, be sure to check out one of the spots on this list!