Amidst Ottawa's backdrop of historical landmarks and natural beauty, the city boasts a thriving spa scene. Among the spa experiences offered, facials stand as a cornerstone of self-care, offering a chance to replenish the skin and spirit. 
So, join us as we embark on a journey to uncover the six best facials in Ottawa, each promising a harmonious blend of wellness, indulgence, and radiant results. And if you're looking for more pampering in the city, be sure to check out our pieces on:
The 7 Best Tanning Salons in Ottawa
The 6 Best Botox Clinics in Ottawa
The 10 Best Laser Hair Removal in Ottawa
The 15 Best Massage Clinics in Ottawa
Whether you're a skincare connoisseur or a first-time spa-goer, these top-tier establishments invite you to unwind, revitalize, and unveil a glowing complexion.
What's the Average Cost of a Facial in Ottawa?
The average cost of a facial in Ottawa is anywhere between $50 to $75 for a basic facial, around $80 to $100 for a more comprehensive facial treatment, and approximately $70 to $105 for a peel.
A facial can involve a wide range of treatments and the final cost will depend on a number of factors, such as the type of products used and the experience of the esthetician. However, one thing is certain: a facial can be a wonderful way to relax, rejuvenate, and refresh your appearance. So whatever you end up paying, it will be worth it!
The Best Facials in Ottawa
Now that you know what to expect in terms of cost, it's time to take a look at the best facials Ottawa has to offer. Here are our top picks: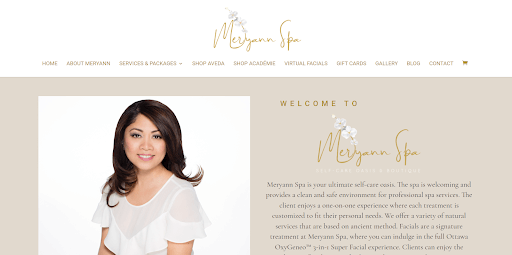 When it comes to facial treatments, there's no place better than Meryann Spa. Meryann is a highly sought-after esthetician who offers some of the best facials in Canada. The OxyGeneo Super Facial is a signature treatment that combines deep cleansing, exfoliation, and oxygenation to improve skin texture and tone.  The result is refreshed, youthful-looking skin that feels softer and smoother. 
So, Whether you're looking for a relaxing facial massage or a custom skin treatment plan, Meryann Spa has you covered. So if you're in need of some pampering, be sure to book an appointment with Meryann today. You won't regret it!
"I finally had the chance to visit Meryann Spa in person, and it was a wonderful experience! I had the OxyGeneo facial, and I saw a difference in my skin instantly. My skin is extremely soft and smooth. It's been a few days since the treatment, and I can still see the results! Meryann was so welcoming and professional. She is very knowledgeable and a true expert when it comes to skincare. Meryann provided the most relaxing experience unlike anywhere else. I will definitely be visiting Meryann Spa again!"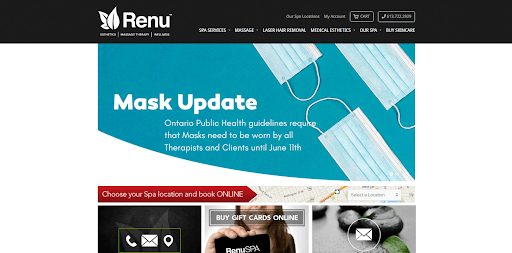 When it comes to relaxation, Renu Spa knows you want more than just something simple. You deserve the best of everything and their goal is for each client's visit with them not only to be relaxing but also rejuvenating as well! They offer massages and facials tailored specifically to you!. 
They offer such treatments as Hydrolifting Treatment, Revitalizing Algomask Treatment, Anti Aging eye treatment and many more. Their licensed estheticians will perform a skin analysis, deep cleanse, exfoliation, toning, extractions (if required), facial massage, a nourishing mask, eye serum and hydrating treatment— everything for your skin to glow. 
"I really enjoyed my facial appointment! The spa had a warm, relaxing atmosphere. The aesthetician was kind and knowledgeable. She took the time to explain every step of the procedure and made thoughtful suggestions for my skin. The neck, shoulder and scalp massage was also a really great bonus! I loved it so much that I booked another facial appointment for next month."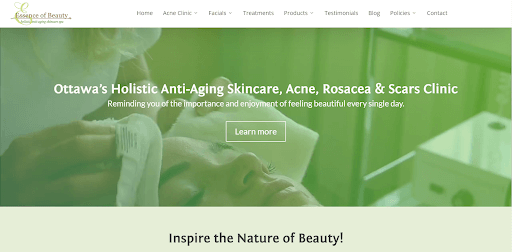 Essence of Beauty, Ottawa's Holistic Acne and Rosacea clinic is a one-stop destination for all your skincare needs. With an extensive range of highly effective natural treatments that combine age-defying science with repairing elements from nature; they specialize in facial rejuvenation using only the best products!
They are the first organic and chemical-free Skincare Spa in downtown Ottawa! They can replenish the nutrients that repair and protect your skin with their talented team, and even offer rosacea treatments. Essence of Beauty is your one-stop shop for all of your skincare needs!
essenceofbeauty.ca
+16132202101
Pebb Building, 2197 Riverside Dr. #200, Ottawa, ON K1H 7X3, Canada
"I went for the first time yesterday and had an amazing experience! Eva made me feel comfortable during my wax and facial as well as coached me through those painful, cringe-worthy moments by being as gentle as possible. The calm atmosphere and great work made the experience fantastic. My skin is feeling much better and after 24 hours there is absolutely no irritation whatsoever. Will be back ASAP. Highly recommended."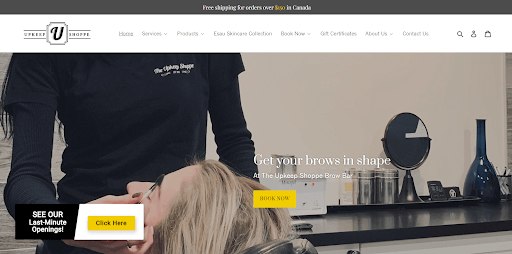 Find your inner peace at the Upkeep Shoppe! Their Triple Fruit Enzyme facial is designed to clear up your skin and leave it hydrated, and clearer than ever before. 
With an antioxidant-packed approach that includes three different kinds of fruit enzymes for deep exfoliation as well as clove serum treatments, this will be the first step in achieving a beautiful calmer, more vibrant complexion. So whether you're looking to relax or rejuvenate, the Upkeep Shoppe is the perfect place to find your inner peace.
"Great place with great service, particularly Ashley. When she does my services you can tell she really enjoys what she does. Her attention to detail is excellent. I always enjoy my time at The Upkeep Shoppe!"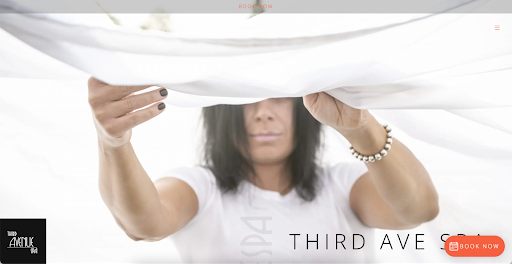 With over 20 years in business, Third Avenue Spa is your haven for exquisite facials. Their personalized consultations ensure a tailored treatment that meets your unique skin care needs. 
With a fusion of top-tier skincare products and cutting-edge techniques, their facials address concerns like aging and hydration. Whether it's the hydrating Hydrafacial or collagen-boosting treatments, Third Avenue Spa blends luxury and science for a revitalized complexion and a truly relaxing experience. Discover a sanctuary that elevates your skin's radiance and rejuvenates your soul.
"I love Third Avenue Spa. I have been a regular for well over 10 years. I was in recently for a facial with Mattie, which was amazing, and a fabulous pedicure with Anna. I also see Jasminka regularly for massage therapy. She really knows how to get the knots out."
6) The Ottawa Skin Clinic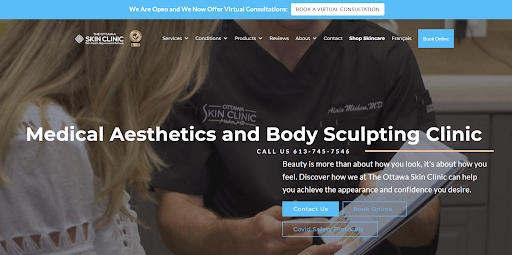 The Ottawa Skin Clinic offers a wide range of treatments, all conducted with the most up-to-date technologies. They offer an expert staff who is friendly and caring towards their clients' needs in order to create comfort during procedures. With superior-quality products and completely customizable options, they can make any skin problem go away! 
They use treatment masks with AHAs and BHAs to help refresh and rejuvenate your skin. So, whether you are looking for a simple facial or something more complex, the Ottawa Skin Clinic is sure to have a treatment that is right for you!
"I felt like I needed a refresher since I was looking tired and showing the effects of aging on my face. From the moment of my consultation to the end of my treatments, I felt completely comfortable with Dr. Michon. I'm so happy with the results and I highly recommend Dr. Michon and the staff at Ottawa Skin Clinic. Thank you for an amazing experience and helping me to look my best!"
Ottawa's skincare professionals are dedicated to enhancing your natural beauty, and their commitment to innovation and relaxation shines through in every facial experience. Whether you're seeking a holistic approach to skincare or a targeted treatment for specific concerns, Ottawa's top facial destinations offer a world of possibilities.