In Ottawa, there are countless businesses that offer facial treatments. Facials are not only a fun way to pamper yourself, but they are also an investment for your general wellness. Skin treatments like facials, revitalize your skin and give you a radiant glow after. 
That being said, you don't want just anyone touching your face. Go to any of these Ottawa facial clinics and you can expect, expert staff, friendly service, different treatments to suit your needs, and amazing results. 
If you're looking for more luxury beauty, you will love our lists of the best dermatologists in Ottawa and the best botox clinics in Ottawa!
What's the Average Cost of a Facial in Ottawa?
The average cost of a facial in Ottawa is anywhere between $35 to $50 for a basic facial, around $75 to $90 for a more comprehensive facial treatment, and approximately $100 for a facial peel. 
A facial can involve a wide range of treatments and the final cost will depend on a number of factors, such as the type of products used and the experience of the esthetician. However, one thing is certain: a facial can be a wonderful way to relax, rejuvenate, and refresh your appearance. So whatever you end up paying, it will be worth it!
The Best Facials in Ottawa
Now that you know what to expect in terms of cost, it's time to take a look at the best facials Ottawa has to offer. Here are our top picks: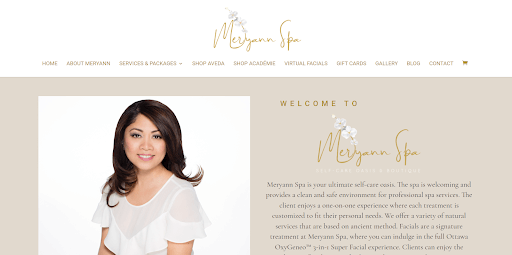 When it comes to facial treatments, there's no one better than Meryann Spa. Meryann is a highly sought-after esthetician who offers some of the best facials in Canada. The OxyGeneo Super Facial is a signature treatment that combines deep cleansing, exfoliation, and oxygenation to improve skin texture and tone. 
The result is refreshed, youthful-looking skin that feels softer and smoother. In addition to the OxyGeneo Super Facial, Meryann also offers other facial treatments that are designed to address specific skin concerns. 
Whether you're looking for a relaxing facial massage or a custom skin treatment plan, Meryann Spa has you covered. So if you're in need of some pampering, be sure to book an appointment with Meryann today. You won't regret it!
"I finally had the chance to visit Meryann Spa in person, and it was a wonderful experience! I had the OxyGeneo facial, and I saw a difference in my skin instantly. My skin is extremely soft and smooth. It's been a few days since the treatment, and I can still see the results! Meryann was so welcoming and professional. She is very knowledgeable and a true expert when it comes to skincare. Meryann provided the most relaxing experience unlike anywhere else. I will definitely be visiting Meryann Spa again!"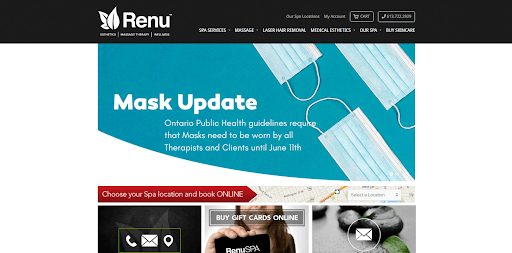 When it comes to relaxation, Renu Spa knows you want more than just something simple. You deserve the best of everything and their goal is for each client's visit with them not only to be relaxing but also rejuvenating as well! They offer tailored messages designed and facials specifically around what you need. 
They offer such treatments as Hydrolifting Treatment, Revitalizing Algomask Treatment, Anti Aging eye treatment and many more. Their licensed estheticians will perform a skin analysis, deep cleanse, exfoliation, toning, extractions (if required), facial massage, a nourishing mask, eye serum and hydrating treatment— everything for your skin to glow. 
"I really enjoyed my facial appointment! The spa had a warm, relaxing atmosphere. The aesthetician was kind and knowledgeable. She took the time to explain every step of the procedure and made thoughtful suggestions for my skin. The neck, shoulder and scalp massage was also a really great bonus! I loved it so much that I booked another facial appointment for next month."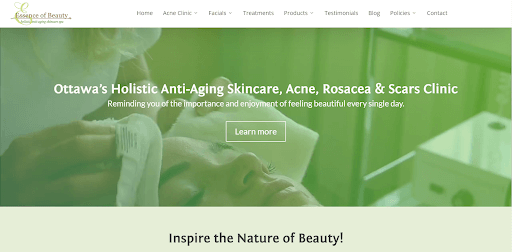 Essence of Beauty, Ottawa's Holistic Acne and Rosacea clinic is a one-stop destination for all your skincare needs. With an extensive range of highly effective natural treatments that combine age-defying science with repairing elements from nature; they specialize in facial rejuvenation using only the best ingredients available on today's market!
They are the first organic and chemical-free Skincare Spa in downtown Ottawa! They can replenish the nutrients that repair and protect the skin with Deep Pore Cleansing Facial, DMK Enzyme Treatment, Customize Ultrasound-Microcurrent Treatment or their signature Ultrasonic Facial. 
If you're looking for a one-stop-shop for all your skincare needs, look no further than Essence of Beauty!
essenceofbeauty.ca
+16132202101
Pebb Building, 2197 Riverside Dr. #200, Ottawa, ON K1H 7X3, Canada
"I went for the first time yesterday and had an amazing experience! Eva made me feel comfortable during my wax and facial as well as coached me through those painful, cringe-worthy moments by being as gentle as possible. The calm atmosphere and great work made the experience fantastic. My skin is feeling much better and after 24 hours there is absolutely no irritation whatsoever. Will be back ASAP. Highly recommended."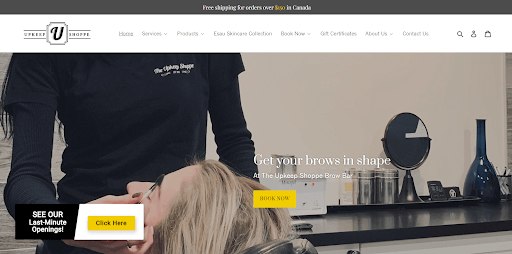 Find your inner peace at the Upkeep Shoppe. The spa's two different worlds are upstairs and downstairs, where you'll find a relaxing atmosphere for your facial. Their Triple Fruit Enzyme facial is designed to clear up your skin and leave it hydrated, and clearer than ever before. 
With an antioxidant-packed approach that includes three different kinds of fruit enzymes for deep exfoliation as well as clove serum treatments, this will be the first step in achieving a beautiful calmer, more vibrant complexion. 
They also offer Ultra Surge Facial, which is a super moisturizing, luxurious facial treatment that immediately replenishes the skin with deeply hydrating and soothing ingredients such as honeysuckle flower, sea buckthorn oil and more.
So whether you're looking to relax or rejuvenate, the Upkeep Shoppe is the perfect place to find your inner peace.
"Great place with great service, particularly Ashley. When she does my services you can tell she really enjoys what she does. Her attention to detail is excellent. I always enjoy my time at The Upkeep Shoppe!"
5) Ginious Auto Mobile Detailing
Facial Surgery & Cosmetic Centre of Ottawa is a team of professionals committed to giving you the very best. They have been trained by top institutions and have decades of experience, still willing to learn new things every day for your protection. 
You can trust them because we've earned an international reputation as being dependable with caring about results. 
Their services include HydraFacial to cleanse, extract, and hydrate your skin as well as Skin Microneedling that can help with wrinkles, mild acne scars, tightening of their skin or provide an overall improvement of their skin quality. 
So if you're looking for a team that you can trust to give you the best possible care, look no further than Facial Surgery & Cosmetic Centre of Ottawa.
"had my first treatment. It was a HydraFacial and it was great. My skin felt light and less congested. Definitely recommend.Had more treatments like the clear + brilliant and a chemical peel with Leticia. I must say... I am very impressed. I have seen a remarkable improvement on my skin. Couldn't be any happier. Thanks Leticia."
6) The Ottawa Skin Clinic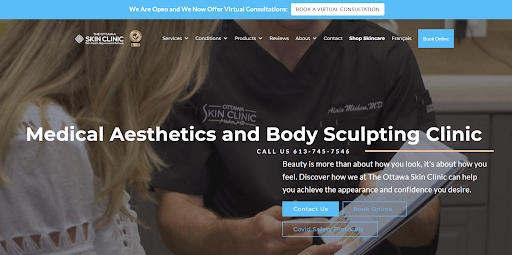 The Ottawa Skin Clinic offers a wide range of treatments, all conducted with the most up-to-date technologies. They offer an expert staff who is friendly and caring towards their clients' needs in order to create comfort during procedures. 
The Ottawa Skin Clinic offers a variety of facials that will help you achieve your desired look. With superior-quality products and completely customizable options, they can make any skin problem go away! 
They use treatment masks with AHAs (Alpha Hydroxy Acids) and/or BHAs (Beta Hydroxy Acids) such as lactic, glycolic, salicylic, and mandelic acids to help refresh and rejuvenate your skin. 
Whether you are looking for a simple facial or something more complex, the Ottawa Skin Clinic is sure to have a treatment that is right for you.
"I felt like I needed a refresher since I was looking tired and showing the effects of aging on my face. From the moment of my consultation to the end of my treatments, I felt completely comfortable with Dr. Michon. I'm so happy with the results and I highly recommend Dr. Michon and the staff at Ottawa Skin Clinic. Thank you for an amazing experience and helping me to look my best!"
If you want to revitalize your skin, you need to visit any of these Ottawa facial clinics. Treat and take care of yourself at the best Ottawa facials. Facials are not only relaxing, but they also improve the appearance of the skin, remove dead skin cells, and are great for people with acne. 
Your skin deserves nothing but the best and these are the best of Ottawa's facial clinics. If you're looking for effective, luxe-feeling skin treatments, you can't go wrong with any of the places on this list!