The best naturopathic clinics in Ottawa offer a variety of services that can help you improve your overall health. These clinics use natural methods to treat conditions and promote wellness, and they can provide you with the care and support you need to live a healthier life.
Here we put together a list of the best naturopathic clinics in Ottawa based on their reputation, services, and patient testimonials.
Whether you're looking for help with a specific health condition or just want to improve your overall health, these clinics can provide the care and support you need.
For other health and wellness services in Ottawa, check out our list of the best acupuncture, physiotherapists, and massage therapists.
What's the Average Cost of Seeing a Naturopathic Doctor in Ottawa?
The average cost of seeing a naturopathic doctor in Ottawa starts at around $200 for an initial consultation. However, the actual cost will depend on the specific services you require and the clinic you visit.
Some other factors that can affect the cost of your treatment include the severity of your condition, the length of your treatment, and whether you need any additional tests or procedures.
Some clinics may offer discounts for multiple visits or package deals that can save you money in the long run. Be sure to ask about any specials or promotions when you call to make your appointment.
The Best Naturopaths in Ottawa
Now that you know what to expect in terms of cost, here is a list of the best naturopathic clinics in Ottawa.
1) Somerset Health & Wellness Centre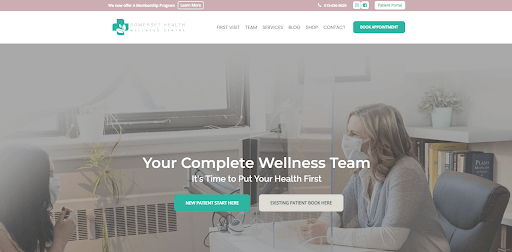 The Somerset Health & Wellness Centre is the perfect place to address all of your health concerns. The team of skilled professionals takes the time to listen to you so they can create personalized solutions that are tailored just for what's going on with you.
They offer a wide range of health care services from cosmetic acupuncture, and chiropractic treatments to food sensitivity testing, nutritional counselling and more. The team also specializes in providing prescriptions for homeopathic, naturopathic and traditional Chinese medicine. If you have any additional questions, you may book a 10-minute discovery call.
Visit the Somerset Health & Wellness Centre today to start feeling better and take control of your health!
"Dr.Clare is amazing. She listens intently and considers all aspects, we see her for my daughter and have recommended her to many others. I also appreciate that if she doesn't know something, she researches and gets back to you. The clinic generally has been easy to deal with, they answer in a timely manner and are quite nice."
2) Dr. Sarah Vadeboncoeur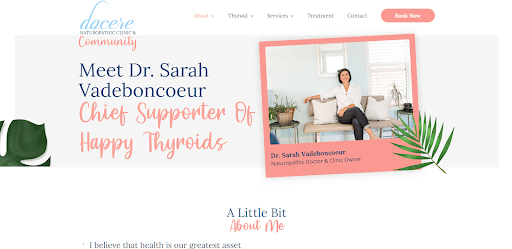 Sarah Vadeboncoeur, thyroid specialist and renowned authority on women's health, has devoted her career to helping women regain their health and vitality. Dr. Vadeboncoeur has helped hundreds of women through comprehensive counselling on nutrition, herbal medicine, vitamin and mineral supplements, and natural desiccated thyroid medication therapy.
With her wealth of knowledge and experience, Dr. Vadeboncoeur is uniquely qualified to help you achieve optimal health. Her patients' well-being always comes first, making her an expert you can trust.
If you are struggling with conditions like hyperthyroidism or Hashimoto's Disease, don't hesitate to reach out to Sarah Vadeboncoeur for help.
"Dr. Sarah is very knowledgeable with a warm and gentle personality. She truly cares about her patients and will go above and beyond to help them. I have come so far in my journey of healing thanks to her."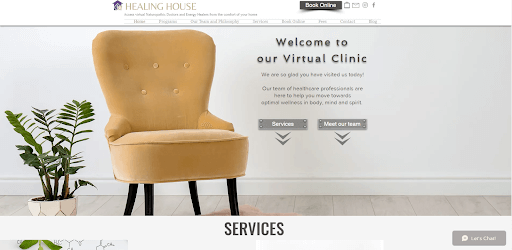 At The Healing House Ottawa, they are interested in addressing your health conditions from a holistic perspective and focusing primarily on the underlying causes of symptoms. They rely on listening to you describe current issues as well as lab testing to get an accurate diagnosis of what's going wrong with your body.
Getting back into vital shape isn't always easy but it doesn't have to be complicated either – just let them guide you along this step-by-step process. They treat hormonal imbalances, fertility problems and mental issues. They can also help with pain management if you are suffering from arthritis, chronic low back pain, headaches, migraines, neck/shoulder pain, and more.
Visit their website today to learn more about how they can help address your health concerns!
"Dr. Jada makes you feel comfortable from the moment you walk into Healing House and throughout your entire appointment. She brings a gentle, supportive and effective approach to her practice and provides an individual approach to each patient she sees. I have referred several friends/family members to Dr. Jada for various reasons and everyone was not only impressed with her service but also how with how quickly they saw positive changes with their health and well being!"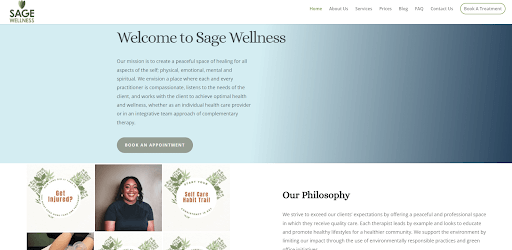 At Sage Wellness Center, they understand that good health isn't only physical – it's emotional and mental, too. That's why they strive to create a space where you can come and treat all aspects of yourself. Whether it's through massage therapy or naturopathy care, their team will work with each individual's needs so that every practitioner has the opportunity for optimal client interaction throughout their visit!
Their naturopathic treatment options can range from nutrition and lifestyle modification to botanical medicine, nutritional supplementation, acupuncture and homeopathy. You can turn to them for a variety of reasons, including acne, autoimmune conditions, digestive issues, hypertension, pre-and postnatal care and many more.
So whatever is keeping you from feeling your best, Sage Wellness Center is here to help!
"I see naturopathic doctor Kristy Lewis at Sage Wellness. She is so caring and knowledgeable. She's helped me with health issues many times over the years I've been seeing her. She has a wonderful and inspiring podcast as well."
5) Active Health Institute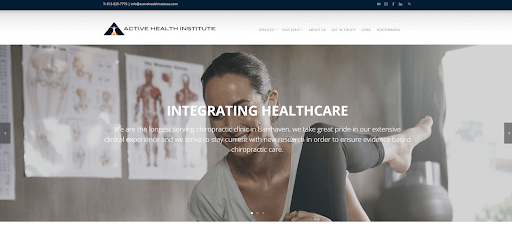 Active Health Institute is a sports performance therapy facility that helps athletes overcome obstacles affecting their ability to perform at the highest level. The clinic offers evidence-based care through experienced naturopaths and therapists who specialize in working with different types of injuries!
The primary goal of their naturopathic treatment is to address the cause of the illness rather than simply treating or suppressing symptoms. This focus on root cause means that Active Health Institute can help athletes not only recover from injuries but also prevent them in the first place!
By addressing underlying imbalances, the clinic can help keep athletes performing at their best. So whether you're looking to recover from an injury or keep your body in peak condition, Active Health Institute is here to help!
"Just love the Active Health Institute Hintonburg team! I have been working with Aneeka and Melanie for three years now, with great results. When I first met them I was in pain all over. Today my quality-of-life is much improved and I am getting stronger and stronger."
6) Dr Jaclyn Smith, Naturopathic Doctor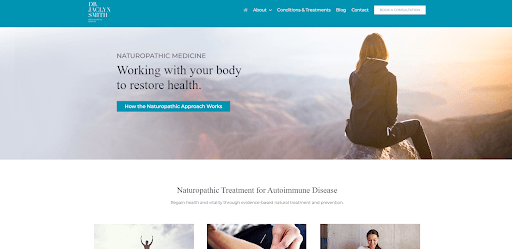 Dr. Jaclyn Smith is a naturopathic doctor who specializes in evidence-based healthcare that stimulates the body's natural healing power. By understanding the root cause of the disease, she is able to treat patients as a whole person naturally and safely with treatments that are consistent over time. 
She has particular expertise in treating autoimmune conditions such as Crohn's Disease, Antiphospholipid Syndrome or Ankylosing Spondylitis. The initial assessment includes taking a 90-minute case history, performing a physical exam and ordering lab diagnostics. 
After this, Dr. Smith will present you with a comprehensive treatment plan which may include diagnostics, autoimmune triggers specific to you as an individual patient, phases of treatment and their anticipated timelines.
With Dr. Smith's wealth of knowledge and experience, you can be confident that you are in good hands.
"Dr. Smith treated my chronic condition (A. spondylitis) and gave me natural remedies and a special diet to follow. I can say that she truly understands what I have and gave me the best educated advice. I have complete trust in her and will continue with follow-up visits. She is very kind, gentle and supportive. Thank you. I recommend her without hesitation."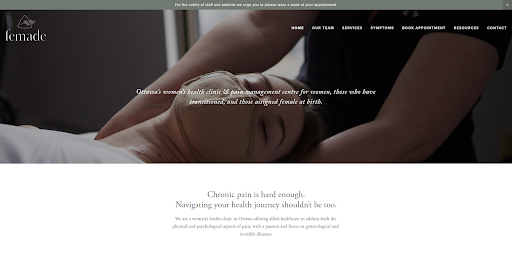 If you're searching for a women's health clinic in Ottawa that offers holistic care for both the physical and psychological aspects of pain, look no further than femade. Their team of experienced practitioners is passionate about helping women with gynecological and invisible illnesses, and they're dedicated to providing the best possible care for patients. 
When you come to femade, they'll take the time to get to know you and your unique situation, so that we can develop a treatment plan that's tailored specifically for you. They believe that every woman deserves compassionate, individualized care, and they'll do everything they can to make sure you receive the treatment and support you need. 
"I have had such a lovely experience at this clinic. It is not only beautiful, but the services it offers covers a wide range which allows me to address multiple issues in one place! The practitioners I've seen are all amazing. I highly recommend."
8) Orleans Wellness Clinic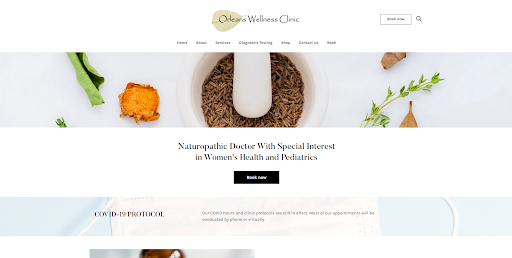 As a licensed Naturopathic Doctor, Dr. Behrendt has a special interest in women's health and pediatrics. With her own children's experience in mind, she knows what a difference naturopathic medicine can make to improve overall health and resilience. 
To provide the best possible care at the Orleans Wellness Clinic, Dr. Behrendt regularly attends conferences and seminars to stay up-to-date with the latest research and treatments in both conventional and complementary medicine. In addition, she has received certifications in drainage therapy, women's health, digestive diseases, and cancer treatment. 
This allows her to create tailored treatment plans that may include natural therapies such as nutrition, botanical medicine and homeopathy. Whether you are dealing with a specific health concern or just looking to improve your overall wellbeing, Dr. Behrendt can develop a plan to help you reach your goals.
"I have been seeing Dr Behrendt for over 5 years. She has helped me tremendously with a few different health issues. Her patience and knowledge is extremely impressive. I have also brought my daughters to see her and again she quickly diagnosed their problems and managed to help them without it costing a lot of money. I would highly recommend her. Nice office and office staff as well, everyone seems to go out of their way to be genuinely welcoming and helpful. 5 stars all around"
There are many excellent naturopaths in Ottawa, but the ones listed above stand out from the rest. They offer a variety of services and treatments that can help you achieve optimal health and vitality. 
Whether you're suffering from a chronic illness or just want to improve your overall well-being, these naturopaths can help. 
So if you're looking for holistic care in Ottawa, be sure to check out one of these practitioners!