Ottawa is home to some of the best dermatologists in Canada. If you are experiencing a skin issue and need professional help, then you should definitely consider visiting one of these experts. We chose the top 10 dermatologists in Ottawa based on their experience, education, and ability to provide effective treatment.
Whether you are dealing with acne, eczema, psoriasis, or any other skin condition, these dermatologists will be able to help you find the relief you need.
For more skincare-related services, check out our list of the city's best botox clinics or the best lip filler clinics in Ottawa.
What's the Average Cost of a Dermatologist Visit in Ottawa?
 In Ontario, seeing a dermatologist is an OHIP-covered service, so that anyone requiring expert skin, hair or nail care can see a dermatologist at no cost. This means that there is no excuse not to see a dermatologist when you need to. 
However, it's important to note that not all services provided by dermatologists are free. If you require a procedure that is not covered by OHIP, such as laser hair removal or Botox, then you will have to pay for it out of pocket. The average cost of a non-OHIP procedure is about $100-$200.
Some other factors that will affect the cost of your dermatologist visit include:
The location of the dermatologist's office

The type of procedure you are having done

How many procedures you are having done at one time
Keep in mind that the cost of a procedure is not always an indicator of quality. Just because a dermatologist charges more for a procedure does not mean they are better than someone who charges less. 
It is important to do your research and find a dermatologist that you feel comfortable with and who you trust to provide you with the best care possible.
The Best Dermatologists in Ottawa
Now that you know a little bit more about what to expect when seeing a dermatologist and how much it will cost, we can move on to our list of the best dermatologists in Ottawa. These are experts who have years of experience in treating all sorts of skin conditions, so you can be sure that you are in good hands.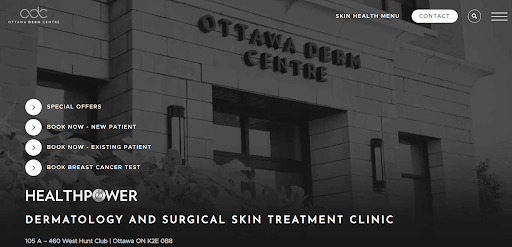 At Ottawa Derm Centre, they strive to provide exceptional patient care by drawing on the expertise of our healthcare team and providing you with quality service that aligns with what is expected. Their values help create a culture where compassionately can thrive in collaboration. 
They specialize in cosmetic dermatology as well as medical dermatology. Their treatment includes botox injections, non-surgical facial lifting and skin tightening and many more. They even can get rid of hyperpigmentation after being under the sun or after acne. 
And with the treatment of most common skin conditions and lessening of the appearance of wrinkles, one will feel reassured that they are in good hands. 
So if you're ever in need of any dermatological help or just want to enhance your appearance, be sure to check out Ottawa Derm Centre!
"I would recommend the Ottawa Derm Center to anyone who is looking for cosmetic or medical services! They have the quickest referral wait time; are very diligent with their services and make everything simple for the patients !"
2) Luxe Beauté Clinic Canada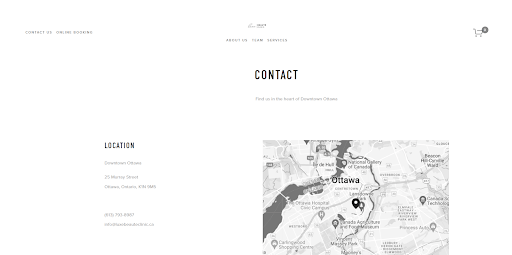 Luxe Beauté Clinic offers the best cosmetic medicine with international training and certification. They have over 40 years of combined experience, from Russia to France, all based on neurotoxin or dermal filler certification by highly qualified nursing instructors. 
They specialize in anti-wrinkle neuromodulators, PDO Thread Lift, sculpting buttocks injections as well as laser hair removal. Your lips, jaw and all facial features will look like new, but still retain your natural beauty and individuality. 
Visit their website for more information or give them a call to book an appointment today!
"Their botox treatment was fairly fast and painless. I would recommend that anyone looking for a medical clinic should definitely come here. The staff is great, the prices are very affordable for everyone, and the procedure itself is quick."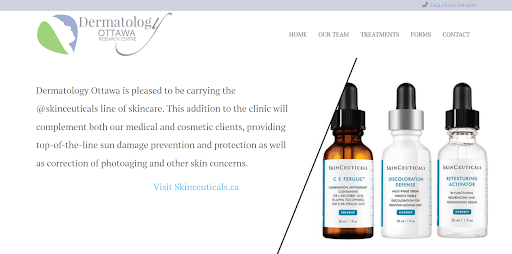 At Dermatology Ottawa, their number one priority is to create exceptional patient experiences and better outcomes. In order to achieve this goal, they have assembled a team of highly trained dermatologists who are dedicated to delivering the best possible care. They use the latest technology and techniques, including the Excel V+ aesthetic laser, to provide their patients with the best possible results. 
With this powerful tool, they can target and eliminate vascular concerns such as redness, unsightly veins, and scars. Additionally, they are experts in treating basal cell carcinoma, squamous cell skin cancers, and melanoma. 
Whether you are looking for treatment for a common skin concern or something more serious, Dermatology Ottawa is a perfect choice.
"Dr. Michael Robern is one of those example doctors who you want to be treated by. I've gone to too many doctors before, but my appointment with Dr. Robern was different. He is a guru, nerd, geek or whatever else you can call him. Very well educated. Well read. If you were able to get an appointment with him - you are lucky."
4) Dermis Advanced Skin Care Ottawa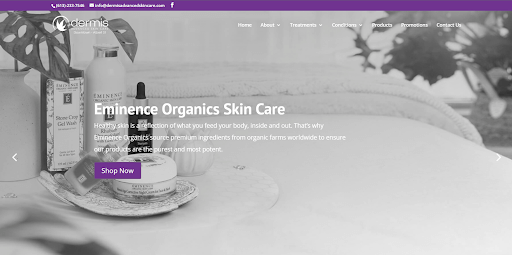 You deserve the best skincare and beauty services available. Dermis Advanced Skin Care Ottawa's team of highly trained professionals will make sure that your needs are met. With personalized attention, you will receive guidance throughout every step! 
They offer many different types of treatments including injections, body sculpting, lash enhancement as well as light and laser. 
They also treat the specific face and body conditions like aging hands, cellulite, stretch marks and double chin fat! All staff members, including receptionists and technicians, are so professional. And their work ethic can't be matched by anyone else in this city – you will see improvement on your issues with every visit to the spa-like location.
"Beautiful front room. Upon walking in there was a distinct lab-like smell which was a relief to me - knowing that their facility prioritizes sterilization and a sterile environment in the procedure rooms. My clinician was professional and knew her stuff! I highly recommend this office! Oh and I went in the evening and the block appeared to have ample parking right outside their door."
5) The Ottawa Skin Clinic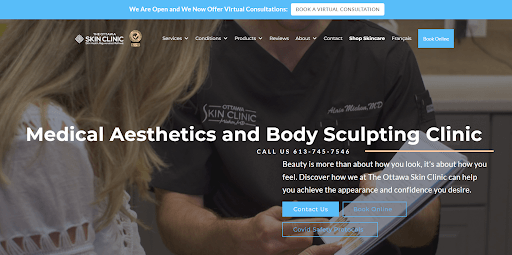 The Ottawa Skin Clinic is a leader in the medical aesthetic industry. They believe that beauty should be accessible to everyone, which is why their services are tailored for your individual needs and preferences from the start of treatment all the way through recovery! 
Whether you're looking into laser hair removal or have questions about Botox injections, they can answer thanks not knowledgeable staff. 
They offer all types of face and body sculptings like non-surgical butt lifts, double chin treatment and cool sculpting. Their skincare services are really effective. They perform advanced facials, micro-needling, chemical peels as well as acne treatment and photo facial. 
"I have had an amazing experience with doctor Michon. I suffer from plantar hyperhidrosis and finally found the treatment that relieved my symptoms and changed my life. Yes it was that bad. Special thanks to Sarah, She held my hand and comforted me through the painful injections but it was all worth it. I definitely recommend it."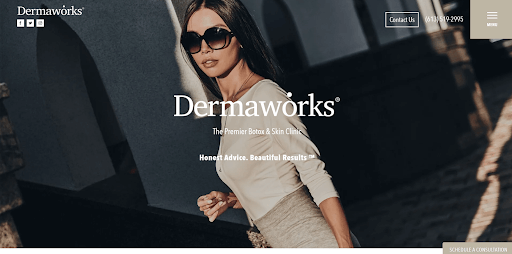 Dermaworks is the ultimate destination for a variety of skincare treatments. Whether you're looking to rid yourself of wrinkles or restore dermal integrity, their experienced professionals will help! They offer state-of-the-art anti-aging and rejuvenation procedures that are designed specifically with your needs in mind – without any compromise on quality or effectiveness. 
Dr. Demetra Vassiliou is a cosmetician who has been practicing for nearly half of her life. The results from Dermaworks Medical Aesthetics Clinic speak volumes: patients come back time after time because they know that no matter how old or wrinkly you are, they will always come out beautiful. 
"Dr. Vassilou does excellent work. She spends the time getting to know you & what your needs are. I recently had an area that was causing me real concern & she was able to fix it, giving me a huge boost in my confidence. I trust her & highly recommend her services."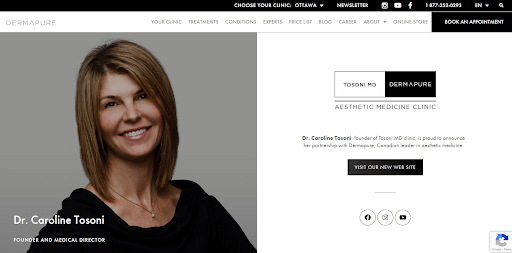 The founder of TosoniMD, Dr. Caroline has been perfecting her practice in Non-Surgical Cosmetic Medicine for over 20 years now and is known amongst patients everywhere to deliver customized treatments that meet the needs each person comes with individually! 
They offer a variety of services in Ottawa, from SkinCeuticals anti-acne facials to neuromodulator injections. Whether you are looking for an anti-aging treatment or want a bright new skin tone they are here for you! They will customize all procedures for your needs and preferences and explain everything in the process. 
"Dr. Tosoni is very friendly and extremely knowledgeable. All the staff here are very nice and welcoming as well. If you're looking for a natural look while also looking your best, this is the place to go. I wouldn't trust anyone else."
8) Acne and Scars Revision Clinic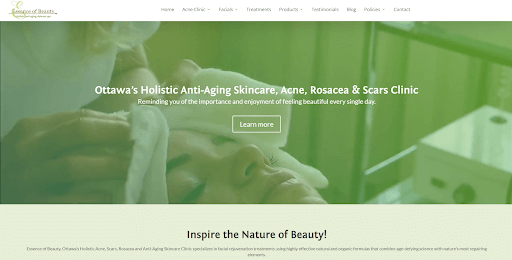 The Essence of Beauty is one of the best places in Ottawa to get facial treatments. They specialize in acne, anti-aging, and rosacea solutions, using organic ingredients to heal all types of conditions that affect your appearance. 
Their goal is to provide clients with natural, organic skincare that regenerates their faces from the inside out. They use techniques such as ultrasound therapy or LED lights derma blend treatment, which includes herbal green peel. 
Their more traditional therapies include waxing and removing deposits called "skin tags" along with other blemishes. Regardless of which treatment you choose, you can be confident that the Essence of Beauty will help you achieve the healthy, beautiful skin you've always wanted.
+16132202101
Central Medical Building, 1105 Carling Ave #307, Ottawa, ON K1Y 4G5, Canada
essenceofbeauty.ca
"Eva's holistic approach to skin has completely changed my outlook on not only my skincare, but the foods I consume and the makeup I use. I've been doing treatments with Eva for only 3 months, but my skin has completely cleared up. Eva has helped me gain confidence in my natural beauty and I cannot thank her enough. I no longer feel the need to cover up!"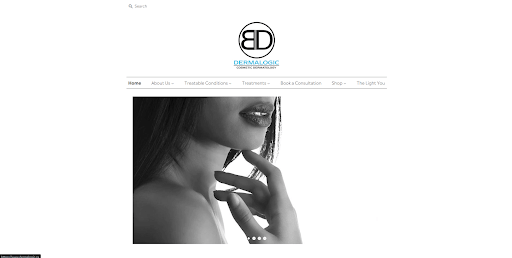 From the moment you walk through Dermalogic's doors, they will make sure that your experience as a patient is nothing but top-notch. They take care not only of patients' needs in an ethical and individual manner – they want to ensure they leave feeling confident with how much has been done for them. 
With the variety of unique treatments like milia extraction, cryotherapy, and carbon peel rejuvenation your face will be fresh and with no signs of aging or stress. They also do OxyGeneo which is a 3-in-1 skin-renewing treatment: exfoliation, infusion and oxygenation, this combination improves skin tone, evens texture and nourishes the complexion, giving you a balanced, healthy glow.
"Bernadett is an absolute professional who really cares about the comfort and wellbeing of her customers! She takes a holistic approach to treating skin conditions and is very insightful and knowledgeable about innovative skincare treatments. Every treatment she has provided, and her skincare product recommendations, have led to great results! Very, very happy with her services!"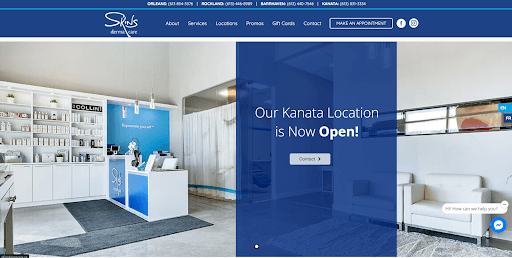 SKINS Derma Care will make you feel like family in Orléans, Rockland and Barrhaven. You'll have access to state-of-the-art technology as well as a personal touch from their knowledgeable staff members. They are committed to your needs being met. 
They offer Laser treatments that are great for rejuvenating skin, even treating lines and wrinkles or removing a tattoo. Safe non-invasive laser therapies make it possible to get the results you want without having any unwanted side effects! And their skin cars will revitalize your skin with treatments that get lasting, stunning results!
"Amazing staff, professional and supportive! Melinda knew exactly what I wanted and helped achieve my goals for treatment using professional skill and excellent patient care. All treatments were quick and painless! Can't wait to come back."
FAQs About Dermatologists
There are many excellent dermatologists in Ottawa, but the 10 listed above are some of the best. They offer a wide range of services and cater to patients of all ages. If you're looking for quality care and results, any one of these doctors will be able to help you achieve beautiful skin.