The best botox clinics in Ottawa will have you looking and feeling your best in no time. 
Ottawa is known for its many excellent medical facilities, and the same can be said for its botox clinics. Here we compiled a list of the best botox clinics based on user reviews, to help you make an informed decision.
Whether you want to erase wrinkles or achieve fuller lips, these clinics will have you covered. So without further ado, here are the best botox clinics in Ottawa!
For more ways to enhance your appearance, check out our list of the best coolsculpting clinics and the best lip fillers clinics in Ottawa.
1) The Ottawa Skin Clinic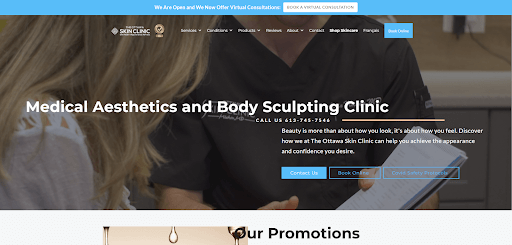 The clinic offers a wide range of treatments, all conducted with the most up-to-date technologies. They offer an expert staff who is friendly and caring towards their clients' needs in order to create comfort during procedures. A variety of cosmetic services await you at The Ottawa Skin Clinic including facials , peels, massages as well as botox injections. 
The Ottawa Skin Clinic is proud to offer patients effective Botox treatments for upper facial rhytids, including forehead lines and glabellar wrinkles. The injection process will be done with premium Botox Cosmetic so it's safe and you'll be comfortable throughout the entire process!
"I trust and highly recommend the Ottawa Skin Clinic. All the clinicians and staff are knowledgeable, professional, and only use evidence-based modalities. Suzanne in particular is exceptionally amazing!"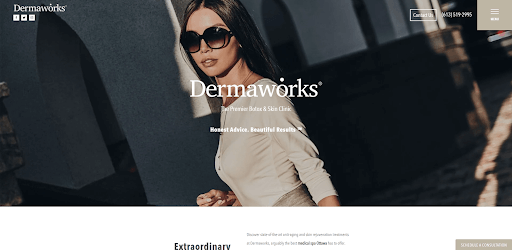 You deserve to feel and look your best. Discover state-of the art anti aging treatments at Dermaworks, arguably Ottawa's finest medical spa! They provide an array of innovative aesthetic programs that will keep you looking amazing while feeling rejuvenated with every visit from one of their experts who are here for all ages.
Dr. Vassiliou is a top-notch doctor with years of experience who knows how to give you the best Botox treatment correctly, every time! At Dermaworks, they take pride in providing their patients with safe and comfortable services. They set high standards for quality service that is second to none! Your face will look fresh, wrinkle less and natural after their Botox treatment.
"Dr. Vassilou does excellent work. She spends the time getting to know you & what your needs are. I recently had an area that was causing me real concern & she was able to fix it, giving me a huge boost in my confidence. I trust her & highly recommend her services."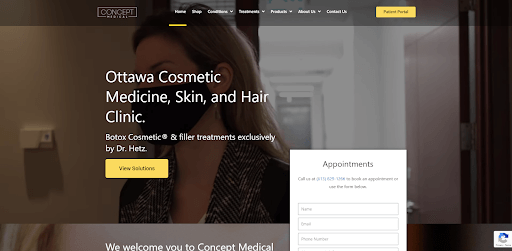 The Concept Medical Clinic is an advanced cosmetic medicine and skin care facility in Ottawa, Ontario. It offers a relaxing environment with evidence-based technologies that help to improve your appearance from fine lines or wrinkles. 
They understand that some of their clients have concerns with strangers performing procedures on them. That's why at Concept Medical, they never delegate Botox treatments to nurses or anyone else who is not a physician! You will look 10 years younger after their treatment. 
"Love, love LOVE this place. From the second you walk in, you are immediately impressed. The space is beautiful and clean. I felt safe throughout the entire process. Dr. Hetz is a class act, and I really appreciated the time he took to get to know me and my needs. His knowledge behind the treatments he provides (specifically Botox for my migraines) is clearly vast and I trusted him right away."
4) Medical Aesthetics Canada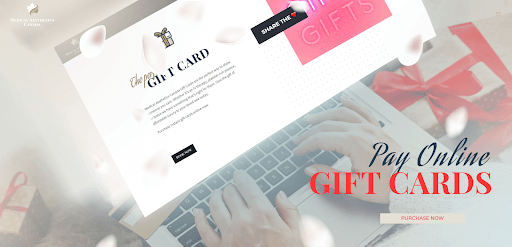 You can always count on Medical Aesthetics Canada to provide excellent service! They have a team of highly skilled and experienced registered staff who will take care not just of your needs, but also those around you.
No matter what type or size treatment plan that's right for you – they will make sure it happens quickly and with the best results. 
Medical Aesthetics Canada offers Botulinum toxin injections to give you the face-smoothing treatment of your dreams. This noninvasive cosmetic procedure works beneath skin level and reduces underlying muscle activity that may induce frown lines, crow's feet or forehead lineages helping make people look younger for a more refreshed looking complexion!
"Taissa is truly the best! She takes her time and is super patient with me. I would recommend her to anyone! I get my botox and lips done by her and I'm super scared of needles and she always makes sure that I'm super comfortable and relaxed. She's super sweet and talented!! I will never go somewhere else !!"
5) Danesthetics Medical Design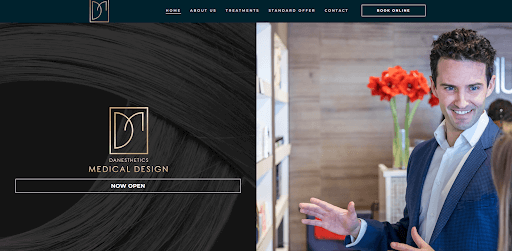 Let them help you look and feel your best at any stage in life. They work with clients to create personalized Botox treatment plans that deliver the results they need. When it comes time for an initial consultation, not only do their experts go over benefits, risks and expectations but also allow sufficient time devoted towards educating each client on everything related before making decisions. 
With the help of Botox they can restore lost volume of the face and treat facial wrinkles and folds. Their experienced staff use only premium quality Botox injections and they will determine the areas that you need it the most help.
"Dan and Michelle have a beautiful clinic. My experience with Dan was wonderful, he is very professional and made me feel comfortable throughout the service. He is knowledgeable and gives objective advice, I would recommend this clinic to absolutely everyone starting out with medical cosmetic procedures."
6) ElevateRx Medical Aesthetics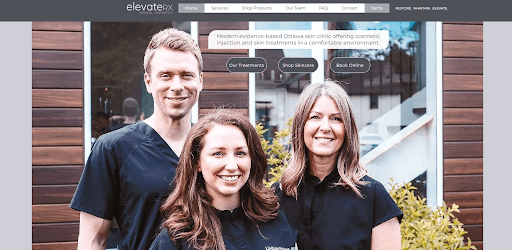 At ElevateRx Medical Aesthetics, they believe that beauty treatments should be modern, evidence-based, and safe. That's why they offer a variety of services in a comfortable environment so you can always feel your best. 
Their practitioners are experienced in using the latest techniques and technologies to give you the most tailored service possible. 
Whether you're looking for neuromodulators (e.g Botox®, Dysport®, or Nuceiva®), fillers (e.g Juvederm®, Restylane® or Teosyal®), or deoxycholic acid (Belkyra™) treatments – ElevateRx has got you covered!
"I am so happy to have discovered this spot!! The owner Lindsay is so professional, approachable and just an all round nice person. Medical aesthetics can feel intimidating sometimes but she makes you feel so easy and provides you with all of the important information. The space itself is so clean and bright and I've always walked out very satisfied with my treatments!"
When it comes to looking younger, many people turn to Botox. And if you're in Ottawa and need some help with wrinkles, then look no further than the list above. These six clinics are all highly reputable and offer top-notch Botox treatments.
 So whether you're just starting to see signs of aging or have been using Botox for years, these clinics will be able to help you achieve the youthful appearance that you desire.