The best party rental services in Ottawa can give you the night of your life!
 But planning a party is not much fun. That's where Ottawa's best party rental services come in. Hire these pros and the planning process will be so much easier. In Ottawa, there are party rental services for practically everything. From balloon signs, stage platforms, and lighting equipment, to stunning decorations, with their help you can host an unforgettable party your guests will love. 
We selected these party rental companies based on customer reviews, a huge selection of rentals, and customer service. No matter how elaborate a party you want, these businesses can help bring your vision to life. 
Now that you have the equipment, it's time to think about the location. Your guests will never forget a party at a unique and fun venue. Have your next event at one of the best bowling alleys in Ottawa or visit the best boat rentals in the city!
What's the Average Cost of Beauty Services in Ottawa?
The average cost of a beauty service in Ottawa is $85. This price can vary depending on the type of service, the length of the service, and the location of the salon. 
Here are some of the average prices for popular beauty services in Ottawa:
Haircuts: $60

Hair colour: $75

Highlights: $90

Balayage: $120

Hair styling: $50

blowouts: $35

Updos: $85

Keratin treatment: $250

Hair extensions: $200

To save money on beauty services, many salons offer package deals or membership programs. For example, you may be able to get a discount if you book multiple services at once or sign up for a monthly beauty membership.
The Best Beauty Salons in Ottawa
Now that you know the average cost of beauty services in Ottawa, it's time to find the perfect salon for you! Here are our top picks for the best beauty salons in Ottawa: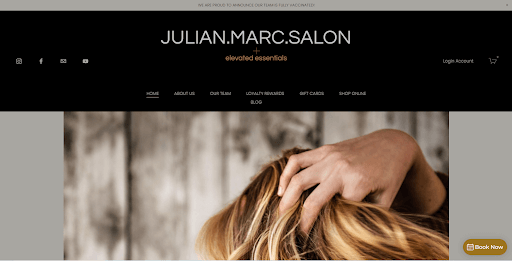 From the moment you step into Julian Marc Salon, you know you're in for a different kind of beauty experience. The luxurious space is inviting, and the staff is attentive and welcoming. They take the time to get to know you and your hair goals, so they can customize a treatment plan that's perfect for you. 
Their skills and knowledge are evident in every service they provide, from hair cutting and colour to styling and extension. They use only the highest quality products, so you can feel confident that your hair is being treated with the utmost care. 
Whether you're looking for a new style or just wanting to maintain your current look, Julian Marc Salon is the perfect place for all your hair needs.
"Cutis is an excellent stylist! He ensured that I was comfortable and relaxed and provided great suggestions for my hair! I would highly recommend, and will be going to him for all my future hair needs! I don't typically write reviews, but had one of the best experiences at this salon!"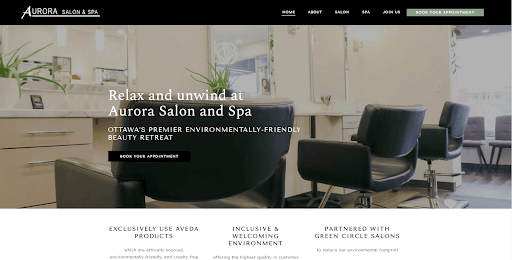 Looking for a beauty salon that is both eco-friendly and luxurious? Look no further than Aurora Salon & Spa! Their goal is to provide their customers with the best possible experience, and they do so by offering relaxing spa and salon treatments. 
Their services include hair and body treatments that will detoxify your body and restore vitality. They also offer facial services with microblading and waxing, as well as aromatherapy massage for those who love the benefits of aromatherapy. 
So whether you're looking for a new place to pamper yourself or want to support a salon that is eco-friendly, Aurora Salon & Spa is a perfect choice!
"If you are planning an event in Ottawa, call OSE right now. They are light years beyond a rental company — their team of young, dedicated professionals will make it their personal goal to ensure your success. I plan many events, big and small, and OSE is my secret weapon."
3) BossArts Salon and Spa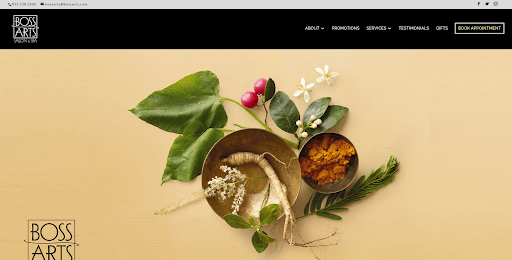 Need a beauty salon that caters to your every need? Look no further than BossArts Salon and Spa! They work hard to create a relaxing and calming environment, so you can sit back and enjoy the ultimate salon and spa experience. 
From hair curling to makeup applications, their talented staff will take care of all your needs. Plus, you can feel good knowing that their products are of the highest quality and are sure to leave you looking and feeling your best. 
So why wait? Give BossArts Salon and Spa a try today!
"The haircut and style I got here with Alix is by far the most satisfied I have ever been getting my hair done! I came for a curly cut and consultation, which I've never done before. I'd been feeling for awhile that many stylists do not have a great understanding of how to work with curly hair specifically, so I was looking for some real expertise. All this to say I found it! Alix was lovely to chat with, really understood my hair and took the time to teach me how to work with it. I left feeling empowered and like my hair was finally doing what I've wanted it to do for a long time. I will absolutely be back!"
4) Spa Junkie Hair & Beauty Boutique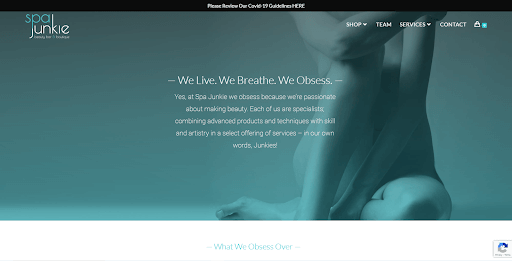 The Spa Junkie Hair & Beauty Boutique is a beauty salon that obsesses about making the best of its users' appearances. The salon offers a variety of services, from hair removal to sugaring, and each service is performed with skill and artistry. 
The salon's co-owner Linda is especially talented at hair removal, and she has mastered the art of "the gentle release." This means that she can remove hair quickly and efficiently, with minimal pain for the client. 
In addition to hair removal, the salon also offers body waxing, facial waxing, lash extensions, and other grooming services. Whether you're looking for a quick fix or a complete makeover, The Spa Junkie Hair & Beauty Boutique is the perfect place for you.
"I had the BEST facial experience with Linda at Spa Junkie. I've done many facials at other places but this one is worth mentioning! Linda was so professional, her technique and level of care was OUTSTANDING! I was so relaxed and enjoyed every minute. My face was glowing by the end. THANK YOU so much Linda for taking such great care of me - I didn't want it to end haha!! The salon is very clean and COVID cautious."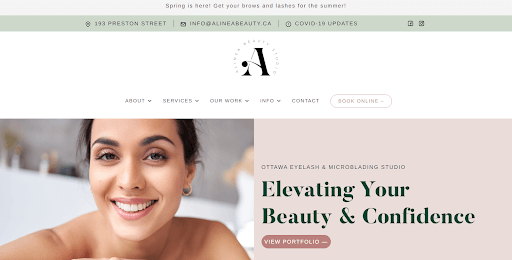 Alinea Beauty Studio is a beauty studio that offers a wide range of services, from permanent eyebrows to eyelash extensions and face waxing. They also sell unique quality retail products that are environmentally conscious and sustainably sourced.
 Their mission is to ensure that customers feel beautiful and safe through safe treatments. To achieve this, they offer a variety of services that are designed to enhance your natural beauty. 
Whether you're looking for a new set of eyebrows or want to add some length and volume to your lashes, Alinea Beauty Studio has you covered. So why not book an appointment today and see what they can do for you?
"Got my eyelashes permed and I'm beyond thrilled with the results. Leanne is hands down a master at her craft. The entire process was gentle, well explained and was overall an amazing experience. Her attention to detail is astounding!The salon is super cute and incredibly clean. It was such a well organized appointment, you really feel comfortable during and after as they provide a kit with care instructions. I'm definitely going back and would recommend this to anyone!"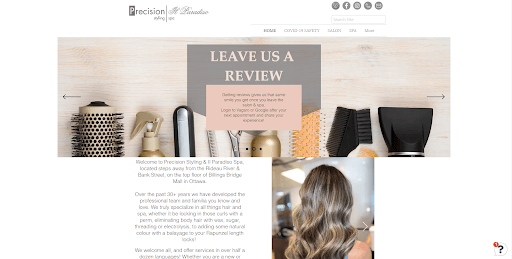 At Precision Styling, they like to think of themselves as more than just a beauty parlour. They see themselves as a tasteful elegance parlour – a place where you can come to relax, have a few laughs and feel like your best self. 
Whether you're looking for a perm to lock in those curls or you're wanting to try something new with creative colour, their team of experts will be able to understand your vision and ensure that you leave satisfied. 
And if you're new to the parlour, they offer complimentary consultations so that you can get to know the team before booking your appointment. No matter where you're from or what language you speak, Precision Styling is dedicated to providing an inclusive experience for all of their guests.
"I am always happy with the results of the haircut. I know I am in good hands with Maria. She looks at the photos and listens to how I want the haircut. She offers suggestions and advises the best way to proceed with what is being asked. I flip from one style to another, at the last visit I I decided to grow it out and go with a bob cut. When I arrived at this appointment she asked if I was still growing it out and I said no, cut it all off. Once again totally satisfied with the result. Maria is amazing!"
A trip to the beauty salon is a great way to pamper yourself and come out looking a little better. Whether you need a little extra pep in your step or want to treat yourself, these Ottawa beauty salons will take care of you. You can trust these beauty professionals to give you the care you deserve.
If you want to look and feel your very best, head on over to the best beauty salons in Ottawa!