The best osteopaths in Ottawa can get you back to wellness in no time!
If traditional medicine just isn't cutting it for you, seeing an osteopath might just be
Osteopathy takes a more holistic approach to health. Instead of treating a specific part of your body, osteopaths strive to improve your overall health and general wellness.
We selected these Ottawa osteopathic clinics based on patient reviews, customer service, the different services they provide, and their team of licensed, experienced professionals.
Staying healthy is easy with the help of the city's best health professionals. For more alternative health services, visit the best naturopathic clinics and the best acupuncture clinics in Ottawa!
What's the Average Cost of Osteopathic Treatment in Ottawa?
The average cost of osteopathic treatment in Ottawa is $120. However, prices may vary depending on the clinic you visit and the type of treatment you need.
Some of the factors that can affect the price of your treatment include the type of insurance you have, the severity of your condition, and whether or not you need any additional services.
Some clinics offer free initial consultations while others charge a fee. It's always best to call ahead and ask about pricing before making an appointment.
The Best Osteopaths in Ottawa
Now that you know a little bit more about osteopathy, let's take a look at some of the best osteopaths in Ottawa!
1) Restore Health & Wellness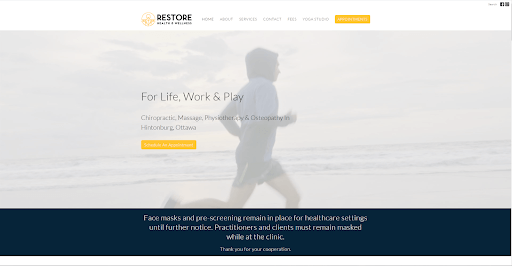 At Restore Health and Wellness, they understand that living with chronic pain can be incredibly difficult. That's why they offer a variety of services designed to help you find relief. Whether you're looking for traditional medical therapies or natural remedies, they're here to help you achieve your goal of living a pain-free life. 
They offer chiropractic care, massage therapy, physiotherapy, and osteopathy treatments, all of which have been proven to be effective in treating chronic pain conditions. In addition, they offer acupuncture, which is a centuries-old practice that has been shown to be highly effective in treating chronic pain. 
If you're struggling with chronic pain, they encourage you to come and see us at Restore Health and Wellness. They're confident that we can help you find the relief you need.
I see Ana-Maria here for osteopathy. She is a wonderful human being and is very calming. She is talented at what she does and I always feel amazing when I leave. The adjustments made seem subtle but are incredibly important for helping me move in ways that are better for my body. I would recommend her to anyone who feels any form or soreness, or even anyone who just feels like things in their body might be a bit off!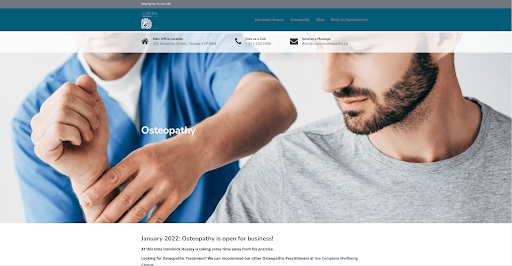 Dominick Hussey is a highly qualified and experienced osteopath who has been practicing Osteopathy for over 20 years. His wealth of experience and diverse training brings a lot to the table in terms of treatments, which include physical treatments to reduce pain, improve mobility, enhance performance and promote healing. 
He not only assesses the underlying (root) causes of customers' health concerns but also helps customers address them head-on. By referring customers to a team of exceptional health care providers at the Complete Wellbeing Centre, each with their own special skill set, Dominick ensures that they receive comprehensive treatment tailored specifically to their needs. 
This makes Capital Osteopathy a great place to go for anyone looking for quality osteopathic care.
I first went to see Dominick with my 4 year old daughter who had daily stomach pain. Our family doctor told us that it should pass by the time she's 10. We refused to let her suffer for another 8 years. In the first visit, Dominick identified the issue, what caused it (strong antibiotics that she was given the year before) and a remedy. I was flabbergasted to say the least. Within 6 months, she was much healed. She's now 9 years old and is still pain free. There is no doubt in my mind that Dominick has a special gift. He is very knowledgeable and good at what he does. I have recommended him to many of my friends and will forever be grateful for healing our daughter.
3) Ottawa Holistic Health Centre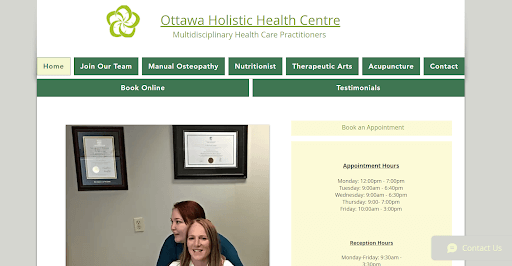 The Ottawa Holistic Health Centre is committed to providing quality, holistic healthcare services that are specifically tailored to each patient's individual needs. The centre offers a wide variety of complementary medical treatments, such as acupuncture, chiropractic care, massage therapy and more. 
By integrating these various methods of treatment into one facility, the staff at Ottawa Holistic Health Centre hope to provide their patients with an integrated approach to wellness that addresses both physical and emotional concerns simultaneously. 
Whether you're looking for relief from chronic pain or guidance on maintaining your overall well-being, the team at Ottawa Holistic Health Center can help you find what you need.
"Elissa is absolutely the best and she does what I like to call "miracles". I have always left the clinic feeling more relaxed and healthy. She clearly cares about her clients and gives it her all. I would definitely recommend, especially if you are not sure what the problem is."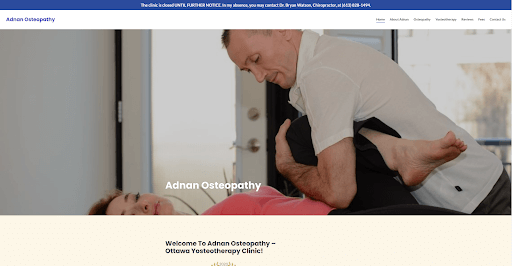 At Adnan Osteopathy, the focus is on treating the person as a whole rather than focusing solely on their specific disorder or condition. By doing this, they are able to provide more comprehensive treatment that can help improve your overall health and well being. 
Their approach has been trademarked as Yosteo Yoga & Structural Therapy. This means that their focus is on using a wide range of non-invasive manual techniques to relieve lower back pain, neck pain, shoulder pain and other musculoskeletal disorders. 
They work with the body to enhance its natural ability to self-regulate and self-heal. As a result, their patients can experience significant improvements in their overall health and well-being.
"For several months, I was stuffed up and had a persistent headache. I thought it was because I was unable to fight off a stubborn virus. Adnan performed a structural cranial osteopathy treatment (totally pain-free!), and I immediately began to breathe more freely, and my headache disappeared. What a relief! Thank you, Adnan!"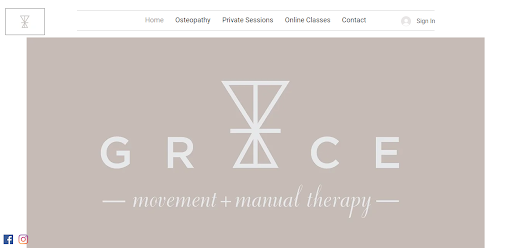 Grace is a health center that offers natural approaches to preventing and recovering from illness. The center specializes in Pilates and yoga-based movement as well as Osteopathic Manual Therapy. The founder, Devon Honywill believes that every individual is unique, which means that each person requires a different approach to health and wellness. When working with clients, she works individually with them so they can focus on their specific needs at the moment. This allows her to provide them with high-quality personalized attention. 
Osteopathy at Grace focuses on restoring balance in the body's structure. Through gentle manual adjustments, Devon aims to alleviate pain and discomfort by correcting disruptions in the way nerves, arteries, veins and lymphatics operate. As a result, patients are able to improve their overall quality of life. In addition to treating acute symptoms like pain or injury, she can help clients with chronic conditions like tension headaches or back pain. By working together with the individual's own body mechanics and anatomy, she is able to address underlying causes of disease and dysfunction for long-term relief.
"Devon clearly has a wealth of knowledge about the human body. In her classes she showed me how to get the most from each joint and muscle group. She has helped me go from a muscleless frame, following my stem cell transplant last year, to a strong flexible build. I'm back to running and hiking thanks to Devon. I am so very appreciative."
If you're looking for an osteopath in Ottawa, you'll want to check out these four practitioners. They come highly recommended by their patients and peers alike, and they have the skills and experience necessary to help you overcome your health challenges. So what are you waiting for? Give them a call today!