It's crucial that you take care of your body. You need to exercise, eat well and see the right health practitioner if you want to stay healthy and happy for years to come. When you're looking for someone who can help you out with your fitness routines or recover from an injury, this list of the 20 best Ottawa physiotherapy clinics can help you get back on your feet.
How Much Does Physiotherapy Cost in Ottawa?
The cost of physiotherapy in Ottawa varies depending on the clinic you go to, but it generally ranges from $50 to $150 per session. If you have insurance, your plan may cover a certain number of sessions each year.
The cost will vary even further depending on the severity of your diagnosis and the type of physiotherapy you require. For example, a session for someone with arthritis may be different than someone who's recovering from a broken leg.
Here are some common factors that can affect the cost of physiotherapy in Ottawa:
Type of injury or condition you're dealing with 

Number of times annually you'll need treatment 

The location and type of clinic (i.e. whether it's a private practice, hospital, etc.) 

Whether your insurance will cover part or all of the treatment
You should always ask your physiotherapist how much a session will cost before you agree to the treatment.
The Best Physiotherapists in Ottawa
Now that you know the kind of healthcare professionals who work in a physiotherapy clinic, it's time to find out which ones are actually worth going to.
Here are some reputable places to seek out quality treatment:
1) Ottawa Physiotherapy & Sport Clinics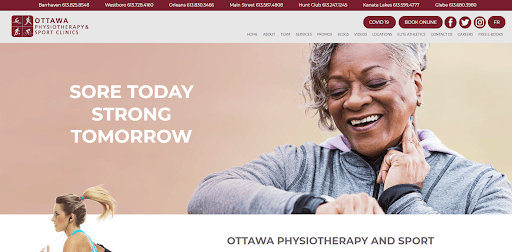 If you're looking for a Professional Physiotherapy Center in Ottawa, Westboro, Barrhaven and nearby areas such as Kanata Lakes they have it covered. Their team has the highest qualified physiotherapists who can help with any injury or condition! Whether it be rehabilitation after an illness/injury or simply that ache all day long – our clinics are available for you. Their services include things like active release technique, acupuncture, aquatherapy and back pain treatment, custom orthotics and many more.
The staff are all very friendly and the therapists know their stuff. After coming in for a few sessions your sports-related injuries will get better each time. The specialists will help you with identifying weak points which they then work on by strengthening them.
Telephone: +16137284160
Address: 347 Churchill Ave N, Ottawa, ON K1Z 5B8, Canada
"Professional, friendly, expert care. Kirstie helped get me back on my feet - literally! I was reluctant to seek physiotherapy because of the pandemic, but the clinic more than met Covid-19 safety standards. Excellent care - thank you!!"
2) Broadview Physiotherapy Ottawa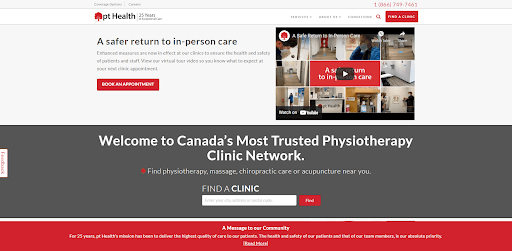 Pt Health provides quality care with a clinical approach, by integrating various treatments in one clinic location. Located across Canada their multidisciplinary clinics offer an eclectic mix of physiotherapy massage, therapy acupuncture, chiropractic services and more. They stay true to the highest standard while delivering great customer service!
If you are suffering from back pain, knee problems or muscle weakness for a while their staff is ready to provide you the best care possible and increase your quality of life!
Telephone: +16133661829
Address: 770 Broadview Ave, Ottawa, ON K2A 3Z3, Canada
"I was referred by my GP for physiotherapy due to a back injury (gardening of all things). I knew from past experience this would be a long recovery. Steve and Tyler were very knowledgeable and patient, taking the process step by step. My recovery from barely being able to move to now being basically pain-free took time; however, I saw improvements almost from the first day of treatment. I would highly recommend their services."
3) Pro Physio & Sport Medicine Centres Capital Sport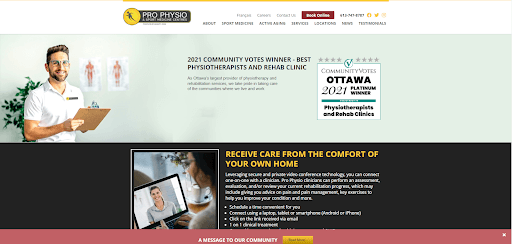 The largest provider of physiotherapy and rehabilitation services in the National Capital Region, Pro Physio & Sport Medicine Centers has 31 facilities throughout Ontario employing over 105 registered physiotherapists, Orthopedic Surgeons and Rheumatologists.
31 locations allows them to provide access for patients' needs regardless if they are accident prone or have joint problems due to genetic mutation.
If you have been experiencing much pain the treatments will work for you. Their therapists go over what they plan on doing so there are no surprises along the way; they truly make you feel comfortable.
Telephone: +16132349970
Address: 267 R. O'Connor St #101, Ottawa, ON K2P 1V3, Canada
"I was going to this place for a couple of years. I am very satisfied with physiotherapist Leenesh. He is very polite, patient and knowledgeable. I had Sciatica and with his help and hard work I felt much better after the treatments. I also want to extend my gratitude to the staff who works at the front desk."
4) Glebe Physiotherapy and Sport Medicine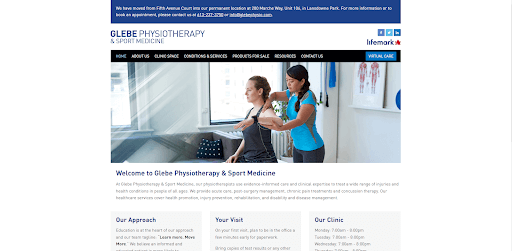 Glebe Physiotherapy & Sport Medicine is here to help you meet your goals. Whether it be a sprained ankle, osteoporosis or just general maintenance of the body they will take the time to listen so they can focus exclusively towards meeting your individual needs. They work hand in glove with other members within this field such as family doctors to provide the best care possible.
With their special training schedule and techniques you will overcome any sport injuries or get back in shape after recent surgery or trauma. They also offer such things as physio virtual sessions, so they can help you if the injury makes it hard to get to the clinic.
Telephone: +16132373750
Address:  200 Marché Way Unit 106, Ottawa, ON K1S 5J3, Canada
"Great clinic. I very much recommend it. Therapists take the time to really investigate your injury and everyone is always pleasant from the front desk onward. Marjolein is a gem! Seen her for a few injuries as well as other members of my family and we have always been very satisfied with the treatment offered."
5) MapleCare Physiotherapy & Neuro Rehab Centre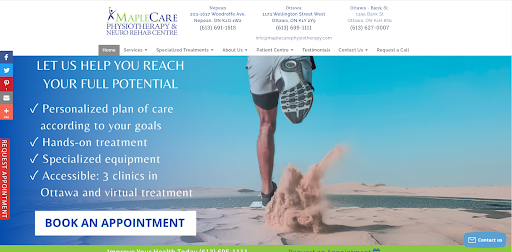 MapleCare's clinic is committed to getting you back on your feet. The clinicians will spend as much time with each patient, one-on-one, that it takes for them to get the ultimate result they desire – a successful recovery! They offer personalized care and programs based on research into evidence based outcomes which has been reviewed by senior specialists in the field so they know what works best.
With the exceptional services in neurological and orthopedic physiotherapy, massages and in-home or virtual physiotherapy they will provide you the best care possible. They will also give you tips on how to minimize the stress on your body depending on your working conditions.
Telephone: +16136951111
Address: 1173 Wellington St. W, Ottawa, ON K1Y 2Y9, Canada
"I have been going to MapleCare periodically for various types of pain. After every visit, the pain is significantly reduced and I feel refreshed. The therapists are very skilled, compassionate and manage to diagnose issues with great accuracy. Highly recommend."
6) Kent Chiro-Med Wellness Clinic
They offer a variety of services for people who want to feel better fast without using medications or injections. Their treatments include chiropractic, physiotherapy and acupressure which are all natural ways that will work wonders on your pain levels!
They also have experience treating newborns right up until senior citizens suffering from muscle joint nerve discomfort —they've got you covered no matter what stage whatever condition may be at present.
Their staff is a team of well-qualified chiropractors with an excellent reputation for providing quality medical care and treatment in their field of expertise, which includes back pain management, scoliosis, wrist and hand pain, shoulder and neck pain and many others.
Telephone: +16135080113
Address: 563 Gladstone Ave, Ottawa, ON K1R 5P2
"I am 15 years old, and already struggling with a minor scoliosis and back pain. Thankfully Dr. Maryam was able to diagnose and treat me. I have noticed great improvements since the start of the treatment: 1. The pain is gone 2.My scoliosis is diminishing 3. My posture has improved 4. I have grown a few inches The team is very professional, informative, and helpful. Would highly recommend."
7) Function Physiotherapy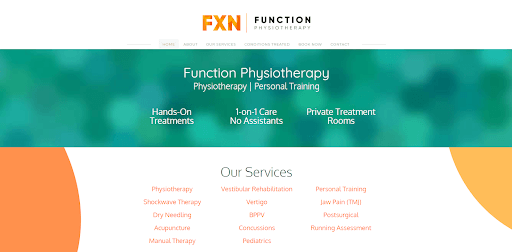 FXN Function Physiotherapy is a physiotherapy clinic in Old Ottawa South that provides exceptional quality service with hands-on treatments, private rooms and one on one attention by your therapist. They are here to help you both physically and mentally. The therapists will help you to understand the pain you are experiencing, and how to move forward with it. They will be able to diagnose your injury and professionally give you tools and exercises that you need to do for healing it on your own or during the sessions. This place is definitely worth your time and money.
Telephone: +16136806505
Address: 1185 Bank St, Ottawa, ON K1S 3X7, Canada
"I went to Justin for a sprained ankle injury in July and he really helped me get back on my two feet! He encouraged me to continue training in the gym and gave me different exercises that would compensate for my injury. He made for a speedy and excellent recovery for me. I recommend seeing Justin and his lovely staff as well for any physio needs Thanks Again !"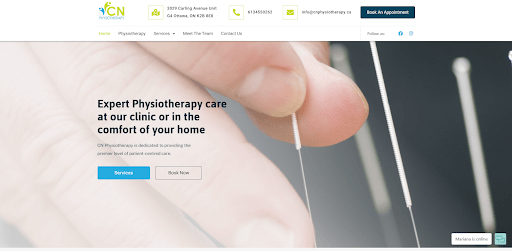 CN delivers quality service in a timely, caring and cost efficient manner. They strive to work collaboratively with you so that your maximum level of physical function can be achieved through their evidence based practices. A perfect balance between time management as well as customer satisfaction is what characterizes CN's services; which has been proven by years upon years' worth of satisfied customers!
Physiotherapists have a deep understanding of how the human body works and are able to provide treatment for all sorts of injuries. They also educate their patients on preventing future ones as well, in order to promote good health overall!
Telephone: +16134550262
Address: 3029 Carling Ave, Ottawa, ON K2B 8E8, Canada
"Thank you to the entire staff of CN Physiotherapy for your fantastic care. And thank you especially to Neha for your help, it was such a pleasure to have you working with me and I am so grateful to be able to use my ankle again! I recommend anyone and everyone who needs physio care to come to this clinic - their rehabilitative measures are unmatched!"
9) Evolve Physiotherapy Ottawa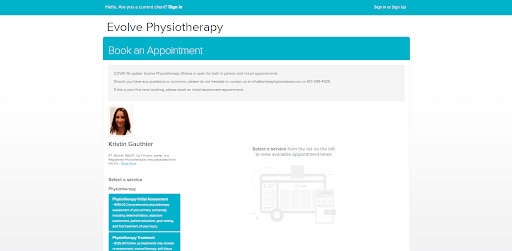 The owner Kristin is a therapist who has devoted her life to helping people get better. She specializes in identifying and correcting movement patterns which have become regular due to repetitive strain or other reasons, implementing manual therapy alongside therapeutic exercises that help restore optimal function for both short-term relief as well long term stability so they can live pain free lives once again!
She offers physiotherapy initial assessment and treatment as well as tele-health treatment on a variety of problems like arthritic knees and hamstring issues also back pain and neck pain.
Telephone: +16132994305
Address: 953 Somerset St W, Ottawa, ON K1R 6R8, Canada
"I dislocated my shoulder, and it took about five sessions to evolve with Kristin to get back to normal. The visit is always productive and professional. The exercises seem like they do nothing but trust me over time they 100% work. You just have to show up and listen, and follow the treatment. 5/5 would highly recommend."
10) Bloom Integrative Health and Movement Centre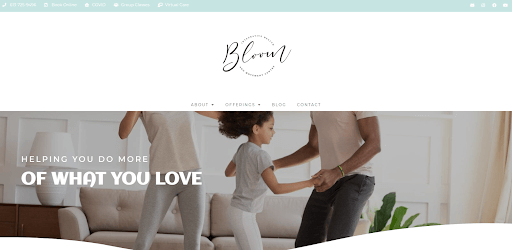 Bloom Integrative Health and Movement Center is the best place to restore your health. They offer one on one care in integrative physiotherapy, chiropractic, naturopathic medicine, osteopathy and massage therapy. You can also bring your friends to group physio classes or join class for expectant mamas which is designed for women at any stage of pregnancy, who want to learn more about how they can stay active and healthy throughout pregnancy, prepare for delivery to optimize outcomes, and assist in their recovery and return to activities postpartum.
They also specialize in pelvic floor physiotherapy which can help you with bladder issues and women's health in general. Their staff have excellent communications skills, are respectful of personal space and will help you with any questions or issue.
Telephone: +16137259496
Address: 1704 Carling Ave Suite 200, Ottawa, ON K2A 1C7, Canada
"I worked with Camille during my postpartum recovery and she was outstanding. She was very kind, knowledgeable and easy to open up to; all things I look for in a physiotherapist. I think every single mama needs pelvic floor physio - it is truly LIFE CHANGING! I would recommend Camille to anyone who is pregnant or postpartum - she is an absolute ray of sunshine."
11) Ottawa Chiropractic Health Clinic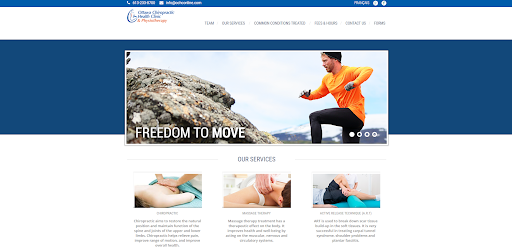 At the Ottawa Chiropractic Health Clinic, you'll find a place to get help with common pain conditions like Carpal Tunnel Syndrome, Tennis Elbow and Shoulder Pain – rotator cuff injury. They even have back care services for those who are feeling tired from their work or daily activities!
The clients can't say enough good things about this office. The staff is professional and welcoming. They always find space for everyone no matter what time of day or week it may be- there's just so many amazing people trying hard all day long making sure every patient feels taken care of.
Telephone: +16132338700
Address: 407 Laurier Ave W, Ottawa, ON K1R 7Y7, Canada
"I have been on treatment from Dr. Alexander Lee for my spinal cord and hip mobility issues. He was able to diagnose the problems in the first visit and created a treatment plan. Dr. Lee is very easy to talk to and listens to the problems patiently and makes sure he has a lot of information before making assessments. He constantly monitors my progress both during and in-between visits and makes changes to the treatment as the status evolves."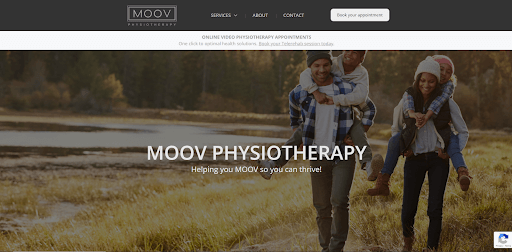 MOOV Physiotherapy strives to be a trusted health care team for all patients. Whether this means managing pain, restoring function or achieving new levels of fitness and performance; one thing is certain- MOOVPsy Chiropractors will enhance the body's ability to adapt challenges while ultimately helping find strategies which lead you towards recovery faster than ever before.
The MOOV team is passionate about sharing their vast clinical knowledge and experiences with you. They will take a comprehensive assessment that includes detailed history taking, thorough physical examination— ultimately leading to identifying key factors in your condition.
Telephone: +16134225070
Address: 280 Albert St Suite 400, Ottawa, ON K1P 5G8, Canada
"Cindy at MOOV Physio therapy has helped me over the last year as I recover from a c-section and become more active post-pregnancy. I have been able to consistently build up my physical strength and avoid injuries because of her help. She has been very knowledge, and has provide comprehensive exercises to work on between appointments to help me continue to progress."
13) Beth Hoag Physiotherapist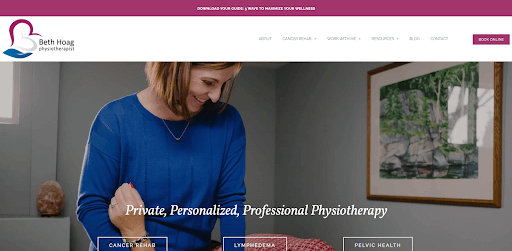 Beth Hoag the owner and the therapist have 15 years of practice including 7 years of working in cancer rehabilitation in the Ottawa area. She decided to open her own physiotherapy practice focused on cancer rehabilitation. She wanted to create a space where all clients feel safe and heard. She also specializes in Complete Decongestive Therapy (CDT) which is the gold standard for Lymphedema treatment.
Beth will always make you feel comfortable. She's very knowledgeable about general body issues as well pelvic health, which are two things that matter a lot to women's health because they're related!
Telephone: +16139128674
Address: 559 Browning Ave, Ottawa, ON K1G 0T3, Canada
"Beth has been instrumental in my cancer rehabilitation over the past 4 years. There have been a few times that I was discouraged, but her excellent physiotherapist care has allowed me to better cope with my lymphedema and chest /back pain. I have no hesitation in recommending Beth to anyone that wants to improve physically and mentally from the side effects of cancer. Thanks for your amazing care Beth."
14) Crocus Care Solutions Inc.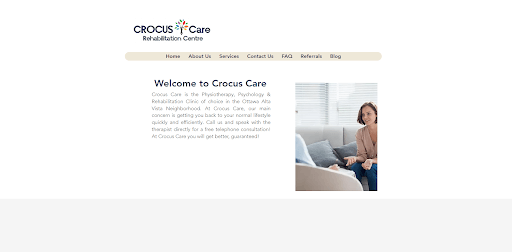 They are a welcoming, friendly clinic that provides high quality care to all of their patients. Whether you need treatment for sports injuries or chronic pain; want help with mental health issues like anxiety attacks – they have the expertise needed! They offer services in English & French as well so no matter what your native language may be there will always be someone who can communicate effectively enough during your visit with us.
Crocus Care provides services like Kinetic (Kinesio) Taping, Orthotics, Counseling & Motivational Interviewing, Concussion Rehab. You will get great customer support from beginning to end. The team is really informed, helpful in every way possible even going the extra mile at each stage of your process.
Telephone: +16136865818
Address: 2211 Riverside Dr. Suite B4 (basement, Ottawa, ON K1H 7X5, Canada
"I had a great experience here at crocus care solution, all the staff are smart, welcoming and diligent with their work, especially Krystel she has been an amazing person she has helped me through the journey of my psychotherapy. With crocus care you can't get it wrong, it can only get better and they help with the journey till your better becomes best."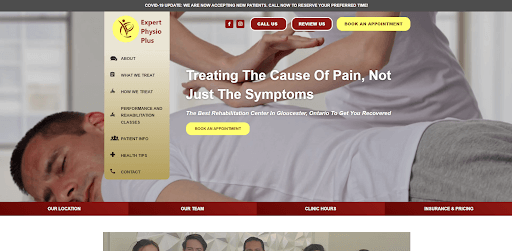 We know that an acute or chronic condition can be tough on your body. You may feel pain, injury and discomfort all at once! That is why they offer specialized treatment services for any aches you might have with their highly trained team of experienced physiotherapists.
They use sophisticated diagnostic methods including movement investigation & gait analysis which helps to determine what type of spottercare would best suit the individual needs.
From electrical stimulation to vestibular therapy— you name it, they have it all. It is also possible to get training in fall prevention which is perfect for elderly people and postoperative patients!
Telephone: +16138009800
Address: 2666A Innes Rd, Ottawa, ON K1B 4Z5, Canada
"Mina, Darcy as well as the entire team at Expert Physio Plus are fantastic. I had lower back pain after an injury and they were able to get me back on track feeling much better. The combination of therapy, strength exercises and at home routines were great. Overall a supportive & encouraging group of professionals."
16) MelioGuide Physiotherapy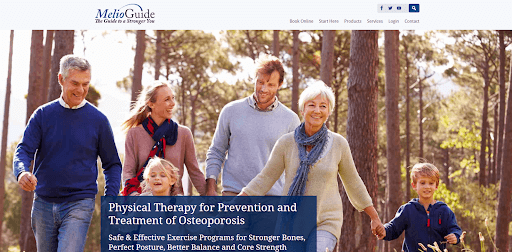 Get your bone health in check with physical therapy at MelioGuide! Osteoporosis is a disease that can result from low estrogen levels or menopause. It's too easy for our bones to become weak, fragile and brittle as we age. Doctors here have seen first hand how effective physiotherapy can be at helping prevent future disabilities caused by poor posture/balance problems.
MelioGuide Physiotherapy ensures that you receive the full attention of a highly trained physiotherapist for your services session. They also offer telehealth options so no matter where in Canada you live they'll find access to quality healthcare closeby.
Telephone: +16135140284
Address: 136 Carwood Cir, Ottawa, ON K1K 4V6, Canada
"I am thrilled that I found Margaret Martin and MelioGuide Physiotherapy. Margaret focused on my particular needs and we have started building a program tailored to me supported by the information in her books and on her website. I am confident now, with Margaret's guidance, that I will learn how to be stronger so that I can continue to do all the things I love to do."
17) Vitality Physiotherapy and Wellness Center Findlay Creek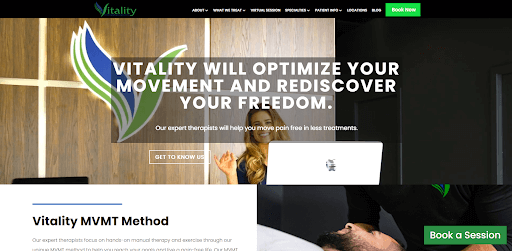 The therapists at Vitality Physiotherapy will work with you to reach your goals and live a pain-free life! We use the MVMT method, which is a unique form of hands-on management and your movement analysis that helps understanding the core issues of the injury and the best ways possible to prevent any further complications. Their 1:1 sessions are tailored for each individual based on their needs so they can get better quicker.
You can get the best post-surgery rehab with their therapists. They will do a wonderful job explaining the process and giving exercises to help recover at home.
Telephone: +16134253500
Address: 111 Shuttleworth Dr. #8, Ottawa, ON K1T 0W7, Canada
" Fantastic service, with cutting edge technology.The staff (all of them) are fantastic, flexible people that will work with you. From the moment I walked in I knew this would be a different physio experience. I was taken through in great (visual detail) what the injury was and what the road to recovery looked like. The staff genuinely cared about my well-being and adjusted plans as needed. I made a full recovery and look back on my time there as well spent."
18) Motion Matters Physiotherapy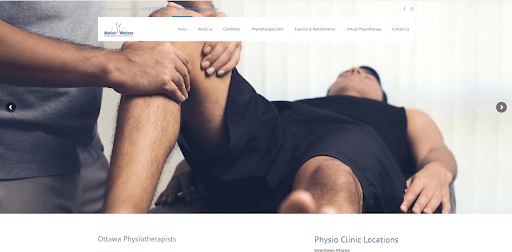 Motion Matters provides the best physiotherapy, rehabilitation and exercise training in Ottawa.Patients have been coming to them for over 19 years because they know that they provide a top-notch service.
The Motion Mattress have experienced therapists; they know how important having someone by your side when dealing with pain or struggling from injuries – not just pushing through it on autopilot like some other places might do out of habit. They provide traditional physical therapy as well sports injury treatment options like acupuncture which will help deliver the best possible quality care at all times.
Telephone: +16132374343
Address: 170 Laurier Ave W, Ottawa, ON K1P 5V5, Canada
"I have been going to Motion Matters for over 15 years now, on and off, for all kinds of aches, pains and mishaps. Getting old and being out of shape sucks, but the staff and team of physiotherapists have always been TOP NOTCH professionals. With Monate, Vanessa and now Kathy, I have always been treated well and received great care from the physiotherapists. The support staff, Elizabeth, Soheila, and others, are awesome to deal with and make you feel valued and important. Great services, great team! Highly recommended!"
19) Activa Physiotherapy Ottawa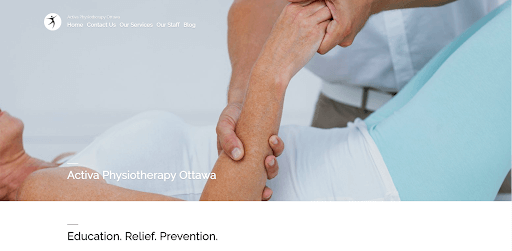 Activa Physiotherapy Ottawa is a 24 years old physical therapy clinic that offers high quality service to meet the needs of both patients and staff. The team works hard in providing treatment for all kinds of medical conditions, such as orthopedic injury or back pain; they also have extensive experience working on athletes' shoulders with sports physio cases coming from different fields like hockey/rugby etc.!
They provide their services in English and Polish. 
You will receive excellent service there and recommendations for some fantastic exercises that will help strengthen your knees after experiencing pain while running or hands after working in the garden.
Telephone: +16137444188
Address: 200 Rideau Terrace #202, Ottawa, ON K1M 0Z3, Canada
"Activa over the years has helped me many times with sports and other everyday injuries. Barbara is a wonderful human being with superb knowledge of the human body and exceptional diagnostic skills. She has always succeeded in getting me back on track quickly and never fails to keep an upbeat atmosphere in her clinic."
20) Prime Physio Plus Physiotherapy Clinic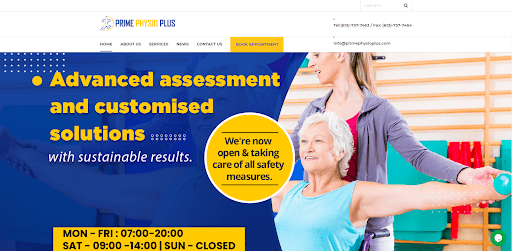 Prime Physio offers a variety of services to help people take back control, not only over their day-to-day routine but also in pursuing strength building. Their therapists provide one on one sessions in a well equipped gym. You can expect to receive attentive care from experts in a modern, spacious and clean environment.
Your personalized home exercise program will allow you to stay healthy on the job while further enhancing your rehabilitation during all phases of physical therapy treatment at their center!
At Prime Physio the experienced therapists will take care of your joints and bones as well as deep muscle treatment. Your full ability of motions will be restored after just a few visits.
Telephone: +16137377463
Address: 2639 Alta Vista Dr Unit C, Ottawa, ON K1V 7T5, Canada
"Wonderful staff, and amazing doctors! They helped fix my injuries with great knowledge and a wonderful attitude. Dr. Mohamed is an amazing doctor that has helped me tremendously. Best physio I've been too, loved my overall experience there."
21) A Plus Physiotherapy and Wellness Centre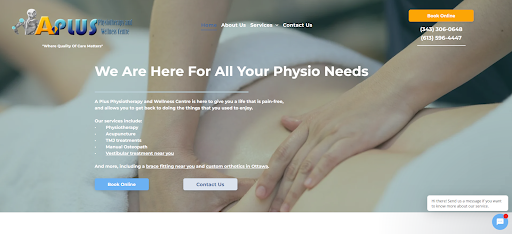 A Plus Physiotherapy and Wellness Centre want to help you get your life back on track by providing expert physiotherapy services. They know that pain can prevent you from doing the things that you love, which is why they offer a wide range of services to help you overcome pain and improve your quality of life. 
Whether you're dealing with chronic or acute pain, neck and back pain, joint or muscle issues, or tightness in your body, their team of experienced professionals can help. With physiotherapy, acupuncture, TMJ treatment, and more, they will work with you to develop a personalized treatment plan that will get you on the road to recovery more quickly. 
So don't let pain hold you back any longer, contact A Plus Physiotherapy and Wellness Centre today to book an appointment.
Telephone: +13433060648
Address: 1150 Morrison Dr Suite 301, Ottawa, ON K2H 8S9
"Diana is a skilled PT who listens to your needs and treats accordingly. Diana is certified in various techniques and chooses one she believes is most beneficial to her clients. Her clinic is clean and follows COVID protocols so you are sure to feel safe when entering. Highly recommend!"
FAQs About Physiotherapy in Ottawa
If you're looking for quality physiotherapy in Ottawa, the clinics on this list are a great place to start. These professionals can offer you guidance and assistance as you recover from an injury or manage a condition that affects your mobility. Remember to always consult with your doctor or physiotherapist to find out if physiotherapy is the right treatment for you.