The best makeup artists in Ottawa can give you a stunning look for any big day!
Getting your makeup done can be a luxurious way to prepare for an event or milestone occasion. Makeup artists can freshen up your face or give you a bold style that will transform the way you look. In Ottawa, there are many highly-skilled makeup artists so whatever you're looking for, these makeup artists can make it happen.
We selected these Ottawa makeup artists based on their reputation and experience, the high-quality makeup and brushes they use, and their ability to create all kinds of makeup looks for you. Many of these artists offer makeup classes, so you can recreate their looks yourself.
Makeup is just one way to look your best. Make sure your skin looks its best by visiting the best botox clinics and the best facials in Ottawa!
What's the Average Cost of Makeup Services in Ottawa?
Makeup artists' charges can range anywhere from $90 to $475 per session, depending on their experience, the services they are doing, and the occasion. 
For instance, if you're looking for a simple makeup application for a casual event, you can expect to pay on the lower end of the spectrum. But if you're looking for a more complex makeover for a special occasion, you can expect to shell out some serious cash. In the end, it all comes down to what kind of look you're going for and how much you're willing to spend.
 So before booking your next makeup appointment, be sure to ask about the price beforehand. That way, you can avoid any nasty surprises down the road.
The Best Makeup Artists in Ottawa
Now that you know what to expect in terms of cost, it's time to start booking your appointments! To help you get started, here is a list of the best makeup artists in Ottawa.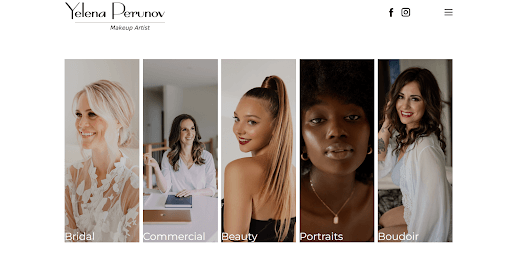 Yelena is a makeup artist who has been in the business for over 17 years. She has worked with a range of different clients, including brides, corporate headshots, commercial work, editorial, and more. 
Yelena's work is known for its decadence and she runs a successful makeup parlour called Makeup by Yelena. Her clients love her attention to detail and her ability to make them look their best. Yelena is an accomplished and globally published makeup artist who is highly respected in her field.
 If you're looking for a talented makeup artist who can provide you with the best possible service, look no further than Yelena. You won't be disappointed.
"Yelena did the make-up for my wedding. She is professional, very easy to talk to, and incredibly talented. She enhances your natural beauty to give you the most stunning look. All of my bridesmaids gave her an idea of what the would like and she was able to recreate it flawlessly. Everyone was extremely happy with their look and could not stop saying how much they loved their make-up and how pretty they felt. I highly recommend her services to anyone looking to get done up (natural look or glam look) for their next event!"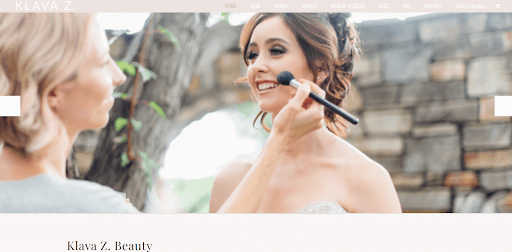 Klava Z. Beauty is the perfect place to go for a beauty makeover. Klava Zykova, the award-winning makeup artist who runs the parlour, is passionate about creating fresh, current looks for all types of occasions. From bridal makeup to editorials, Klava Z. Beauty has something for everyone.
 In addition to their outstanding makeup services, they also offer different makeup lessons for those wanting to learn how to do their own makeup at home. So whether you're looking for a new look for a special occasion or just wanting to learn more about makeup, Klava Z. Beauty is the place to go!
"Klava and her team are the absolute best! She provided makeup services for myself, my bridesmaids, mom and mother-in-law on our wedding day. Klava and her team are professional, organized, lovely to work with, and prioritize cleanliness. Everyone looked beyond stunning, with their look being customized to their features. Klava and her team created a calm space where we were all pampered like celebrities. The morning of the wedding, Klava also provided amazing skin prep with a mini massage which had my skin glowing all day long. We received numerous compliments throughout the evening on our makeup, with mine lasting well past 3AM. I would highly recommend Klava and her team for all of your makeup needs!"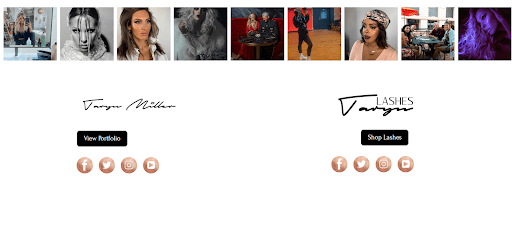 Taryn Miller's makeup parlour is ideal for special events like weddings, banquets, and corporate events, where they can change clients' looks completely. Miller's motive for this work is the desire to boost the confidence of women by giving empowering looks. 
They provide studio makeovers and mentoring for talented individuals on top of their numerous services. The team at Taryn Miller's take their time with each client to ensure that they walk away feeling beautiful and confident.
 Whether you're looking for a new look for your wedding day or you want to feel fabulous for a night out on the town, Taryn Miller's is the perfect place for you.
"Taryn and her team are AMAZING. I cannot recommend them enough! Taryn made me feel beautiful on my wedding day as well as during my trials. And my makeup stayed put from morning to well into the early hours of a really hot/humid summer day! Her false lashes are so amazing, by far my favorite and she has a bunch of different style. She is able to give you any look wether it be Glam or a more natural look. I cannot wait to get my makeup done again by Taryn, super professional and knowledgeable. I cannot get over how beautiful my bridal party's makeup was on my wedding day 💕 Thank you again Taryn!"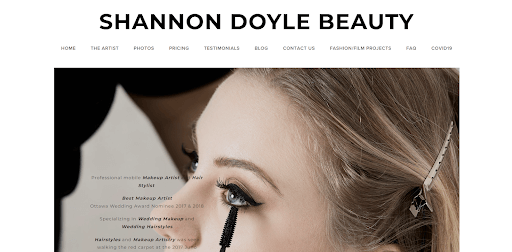 Shannon Doyle is a full-time mobile hairstylist and makeup artist based in Ottawa, but she can travel to clients anywhere. She has over a decade of full-time experience in the industry, and she attended the prestigious CMU College of Makeup Art & Design in Toronto. 
Shannon Doyle Beauty can provide her customers with a large variety of different services for complete makeovers. From hair styling and coloring, to makeup applications and lessons, Shannon has the knowledge and experience to help her clients look and feel their best. 
Contact Shannon today to book an appointment or consultation. You'll be glad you did!
"I cannot recommend Shannon enough - She and Amber created beautiful looks not only for myself but also my entire bridal party. She made me feel comfortable the whole time and helped me create my perfect look which stayed flawless the whole day!! Thank you so so much for everything Shannon!"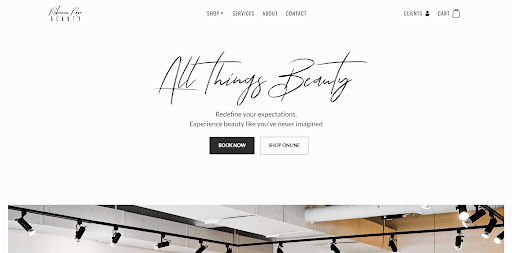 Rebecca Rose is an Ottawa-based pro makeup artist, lash technician, and certified wax technician specializing in transforming the appearance of her clientele by offering high-quality products and services. They have a pleasant environment that helps their customers relax while they work towards their immediate beauty goals. 
Among the things that you can expect when asking for their services then, they provide bridal makeup, event makeup even permanent makeup. You can even take advantage of various skin care services and hairstyling options to make you look your best. 
On top of all of this, her beauty salon provides various beautifying products for her clientele to use to upkeep their beauty after the makeover, so the initial effect lasts longer and doesn't disappear right after. 
Rebecca Rose and her team are highly skilled professionals that will make you look like the best version of yourself no matter what the occasion is. 
Book an appointment with them today and let them show you what they can do!
"What a fantastic experience. I had a 1-on-1 makeup lesson with Rebecca. She does an excellent job of patiently explaining tips and tricks of makeup technique and application. The session allows for a hands on experience; I was able to practice with Rebecca there to guide me along the way. She was able to share great information on choosing tools and products and was happy to answer questions. I highly recommend investing in a lesson—it's such a great way to get new ideas and polish your look."
6) Glammed By Haneen - Ottawa Makeup Artist & Educator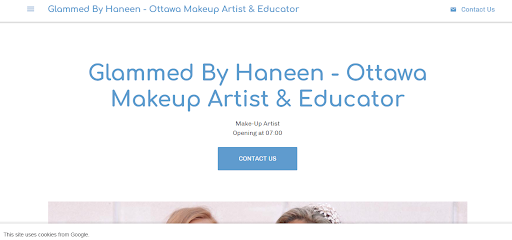 Glammed By Haneen is a makeup artistry business that strives to provide women of all ages and backgrounds with the boost of self-confidence and self-empowerment they need. The company offers a range of services, including bridal and event makeup, private lessons and group sessions. As an Ottawa makeup artist and educator, Haneen ensures that her clients receive high quality service at affordable prices. 
Her natural glam look will exceed your expectations and will make you feel beautiful, without being overdone on your special day. She will take the time to understand each of the bridesmaids' personal styles and preferences, resulting in everyone looking stunningly glamorous. She believes in providing value for money and ensuring that each client leaves her studio feeling beautiful inside and out!
"I was so lucky to have Haneen do the makeup for my wedding. My bridal party was large with a variety of ladies from different backgrounds and age groups, she did an excellent job with everyone's makeup! Most importantly she worked with our schedule and the makeup lasted well into the night! Highly recommend."
7) Red Carpet Glamour - Bridal Beauty Studio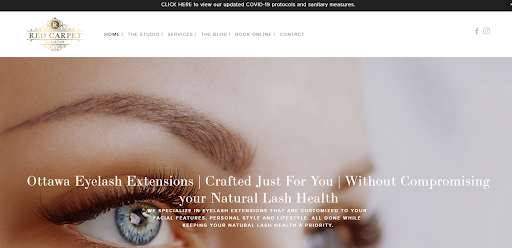 At Red Carpet Glamour, they specialize in crafting eyelash extensions that are customized to your individual needs. Based on your facial features, personal style and lifestyle, their lash technicians will craft extensions that are perfect for you. Their lashes are designed to last long and look natural – no more fake looking lashes! Plus, keeping your natural lush health is important- so you can keep those beautiful eyes looking their best all year round! 
For over a decade they have been working with fabulous women across Ottawa and Toronto to make their big day extra special – whatever that big day might be! They are passionate about creating the perfect look for the woman who knows how powerful the right makeup can be. If you're looking for a makeup artist to remember contact them today and experience the difference Red Carpet Glamour makes – you won't regret it!
"Neelam and her team were amazing! Myself and my ladies were stunning for my wedding. Neelam's attention to detail (and killer talents) made me feel the most beautiful I have ever felt on the most important day of my life. Thank you so much!!"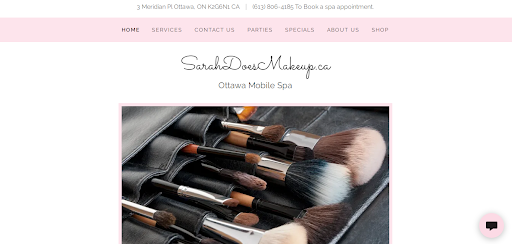 SarahDoesMakeup offers a variety of mobile makeup and spa services that are easy, comfortable and great value. Whether you're looking for a subtle enhancement or an eclectic colorful style, her experience will help you look and feel your best! The service is available in your home, at work or the venue of your choosing. Additionally, the company provides valuable advice on how to enhance features naturally without using make-up products. This way you can maintain healthy skin while still looking fantastic!
She uses the highest quality products that are free of animal testing as well as ingredients such as artificial fragrance, formaldehyde, harmful parabens, etc. Sarah has different makeup packages like Express makeup which is simple and minimal, it includes foundation, concealer, blush, mascara, eyeliner, brows and lip color. You can also choose Red Carpet Event Makeup which will also include lashes, mini facial and touch up kit. So wherever your needs may be, Sarah is here to make you look gorgeous.
"Thank you so much Sarah for taking care of my makeup and updo needs on such short notice! My experience was very relaxing and the result is beautiful! I will definitely recommend your services!"
9) Waring Makeup - Ottawa Makeup Artist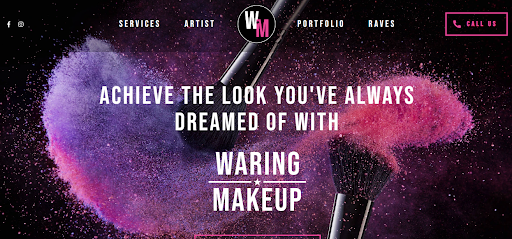 Waring Makeup is a professional makeup artist studio that offers Ottawa residents the best possible bridal makeup, corporate makeup and lifestyle makeup services. The experienced artists at this business have over ten years of experience and are committed to providing their clients with an exceptional experience. They offer a wide range of services including traditional wedding makeups as well as more creative styles such as drag queen weddings or themed events. 
Waring Makeup can bring to life any custom look for your next event that is guaranteed to turn heads. From big bold colors to abstract shapes, if you can dream it, Waring Makeup can make it happen. Waring Makeup will have you and your team perfectly polished and camera-ready in minutes, whether you need minimalistic touch-ups or the ideal corporate glam appearance. Whether you're looking for something classic or totally unique, Waring Makeup has got you covered!
"Gen was professional and lovely! My make up turned out beautiful and it turned out amazing for my event!! She's very skilled and knows what's flattering for different skin tones and face shapes and taught me a lot of tips and tricks. Definitely will use her service again 10/10 recommend!"
10) Yasmine x Makeup Artist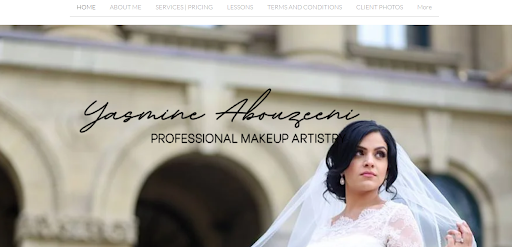 Yasmine started her love for beauty from a young age, being surrounded by strong and beautiful Middle Eastern women. She always admired the steps they took to take care of themselves, including using quality products to achieve beautiful results. She realized later in her career that it was important not only to look good but also feel good about herself. This is why Yasmine loves creating natural beauty solutions that help people feel their best both physically and emotionally.
Within the makeup industry, she is known as a professional who has mastered working with any and all skin tones. Additionally, because of her extensive training and experience, she took to social media platforms to share tips and tricks with my followers. As a result of this interaction, she developed an amazing community of people from all over the world who were looking for advice on beauty products and techniques. Makeup for weddings, graduations, prom, photoshoots, bridal showers, birthdays, interviews, baby showers, dinners, etc. Jasmine can make you look good for any of those occasions. 
"When asking the effortlessly talented Yasmine to do my wedding makeup, there was no doubt in my mind that she would make me look and feel like a princess. Her work speaks for itself. From our trail to the day of, she made me feel so relaxed and calm. My bridal makeup turned out beyond perfect. For one of the first times in my life, I truly felt beautiful. Thank you, Yasmine!"
11) Stephanie Bullock Makeup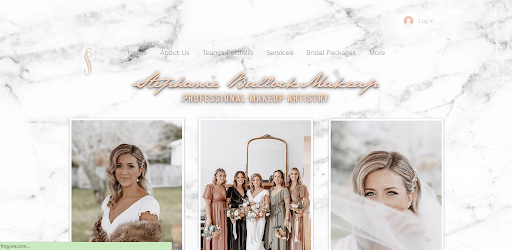 Stephanie Bullock Makeup is a Professional makeup artistry company based out of Ottawa, Ontario. They are very well-respected within the community and would love to work with you for your next event! Their experienced team can help create a look that will stand out and make you look gorgeous and feel confident. 
Whether you're looking for an all-encompassing beauty solution or just some basic enhancements, their talented professionals will be able to provide what you need. 
Their services include bridal makeup which includes advanced skin preparation, lashes and touch-up kit. You can also book a makeup application for yourself or your group of friends for the prom and they promise you will look stunning in all of your prom pictures! 
If you are interested in learning some basic techniques for everyday makeup or switch up your current routine come see them for a makeup lesson! During this 1.5 hour appointment, they will go over the products you have in your makeup bag, make recommendations for new products and go over a look that you can recreate at home. Contact them today to discuss your needs in more detail!
"It was an absolute pleasure working with Stephanie for my Wedding! I was so happy with my makeup & she did my spray tan for the big day which was also perfect! She also did my Bridesmaids and both Mother of the Bride & Groom. Everyone looked absolutely stunning - I cannot recommend her enough! She was easy to communicate with, super sweet & really talented! Thank you Steph!"
FAQs About Makeup Artists
Ottawa is home to many of the country's best makeup artists! Whether you're looking for a dewey, "no makeup" makeup look or a bold smokey eye, these professionals can help you achieve any look.  These makeup artists in Ottawa can create the perfect look for anything from editorials to commercials to simple, everyday looks. 
If you're looking for a talented professional to do your makeup, book an appointment with the best Ottawa makeup artists!