What's the Average Cost to Repair a Boiler in Ottawa?
The average cost of repairs is around $200 and $300. If your boiler requires repair work between annual maintenance visits, you can expect to pay a minimum fee of $150 to $300 for the service call. So, if you're thinking about skipping out on those regular check-ups, you may want to think again!
Some other factors that will impact the cost of boiler repair in Ottawa include:
The size of the unit: The larger the boiler, the more expensive it will be to repair.

The age of the unit: Older units tend to require more repairs than newer ones.

The type of damage: Some damages are more expensive to fix than others.

The company you choose: Some companies charge more for their services than others.

Make to always get a few quotes from different companies before making your final decision.
The Best Boiler Repair Companies in Ottawa
Now that you know what to expect in terms of cost, let's take a look at the best boiler repair companies in Ottawa.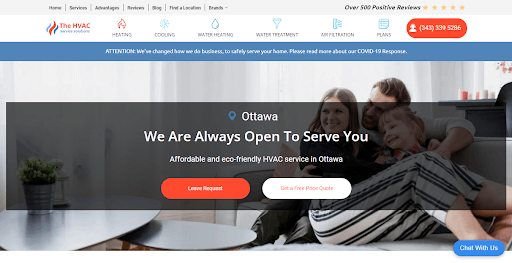 The HVAC Service is your trusted boiler repair company in Ottawa, dedicated to ensuring your home's warmth and efficiency. They prioritize customer satisfaction through exceptional heating, air conditioning, water heater, and water filtration services. Their team of professionals always responds promptly to restore your equipment's functionality. 
From routine maintenance to emergency repairs, they offer a wide range of services and are here to address all your inquiries. Choose the HVAC Service for year-round home comfort you can rely on!
"The HVAC company was the first company that got my water heater checked and cleaned on a regular basis rather than having it repaired on a regular basis. Team of techs team is responsible and knowledgeable."
2) Francis Plumbing & Heating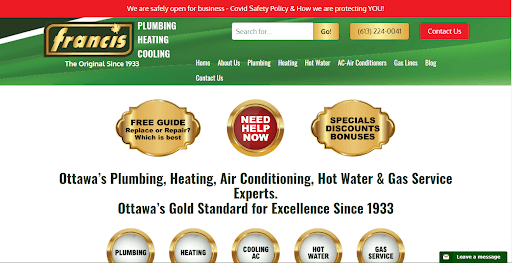 Francis Plumbing & Heating has been in the business for over 87 years, so they have all the experience they need to provide you with a fantastic experience regardless of what you need fixed. With their extensive experience and state-of-the-art equipment, they will get things fixed for you quickly and efficiently. 
You can trust them with your pipes, drains, heating, or air conditioning; they will get the job done right. If you are looking for a reliable and trustworthy boiler repair company, look no further than Francis Plumbing & Heating.
"In December our hydronic boiler system stopped working, leaving us without heat or hot water. The Francis team was responsive to the initial repair request, and quickly recognized that a new system was required. They provided an estimate for the new boiler that day, and supplied us with space heaters. The install team (Graham, Dennis & Owen) were fantastic - knowledgable, professional, patient, and careful; taking the time to explain the system, challenges, and choices. We would recommend them to anyone needing this service."
3) AirZone HVAC Services Inc.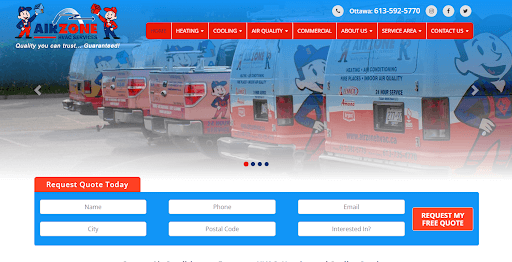 AirZone HVAC Services Inc. is a family-owned company that remains dedicated to a high standard of HVAC supplies and services. Through their highly competent contractors, they specialize in supplying and regularly installing high-efficiency furnaces, central air conditioners, and other HVAC units. They are very well versed in installing and repairing boilers as well! 
As leaders in the heating and cooling industry, they have built a strong reputation through expert advice and quality workmanship alongside their robust lineup of HVAC equipment. 
AirZone is the company to call when you need any HVAC service! from installation to repairs and everything in between, they will make sure the job is done right.
"We are new to our house, and hot water heating systems in general. I went with AirZone for annual maintenance based on their reputation online, and wasn't disappointed. Their boiler specialist, Mitchell was a pleasure to work with, patiently walking me through my system and answering all my questions. Worth every penny to have access to that expertise."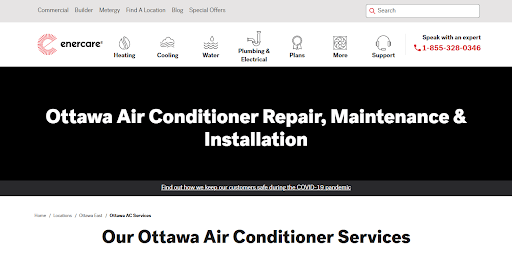 Enercare is an exceptional company that provides top-notch HVAC and water services. Their team is responsive and professional, and their service technicians, like Dylan and Norm, are highly knowledgeable and friendly. 
Whether it's AC repairs during a heatwave or furnace installations, Enercare consistently delivers outstanding service. They come highly recommended for all your HVAC and water service needs.
"Thank you Ivo and Dylan from Enercare Ottawa East for the excellent work done replacing our Hot Water rental. Great communication , arrived on time. both very professional, efficient and courteous. Thanks again !!"
FAQs About Boiler Repair in Ottawa