The best stair contractors in Ottawa will make your stairs nice and sturdy!
In your home, your stairs get you from A to Z so the last thing you want is for your stairs to break, or worse… If you notice squeaky steps, a panel falling off, or if you see paint chipping off, calling a stair contractor is a good idea. Getting a new staircase is also a great chance to revamp the look of any space. Whatever you throw at them, the best stairs contractors in Ottawa can take on any job!
We selected Ottawa these stair contractors based on their team of expert contractors, a wide selection of stairs in all kinds of finishes and styles, and high-quality staircases and installations. 
Keep the rest of your home in tip-top shape. Call the best locksmith and the best flooring companies in Ottawa!
What's the Average Cost of Stair Installation in Ottawa?
The average cost of stair installation in Ottawa is about $2,200. This price can range anywhere from $1,000 to $4,500 depending on the type of stairs you want and the complexity of the project. 
Some factors that will affect the cost of your project include:
The type of stairs you want (e.g., straight, curved, spiral)

The material of your stairs (e.g., wood, metal, concrete)

The finish of your stairs (e.g., stained glass, carved wood)

The complexity of the project 

To get a more accurate estimate, we recommend that you contact a few different stair contractors in Ottawa for quotes.
The Best Stair Contractors in Ottawa
Now that you know what you should look for and how much you can expect to spend on stair installation, it's time to find the best stair contractor in Ottawa! To get started, take a look at our list of the top four stair contractors in the city.
1) Ottawa Valley Handrailing Company Ltd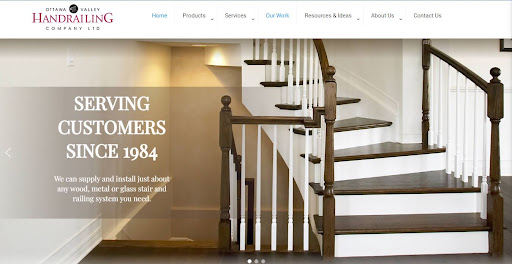 The team at Ottawa Valley Handrailing is a world-class organization that specializes in providing high-quality custom stair and rail products for builders, developers, architects, interior designers and homeowners.
They have a knack for turning heads with their product selection and stylish designs. With an extensive range of colours, finishes, and styles – you're sure to find what your heart desires. The team takes pride in creating a stair system that is not only attractive but also functional, making it easier than ever before for homeowners to enjoy their new home or renovation project without worrying about installing balustrades themselves.
The company offers everything from wooden rails to modern glass stairs. They ensure safety thanks in part to high-quality construction materials such as corrosion-resistant steel frames that provide lasting beauty while protecting against water damage from rainstorms.
Ottawa Valley Handrailing Company offers affordable prices and can customize your project to meet any budget.
"We had a really good experience with Ottawa Valley. We put a railing in, going down to our finished basement. We were extremely happy with the result. Luke & Andy were excellent to work with. The colour matching of the railing to our floor was right on. They were on time and on budget. I would highly recommend them!'
2) Frank Building Supplies & Sales Ltd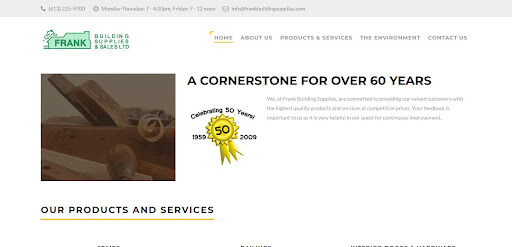 Frank Building Supplies has provided excellent service and advice since they opened their doors 60 years ago. Whether your needs are residential or commercial, small-scale construction projects- have all of it here at competitive prices.
Staircases can be an important part of your home's interior, providing you with a beautiful and lasting design while adding significant value. Their woodworkers build wide varieties using time-tested methods that will work for any house. They convert existing carpeted stairs into hardwood options or construct new ones when necessary.
The staff is highly experienced and skilled with services that will meet your needs from start to finish. The commitment they make to their customers can be seen through every project – large or small. They use only the highest quality materials to ensure lasting beauty in any environment.
When working with Frank's, you can rest assured that your demands will be met to the highest building standards in mind and up to current Ontario building codes.
"Forget big box stores like Lowes and Depot. If you are looking for trim, doors, stairs , handlesets - come here first. Pricing easily beats big box stores' best sale price."
3) Accurate Stairs & Railings div of Randell Carpentry Inc.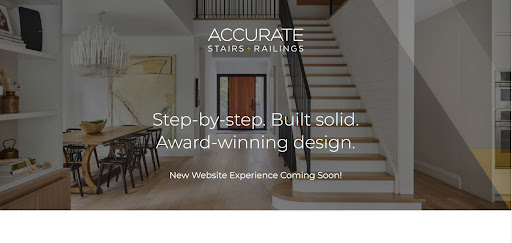 Accurate Stairs and Railings is proud to be a family-owned business for over 20 years that has extensive knowledge of the home construction industry, experience in renovations from top architects, and expertise with any shape or style you want.
Whether you need repairs or want new construction on your home's interior framework such as balustrades (staircases) including ones made from iron; wood handrails & guard rails – they can help make sure they match any architectural style perfectly. 
They offer their clients an exceptional level of service, which includes close collaboration with architects, interior designers, home builders, general contractors, and custom build homeowners on each project. 
Frank and Skyler (as well as their whole team) are both incredible professionals who truly go above and beyond in every way possible – from their excellent customer service skills to ensuring high-quality products are delivered on time.
 They work closely together to make certain your needs won't go unnoticed when designing a custom handcrafted staircase made just right for you.
"We needed our stairs recapped and a new railing installed. The work performed was very professional and of a high level of workmanship. The stairs installation team, Frank and Skyler, were highly skilled and had a keen eye for details. The quality of the work is beyond reproach and what was promised was delivered, and more. The railing installation was performed by Kyle and his work was also outstanding and very precise. The final product is absolutely amazing and beyond our highest expectations. We are extremely pleased and would not hesitate to recommend Accurate Stairs and Railing (Ottawa) to anyone in need of a high quality stairs work. Very satisfied customers. Thank you."
4) F & R Alvarez Carpentry Stairs And Railing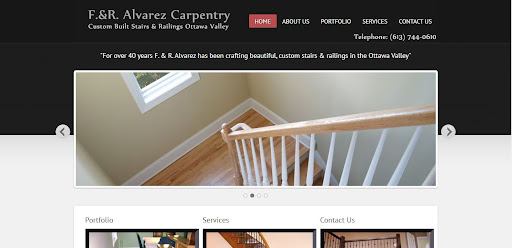 F & R Alvarez Carpentry has been crafting beautiful, custom stairs and railings throughout the Ottawa Valley for over 40 years. Their clients range from builders to homeowners – they have you covered. 
They offer a range of services from custom woodworking to heritage reproduction. The team provides a spiral staircase design that is both sturdy yet elegant for your home's needs; curved or straight staircases as well depending on what you want for its beauty but also safety measures; stair refacing/recapping for your home or business's needs. 
Also, you can have stain and varnish service – this old fashion way will give each board its own personal touch. Your custom staircase project starts with a personal consultation. They will gather all of the specifications they need and also discuss how those specific details can be incorporated into their work for you. 
You'll learn about materials, and the dimensions of your space – so that there is no guesswork involved.
"What a fantastic local business. We brought Andre a very small job and he graciously took care of it while we waited. We drove out of our way to his shop because he was super responsive on the phone (when other suppliers wouldn't give me the time of day). And I'm so glad we did. If/when we're in the market for new stairs or wood floors, we'll definitely give Andre a call."
FAQs About Stair Contractors
Ottawa is home to many more than qualified pros who can get your stairs in immaculate condition. When you hire Ottawa's best stair contractors you're to get a high-quality installation of a premium-quality staircase. We're sure you'll love the staircases these contractors sell and make!
So if you're looking to replace your staircase, be sure to call the best stair contractors in Ottawa!