If you're in the market for a general contractor, Ottawa has no shortage of qualified professionals to choose from. However, not all contractors are created equal! That's why we've put together a list of the 6 best general contractors in Ottawa.
These contractors have years of experience and specialize in everything from home renovations to new construction. They also offer competitive rates and are available for hire immediately. 
So what are you waiting for? Pick one of these top-notch contractors and get started on your dream project today!
1) Denys Builds Designs Renovations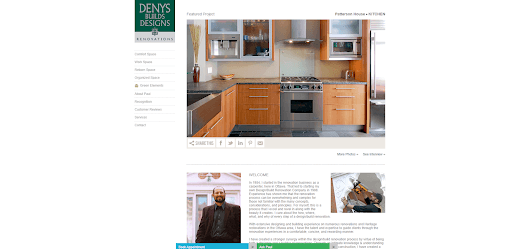 The owner of Denys Builds Designs Renovations is confident that he can help you create the perfect environment for your home. With his experience in designing and building renovations, not only will it be more comfortable but also rewarding to see all of that hard work come together at last!
He will start from the on-site consultation to discuss general pricing, design ideas and choices. Then you will go through samples and colors to choose the perfect match and when that is finalized. 
He and his team will transform your place in as non-invasive method as possible. Adjustments can also be made for site conditions such as tweaking sizes, shapes, and final placements to ensure the best results.
"We were very pleased with Paul's work on our home. He has an excellent eye for detail and shared a great wealth of information with us about our house, which we continue to find extremely useful as first-time homeowners. Paul worked with us to make sure we could maintain/restore as many original elements of the house as possible - including sourcing a matching set of antique heat vent covers that we love. Thanks again Paul for the fine care that you and your team put into your work."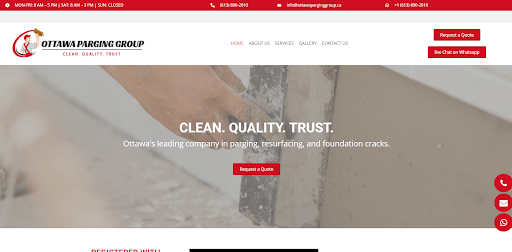 They know that choosing a company to do work on your property can be stressful, but rest assured they will take care of everything. They use state-of-the-art equipment and have years worth of experience with all sorts of properties – so no matter what type or size it is (or if there are any problems), their team has got this covered!
They will work on your foundation and will make sure that there aren't any cracks and leaks, allowing for destructive holes to pierce right into your home. They also will parge your foundation to help you stay protected for years from unnecessary damages, leaks, and heating and cooling issues.
"Mike followed up on scheduling the project and the actual work was done on time and within the time Mike said it would be. The parging was well done and the work site was cleaned up with no trace of the workers being there. I have no problem recommending Ottawa Parging Group."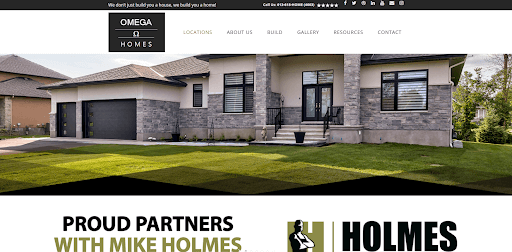 Building your custom home is the fulfillment of a lifetime's work. You deserve to have someone in charge who will help you bring out every detail, whether it be an award-winning designer or top quality materials and craftsmanship – Omega Home will give you all these things for one price! 
They specialize in modern, stylish homes and retain single-source responsibility from start to finish. They offer services such as creating a dream home from scratch, quick occupancy homes, prebuilting models to choose from and more so that they can cater to everyone's needs.
omegahomes.ca
+16136184663
2515 Bank St #40173, Ottawa, ON K1V 0W8, Canada
"I have had the pleasure of doing their masonry work with Omega Homes for the past several years. Omega Homes is a very high quality and reputable home builder in Ottawa. As a family business, they make sure to take care of you. They're customer service is second to none and will go the extra mile for their clients. I highly recommend them to anyone who is looking for a new home."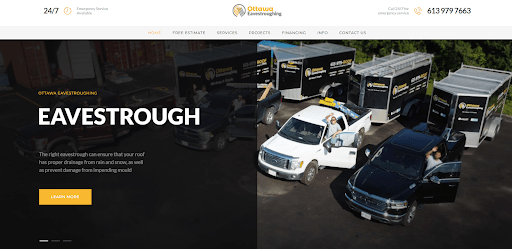 Ottawa Eavestroughing provides a wide variety of services, including soffit and fascia replacements or repairs. They are 5 star Google Rated, A+ BBB rated because they always ensure 100% customer satisfaction. 
They communicate with their customers throughout every phase of the project in order for them to meet and exceed their expectations. 
Their professionalism is evident in the quality work that they provide – from eavestroughs which protect your home's foundation and exterior walls from water damage, to sliding systems which secure to the exterior of a home's structure, to top-quality roofing materials that help increase your home's value while reducing your energy costs!
"The wood siding at the back of my home was rotting so I contacted Ottawa Eavestrough. They were always available, came quickly and did an amazing job at a very fair price. I was so pleased with the work I have asked them to replace the siding on my outdoor shed. I can't recommend this company highly enough."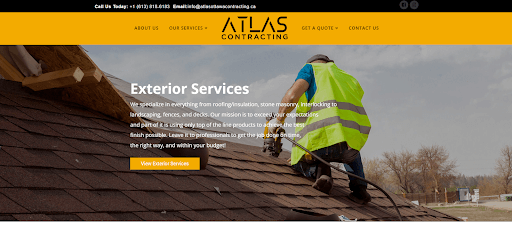 When you need a job done right, call on Atlas Contracting. Their project managers will oversee every step of the process and make sure that nothing is left undone.
Plus, they always prepare before starting any new task or building service contract – so you'll never have to worry about any surprises along the way. With high-level services like these, it's no wonder why people love working with them.
They offer all types of exterior services including landscape, interior services and full home renovation. Plus, they also provide general home services such as exterior painting, drywall taping and installing flooring. 
And if that wasn't enough already-  Atlas contracting also offers a unique finance program for people who want to renovate their house without breaking the bank!
"I had an entire reno done by Atlas Contracting and I have to say they surpassed my expectations. They took my 1970's home that needed a complete overall and turned it into this magnificent modern home and all within 6 weeks. The entire house was renovated and the quality of work is the best I've ever seen. I would recommend ATLAS Contracting to anyone that needs work done, they are the best. Thank you Steven."
6) Honey Construction Ltd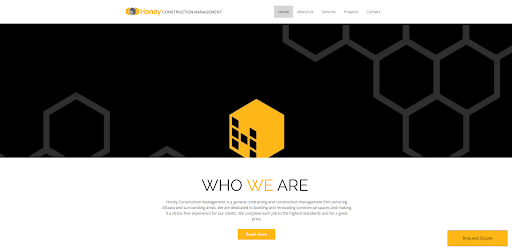 Hone Construction Management is a general contracting and construction management firm servicing. They are dedicated to building commercial spaces that their clients can easily navigate through while making it their stress-free experience! 
They provide cost-effective services that will make you happy with their work, no matter what type of project it may be! From Pre-Construction to Design Build and Construction Management, their talented team have the skills, experience and resources to complete any general contracting job. 
They spend time understanding your business needs, what you want to use the building for and give their opinion on which design would be best suited!
"Contracted Honey to do a number of projects at my home before putting it on the market. Quote was competitive and the work was finished faster than expected. We were very impressed, everything Robbie touched looked like new. Thanks Honey and Robbie!"
FAQs About General Contractors
When it comes to renovating your home, it's important to choose a contractor you can trust. The list above showcases some of the best general contractors in Ottawa, so you can be sure that your project will be completed on time and within budget. 
These companies have years of experience in the construction industry, so they know exactly what needs to be done to make your renovation dreams a reality. So if you're looking for quality workmanship and customer service, look no further than these top-rated contractors.