When it comes to waterproofing, Ottawa is no stranger to the process. Waterproofing in Ottawa can be done on both residential and commercial properties, and is a great way to protect your investment from water damage.
There are many companies that offer waterproofing services in Ottawa, but not all of them are created equal. That's why we've put together this list of the 6 best waterproofing companies in Ottawa – so you can rest assured knowing your property is in good hands!
1) City Residential Foundation Repair Ottawa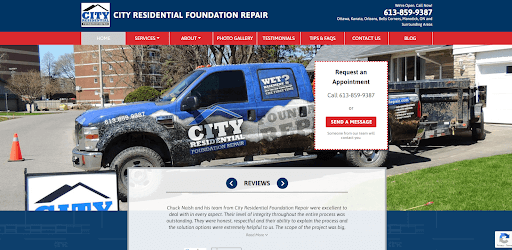 When you have a wet basement or any other foundation problem, it's important to find an honest and reliable contractor who will work hard on your behalf. City Residential Foundation Repair has been providing Ottawa residents with professional services since 2003 because they know how difficult these problems can be!
City residential foundations repair offers expert knowledge in solving all types of waterproofing issues as well as high-quality products at competitive prices so that customers like you are able to make informed decisions about their future home improvement needs. 
They offer all types of exterior and interior waterproofing and sump pump installation as well. Remember, a dry home is a healthy home, so protect your property investment with them.
"City Residential is a great company to use for your home. I have been recommending them to my contacts and friends ever since we used them. Chuck stands behind his work and is a pleasure to deal with."
2) Ottawa Foundation Repair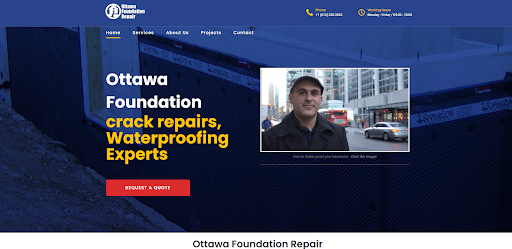 The Ottawa Foundation Repair Contractors are a qualified, educated and experienced company with years of academic background in Building Science. 
They have spent years working on construction projects that makes them uniquely qualified to offer products such as Kevlar/Carbon fiber reinforcements for your home or business's needs! 
Their 7-step process that makes them one of the best available solution for damp or wet basements is what sets Ottawa Foundation Repair apart from other companies. Blocking out water damage to your building's foundation with their trusted waterproofing services ensures you can be free of worries.
Website: ofrcontractors.com
Phone: +16132203553
Address:  281 Hinchey Ave, Ottawa, ON K1Y 1L9, Canada
"It was such a pleasure to work with such a professional company. There were no added expenses to Yousef's quote and he was actually ahead of his anticipated time by a month. The work was done efficiently and thoroughly. Yousef deserves every one of the five stars I gave him. I will certainly recommend Ottawa Foundation Repair to anyone who is looking to have this work done."
3) Braden Foundation Construction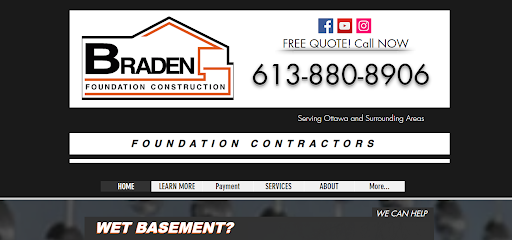 BRADEN FOUNDATION REPAIR is a locally owned family business that provides solutions for leaky basements, structural foundation repairs and new concrete foundation construction. Offering solutions and educating their clients with the latest in waterproofing products and techniques throughout Ottawa and surrounding areas, they are here to help you get your home restored quickly and efficiently. 
They also understand how important it is to have reliable service at an affordable price, which is why they offer competitive rates along with top-quality workmanship. Whether you have a structural foundation crack, need drainage solutions, or want new sump pumps installed on your property – they can help!
Website: bradenfoundation.com
Phone: +16138808906
Address:  5300 Ramsayville Rd, Ottawa, ON K1G 3N4, Canada
"Ryan was amazing to deal with - super personable, professional, and no question was too ridiculous for him. While there was a short delay in getting my foundation repaired/waterproofing installed, Ryan was on it - he let me know ASAP and was super responsive to my queries…but best of all - no water in my basement as the spring melt begins! 10/10 recommend!"
4) Renco Home Improvements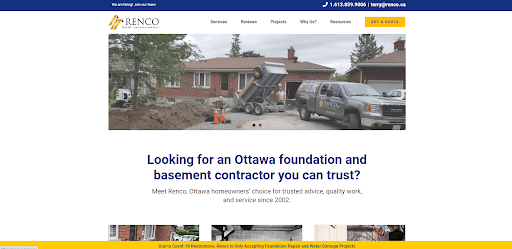 Homeowners can rest easy knowing that their Renco Home Improvements project is in good hands. 
For over 25 years, Terry Fraser has been providing renovations with accurate information and guarantee on workmanship to make sure every homeowner's needs are met without any headaches or surprises along the way!
They offer a proven step-by-step basement waterproofing process backed by a written lifetime warranty. 
These steps include foundation excavation, crack repair, adding flooring bevel, installation of Blueskin waterproof membrane and air gap membrane,  new drainage tile installation and proper grading at the end of the process.
Website: renco.ca
Phone: +16138599006
Address:  1178 Checkers Rd, Ottawa, ON K2C 2S7, Canada
"Their staff are knowledgeable, pleasant and honest. We had so much water coming in and within an hour they had diverted the water away from the house and created a plan to fix the crack once the wall had dried. We are thrilled with the work- and our dry basement! The price was exactly what they had quoted. I never write reviews- but I had to after our super positive experience with Renco! Thank you Terry and Blair for your hard work and saving our basement!"
5) The Foundation Experts Inc.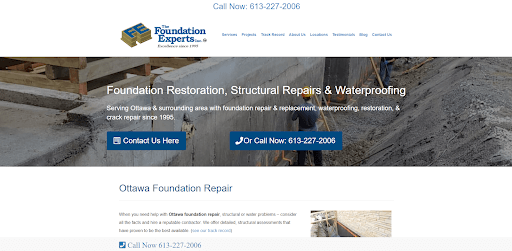 When you need help with foundation repair, structural or water problems in Ottawa – The Foundation Experts are here to help. They offer detailed assessments that have proven to be best available (see their track record).
They provide written estimates and references as well as deliver on-time within budget guarantee of workmanship transferable warranties. 
They use all the up-to-date tools, materials and services combined with industry-leading experience and warranties to create a custom solution for your wet basement problems. 
They offer waterproofing the exterior of your home's basement, addressing the root cause of the flooding in your basement, and more.
"Alex and his team gave us excellent advice throughout this multi stage project. Work kept to schedule despite Covid's attempts to create problems. We are very satisfied that the foundation is now secure and safe. The team to have when you need expert advice, high quality work and the security of knowing the job is done right."
6) Foundation Repair Action Restoration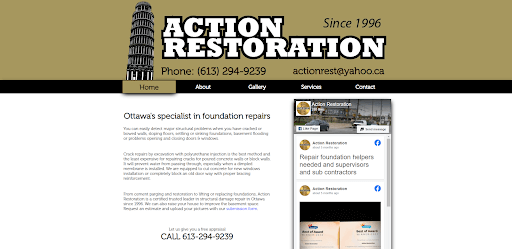 When it comes to your home, you want the best for every single inch. That's why Action Restoration is here! 
They specialize in all forms of waterproofing technology. With over 20 years experience under their belts, these guys know what they're doing. 
They use Polyurethane which is an excellent product for filling cracks in the foundation that may be caused by water damage. 
Polysulfide sealants will also help stop infiltration into your home's structural components, keeping you safe from further damages like termite infestation!
Website: actionrest.ca 
Phone: +16132949239
Address:  207 Bank St Suite 311, Ottawa, ON K2P 2N2, Canada
"Pat and his team of professionals were nothing short of fantastic! From being punctual and professional to knowledgeable and thorough, they went above and beyond to make sure our job was done properly, on budget and will last. Highly recommended and would without question, use their team for future jobs! Thanks again!"
7) Dave Marcotte Foundations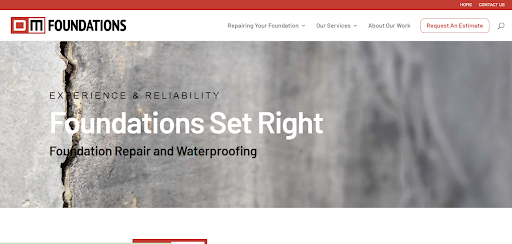 Dave Marcotte Foundations is a family-run company who takes pride in providing top-notch service using proven products and techniques on every home they repair. They are confident that they can solve any foundation issue you may have, and will stand behind their work with a 100% satisfaction guarantee. With over 20 years of experience under their belt, the team at Dave Marcotte Foundations has learned how to fix even the most challenging foundations. 
A basement leak does not mean you have a serious structural problem with your home. Concrete can develop small cracks at some point in its lifetime. Worry-free foundation waterproofing is the perfect solution to help ensure that your basement remains dry and protected from future leaks. Their team of professionals will inspect, diagnose and treat any underlying causes of leakage, ensuring that your home is back to business as usual quickly and easily!
"Fantastic experience with DM foundations in fixing our leaky basement. Very efficient and on-time, very helpful in taking photos of the foundation cracks and coming over for visits to the house prior to the work being done. Quick to respond to emails. Even our neighbours commented about how efficient and well-organised the work was. Would highly recommend and would hire again for our future home upgrades"
Waterproofing is an essential step in protecting your home against water damage. By choosing one of the best waterproofing companies in Ottawa, you can be sure that the job will be done properly and affordably. 
The list above provides insight into some of the best waterproofing companies in Ottawa, so choose wisely when hiring someone to help with this important task.