The best HVAC companies in Ottawa can get you back to comfort in no time!
Heating, ventilation, and air conditioning are three things you absolutely need to get through the brutal Ottawa weather. These are all things we take for granted when they're working, but what about when they don't? When your HVAC system breaks down or it's time to replace it, you can and should leave it to the pros, the best HVAC companies in Ottawa!
We selected these HVAC repairs based on their excellent customer service, innovative techniques, variety of services they offer, and generous 100% customer satisfaction policies, you can trust these HVAC businesses to do a good job. These companies operate for almost all hours of the day and will quickly show up at your door, so you can call them in a pinch!
Make sure the rest of your house is in safe, working condition! Check out our lists of the best air duct cleaning companies and the best lead pipe replacement companies in Ottawa!
What's the Average Cost of HVAC Repair in Ottawa?
The average cost of HVAC repair in Ottawa is $3000, but this price can range from $700 to $10,000+ depending on the severity of the problem and whether it's a general repair or replacement.
Some other factors that will affect the cost of your HVAC repair include:
The type of problem: A simple repair will be less expensive than a replacement.

The size of the unit: A larger unit will be more expensive to repair than a smaller one.

The age of the unit: An older unit will be more expensive to repair than a newer one.

The brand of the unit: A more popular brand will be more expensive to repair than a less popular one.

The warranty: If your unit is still under warranty, the repair will likely be covered.

Many companies offer free estimates, so it's always best to get at least two or three quotes before making a decision.
The Best HVAC Companies in Ottawa
Now that you know what you're looking for and how much you can expect to pay, it's time to choose the best HVAC company in Ottawa!
1) Francis Home Environment Heating and Air Conditioning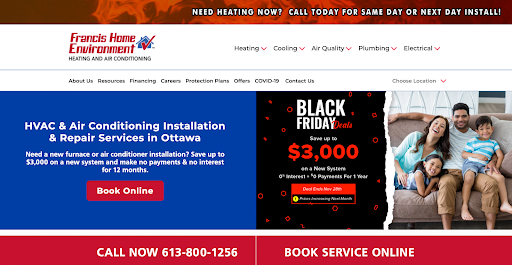 Francis is a trusted name among HVAC companies in Ottawa for over 90 years. The company provides home heating services throughout the city, which helps to keep your home warm and your wallet light all winter long. Working with Francis, you can be sure that you're getting high-quality service at an affordable price. They specialize in top-of-the-line home furnace installation, maintenance and repair. 
Francis Heating & Cooling is a reliable Ottawa heating and cooling company with 24/7 emergency service. No matter what time of the day or night you need help, their team will be there to help you out. Plus, they never charge extra for after-hour, holiday, or emergency service – so you can rest assured knowing that your repair will be done without any added or hidden costs. You'll never have to worry about being cold or finding yourself struggling to pay bills during Ontario's harsh winters again!
"When my furnace stopped working, I called Francis and was able to get an appointment for that same day. Francis did a good job with communication, giving me a heads up for when the technician was arriving. The technician (Dan) was friendly, answered all my questions, explained what had happened, and what he was doing to make sure everything was running smoothly."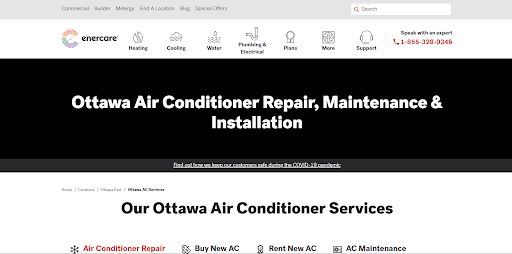 At Enercare, they know that your home is your haven. That's why they offer leading solutions and services for all your HVAC needs – from heating and cooling to hot water, water treatment, plumbing, electrical, duct cleaning and more. 
They understand that when your AC goes out in the middle of a heat wave, you need relief fast. That's why they offer same-day appointments for AC repair. And their fixed price quotes include all parts and labour required, plus 1-year parts and a 90-day labour guarantee for all repair work completed. 
When it comes to your heating system, they offer next-day installation as well as protection plans to ensure your equipment stays in peak condition all winter long. So if you're looking for a company you can rely on to keep your home comfortable year-round, look no further than Enercare.
Website: enercare.ca
Phone: +16132160023
Address: 2160 Thurston Dr, Ottawa, ON K1G 6E1, Canada
"Our HVAC install by Jeff and Jamie was second to none. Their attention to detail and outstanding sheet metal work proved to be instrumental in support of my 5-star rating. They were a team from start to finish, always knowing what the other person required in order to complete the job on-time and without issue. Courteous, professional, knowledgeable, I highly recommend Enercare for all your home HVAC related requirements."
3) Reliance Holmes Heating, Air Conditioning & Plumbing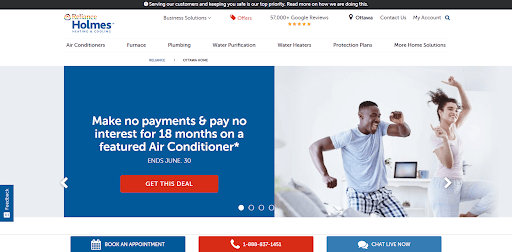 For over 50 years, Reliance has been a trusted name in Canadian home heating and cooling. They have new furnace sales and installation, furnace repairs, tune-ups, maintenance, conventional furnaces, and more.
 What sets them apart is their focus on customer service – they know that their customers rely on them for fast, friendly service which helps them save money on energy costs while staying comfortable. That's why they've built a reputation as a company you can trust. 
So if you're in the market for any of their products or services, you can be confident that you're making the best decision for your home.
"Great experience! Costa and Bobby went above and beyond to do meticulous work. It was a pleasure to have them in our home for the day. They took the time to answer many questions about our new furnace and thermostat and were extremely patient. Our installation required many additional fixes on account of the age of the home and these fellas took it all in stride and made us feel that they were enjoying the challenges! Excellent representatives for Reliance and very kind human beings."
4) AirZone HVAC Services Inc.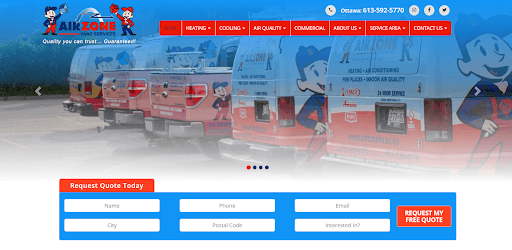 AirZone HVAC Services was established in 2007 by Steve and Brent. The company has a clear vision and mission, which is built on service, workmanship, and backed by a guarantee unprecedented in the industry. To this day, the company remains committed to providing total indoor air comfort for its clients. They are dedicated to nurturing long-term relationships with our customers, employees, and community at large. 
Airzone HVAC is a company with high professional standards and a commitment to nurturing long-term relationships with clients, employees, and the community at large. The company provides quality service for heating, air conditioning, and indoor air comfort requirements. It offers a wide range of repairs/replacements that are tailored specifically to meet your needs. In addition, Airzone HVAC has an experienced team of professionals who can help you get the job done right – quickly and efficiently. So if you're looking for reliable service in regards to your heating or cooling needs – look no further than Airzone HVAC!
"We have nothing but fantastic things to say about the Air Zone. Their service, professionalism, and attitude were amazing. We would definitely use their services when needed! We especially enjoyed our Salesperson Matt R. who was very responsive and attentive to us and our needs. Shaun, Paul, and Chris installed a new furnace and a brand new A/C system and they were fantastic while in it at home. Very personably, respectful and extremely professional."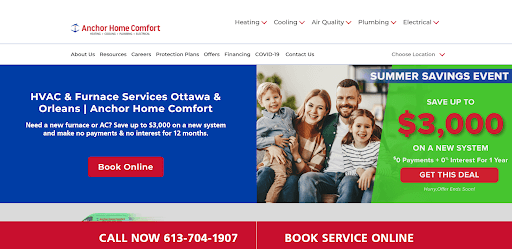 If you're ever in need of home comfort repairs or installation, the team at Anchor Home Comfort is always ready to help. They offer a comprehensive range of services that includes furnace repairs and air conditioner installation, professional duct cleaning, and plumbing. 
No matter what the problem is, they will make sure it's up and running again in no time. Additionally, they offer same-day installation appointments to get you and your family comfortable as soon as possible. 
Plus, for extra peace of mind, they guarantee 100% satisfaction within the first 2 years after installation or your money back. So if you ever have any problems with your new furnace, you can rest assured knowing that they will either fix it for free within 24 hours or give you $1000 compensation. 
Choose Anchor Home Comfort for all your home comfort needs!
Website: anchorhomecomfort.com
Phone: +16137044180
Address: 1181 Parisien St, Gloucester, ON K1B 3N3, Canada
"Great experience!! The tech we had (Billy Ford) was absolutely awesome! He was friendly and knowledgeable and chatty and totally resolved the issue at a very reasonable price. He even helped me switch my thermostat to Celsius and told me what to watch out for regarding potential future issues. Highly recommend this company and I hope you get Billy! He's great!! 🙂"
6) Rick Menard Heating & Cooling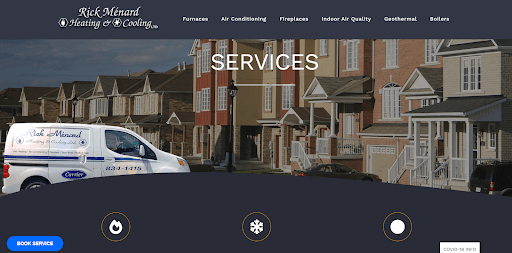 Rick Menard Heating & Cooling is the place to go for all your home comfort needs. Not only do they sell top-of-the-line equipment, but their team of highly trained technicians are experts in a wide range of brands and models. 
Rick Menard Heating & Cooling has been serving local customers for over 3 decades, and their commitment to fair prices and high-quality service is second to none. When you hire Rick Menard Heating & Cooling, you can rest assured that you're getting the best possible service. 
Their technicians will thoroughly teach you how your new equipment works while they install it, so there are no surprises down the line. Hiring Rick Menard Heating & Cooling is more than just investing in a great product – it's investing in peace of mind.
"Excellent service. Very professional. We have been clients of Rick Menard Heating and Cooling for 15 year and have always had excellent service and good value for money (both installations and yearly maintenance). We have come to expect high standards of service and workmanship. This installation of our new AC unit lived up to those expectations. Would recommend Rick Menard Heating and Cooling to family, friends and others without hesitation."
FAQs About HVAC Companies
Whether it's an emergency situation or you think it's time to get rid of your HVAC system, these Ottawa HVAC businesses can take on anything. With their years of experience and efficient, reliable work, rest assured your HVAC will be in good hands. You'll be comfortable again before you know it!
So if you have any heating, ventilation, or air conditioning needs or questions, you can count on the best HVAC companies in Ottawa!