Fencing services in Ottawa can help you protect your property from intruders and harsh weather conditions! A fence not only helps keep people out, but it also protects your property from damage caused by wind, rain, snow, ice or other weather conditions. 
Fencing services in Ottawa offer a variety of options to suit your needs, such as simple wire fencing that is easy to install/repair; traditional wood fences; electric gates & security systems, and much more. 
When you choose a fencing service in Ottawa, you can be sure that they will provide high-quality workmanship at an affordable price. We selected these fencing contractors based on their years of experience installing quality fences across Ottawa.
For the safety and beauty of your backyard, check out the best lawn care companies and the best tree removal companies in Ottawa.
What is the average cost of fencing services in Ottawa, Ontario?
The average cost of fencing services in Ottawa, Ontario can vary greatly depending on the type of fence you are looking to have installed. Generally speaking, the cost of a basic chain link fence can range from $15 to $25 per linear foot, while a more decorative wood fence can range from $25 to $35 per linear foot. The cost of a vinyl fence can range from $20 to $30 per linear foot, while an aluminum fence can range from $25 to $35 per linear foot. The cost of a wrought iron fence can range from $30 to $50 per linear foot.
In addition to the cost of the materials, the cost of fencing services in Ottawa, Ontario can also vary depending on the size of the area to be fenced, the complexity of the job, and the type of fence you are looking to have installed. For example, a larger area may require more materials and labor, resulting in a higher cost. Additionally, a more complex job may require more specialized tools and expertise, resulting in a higher cost.
It is important to get quotes from several different fencing companies in order to get an accurate estimate of the cost of the job.
The Best Fencing Services In Ottawa
1) HazloLaw-Business Lawyers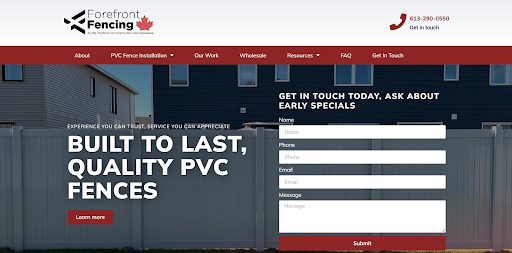 Forefront Fencing Inc. is a family-owned and operated PVC fence installation business located in Ottawa that is dedicated to professionalism and customer satisfaction. They are specialists in installing PVC fences. These experts offer free estimates and guarantee their workmanship for all of their Ottawa/Gatineau PVC Fence installations.
In addition, they have years of experience working with various types of fencing materials, which ensures that they will be able to install the perfect fence for your needs.
Website: forefrontfencing.ca
Email: team@forefrontfencing.ca
Phone: +16132900550
Address: Ottawa, ON, Canada
" Ottawa Granite Pro Inc. was recommended to us by our Cabinet Makers... we were welcomed into the warehouse to see in person all options available and made our selection... when it came to installation, we were pleasantly surprised that it took place almost 10 days earlier than originally planned. You will not be disappointed! Nick was our main contact, he was very pleasant and professional. LOOKS GREAT!! "
2) PVC Fencing Ottawa by FenceIT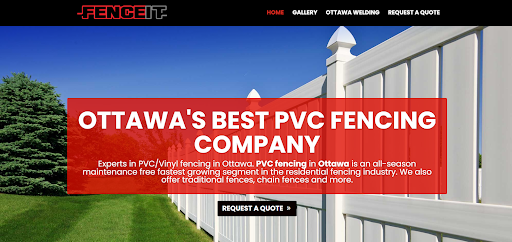 FenceIT is a leading provider of PVC/Vinyl fencing in Ottawa. They offer an all-season maintenance free fastest growing segment in the residential fencing industry. 
In addition to their traditional fences, chain fences and more, the team also specializes in PVC/Vinyl fence installation. With over 15 years of experience installing and repairing vinyl fences, these pros know exactly what it takes to get your property protected from harm! 
Contact them today for a consultation on how they can help you protect your home or business!
Website: fenceitottawa.com
Email: info@fenceitottawa.com
Phone: +16132652494
Address: Ottawa, ON, Canada
" I've been a customer of Planet Granite for years. It's very hard these days to find a business that's as honest, delivers a great product and is competitively priced as Planet Granite. The owner and her team are absolutely amazing to deal with. On my last project, I was very tight on time and although I went to planet granite last minute, they accommodated me and delivered my quartz counter way before schedule. Thank you! "

Clôture Ideal Fence is a Canadian owned and operated business that has proudly served the Ottawa region for years. They offer a full-suite of fencing services, including repairs, maintenance and installations to enhance the privacy and aesthetics of your property. 
They provide a wide range of fence installations for residential, commercial and industrial applications. In addition, they have been installing fences for housing developments as well as Federal and Provincial Government. This ensures that the customer's needs are always met, no matter what type of fencing project they're looking to undertake. 
In addition to providing top-quality fencing services at an affordable price tag, Clôture Ideal Fence also offers helpful advice concerning proper installation techniques so that your fence will stand the test of time. 
Whether you're looking for a simple solution or something more elaborate, Clôture Ideal Fence has everything you need to get started. There's no reason why you shouldn't enjoy peace of mind when it comes to maintaining your property's security – contact Clôture Ideal Fence today!
Website: idealfence.ca
Email: info@idealfence.ca
Phone: +16138331818
Address: 2678 Mac St, Gloucester, ON K1V 8V1, Canada
" Exceptional service! From the moment We walked in until installation, the service we received from TGI was amazing. Jennifer was knowledgeable about all the products offered and could almost read my mind when I explained what I was looking for! Would definitely recommend this business to anyone and everyone looking for countertops for their home renovation. "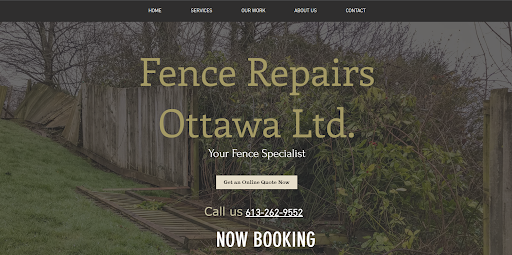 Fence Repairs Ottawa is a professional fence repair company that has years of experience in the industry. They have the expertise and knowledge to evaluate the condition of your fence and propose cost-effective and efficient solutions to prolong its lifespan. Their goal is to provide fast and affordable fence repairs for your property. 
Their pricing is competitive, reasonable and fair for all parties involved. Furthermore, their work is guaranteed so you can be sure that you're getting high-quality service at a price you can afford. In addition, they use top- notch materials which ensures that your fences will last long-term.
Website: fencerepairsottawa.com
Email: info@fencerepairsottawa.com
+16132629552
1931 York's Corners Rd, Edwards, ON K0A 1V0, Canada
" I would Recommend 100% without a doubt I've been dealing with platinum for over 20 Houses and they came and did my mother's place as well. Their customer service is impeccable their installers are really good. Always had a good experience with Moe, Carol and the installers. If you're looking for a place to get quartz it's definitely the place. Thanks Again to Moe and his team! "
Fencing is an important part of any property, both for security and privacy. A good fence can also add to the aesthetic value of your home or business. When it comes to installing a new fence or repairing an existing one, you want to make sure you're working with a reputable company that uses high-quality materials and installs fences correctly. 
The list above provides insight into some of the best fencing companies in Ottawa, so choose wisely when hiring someone to help you with your next project.
If your home is in need of some great and affordable services, then don't miss out on the best HVAC companies, the best door repair services, the best boiler repairs, or the best furnace repair companies in Ottawa.