Drains are an important part of our everyday lives, but we often take them for granted until something goes wrong. When drains become clogged it can be a huge inconvenience and even cause damage to your home if not addressed quickly. That's why it's important to know who the best drain cleaning professionals in Ottawa are!
In this article, we will recommend six of the best drain cleaners in Ottawa. These companies have years of experience unclogging drains and helping people get their lives back on track. 
They offer competitive rates, quick service, and use only the latest technology and equipment to get the job done right every time!
1) Environmental Plumbing
Gary Greco, the owner of Environmental Plumbing has been in business for over 35 years and is an expert plumber with vast knowledge on all things plumbing related to including drain cleaning as well! 
With fair prices offered by this company that also offers excellent customer service you won't be disappointed when it comes time to make any repairs or installations needed around your home.
 No matter what kind of obstruction you have in your pipeline, they've got the tool for it. From snaking machines, cables of different lengths to the cutters attached to the end of the cable, they can cut through and clear any kind of blockage.
"I was very happy with the service from Environmental Plumbing! From the initial telephone consultation, to the actual service to the reasonable cost which was well under what I had been expecting - I cannot say enough about the great work and interactions. They went above and beyond. Going forward this will be my first call for anything plumbing related."
2) Drain-Away Inc, plumbing & Drain Svc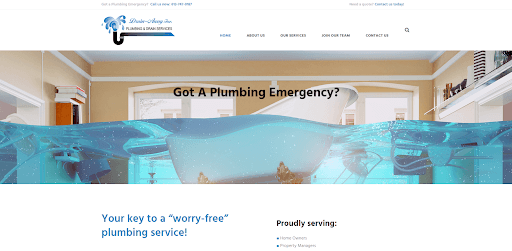 When you need a plumber, there's only one team to call. They have been providing services for over 20 years in Ottawa and surrounding areas – no job is too big or small! 
Their professional staff are trained experts who will take care of any plumbing need from your property line all the way up on top. 
They work with blocks that are difficult, greasy or calcified and have seen it all before! Their experienced professionals can do it all from rodding (for bigger problems) down pressure flushing or steaming if necessary; they will get your drain back on track in no time at all.
"Very quick and efficient, neat work never had any issues with my toilet afterwards. If you're looking for good service and time efficiency I wouldn't bother going anywhere else, this is the place!"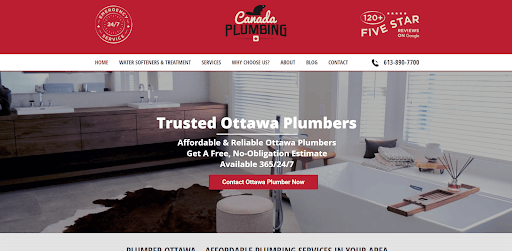 Canada Plumbing Services offers full-service commercial plumbing 24/7, 7 days a week including holidays. They are one of the top choices in Ottawa for emergency services and will be there within 30 minutes if you ever need them!
They offer commercial and residential services and work on all types of plumbing jobs and they can even provide recommendations on how to fix your plumbing issues permanently.
Canada Plumbing is one of the top providers in Ottawa for drain cleaning services. Their trained plumbers confidently resolve all issues and analyze your plumbing system to determine if there are areas that could use improvement, so you never have build-up on any more drains!
"Jamie was incredibly friendly, knowledgeable and thorough. Overall, I'm extremely satisfied with the quality of the work that he did and would call Canada Plumbing of Ottawa again in the future."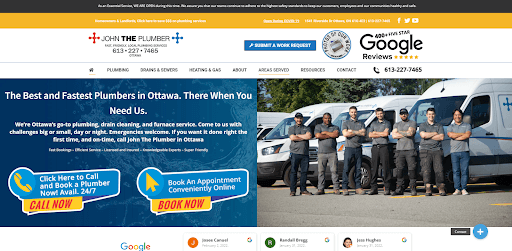 John The Plumber is the go-to service for plumbing, drain cleaning and furnace maintenance in Ottawa. With their 24/7 emergency services, you can count on them no matter what time it happens!
With over 20 years of experience servicing all makes & models of residential homes as well commercial properties, they have seen just about every challenge imaginable. 
They know how important it is to have a qualified professional fix your drain as soon as possible. That's why their team of experts will show up on time, use expert tools and experience required for this type of work in order to complete all tasks efficiently so you can go about living normally again!
"Super appreciative of the service I received for a blocked drain today! Both staff who came to my house were very kind, took the time to explain what they were doing and why, and made sure to leave the area clean once they were finished. The job was trickier than anticipated but they stayed until it was completed, were very diligent in checking that everything was working perfectly and even fixed some pre existing issues from previous work that had been done improperly."
5) Dr.Pipe Drain and Plumbing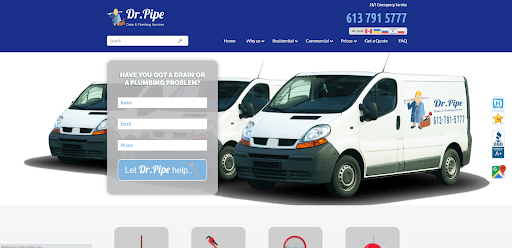 When you need a plumbing problem solved, there's no better team to turn too than their licensed and qualified plumbers. They are interested in doing the job right – not just making things easy for everyone involved! 
While they provide a wide range of services like drain snaking and creative solutions for your swimming pool, their core specialty is trenchless drain repair. They believe that this technology has the potential to change plumbing as we know it, so they want to be on the forefront of it! 
With years of experience in the trenches , they're confident that they can handle any sewer or drainage problem you might have – big or small. 
Give them a call today and let them show you what trenchless really means!
"I have just had an exceptional experience with Dr Pipe plumbing in Ottawa. Work was done promptly and perfectly. We got an appointment with no delays. The technician was pleasant and efficient."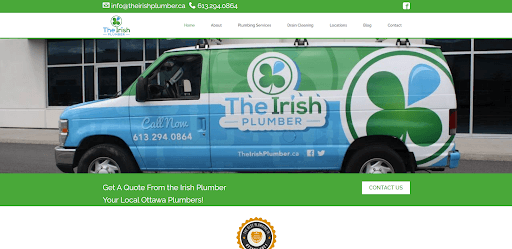 The Irish Plumber is a business that provides professional, certified plumbing services to both residential and commercial clients. 
With over 15 years of experience under their belt, they provide one hundred percent customer satisfaction through hard-working staff who are always happy when they know someone else needs their help!
Blocked drains are a tremendous pain, but fear not! The Irish Plumber has all of the tools you need to get rid of them. They offer drain cleaning machines and water jetting machines as well as inspection cameras for inside your pipes that will find any blockages before they become too much trouble.
"Tom did a wonderful job. He listened to my concerns and made helpful suggestions, advising me of costs before starting. He carried out the necessary installation and repairs in a thorough, capable and professional manner. I was impressed, and I will be using the Irish Plumber in future, especially when I undertake home renovations next year. Well done!"
FAQs about Drain Cleaning
Drain cleaning is an important part of keeping your home healthy and safe. By choosing a reputable drain cleaning company in Ottawa, you can rest assured that the job will be done properly and affordably. 
The list above provides insight into some of the best drain cleaning companies in Ottawa, so choose wisely when hiring someone to help with your clogged drains.