Just as the weather is starting to cool down, your furnace may start giving you trouble. If this happens, it's important to know who to call for furnace repair in Ottawa. Not all companies are created equal – some have more experience with certain types of furnaces or repairs than others.
In this article, we will be introducing you to six of the best furnace repair companies in Ottawa. We have done our research and chosen these businesses based on their reputation, level of customer service, affordability and overall expertise when it comes to repairing furnaces.
1) Francis Home Environment Heating and Air Conditioning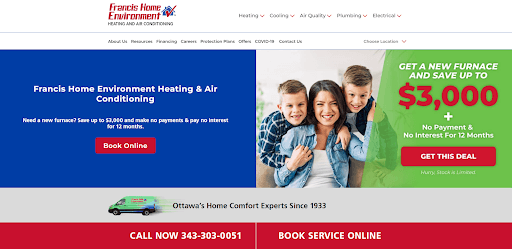 If you want to save money on the cost of a new home furnace, stop paying service fees for emergency repairs or just need an expert team that will be there 24/7 whenever you need then call Ottawa's #1 choice – Francis Home Environment. They have been providing high-quality solutions since 1933 and know everything about furnaces!
They will arrive on-time and explain everything that needs to be done in detail before offering you solutions or making recommendations. They specialize in residential as well as commercial repairs and installations. So when your furnace starts leaking water and stops working especially during winter they've got you.
"Trustworthy and reliable company and service! Our furnace broke down in the middle of the night and the company sent a rep (Garrison) the next morning who promptly fixed it by replacing a broken part. Garrison identified the issue quickly, went to the store to get the part, and our heater was running fine within minutes. He was friendly, quick and professional - would highly recommend these guys."
2) J.C. Robinson & Sons Ltd. Heating & Air Conditioning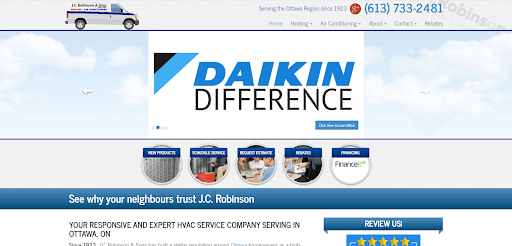 J.C Robinson & Sons is ready to help you find an affordable, customized plan that's perfect for your home! They carry high-quality products and have 50 employees on staff. Their 24-hour emergency service and local call centre offer you the confidence that you'll never be left out in the cold.
They offer annual service contracts on most residential gas furnaces, gas boilers, and electric furnaces. Their year-round service contracts include an annual maintenance visit to check if your furnace is ready for winter, parts and labour coverage as well as emergency services. 
"I have been using JC Robinson for 10 years now, and have had recurring yearly maintenance contracts with them. They are responsive, professional and fair. I had to make an emergency call last night and Tom came to make sure there was no gas leak. He was great- he came quickly, was thorough and made us feel safe to stay in our house."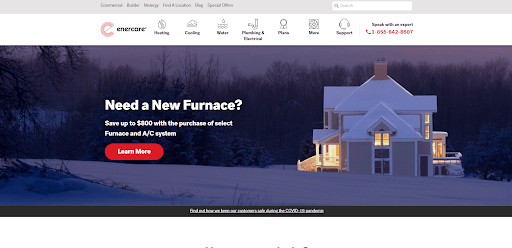 The furnace in your home is one of the most important parts. You need to make sure it's working properly and efficiently, otherwise you might feel cold during those winter months! Enercare specializes in fixing all sorts of HVAC issues – no matter if it's struggling with providing heat or making suspicious noises.
When you choose Enercare for furnace repair services, they give your home the attention it deserves. Their licensed technicians know how to find what's wrong with any heating system and apply only excellence-quality repairs. 
enercare.ca
+16132160023
2160 Thurston Dr, Ottawa, ON K1G 6E1, Canada
"Our furnace stopped working on one of the coldest nights of the year. We contacted Enercare that night, and they arrived promptly the following morning. Our technician, Ali, was quickly able to diagnose the problem and replace the faulty component, and was happy to explain the issue and answer questions. Overall we are extremely satisfied with the service we received."
4) Rick Menard Heating & Cooling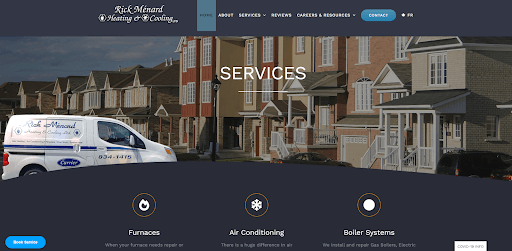 Rick Menard is the go-to heating and cooling company for all your needs. From repairs to new installations, we have you covered!
They know that when it comes time for home comfort it is important to find a reliable company that would make their top priority the customer's safety. Menards Heating & Cooling is dedicated to do just that. 
If your furnace is squeaking, rattling or generally is very loud it is time to call them for the checkup. They can also change the filters outside of the vents of your furnace to get rid of all that extra dust that can be dangerous for your health. 
"We have been using Rick Menard for almost 10 years now and have always found them to be very professional and easy to deal with. They are honest, keep you well informed and always follow up if there is an issue. Benoit performed our annual furnace and AC maintenance this time and we couldn't have been happier with his service - on time, friendly and thorough."
5) AirZone HVAC Services Inc.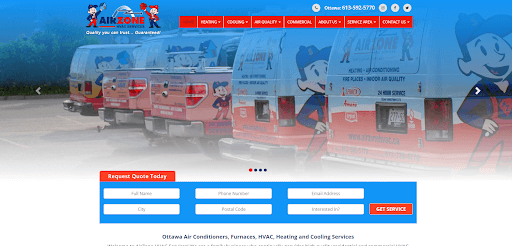 AirZone HVAC Services is a family business who provides high-quality residential and commercial heating, ventilation, air conditioning services. They specialize in furnaces for homes or businesses with a strong focus on customer service that will make you feel at ease from the moment they walk through your door!
Their team of certified high efficiency furnace experts are highly trained to properly assess your furnace. They offer two repair services: Regular Service and After Hours Emergency Service. 
They will examine many factors including age of the furnace, efficiency, potential or needed heater repair costs, and homeowner preferences such as comfort requirements.
"Chelsea, the Service Coordinator, was extremely knowledgeable, helpful, courteous, and a pleasure to talk to. In fact, based upon dealing with Chelsea alone I am definitely investigating changing maintenance yearly contract from Reliance Holme to AirZone."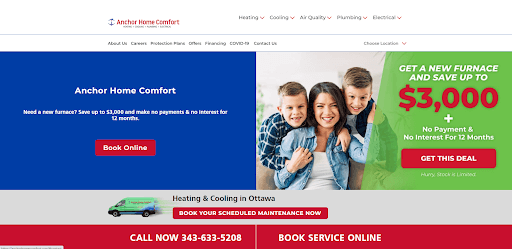 Anchor Home Comfort is the Ottawa area's trusted furnace repair company. They offer 24/7 service for emergencies or routine maintenance on your home heating system, and they never charge extra during holidays! 
Anchor Home Comfort  has been providing quality customer care since 1978 with an emphasis in gas fireplace repairs too.They can help you with problems like broken thermostat, pilot light, clogged filters or clogged condensate line, issues with the gas supply, blocked vent pipes or problems with your ductwork.
"Billy was great. Very professional, he really went the extra mile to ensure my heating was up and running, and even did some general maintenance on the furnace to ensure future problems wouldn't crop up. This was far better service than I've received from other local furnace repair providers."
FAQs about Furnace Repair
When your furnace stops working, it's important to find a reliable repair service as soon as possible. The list above provides some of the best furnace repair services in Ottawa, so you can rest assured that your problem will be taken care of quickly and efficiently. 
These companies have years of experience repairing furnaces of all types, so no matter what issue you're experiencing, they'll be able to help.