It's impossible to live without appliances in this day and age. From your dishwasher and stove, to your washing machine and dryer – the list goes on. If any of these fail, it can be a disaster for any household! Luckily there are appliance repair services in Ottawa that specialize in fixing just about anything. Even if you accidentally break something or forget how to use one of them, they'll know exactly what you need!
We have compiled a list of the 10 best appliance repair services in Ottawa, so you can get your appliances fixed as quickly as possible.
How Much Does It Cost to Repair Appliances?
If you're wondering how much does it cost to repair appliances, the price will vary depending on what type of appliance needs fixing and who is doing the repair. For example, an average dishwasher repair costs around $225 to $275, whilst a refrigerator repair can be as low as $200 or as high as $365 (for serious problems).
The Best Appliance Repair Services Providers in Ottawa
Now you know how much it costs to fix an appliance, let's take a look at the best appliance repair services Ottawa has to offer.
1) Appliance Technician Ltd.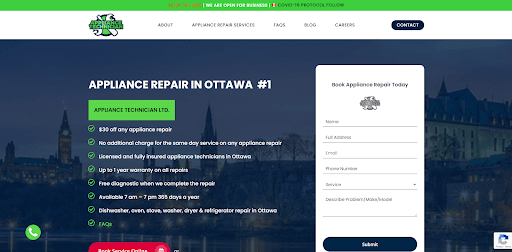 Appliance Technician Ltd. is committed to providing the best customer service possible with a focus on professionalism and satisfaction in Ottawa area appliance installation/repair services. They know you're busy so they'll make your repair as quickly and efficiently as possible! Your dishwasher, dryer or oven will be fixed and ready to use again. They also offer guaranteed repair services and warranties up to 1 year which is really unique.
"Very honest and did a great job fixing my freezer and dishwasher. Friendly service and charged a very reasonable price. Would recommend to anyone!"
2) Dale's Appliance Service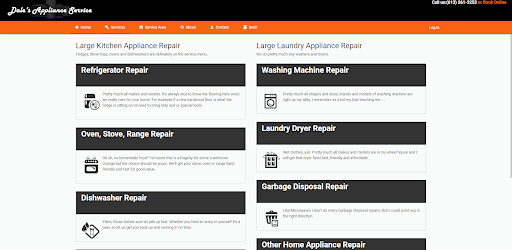 At Dale's Appliance Service you can get fast, reliable service from a team of experienced experts. From thrifty simple appliances to more eloquent equipment they have the knowledge and skills to fix it all.
They are certified technicians that are in business from 1985 and the quality of their work is excellent. They work with large kitchen appliances like refrigerators or stoves and large laundry appliances like washers and dryers. They can fix pretty much all shapes and sizes, brands and models of your home appliances.
"I would highly recommend Dale for any of your appliance services or repairs. He has repaired my washing machine twice. Both times he was friendly and personable. He was quick at responding to my requests, talked options over with me, kept me up to date on when the new part would be in and was quick to do the repair and provide me with helpful advice on what to do if it breaks again. "
3) Carling Appliance Repair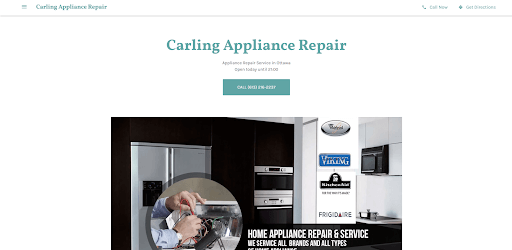 They are a reliable and professional appliance repair company that aims to provide quality service for your home. Some of their services include fridge repairs, washing machine fixes or other similar fasteners such as cookers. Their technicians will arrive at scheduled time with all tools needed in order to complete the job efficiently without any delays!
At Carling Appliance Repair they service all brands and types of home appliances, so your kitchen will be in amazing hands.
"My roommate noticed that our fridge was not cooling as it's supposed to, so I didn't hesitate to call this company for their fridge repair. The technician came as scheduled, and he got it fixed immediately. I'm impressed because he is an expert when it comes to home appliance service."
4) Appliance Repair Ottawa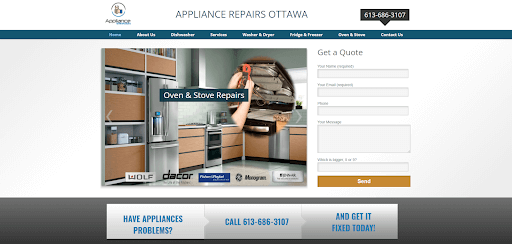 When your appliances stop working and you need them fixed fast, call Appliance Repair Ottawa. They are a local company that provides efficient appliance repair services with high quality workmanship for the best possible outcome!
Their team can fix anything from refrigerators to washers- all at an affordable price. They offer same day service so you don't have to struggle without your daily helpers. No matter how large or small the scope of work is, they have got you covered.
"Staff was polite on the phone and informative. Technician came earlier and called before to make sure it was ok. Technician ended up having the part (bake element) of my oven needed to be repaired and fixed it on the spot. Having the part was lucky, don't expect this for every call. The price was reasonable. "
5) Certified Appliance Repair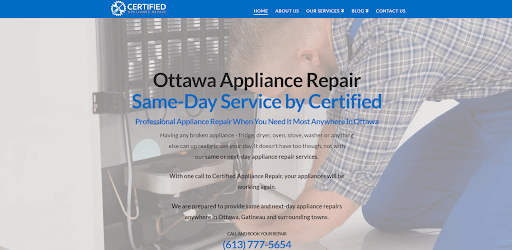 You rely on your appliances every day, but often don't notice the wear and tear that goes into making sure they work properly until something breaks down! That's why they are here at Certified Appliance Repair – to give you reliable service for affordable prices in Ottawa or Gatineau . They'll come out right away if anything happens with any type or model machine; no matter how old it might be.
A certified technician will get back up again so all can continue living comfortably without worry. They offer same or next-day appliance repair services. All appliances fixed by them are covered by warranties – up to 12 months!
"I cannot say enough about this company and more importantly, Garik. He came out to fix my dishwasher. He really knows his stuff. What I appreciate most is the honesty and excellent ethical values Garik puts into his work. Highly recommend Garik and his company. The best."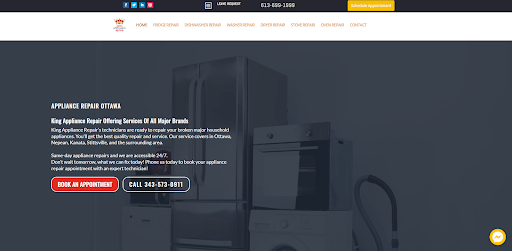 King Appliance Repair is the best company to go for all your appliance needs. They offer services that cover Ottawa, Nepean and Kanata areas as well! You can trust them with any type of major household item because the technicians are trained professionals who will do their very best at repairing or servicing what needs fixing in a timely manner while also providing quality customer care throughout every step along this process.
Same-day appliance repairs are available and they also are accessible 24/7. They will also educate you on how to prevent your problem in the future and how to take care of your home appliances. "Great professional service and fantastic value for your money!
Alex diagnosed the problem shortly after he arrived, instantly ordered the part for replacement and came back in 3 days to replace it. Saved me 2K minus service call and parts cost. Highly recommended!"
7) Dishwasher Repair Ottawa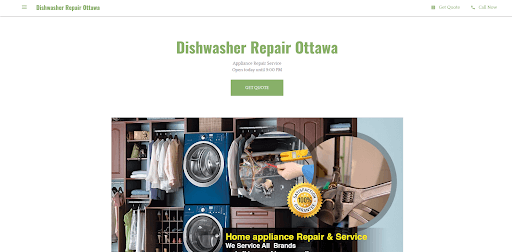 Dishwasher Repair Ottawa offers efficient appliance repair service at cheap rates. They have the best deals you can avail and still receive outstanding results, guaranteed!
Contact them for all your faulty appliances needs; whether it be a microwave or toaster, freezer, and the like on their extensive list of services: they will take care of it like no other company could – saving time & money in return as well.
"The repairman at this company was well-mannered and accommodating. When he first arrived, he introduced himself together with a firm handshake and another one when he left. He was also detailed in explaining what needed to be done to my washer. The repair was prompt and hassle-free. Thank you, Dishwasher Repair Ottawa!"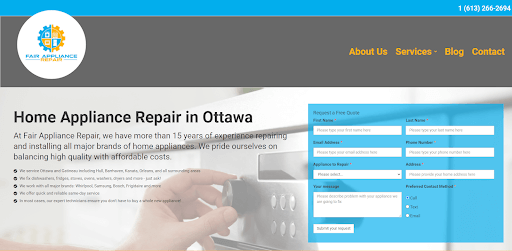 At Fair Appliance Repair, they have more than 15 years of international experience in the home appliance repair industry. They completed professional training programs to see it all and help you when your fridge breaks or laundry day is ruined!
That's why the team provides quick service for same-day responses across Ottawa County including areas like Kanata; Whether you get a new appliance you aren't sure how to install, or your older ones break, they can help. They also perform routine maintenance so your trusty appliance can last you many years!
"I had a great experience with Fair Appliance repair. I had Slava come to fix my washing machine and he did a great job! I would recommend them to anyone."
9) Appliance Repair Expert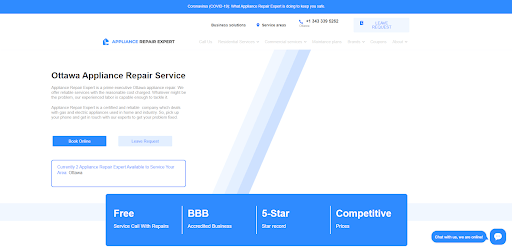 When you are looking for an Ottawa appliance repair company that specializes in all types of cooking equipment, look no further than Appliance Repair Expert. They deal with gas and electric appliances used in home and industry.
They can perform repair, installation and maintenance services in 24 hours after your call. The staff are really polite and knowledgeable and can save you from any situation.
"Appliance Repair Expert team saved me from a dangerous situation, the stove had started to smoke. A fire could have happened if tech hadn't figured out what was happening. Luckily everything was promptly changed."
10) Washing Machine Repair Ottawa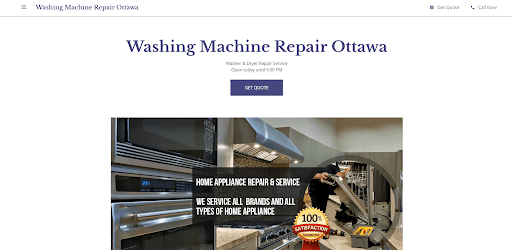 Their team of experts will be happy to help you with your home appliances. They are committed to providing high quality, reliable service that is affordable for everyone!
They can repair any of your appliances such as washers and dryers or refrigerators so they are running at full capacity in any situation. They service all brands of home appliances also. Even if you think that your washer for example isn't gonna work, their professional staff will take care of it.
"The fridge repair I requested from Washing Machine Repair Ottawa deserves 5 stars, no doubt. After hiring two service providers, it was only this company that successfully fixed my broken refrigerator. They were very detailed in every action that they took and used only the best parts. Plus, their service rate was very cheap."
FAQ About Appliance Repair
If you need your appliance fixed, there are many trustworthy repair companies in Ottawa that can help. The appliance repair services mentioned on this list are the best in town, so you can trust them to get things fixed as quickly and professionally as possible.
If your dryer is not working at the moment and still needs to get your laundry done, check out our list of the
best dry cleaners in Ottawa
.