We often associate our cars with freedom, the freedom to go anywhere. But when our garage doors are broken, it can feel frustrating and limiting. If you're in Ottawa, you're in luck because the city is full of professionals who we are confident can do a great job on your garage doors. Go to any of these Ottawa garage door repair companies and you'll be back on the road in no time! 

While you get your garage door fixed, why not fix up the appliances in your home? Check out our list of the best appliance repair service providers in Ottawa.
How Much Does It Cost to Fix a Garage Door?
The price of a garage door repair can range roughly from $100 to $300. 
The price of getting your garage fixed is dependent on many variables. For one, what is the problem with your garage door? For quick and easy fixes, you may be charged a minimal service fee, but for more difficult repairs, like broken cables or remote problems. Repair people may also charge more based on their training, years of experience, and reputation.
Ottawa's Best Garage Door Repair Services
We found the best garage door repair companies in Ottawa. Based on expertise, customer satisfaction, and quality of service, you can't go wrong with any of these garage door repair services!
1) Garage Door Repair Doctors Ottawa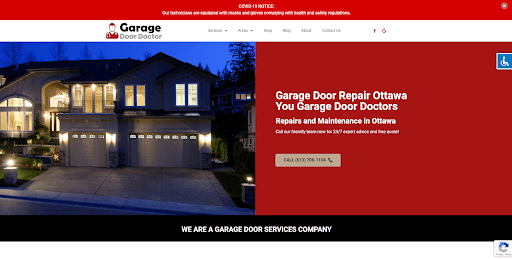 Their team of experienced and qualified fitters are ready to help you. With a personal service, they'll leave both you and your wallet happy as well! They offer Same Day Garage Door Repair Services and provide high quality service on a variety of garage brands, styles and configurations. They also work 24/7 because their customers are their top priority. 
Whether your garage door is failing to close or your switches aren't functional – they'll get it covered. They also can repair old or damaged cables and rollers, hinges or sensors, so they can easily fix any part of your garage door in a flash.
"I went to them to install safety sensors on our garage door. The serviceman was friendly and helpful. He saw to it that I was given all the information I needed, and wouldn't mind doing the small requests I asked him. I highly recommend them. They're the best in town!"
2) Vanier Garage Door Repair Experts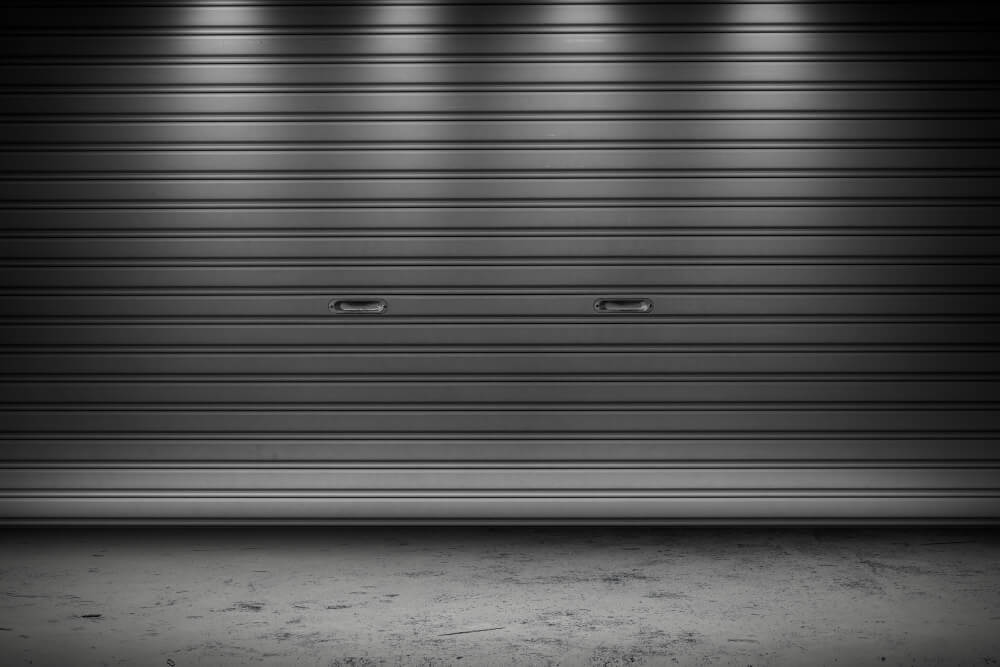 At Vanier Garage Door Repair Experts, they understand that your time is valuable. That's why they pride themselves on quick response time. No matter what problem you're having with your garage door, they'll be there to help in no time. They work with all types of garage doors and can quickly diagnose and fix the problem.
 So whether your remote control stopped working or you're having trouble with the door itself, they'll get the job done quickly and efficiently. And because they value your satisfaction, they offer a 100% satisfaction guarantee on all of their services.
+16136862111
585 Montréal Rd #30, Ottawa, ON K1K 4K4, Canada
"We contacted the garage door service company when our door wouldn't open evenly. They agreed to send their technician at our preferred schedule. He arrived on time, and he addressed the concern with the damaged cables and springs easily. He didn't charge a lot and also cleaned up afterward."
3) B. Pritchard & Son Garage Door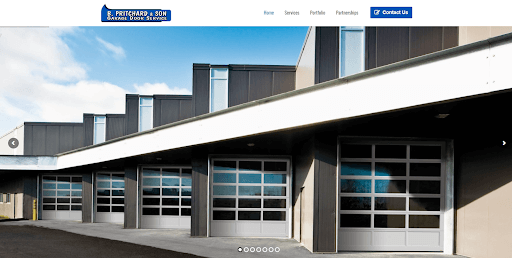 B Pritchard and Son Garage Door Service is a family company that has been in operation for over forty years. They service all residential, commercial & industrial doors throughout the city! Their combined experience allows them to quickly diagnose any problem with your garage door operator or openers so you can get back on track fast. 
They offer a 24-hour emergency service line, and same day service within regular business hours. They offer installation, service and repair as well as building in your door! So whether you need a new garage door opener installed or your existing one repaired, give them a call today! You'll be glad you did.
"B Pritchard and Son were amazing! The service was excellent. They were quick and efficient, extremely courteous and they went over and above to help me solve a problem with my old garage opener. The new one they installed is great. I definitely recommend their service!"
4) Ottawa Garage Door Repair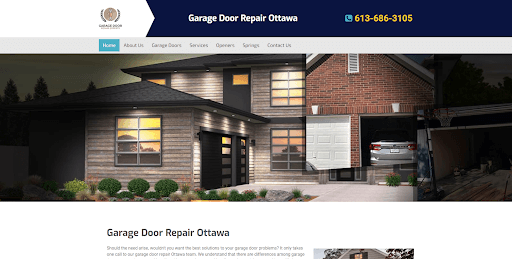 When it comes to your home, you want only the best in terms of quality and service. That's why you should entrust your garage door repair and installation needs to the experts at Ottawa Garage Door Repair. They are a locally owned and operated business with a team of experienced professionals who are skilled in a variety of services. 
Whether you need emergency opener, spring, track, or cable repairs, they can help! They are also equipped with all the required tools to carry out any garage door opener repair or cable replacement task with excellence. Plus, they offer their services at competitive rates, so you can be sure that you're getting the best value for your money. 
So if you're in the Ottawa area and in need of garage door repair or installation, don't hesitate to give them a call!
"I was worried when I heard a deafening noise from my garage door. I asked this company to investigate it, and they sent their tech to my house on the same day. He worked diligently and finished sooner than expected. The service was impressive and low-cost."
5) Ram Overhead Door Systems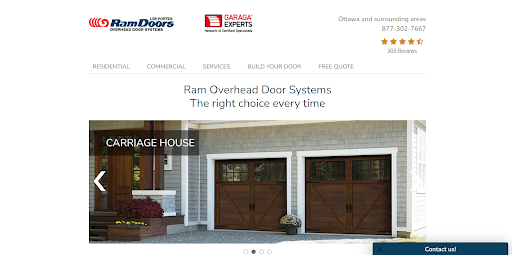 Ram Overhead Door Systems is a company that specializes in garage door systems and openers, with over 40 years of experience. They are committed to providing high-quality installs for residential or commercial uses; whether you need one automatic gate per home lot or many remote controlled entry points around your property as part of an expansive security network— they got it covered!
They strive to provide fast, friendly service with the most affordable prices in town. They also offer proactive preventive maintenance tune‑ups and opener repair or commercial emergency services so you can count on them for all your needs!
"The Sales guy Mike Minard was excellent. It was an easy decision to go with Ram Doors. Answered our questions, explaining all options and worked with us to make it easy and smooth. The install was efficient and very clean. Beautiful product and great customer service Thank you Mike!"
6) The Garage Door Depot Of Ottawa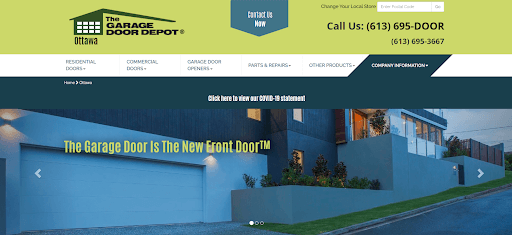 The Garage Door Depot is your one-stop-shop for all your automatic residential garage door opener repair needs. They can fix anything from a won't open or close, to making a grinding noise, to stripped gears. And they're always happy to answer any questions you may have about which type of service will be best suited for your particular problem.
The most common problems they see are broken springs, broken cables, replacement panels, jammed doors, and weather stripping. So whether your issue is big or small, the Garage Door Depot has you covered.
"I've used this service three times now. First time about 5 years ago I just wanted a small fix on an old garage for a house I had just bought. Greg did an amazing job so a few years later when I decided to replace both my garage doors completely I called again and once again he did an amazing job replacing both my garage doors and they have been working perfectly. Most recently I called to have an issue fixed at a relatives place and no surprise, once again did an amazing job."
7) Garage Door Repair Ottawa Ltd
Garage Door Repair Ottawa is your one-stop shop when it comes to garage door repair. They know that many things can go wrong with your garage door and each one of them requires special handling, appropriate equipment, and great technical knowledge. It doesn't matter if you need a wire or installation because their technicians are able to deal with easy procedures just as hard ones! 
At the same time, they'll pay attention to how everything works together in order for them not only to fix what needs fixing but also to determine why this has happened. 
They are professionals in repairing your overhead garage door system which is made up of hundreds of components and they will make sure all the original manufacturer's specifications are met so you can be sure that your garage door is repaired properly the first time around. Contact Garage Door Repair Ottawa today for all your garage door repair needs!
"I needed a garage door expert, and I learned about this company from a friend. Their staff came here to take a look and identify the problem. He executed the repair and got the garage door opening completely, just like the way it should. Overall, the service was second to none."
8) Lifetime-Garage Door Repair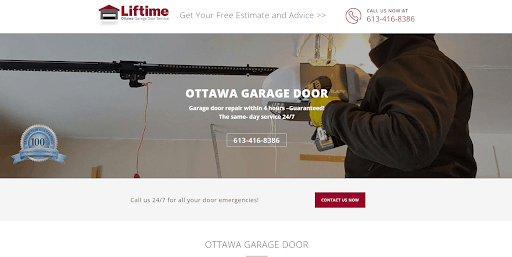 They're an Ottawa-based, family-owned and operated garage door company. They respond to most calls with same-day service! You can depend on them for emergency repairs in your area and they're skilled in handling a variety of garage brands, styles and configurations. They provide courteous and professional service.
If you need to replace your garage door with broken rollers, hinges and sensors or install an automatic opening system, they are here for you. They also provide initial consultation over the phone at no cost or commitment of any kind, empowering their clients to solve small problems on their own.
"I'm Covid times getting service for anything is not reliable. I had my call returned in minutes, punctual and came at agreed upon time, fair pricing and service was excellent. Trustworthy like calling on a family member. It was like magic! Highly recommend it."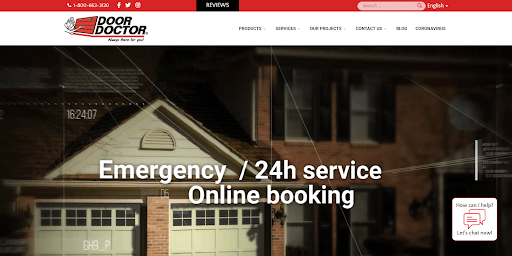 Door Doctor will rescue you from any problems with your garage. Their technicians will arrive on schedule and analyze and diagnose your problem. They work with all types of garage doors and electronics, so no matter what they're got you covered. 
The prices are also very fair for the excellent work that they provide and the whole experience overall will be very positive and hassle-free. And with their attention to detail, your cables and mechanisms will work perfectly.
"Tony did a fast and thorough job installing new cables and straightening my double garage door. Arrived right on time, door works perfectly now. Definitely will use Door Doctor again if the need arises."
10) Ottawa Garage Door Expert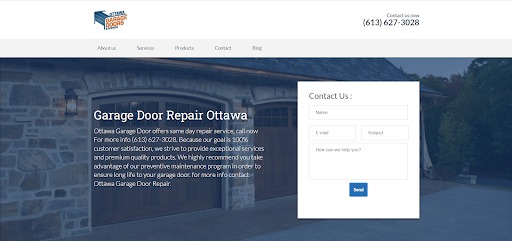 Ottawa Garage Door Expert has been in operation for more than a decade, delivering high-quality services to their clients. A great number of people deal with garage door problems every day, but Ottawa Garage Door Expert is here to provide quick solutions at an affordable price point. 
From broken springs repair to broken garage openers, their highly qualified workers will help you with any problem. So if you're ever in need of some assistance with your garage door, be sure to give them a call! You won't be disappointed.
"The tension cables on our garage door broke in the evening two days before Christmas. They came on Christmas morning and fixed it. I couldn't have asked for better service. He fixed the door, and explained to me how to fix the weather stripping once the weather got warm. Great service. Very reasonable price. He did not gouge me because it was a holiday. Two thumbs up."
FAQs about Garage Door Repairs
If you need to get your garage door repaired, you can trust any of these Ottawa businesses to get that all fixed up. These companies are the very best in the city and can fix your garage door quickly and effectively. With any of these Ottawa pros, getting your garage door fixed is an easy fix!