The best bowling alleys in Ottawa are a total strike!
Bowling is one of the most fun sports around and it's a sport accessible to everyone! So whether you're a seasoned player in a league or just want to have some simple fun, you're sure to have a great time at these Ottawa bowling alleys. Maybe you'll even get a strike or two! 
These Ottawa bowling alleys all boast plenty of lanes, bowling balls, and shoes, all at affordable prices. Not to mention that many of them provide fun other than bowling. At these bowling alleys, you can find things like restaurants, arcades, and billiards. 
Many of these alleys can also be used for a party space; your guests will love the unique venue! So whatever your plans are, be it a huge party or an exciting night out, you'll love these bowling alleys!
For more fun in the city, be sure to check out the best art galleries and the best go-karts in and around Ottawa!
What's the Average Cost of a Night Out Bowling?
The average cost of a night out bowling for a family of four, including shoe rental, is around $30 – $60. However, prices can vary depending on the time of day and day of the week. 
Some other costs to consider are food and drinks, which can add up if you're not careful.
Many bowling alleys offer discounts during the week, as well as early bird and matinee rates. You can also usually save money by renting your own shoes instead of using the bowling alley's.
Make sure to also check for coupons and deals before you go!
The Best Bowling Alleys in Ottawa
Now that you know the average cost of a night out bowling, it's time to choose where to go. Here are our picks for the best bowling alleys in Ottawa:
1) Merivale Bowling Centre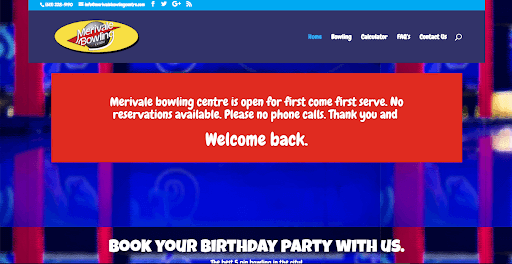 Merivale Bowling Center is an excellent choice for a fun day or evening out. They provide customers with 48 lanes of computerized scoring, an arcade, and a fully licensed restaurant. The bowling center operates on a first-come, first-served basis without reservations, which is nice! 
You can even celebrate special occasions as they offer catering for birthday parties! They even provide a handy calculator which will tell you how much exactly it will cost you to bowl here depending on the number of games/bowlers and shoe rentals!
 All in all, Merivale Bowling Center is a great choice for some fun and games.
"My friends and I had a fun time bowling here! Great options for food and drinks, they serve a bit of alcohol. The food was better than expected and I'd recommend grabbing a bite during your game. One thing is that inside it gets super loud with the music and other people playing and having fun, in case anyone with sensory issues wants to join in on the fun "
2) Orleans Bowling Centre - OBC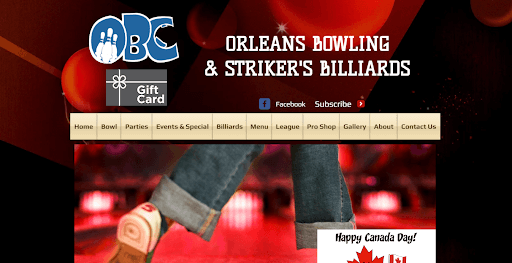 Looking for a fun and unique place to host your next event? Look no further than Orleans Bowling Center!
 OBC offers over 32 lanes of 5-pin bowling, making it the perfect spot for group outings. And with approximately 175 bowling balls and 300 pairs of shoes available for rental, everyone in your group will be able to find the perfect fit. 
Not to mention, they also offer billiard sessions by the hour – so you can hop between games and enjoy even more fun! Whether you're looking for a fun night out with friends or a unique venue for your next event, Orleans Bowling Center is the perfect spot.
"Super fun for everyone. The little kids and adults both loved the experience. Friendly staff, clean, fantastic food, and great prices all around. A great way to spend some time as a family. The automatic bumpers were great for the kids."
3) North Gower Bowling Alley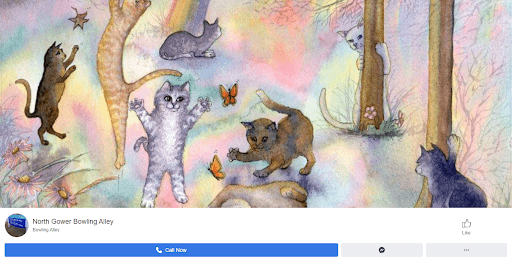 North Gower Bowling Alley is the perfect place to celebrate your next birthday! They offer affordable packages that include lane rental and shoe rental, as well as food and drink options. 
They also have a wide variety of games and activities to keep everyone entertained, making it the perfect place for a family-friendly birthday party. North Gower Bowling Alley also hosts other fun events throughout the year, including family-themed nights, corporate parties, and more. 
So whether you're looking for a place to host your next birthday party or just wanting to have some fun with family and friends, North Gower Bowling Alley is the perfect spot!
"This is an amazing gem. Perfect for parties, scouts/guides or groups. Was really reasonable and we had the whole place to ourselves so didn't have to worry about where the kids were!"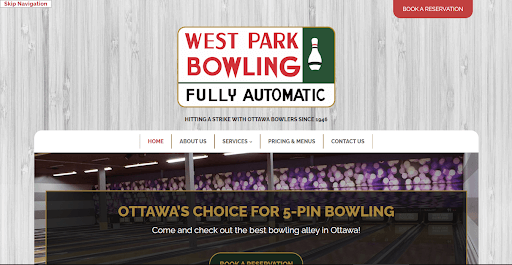 West Park Bowling has been a staple in the Ottawa community for over 70 years. The company provides automated scoring and modern bowling equipment, as well as full-service bowling renovations that have greatly improved customer satisfaction. 
In addition to public bowling, West Park Bowling also offers Rock n Roll Bowling, League bowling, and Birthday Parties. With so many options available, there is something for everyone at West Park Bowling. 
Whether you are looking for a fun night out with friends or a place to host a special event, West Park Bowling is the perfect choice. Come experience the quality and service that has kept West Park Bowling in business for over seven decades.
"Probably THE best bowling place I've ever been too. As it's family owed, the staff is super friendly and ready to help when needed. I went there for a Saturday night with friends and it was packed. Good thing I made a reservation but the fact that it was so busy made the vibes in there perfect and the music was AMAZING. We were bowling and dancing. Definitely recommend and I will go again that's for sure."
FAQs About Bowling in Ottawa
At these bowling alleys, you can knock down some pins as you please. You don't have to be a pro to play, but if you're looking for something a little more challenging, you should join one of these allies' leagues. These bowling alleys have something for everyone and are more than ready for you to visit!
If you're looking for a great night out, you have to visit the best bowling alleys in Ottawa!