The best saree stores in Ottawa are selling the most beautiful sarees in town!
Sarees are a traditional and formal style of dress work in India, Pakistan, Sri Lanka, Nepal, and Bangladesh. If you have a special occasion, we're sure you'll want to look your very best. That's why we rounded up the very best saree stores in Ottawa. 
We chose these saree stores based on customer service, the quality of their sarees, and their stunning selection of sarees! These saree stores can help you find the perfect saree for you.
If you also need a new pair of shoes to complete your outfit, check out our list of the best places to buy shoes in the city. In your traditional garb, why not go for a traditional Indian meal at one of the best Indian restaurants in Ottawa!
What are the Most Popular Sarees Styles?
The most popular saree styles include the Bengali saree, Gujarati saree, Kashmiri saree, Maharashtra saree, and Rajasthani saree.
Bengali saree:  This saree style is characterized by its red and white colours and striped patterns. The saree is also known for its embroidery work, which often includes flowers and birds.

Gujarati saree: This saree style is distinguished by its traditional mirror work. Gujarati sarees are often brightly coloured with intricate designs.

Kashmiri saree: The Kashmiri saree is known for its beautiful embroidery work. These sarees are often made of silk and can be found in a variety of colours.

Maharashtra saree: This saree style is characterized by its striped patterns and colourful borders. Maharashtra sarees are often made of cotton and are perfect for summer wear.

Rajasthani saree: Rajasthani sarees are known for their beautiful colours and designs. These sarees are often made of silk and can be found in a variety of colours.




The Best Saree Stores in Ottawa
Now that you know the most popular saree styles, it's time to find the perfect saree store for you!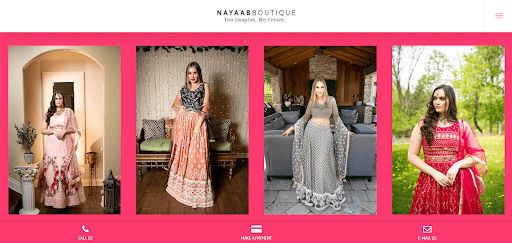 Nayaab Boutique provides a unique shopping experience for those who are looking for the perfect saree. The store specializes in custom-designed sarees, which are a perfect combination of ageless craftsmanship and contemporary fashion.
 The store's specialists will consider the clients' ideas and considerations when handcrafting their respective saree. This ensures that the final product is not only stylish but also tailored to the individual's taste.
 In addition, the store offers a wide range of ready-made sarees, which are available in a variety of styles and designs. Whether you're looking for a traditional or modern saree, Nayaab Boutique is sure to have something to suit your taste.
"We had a good experience ordering our custom made outfits. She was very helpful and patient with the details and let us know how the outfits were coming along throughout the process. She put her heart and soul into making sure we got the perfect look. The outfits were beautiful and above and beyond anything we could have wished for."
"Ive worked with Nayaab Boutique a few times for fashion shows and photoshoots and really love her clothing. They are absolutely stunning and Mandeep is so friendly and welcoming. I highly recommend."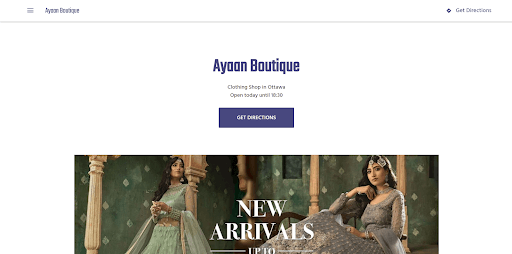 Ayaan Boutique is a hidden gem in Ottawa that offers an impressive range of Indian-inspired clothing at reasonable prices. The boutique stocks both traditional and contemporary garments, making it the perfect place to shop for special occasions or everyday wear. 
The quality of the fabrics and the intricate craftsmanship is sure to impress, and the friendly staff are always on hand to offer styling advice. Best of all, the store regularly offers new arrivals at discounted prices, so it's worth checking back often.
 Whether you're looking for a colorful sari or a stylish kurta, Ayaan Boutique is the ultimate destination for Indian fashion in Ottawa.
"Great selection of clothing and very good service. I purchased a dress for a wedding and very happy with experience. They have a variety of styles to choose from and showed me lots of styles. Very helpful. Definitely recommend 👌"
"Amazing service, very nice and kind people and a great deal, will definitely return and my wife was extremely happy. We're absolutely coming back again for more clothing articles.... Great time with great people doing great business."
3) BrightStar Silk Sarees INC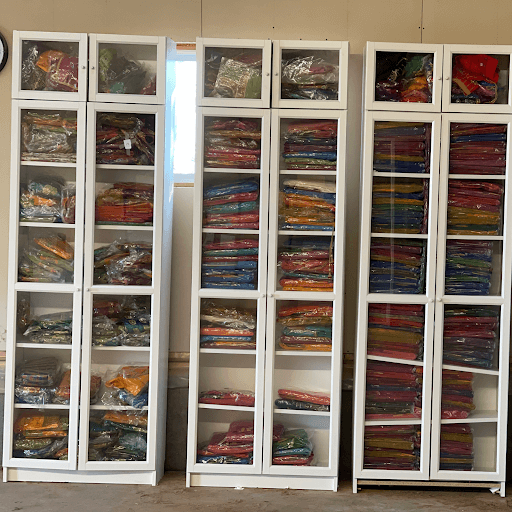 BrightStar will dazzle you with an enormous variety of sarees of every type for any occasion! Sarees are available in a multitude of colours, patterns, and materials to suit any woman's taste. 
Whether you're looking for a saree for a formal event or a casual get-together, you're sure to find the perfect one at BrightStar. In addition to traditional silk sarees, they also offer a variety of modern prints and designs. 
They even have a section dedicated to bridal sarees, so you can find the perfect dress for your big day. With their vast selection and competitive prices, BrightStar is the only place you need to shop for sarees. Visit them today and see for yourself!
"Sundari ensured that I had a positive shopping experience by showing me great quality sarees at a reasonable price. She was honest from the very start and met my budget. My final choice exceeded all expectations! I would definitely recommend their service and merchandise. Check them out if you are in and around the Ottawa area."
"Extremely happy with the sarees I bought here. They have a range of silk collection with great quality. The best part is pricing is very reasonable! if you are looking to buy Indian silk sarees, this is the place I would highly recommend!!!"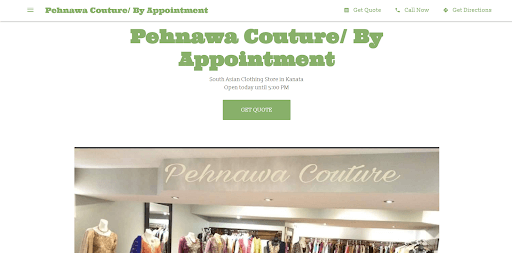 Pehnawa Couture is a great clothing store in Indian and Pakistani clothing and accessories, which brings the best combination of quality and customer service to its customers. They deal in bridal and casual wear and are top-notch at creating customized made-to-order choices for women and men. 
With their years of experience in the industry, they offer various unique deals so customers can benefit the most and have a great new fashion item to wear. Not only do they have a wide array of choice when it comes to clothing, but they also keep up with the latest trends so you can be sure you're getting the best that fashion has to offer.
 Visit Pehnawa Couture today for all your clothing needs!
"My daughter is looking for a unique ensemble for graduation. We found several one of a kind designed pieces at Pehnawa Couture. Not only is there a large selection of high quality fashion at very competitive prices, the customer service is second to none."
"Absolutely fantastic experience! Great selection, size range and prices. Kulsoom, the owner, is super super sweet and kind. I take a long time to make decisions and she was incredibly patient. She altered two outfits for me and they were really very well done. She definitely knows what she is doing. Just a wonderful place to shop. Highly recommend.."
Sarees are a beautiful garment and Ottawa is home to many stores that sell stunning sarees. Whether you're going to a formal or a traditional wedding, wearing a saree is a great way to dress up and celebrate any occasion. Just simply wearing a saree is sure to impress!
If you're looking to buy a gorgeous saree or two, you have to visit one of the best saree stores in Ottawa!