Mufflers are an essential part of any car, and they play a big role in its performance. A good muffler shop will have a wide variety of mufflers to choose from, and they should be able to help you find the right one for your car. If you're in need of a new muffler, you'll be happy to know that there are many great shops in Ottawa that can help.
We've put together a list of the nine best muffler shops in the city, so you can find the perfect one for your needs. We chose these shops based on a variety of factors, including the quality of their mufflers, the range of options they offer, and the level of customer service they provide.
Whether you're looking for a standard muffler or something more custom, these shops will be able to help. So don't wait any longer – check out our list and start shopping today! You won't be disappointed with the quality of service at any of these great shops.
And if you're also interested in where the best auto repair shops are in Ottawa, be sure to check out our list of the city's top 20.
How Much Does it Cost to Replace a Muffler?
The cost of replacing a muffler will vary depending on the make and model of your car, as well as the type of muffler you choose. Expect to pay anywhere from $500 – $900 for a new muffler, depending on these factors. This doesn't include the labour costs which will vary depending on the shop you visit.
Make sure to always get a quote from the shop before getting any work done, so you know exactly how much it will cost.
Keep in mind that you may be able to save money by replacing your muffler yourself. This is a relatively easy task that can be done with just a few tools. However, we recommend leaving it to the professionals unless you're confident in your abilities.
The Best Muffler Shops in Ottawa
Now that you know a little more about mufflers and how to choose the right one, it's time to start shopping! Here are our picks for the best muffler shops in Ottawa:
1) Mister Muffler Tires and Auto service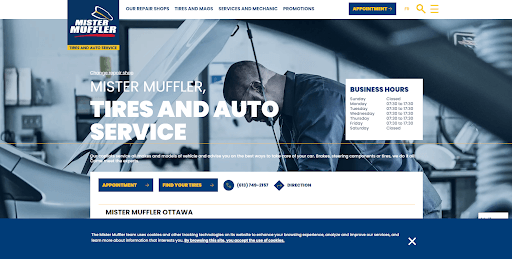 Mister Muffler is a Quebec-based company that has been around for over 60 years. They provide qualified personal and state-of-the-art technology to keep your car in tip-top shape so it runs well all day long! 
They are trained to use the latest technology in sustainable development, which not only allows them to have an eco-friendly management style but also perform optimally when working on your vehicle. 
So don't let an older, less experienced mechanic work on your car – bring it to Mister Muffler and rest assured that your car is in good hands!
| | |
| --- | --- |
| Pros | Cons |
| Open early at 7:30am | Closed on weekends |
| Always have promotions |   |
"This is the most professional, honest, efficient garage that I have ever dealt with. I've taken my car to Mike a few times now and he is fantastic. I will recommend this garage to anyone that I know who needs repairs."
2) S & S Exhaust Repair, Fabrication and Autocare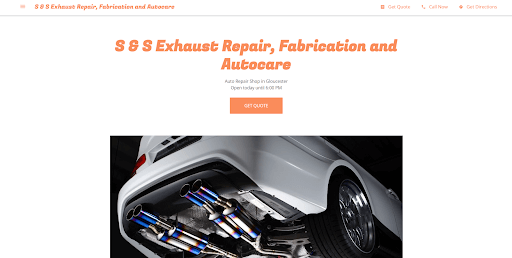 S&S Exhaust Repair is your one stop shop for all auto repairs! They offer simple maintenance consultations, engine tune-ups and intensive emergency services, as well as exhaust system improvements. 
No matter what type of vehicle you drive or where in town you are, their team will be happy to help get it back on the road quickly with top notch customer care! 
They will repair or replace your muffler in the shortest time possible without sacrificing quality. They also have the best prices in town! So if you're ever in need of auto repair, be sure to head to S&S Exhaust Repair!
| | |
| --- | --- |
| Pros | Cons |
| Personalized services | Reduce hours on weekends |
| Great worksmanship |   |
"He did a great job making me a custom cat-back setup. Good quality materials and welds."
"Go and see Serge for your exhaust needs!
3) Speedy Auto Service Ottawa Central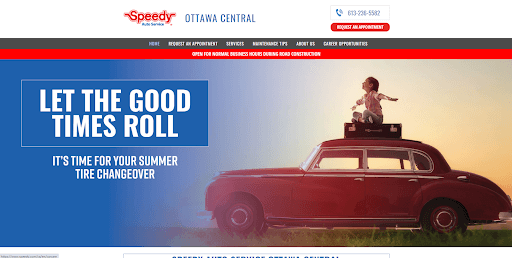 If you're looking for a family-owned and operated auto repair shop, look no further than Speedy Auto Service Ottawa Central. The team here knows their vehicles inside out – from diagnosing problems to providing quality parts that will keep your car running smoothly! 
They are part of Canada's largest aftermarket network with over 2000 locations nationwide. Come see them today when they guarantee the quality of their services in exhaust system improvements and repair, so your car can be more quiet as well as environmentally-friendly.
| | |
| --- | --- |
| Pros | Cons |
| Mutiple locations nationwide | Closed on weekends |
| Coupons available on website |   |
"I cannot say enough great things about Brian and the rest of his crew at this Speedy location. Been taking my cars there for years and I don't have any complaints. Friendly, polite, down to earth attitude from everyone and their prices and services are very fair and top notch. I would recommend this Speedy for all your car needs without hesitation."
4) Mike Galazka Service Centre Ltd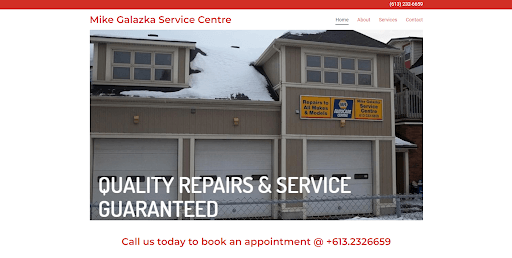 When it comes to your car, you want to make sure that it's in good hands. That's why Mike Galazka Service Centre is the perfect place to take your car for muffler repairs. With years of experience, they know exactly how to take care of your car and get it running smoothly again. 
Plus, their customer service is unbeatable – you'll always feel taken care of and your concerns will be addressed promptly. 
So when your car starts making strange noises, or you notice any problems with the muffler, don't hesitate to bring it into Mike Galazka Service Centre. They'll have you back on the road in no time!
| | |
| --- | --- |
| Pros | Cons |
| Competitive rates and fast service | Closed on weekends |
| Certified technicians will ensure you receive the best practices in the industry |   |
"Really happy I found this place! I've brought in my car two or three times to them and they've always been honest about what work should be done and what work wasn't necessary or could be postponed. Prices are very reasonable too."
5) SMRO Auto Repair And Service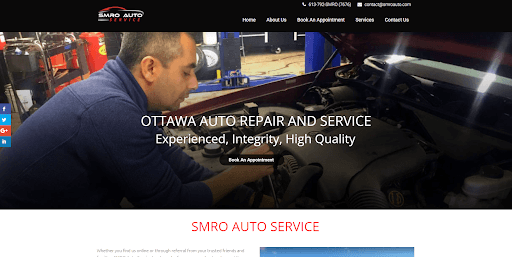 If you're looking for an auto service and repair shop in Ottawa, you'll want to check out SMRO Auto Repair And Service . They're confident that they can save you both money and time. With more than 20 years of professional experience, their workers can fix your muffler quickly and efficiently. 
If you're looking for an honest assessment of what needs to be done with your car, these mechanics are worth talking to. They'll give you a fair estimate of the work that needs to be done and won't try to upsell you on unnecessary repairs.
Save yourself time and money by taking your car to SMRO Auto Repair And Service!
| | |
| --- | --- |
| Pros | Cons |
| One stop and full service auto repair shop | Closed on weekends |
| 20 years of professional experience in managing and operating auto repair shops |   |
"Whenever there is an automobile problem, there is Robin, the guy who never disappoints you. Extremely professional, knowledgeable, reliable and trustworthy and willing to offer his help in short notice. For me, he is the best of the best in the town and is highly recommended. Thank you Robin & SMRO team for your excellent service over the years."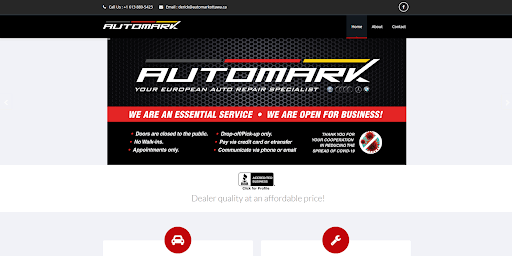 AutoMarkOttawa is your one-stop shop for all things automotive. Whether you're looking for a new car, performance upgrades, or scheduled maintenance, they've got you covered. With 9 years of experience in the Ottawa auto market, they know a thing or two about what it takes to keep your car running smoothly.
And if you're an Audi/Volkswagen owner, they specialize in providing only the best quality mufflers and exhaust system details. So you can be sure your car will sound just as good as it looks. No matter what your automotive needs are, AutoMarkOttawa has you covered.
| | |
| --- | --- |
| Pros | Cons |
| Dealer quality at an affordable price | Closed on weekends |
| Use high quality parts and premium oils |   |
"Pleasure to deal with them! Very respectful and keeps you updated on how the work on your car is going. Will definitely be coming back! Shops in Ottawa should take notes."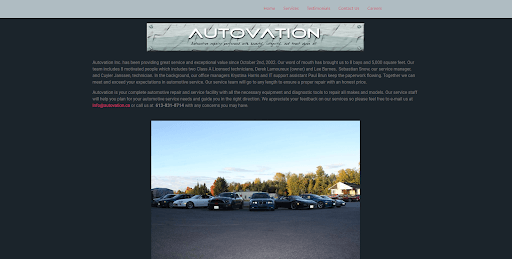 When it comes to your car, you want to be sure that you're in good hands. That's why Autovation Inc. should be your go-to automotive service facility. They've been around since October 2002 and have a staff of 8 skilled professionals who are dedicated to getting your car back in tip-top shape. 
Whether you need muffler or exhaust system repairs, they'll be able to help you out. And if you're looking for preventative measure before problems start happening, they've got you covered there too. 
So next time your car needs some TLC, be sure to take it to Autovation Inc. You won't regret it!
| | |
| --- | --- |
| Pros | Cons |
| Over 16 years in business | Closed on weekends |
| Over 5000+ satisfied customers |   |
"I've used Autovation for performance upgrades to my E82 BMW for several years now and have been more than satisfied with all their work. No problems, no surprises. Highly recommended."
8) Active Green+Ross Tire & Automotive Centre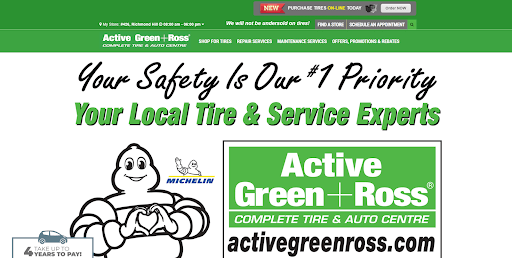 Active Tire and Auto Centre Inc., a family-owned business that has been serving the auto industry since 1983. With over 30 years in operation, Active Green + Ross is committed to excellence through quality customer service; providing full mechanical services including Brake Service Alignment, wheel balancing, Tune Up, Suspension & Shocks, Heating, Cooling, Air conditioning and Exhaust. 
Your vehicle's exhaust system is an essential component in protecting the environment by keeping your car running as clean and efficiently as possible. If you're looking for ways to make sure this crucial bit of equipment stays fresh, then come see them at Active Green + Ross!
| | |
| --- | --- |
| Pros | Cons |
| Well-trusted throughout the country | Prices are on the higher side |
| Mutiple locations |   |
"You won't find a more 'stand up' shop than Active Green+Ross on Bank St. in Ottawa. Luc, Alex and team have taken great care of us, and really go the extra mile to ensure we're happy and not spending unnecessarily."
9) NAPA AUTOPRO - J & D Auto-Tech Inc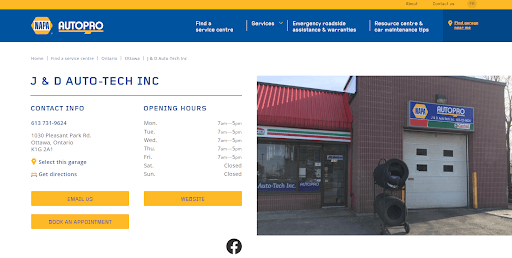 If you're in need of auto repair, NAPA AUTOPRO has expert technicians waiting for your call. Every centre is staffed with dedicated professionals who specialize not only in doing their jobs well but also providing quality customer service along every step so there's no worry about when or where something might be done next time around. 
Your exhaust system is a critical component of your vehicle that's exposed to hot and cold temperatures, rain or snow-anything you can imagine. If it isn't functioning properly then the results could be costly repairs on top of what's already an expensive purchase for new parts! 
Not only do they pass emissions tests but also have regular maintenance done at NAPA AUTOPRO locations. 
| | |
| --- | --- |
| Pros | Cons |
| Offer 24 months/ 40,000km warranty | Closed on weekends |
| Family owned and operate with over 25 years |   |
"They were recommended to me by a coworker and I'm glad he did. They were friendly, reliable and well priced. I definitely will recommend them. Thanks for the great service."
So there you have it – the 9 best muffler shops in Ottawa. If your car needs a new muffler, one of these businesses is sure to be able to help you out. But don't just take our word for it – read some reviews and see which shop suits you best. And if you know of another great muffler shop that we missed, let us know in the comments!