The best art galleries in Ottawa will give you a chance to explore the city's vibrant art scene. 
As the country's capital, Ottawa is a hub for all things culture, history, and of course, fine art. The city boasts some of Canada's best art galleries. Taking a trip to an art gallery is a fun way to escape from the boring and maybe even learn a thing or two. Your time at these galleries is sure to be immersive, educational, and incredibly exciting!
We selected these art galleries based on customer reviews, their unique exhibits, and their wide and varied collection of art.
Experience what else the city has to offer. Head on over to the best bars and the most expensive restaurants in Ottawa!
What's the Average Cost of Visiting an Art Gallery in Ottawa?
The average cost of visiting an art gallery in Ottawa is $9.50 – $13.50 per person. This includes the cost of admission, as well as any fees for special exhibitions or events. Most art galleries are free to enter, but there may be a charge for parking or other amenities.
Some other things to keep in mind when budgeting for a trip to an art gallery include the cost of food and drink, as well as any souvenirs you may want to purchase.
 Many galleries have cafes or restaurants on site, so you can easily grab a bite to eat without having to leave the premises. And of course, if you see something you like, there's nothing wrong with buying it!
The Best Art Galleries in Ottawa
Now that you know the average cost of visiting an art gallery in Ottawa, let's take a look at some of the best ones to visit.
1) National Gallery of Canada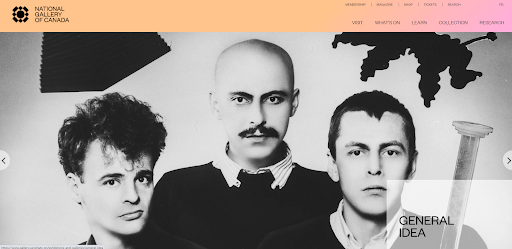 The National Gallery of Canada is one of the world's finest museums, boasting a collection of over 75,000 pieces that span centuries of art history. From ancient artifacts to contemporary masterpieces, the Gallery has something for everyone. 
In addition to its impressive art collection, the Gallery is also home to an extensive library and archival holdings, making it an important research center for art historians and scholars alike.
Currently on display at the Gallery are a selection of paintings by Canadian artists Lawren S. Harris and Emily Carr, as well as a sound sculpture by Janet Cardiff. The Cardiff piece is a reworking of Spem in Alium, a 16th-century composition by English composer Thomas Tallis. 
Whether you're an art aficionado or simply looking for a unique cultural experience, the National Gallery of Canada is sure to impress.
"A world class art gallery that is home to an impressive collection of art from Canada's greatest artists, as well as other world renown artists. Additionally, the gallery regularly hosts major art exhibitions from around the world. The glass and granite building, designed by Moshe Safdie, is stunning and is a work of art in its own right. A must for any art lover that happens to be visiting the national capital!"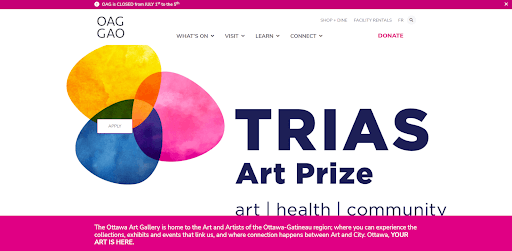 The Ottawa Art Gallery is a great place to explore if you're looking for something different. With exhibits that are well-curated and always featuring plenty of paintings by local artists or crafts made using various mediums, the gallery is sure to interest every visitor. Plus, it's free admission! 
Their Firestone Collection of Canadian Art is one of, if not the largest collections that spans over a century and includes more than 1,600 pieces by influential artists like A. Y. Jackson or Lawren S. 
The Gallery cares for and presents the Collection in a series of rotating exhibitions featuring specific artists, art historical themes and art movements. This city-owned collection is enjoyed by the people of Ottawa and visitors alike. 
So next time you're in Ottawa, be sure to check out the Ottawa Art Gallery!
"I absolutely love this place! The architecture is fantastic and the selection of artwork is beautiful and different. The entrance fee is by donation which is amazing! They have multiple floors with stairs and elevators so it's accessible for all!"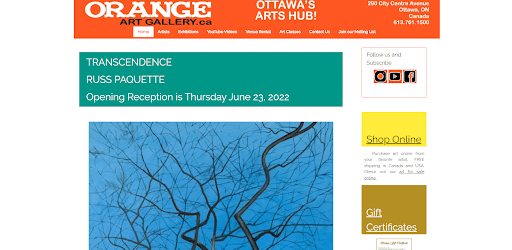 The paintings in the Orange Art Gallery exhibition are an expression of the artist's personal search for what is transcendent. They represent a moment when we can see our world as it truly exists–without any interference or distortion from ourselves, other people's opinions about things that don't matter at all. 
In a sense, the artwork on display is a mirror for the soul; it invites us to confront ourselves and to see things as they really are. This can be a challenging experience, but it is also an immensely rewarding one. 
By forcing us to confront the truth, these paintings have the power to help us find a deeper level of understanding and compassion for ourselves and for the world around us. If you are looking for a fresh perspective on art, or the perfect piece to add some life in your space then this gallery is much recommended for you to wander through this wonderland.
"Nice little art gallery. The staff is super friendly and they offer wedding reception service. The service is top notch. Also it is located in a good central place in Ottawa. Plus lots of parking and I never seen a meter maid around."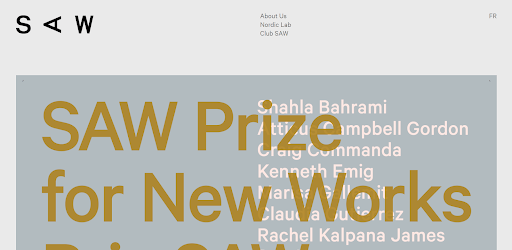 SAW Centre has been a groundbreaking organization since its conception in 1973. It was one of the first artist-run centres in Canada, and it has championed performance and media arts from the very beginning. 
SAW has played an important role in promoting Canadian artists, both emerging and established. Their programs feature bilingual interpretive material that brings the work of Canadian artists to a global audience. 
The goal of SAW is to present a diverse range of contemporary art from Canada and around the world, and they have succeeded in doing so for over forty years. Thanks to their efforts, Canada is now recognized as a leader in the field of contemporary art.
"Friends and I have had the opportunity to enjoy this beautifully reimagined space twice so far and both events were wonderful! The staff are friendly and efficient, the drinks selection works for this gluten free person, and the sound is great."
Visiting an art gallery is a highbrow way to show off your art knowledge or simply enjoy the beautiful art in these galleries. The art galleries in Ottawa want you to enjoy the art they house and really ponder their pieces. These Ottawa art galleries have huge collections of fine art waiting for you to discover and learn about.
If you're looking to get lost in art, culture, and history, visit the best art galleries in Ottawa!