The best mattress stores in Ottawa will get you some zzz's!
Your sleep is key to living a good life. Your mattress is obviously vital to getting good sleep, but what should you do, where should you go when it is time to replace it? If it's time to get rid of your old bed, you have to visit the best mattress stores in Ottawa! These Ottawa mattress stores can help you find the right bed for your sleeping needs and help you doze off!
We selected these mattress stores based on amazing, personalized customer service, years of experience, and an unbelievable selection of mattresses. These stores have everything from handcrafted mattresses made of the finest wool to custom beds. Plus, many of these stores also offer delivery and generous return policies, making them a convenient option!
If your old bed has been giving your back some issues, treat them and relax at the best massage clinics and the best chiropractors in Ottawa!
What's the Average Cost of a Mattress in Ottawa?
As you start looking at new mattresses, you might be wondering how much they cost. A queen-sized mattress tends to cost between $1,000 and $3,000. Of course, there are cheaper options available, but the quality may not be as good. 
Here is a list of the most common bed sizes and their price range:
Twin: $100-$1,000

Full: $200-$2,000

Queen: $300-$3,000

King: $400-$4,000+

Of course, these prices will vary depending on the store and the quality of the mattress. But, in general, you can expect to pay around these prices.
The Best Mattress Stores in Ottawa
If you're looking for a new mattress, here are the best mattress stores in Ottawa!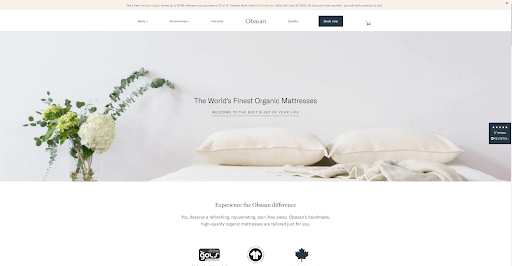 Experience the difference between an ordinary mattress and a high-quality, organic one. You deserve to have all your worries melt away while you sleep soundly at night on their handcrafted mattresses. 
Obasan uses only organic cotton, rubber and wool for their mattresses that they handcraft to ensure high ethical standards with sustainable comfort. They offer custom mattresses with support zones tailored for your individual requirements.
 If your needs change (pregnancy, injury, pain, evolving sleep position), they will provide the recommendations to switch the mattress if required.
Their mattresses are not only soft on contact but also relieve pressure points for an effortlessly comfortable sleep experience that will have you waking up feeling refreshed each day. Breathable and moisture-wicking, they regulate your temperature for a soothing rest. That's why discerning sleepers choose this brand. 
"These mattresses are only met with world class customer service! It's been 3 weeks now on our new Obasan mattress, and I'm sleeping through the night, and wake up with no pinched back pain! What a world of difference. Hats off to John and the team for providing such top tier service and an outstanding product. Highly recommended."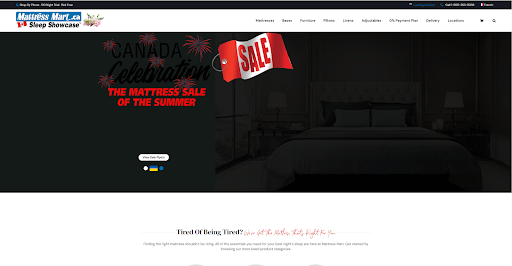 At Mattress Mart, they know that a good night's sleep is essential for a happy and healthy life. That's why they've been committed to helping people find the perfect mattress since 1975. They operate seven locations across Ontario, Western Quebec and two locations in the Maritimes, and their three buyers have over 90 years of combined experience. 
Their management team is dedicated to making Mattress Mart the perfect place for you to buy your mattress. And they're not just committed to providing excellent customer service- they're also committed to environmental sustainability. So when you buy a new mattress from Mattress Mart, you can rest assured knowing that your old mattress will be recycled through their partnership with MattCanada. 
And if you're not entirely satisfied with your new mattress, they offer a 130 night sleep trial, so you can exchange it for another selection. With premium quality components and low emission foams, Mattress Mart is the perfect place to find your perfect mattress. So why wait? Visit Mattress Mart today!
"Amazing customer service! If you're looking for a new mattress this is the place to go. We were greeted by Lori who was incredibly knowledgeable about all the products that they carry. She listened to what we were looking for and directed us to the mattress that best met our needs, not the most expensive. The stores great return policy is just icing on the cake."
3) Matelas Lapensée Mattresses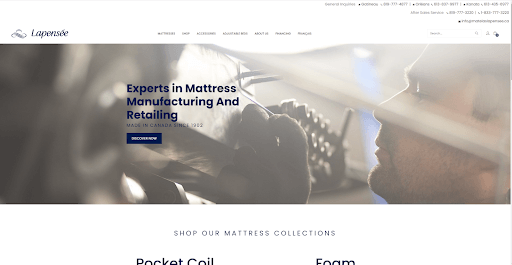 At Lapensee Mattresses, they know that a good night's sleep is essential for a happy and healthy life. That's why they're dedicated to providing their customers with the best possible products at competitive prices. 
As an independent company, they're able to offer a wide range of high-quality products that are designed to meet all expectations. Whether you're looking for a new bed frame or some new sheets, their team will be able to help you find the perfect solution for a great night's sleep. 
With top quality materials and customized designs, their mattresses are manufactured to perfection. And because they're sold directly, you can be sure that you're getting the best possible price without any middleman. 
So if you're looking for the perfect way to get a good night's sleep, be sure to check out Lapensee Mattresses. You won't be disappointed.
"These beds are game changers. Can literally change you life. My wife and I bought an adjustable bed and we love it. Marc is very knowledgeable and patient. Set up a time so he can take you through the process. I always wanted an adjustable bed but did not want a memory foam mattress. Lapensee has it figured out. You get a pocket coil mattress on an adjustable frame. Sleep better with my head up and legs elevated. Helps with hips acid reflux etc. Set price so no commissions or haggling. Quality product."
4) Dufresne Furniture & Appliances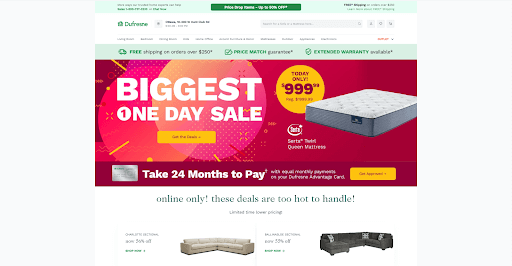 Dufresne Furniture & Appliances is a family-owned business that has been providing quality furniture and appliances to the people of Kenora for over thirty years. Doug and Eva Dufresne opened the first store in 1986, and since then the business has grown to include three additional locations in Ontario.
 The Dufresnes are committed to providing their customers with the best possible service, and all of their sales associates are trained to be friendly and helpful. In addition, all of their products come with a one-year guarantee against manufacturing defects, so you can be sure that you're making a wise investment when you shop at Dufresne Furniture & Appliances. 
Whether you're looking for a new couch or a new refrigerator, you can rest assured that you'll be getting quality products and excellent service when you shop at Dufresne Furniture & Appliances.
"In preparation for my husband's imminent ankle replacement surgery, we went to Dufresne to purchase a bedroom set and an adjustable bed to use during his recovery. Our salesman was Justin. He help us select the perfect suite…size, style, features, quality, etc. When it was determined that there would be a delay in getting the adjustable bed from the manufacturer, he and the Store Manager, Derek, committed to us having the adjustable features on the bed even if they had to take one off the floor. Now, that's what I call OUTSTANDING SERVICE! We are definitely going to be repeat customers!"
5) Hardy Mattress & Feather Inc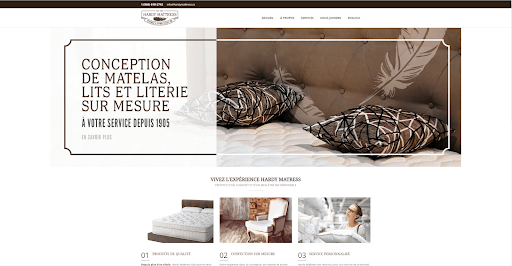 Hardy Mattress is a company with a rich history and an unparalleled reputation. Founded over 100 years ago, Hardy Mattress has been at the forefront of the mattress industry, innovating and developing new products to meet the needs of their customers. 
They are proud of their accomplishments, including being the first company to produce a sleeping bag designed for climbers attempting to summit Mount Everest. Today, Hardy Mattress continues to be an expert in creating and repairing all types of mattresses, with a focus on quality and customer satisfaction. 
In addition to their standard products, they also offer custom-made options for recreational vehicles, watercraft, electric beds, antique beds, and European beds. No matter what type of mattress you need, Hardy Mattress is sure to have a solution that meets your needs.
"Buying a mattress from Hardy's almost 2 years ago was a very pleasant experience, which stopped our previous several ordeals with the stores from the networks of mattress companies in Ottawa, where in each case we got us a lot of false advertising and where in each case the (expensive: up to $6,000) mattresses bought from them lasted only several months! I wish we knew about Hardy's store earlier because he is very professional and polite and finally his products are "as described". Most recently, our medical conditions required new and softer mattress, and Denis offered us an option to replace only the foam from our existing mattresses to a soft latex; paying just for replacement cost, with no charge for labor. Strong and unconditional recommendation."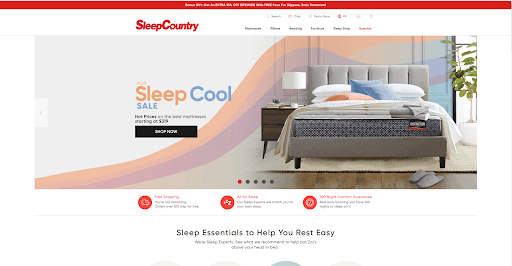 At Sleep Country, they know that when it comes to sleep, there's no such thing as one size fits all. That's why they offer a wide range of mattresses and bedding products to suit every need and budget. And with their convenient online shopping options, it's easy to find your perfect bed from the comfort of your own home. 
Sleep Country has been recognized as Canada's leading omnichannel mattress and bedding retailer, and their delivery experts will contact you ahead of your selected date to ensure you have a smooth and hassle-free experience. 
Whether you choose their traditional White Glove Delivery service or their contactless delivery option, you can be sure that you'll be getting the best night's sleep of your life.
"Corey took the time and care to show us the best options for two of our bedrooms. No pushy sales tactics but only an honest approach to what we purchased. Great deal in the end and loving our Casper mattress. 10 out of 10. Thanks again for the excellent service and On Time delivery. 😁"
Don't underestimate just how important a good mattress is. Getting a good night's sleep is the first part of a good day. These Ottawa mattress stores can help you find the right mattress for you and keep you well rested!
So if you're looking for a new mattress, you have to check out the best mattress stores in Ottawa!