Your car is one of your most important investments, so it's understandable that you want to keep it running smoothly and looking great. Part of maintaining your car is keeping the tires in good condition. Changing your tires when they get too worn down not only improves your car's appearance, but also its performance.
If you're in the market for a new set of tires, you're in luck if you're in Ottawa. There are plenty of great tire shops to choose from, and we chose the 10 best, based on the services they offer, the quality of their products and the overall customer experience.
Whether you're looking for a cheap set of tires or want to splurge on some high-end models, you'll be able to find what you need at one of these shops.
If you also looking to have your muffler or brakes checked, be sure to check out our list of the best muffler shops in Ottawa.
How Much Does a New Set of Tires Cost?
The cost of a new set of tires depends on the make and model of your car, as well as the type of tire you're looking for. You can expect to pay anywhere from $600 to $1,200 for a new set of four tires. The cost will also go up if you need to have them installed.
There are various types of tires available, from all-season to winter, and each type has its own benefits. All-season tires are a good choice if you live in an area with mild winters, while winter tires are necessary if you live in a region where the snow and ice make driving conditions more difficult.
Other services that tire shops offer
Most tire shops will also offer other services, such as:
-Installation:  If you didn't purchase your tires from the shop, it usually costs between $15 and $25 per tire to have them installed. Some shops will offer this service for free if you buy your tires from them.
Tire rotation: This is important to do every few months to even out the wear on your tires. It usually costs between $15 and $30.

Balancing: This helps to ensure that your tires spin smoothly, and it usually costs between $20 and $50.

Alignment: This service helps to keep your car driving straight, and it usually costs between $60 and $100.
These services are important to keep your car running smoothly and to extend the life of your tires. Be sure to ask about these services when you're getting a quote for
The Best Tire shops in Ottawa
Now that you know what to look for in a tire shop, let's take a look at the 10 best in Ottawa.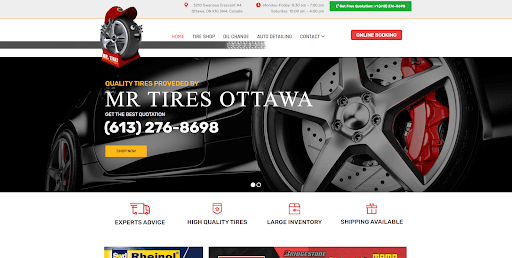 In an era of online shopping, Mr. Tires Ottawa has been able to maintain its position as the leading organization for all things automotive by providing clients with a convenient and easy-to-use platform that lets them search through hundreds or even thousands of different models of tires available at their emails. 
Clients can easily access the website and find the type of tire they need according to their car model and what they will be using their vehicle for. The buying process is quick and easy, and the delivery is always on time! Plus, they sell only high-quality and well-known brands like Michelin or Goodyear.
 And the mechanics are very quick, knowledgeable and efficient! They will make sure that your alignment is good and the tires sit on the wheels perfectly! So if you're ever in need of new tires, Mr. Tires Ottawa should be your go-to spot!
"Wow! I needed 4 gently used winter tires and fast…and the staff at Mr. Tires made it happen! The price was right and the service was friendly and efficient. I will definitely be back and definitely recommend their services to others. Thanks again guys…you rock!"
| | |
| --- | --- |
| Pros | Cons |
| Shipping available | Closed on Sundays |
| Large inventory of high-quality tires |   |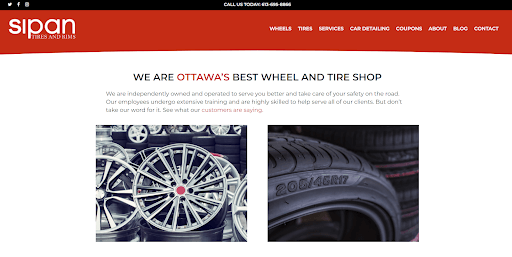 When it comes to changing your tires, you want to make sure that the job is done right. That's why Sipan Tires & Rims is one of the best places in Ottawa to go. They have highly skilled employees who have undergone extensive training, so you can be sure that your car is in good hands. 
They also work with all types of cars and tire brands, so they'll be able to find the perfect match for your vehicle. Plus, the service is friendly and they always clean up after themselves. So if you're looking for a place to get your tires changed, look no further than Sipan Tires & Rims.
"Nothing but great service and advice on what tires to put on my truck. Very happy with the falken wildpeak at3 which they priced better than other larger franchise tire companies. Massive collection of rims in the showroom, I will definitely recommend them."
| | |
| --- | --- |
| Pros | Cons |
| One-stop shop for wheel services | Closed on Weekends |
| Independently owned |   |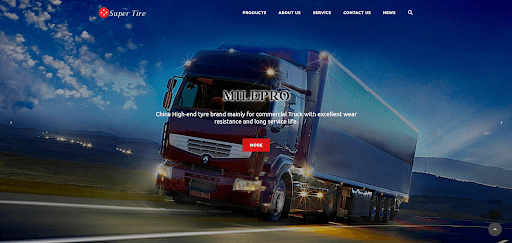 At Super Tire, they offer a variety of used tire sizes and brands for all vehicle types, so you can get your new wheels at an affordable cost. They offer a free installation and balance with the purchase of the tire. A good product, good service at a fair price, that is the definition of their business. 
They work fast and carefully, so your car is in professional hands. Their services are top-notch and they go above and beyond to make sure you're satisfied with your purchase. So if you're in the market for new tires, be sure to check out Super Tire!
"Great! Quick, efficient. I sat in my car and watched the pit crew take off and throw away my summer tires, then mount some used, but decent, winter tires on the newly naked rims. They balanced the wheels first. It cost $100, all inclusive. I'll come back when the season changes to put on summer shoes."
| | |
| --- | --- |
| Pros | Cons |
| Free installation and balance with the purchase of the tire | Mainly for commercial Truck |
| Offers heavy-duty tires |   |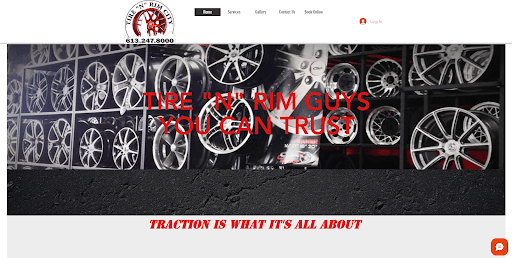 If you're in the market for new tires or rims, Tire 'N' Rim City is the place to go. They carry a wide selection of top brands like Continental and Toyo Tires, so you know that quality is important to them. The whole team is kind, respectful, and more than generous with their time and prices. 
They'll explain to you what tires are the best for your car and help you choose the right ones. So if you're looking for a new set of tires or rims, be sure to check out Tire 'N' Rim City. You won't be disappointed!
"Michel and his team have been taking care of my rims and tires services for a few years now and it's always a breeze. He's very knowledgeable and will get you what you need at the best price. I definitely recommend them and please support your local businesses!"
| | |
| --- | --- |
| Pros | Cons |
| Long operating hours | Limited information on website |
| Wide range of Tire brands to meet all customer needs and budgets |   |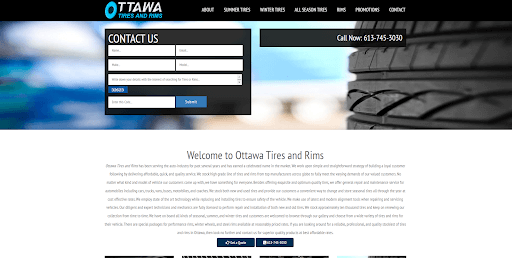 Ottawa Tires and Rims offers a wide range of products to suit the needs of any vehicle. Whether you need tires or rims, they have what you're looking for! With affordable prices as well quick installation times their team is here with quality service at every turn
They stock high-grade lines from top manufacturers across the globe so that no matter which model car each customer comes up with they can provide them with all types available in the market today.
"What a great shop! They have a large selection of tires available. Awesome service. They took me in on the day of and were super helpful in choosing the right tire. Their prices are much better than many shops around too!"
| | |
| --- | --- |
| Pros | Cons |
| Lots of promotional offers | Closed on Sundays |
| Offer the complete tire services |   |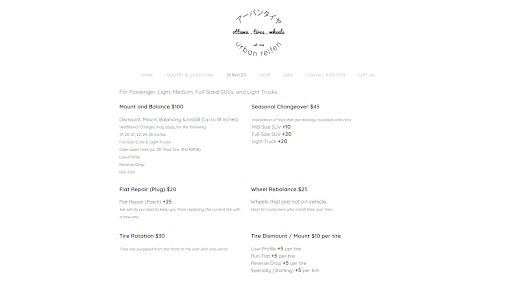 Urban Reifen is a one-stop-shop for all your auto care needs. They have excellent prices and personalized service that will make you feel like family! Whether it's an emergency last-minute request at odd times or getting a great price on a set of winter tires and wheels or performance rims and tires, they are able to accommodate and make it happen every time!
Also, they use high-quality snap-on brand machines for the mounting and balancing so your car will be ready for all types of roads and circumstances. They also are serving fresh coffee to customers while they wait to get their tires changed.
"Got my winter tires on for a reasonable price and rather quick. Staff are really relaxed and will show you what they are doing if you are concerned. They even walked me through the mail-in tire rebate process! Btw, the latte is great here, too."
| | |
| --- | --- |
| Pros | Cons |
| Open every day  | A few complaints about customer service |
| Affordable and competitive pricing |   |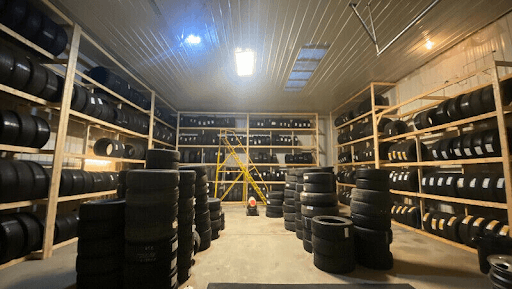 At One Stop Tire Shop, they are committed to providing their customers with the best service and prices around. They offer new tires for affordable rates, as well as pre-owned quality tires in order for you to save money and still have great tires! 
And the customer service there is simply the best. No matter what kind of tire you need, or what your budget is, One Stop Tire Shop will be able to help you out. So next time you're in need of some new rubber, be sure to check them out! You won't be disappointed.
"Excellent customer service and great quality tires at even greater prices! Purchase and installation completed with seamless effort. Highly recommend for anyone looking for used/new tires!"
| | |
| --- | --- |
| Pros | Cons |
| Offer tire storage | Reduced weekends hours |
| Open every day |   |
8) The Wheel House Automotive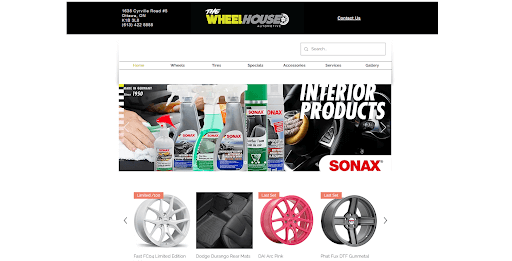 Come to The Wheel House Automotive for all your automotive needs. They specialize in wheels and tires, carrying major brands like Michelin or Pirelli, as well as other accessories such as installation services that can be done on-site by their experts!
The equipment that they use is the best in the industry so you can be sure that the quality of the work that will be done to your car is amazing. From emergency appointments to annual seasonal tire changes they are simply the best ones.
"Best place in town for wheels, tires and general car needs. The owner is a great guy to deal with. Fantastic prices and rates. Very clean and organized storefront. I highly recommend the Wheelhouse and their services."
| | |
| --- | --- |
| Pros | Cons |
| Carry all major wheel and tire brands | Closed on weekends |
| Do tire installation and balance on site |   |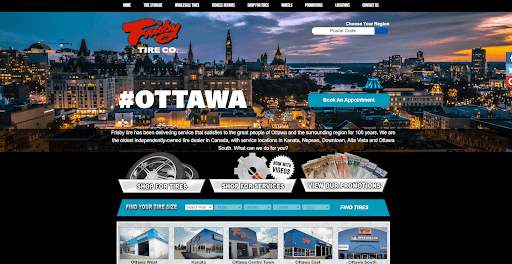 For 100 years, Frisby Tire has been delivering service to the people of Ottawa and surrounding regions. They are Canada's oldest independently owned tire dealer! They have a variety of tire options for all seasons and all car types. The mechanics will help you choose the right ones and also install, add pressure and balance them in order for your riding experience to be comfortable. 
You can buy with peace of mind knowing that their customer service is available 24/7, online or by phone, in case you have any questions or problems. Plus, they offer a price match guarantee so you know you're always getting the best deal. 
So if you're in need of new tires, be sure to check out Frisby Tire!
"Ladies, this is a great place! They are awesome gentlemen who explain things. First time having winter tires, they answered all my questions and had tires ready in two days. Just switched back to my all season and it was the same great service. I will be back in the fall."
| | |
| --- | --- |
| Pros | Cons |
| Been in business for over 100+ years | Closed on Sundays |
| Lots of promotions |   |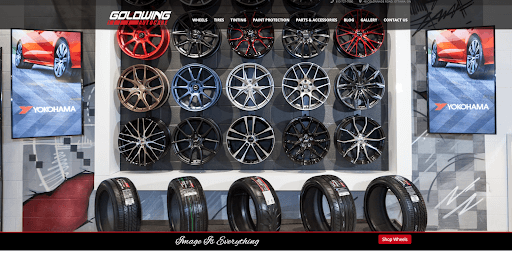 No one likes getting their tires replaced. It's not exactly a fun process, and it can be pretty expensive. But Goldwing Autocare makes it as painless as possible. They have a really knowledgeable staff that will help you find the perfect tires for your car. 
And they have experienced technicians who make sure that the tires are installed correctly. They also take their time so that you don't feel rushed. So if you're in need of new tires, definitely go to Goldwing Autocare! They'll take care of you.
"Goldwing Auto is where I've been taking my vehicles for wheels and tires for years. 2 cars and 2 SUVs. The staff is not only extremely knowledgeable but they find you the best fit for your vehicle. I would highly recommend Goldwing Auto 100%."
| | |
| --- | --- |
| Pros | Cons |
| Carry all major brands of high-performance tires | Closed on Sundays |
| Large showroom |   |
All of the shops on our list are great options for Ottawa drivers, but if you don't see your favourite spot listed, be sure to let us know in the comments. We always love to hear about good service from local businesses. And if you're in the market for a new set of tires, be sure to check out our guide to the best tires for winter driving. Stay safe out there!