The best Bangladeshi restaurants in Ottawa are serving up the best traditional meals in the city!
Bangladeshi food is severely underrated. Lucky for Ottawans, many Bangladeshi restaurants are popping up in the city and are serving up culinary delights. Bangladeshi people are proud of their cuisine and it's easy to see why. These restaurants offer dishes packed with flavour and use a variety of the freshest ingredients. There are many vegetarian and vegan options to boot!
We selected these eateries based on excellent customer service, affordable prices, welcoming environments, and their variety of delicious menu offerings!
If you're in Ottawa looking for more cuisines of the world, you're in the right city! Check out our lists of the best Indian restaurants in Ottawa and the best French restaurants!
What are the Most Popular Bangladeshi Dishes?
Bangladeshi cuisine is known for its curries, flatbreads, and rice dishes. The most popular Bangladeshi dishes include:
Curry: A dish made with your choice of protein, potatoes, tomatoes, and a variety of spices.

Dal: This is a traditional Bangladeshi lentil soup that is often served with rice.

Bhuna Gosht: A dish made with mutton or lamb that has been cooked in a curry sauce until it is very tender.

Rice: A staple of Bangladeshi cuisine, rice is often served as a side dish or used as a base for other dishes.

Naan: A type of flatbread that is traditionally cooked in a tandoor oven.

Chapati: Another type of Bangladeshi flatbread, chapatis are made with whole wheat flour and water.

Kachori: A fried pastry that is often filled with a spiced potato or lentil filling.


If you're not sure what to order, you can't go wrong with any of these dishes!
The Best Bangladeshi Restaurants in Ottawa
Now that you know what to expect from Bangladeshi cuisine, it's time to check out some of the best Bangladeshi restaurants in Ottawa!
1) Shafali Indian Restaurant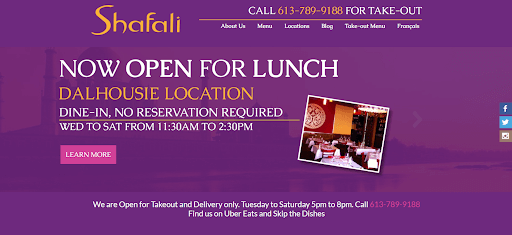 Shafali Indian Restaurant has been a vibrant part of Ottawa since 1996. They offer delightful and enjoyable dishes that are sure to please any palate, whether you're looking for authentic cuisine or just some good old-fashioned ambiance. 
There is no shortage when it comes down to deciding where your next meal should be enjoyed, but don't worry – they deliver too so no need to get stuck without something tasty on hand at home while working. 
You can try many dishes including the Rogan Josh, which is braised lamb cooked with spices that will make your taste buds go wild. And if you want something more mild yet still delicious try out one of their legendary dishes: Dhansak – it's made from lentils and other ingredients such as ginger, and garlic, all mixed together in perfect balance for enjoyment. 
Also, don't miss the Spicy Lamb with Cheese Bread – is so spicy it leaves your mouth watering for more. 
And their service? Professional and attentive – they're always there when you need them most. 
They also offer Canadian beer and wines, so you can pair your meal with some delicious alcoholic beverages. 
"My friends and I are visiting Ottawa for the weekend and decided to treat ourselves to some authentic Indian cuisine and we were not disappointed. Not only was the staff incredible, but the food was delicious!!! Would definitely recommend!! 5 ⭐️'S for sure!!!"
"Oh... Mine... I ordered the Spicy Lamb with the Cheese Bread and they deliciously blew my mind off this world! When it's meant really spicy (3 pepper symbol), it's really really spicy! But I love it so much! The service is very sweet and attentive. Will come back for different dishes next time.... Enjoy your delicious meals!"
2) Haldi Indian Restaurant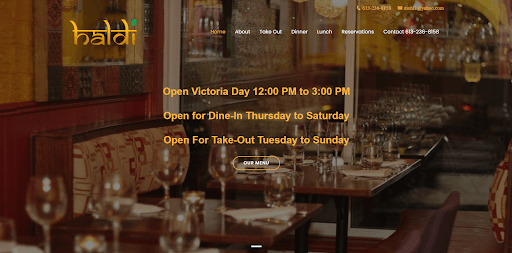 Haldi is a spice commonly used as an ingredient in Indian dishes. It's also known by its translated name Turmeric; this herb has been enjoyed for centuries and brings many health benefits with it. Haldi Indian Restaurant utilizes the key properties that this unique plant provides.
The spice level of the food they offer is perfect. It's not too mild or hot, yet still packs a powerful punch. The flavour combinations are incredible; you can tell they really put effort into making each meal different from another which keeps things interesting while also keeping people coming back again and again. 
The chicken curry is really good, but what makes it even better is the homemade salad and tandoori. you'll definitely come back for more of that spiciness. 
The restaurant has an intimate atmosphere that will make you feel at home. Their staff is top-notch and prices are so affordable. You should definitely pay them a visit if you are a true fan of delicious, spicy food.
"Excellent food and hospitality. The server was so friendly and accommodating. Absolutely love the chicken tikka masala, tandoori chicken and the naans are so soft and fluffy! Best naans in the city. Brought home lamb biryani to have to for lunch the next day and it was absolutely delicious and stayed fresh even the next day!"
"Have gone a few times with the same person and we've gotten Chicken korma, Chana masala, Onion Bhaji and Garlic naan as well as their rice. All smells and tastes absolutely delicious and comes in very generous portions, I'm a fairly big guy and am always stuffed. The staff are incredibly friendly too. We've always been there when it was quiet to be fair but we absolutely loved both servers, asked us if wed eaten there before and we joked around for a while."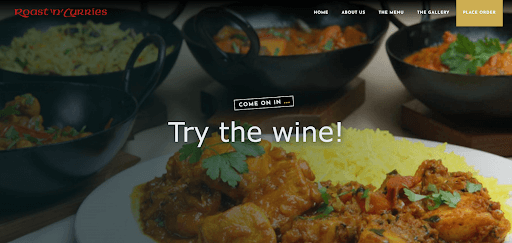 The food at this Roast N Curries is beyond delicious. It's located right in the middle of downtown Ottawa, so you can easily find them. Even if you have been to many Indian restaurants around the world, this one still might take the crown as your favourite.
Prices are very reasonable making it easy to get another meal here without feeling guilty for spending too much money. Service is prompt without being overbearing – they really know how to take care of their customers' needs while not making them feel uncomfortable or rushed. 
The Samosa Chaat, Bhel Puri, and Chicken Kebabs are not greasy or salty at all. The Biryani and curry are both delicious. You'll really enjoy the lighter, less spicy texture of your meal with Lamb, as it's very tender while still delivering an incredible flavour that fills your mouth completely. The restaurant is well organized; you can tell they definitely take pride in their work.
"Above and beyond place in terms of customer service as well as food. Located right in the middle of Downtown Ottawa, this place is great for Indian food. Found this place randomly searching online for good Indian food and it exceeded our expectations. The host serving us was very helpful in suggesting what should we order and made food taste to order. The portion size is great as well. Can't recommend it enough."
"After continuously being dissatisfied with all the Indian restaurants I've had a chance to eat for the past year or so, found this gem while traveling to Ottawa. We had chicken combo and Fish curry platter. Good portion and tasted so good. The chicken curry was good too. But the fish curry was well cooked and delicious. On top of all that, good service too. Highly recommend this place."
4) Mia's Indian Cuisine-St.Laurent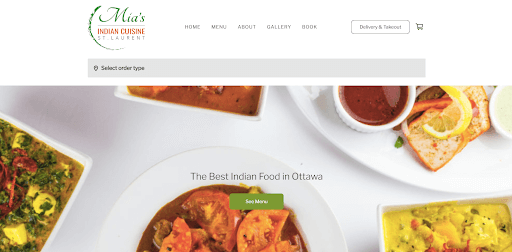 If you're looking for an authentic Indian culinary experience, look no further than Mia's. With over 10 years of fine dining and family-friendly cooking under his belt (and with plenty more still ahead), Musharraf Miah will bring the best tastes from across India to your plate. 
He has worked hard to create a welcoming environment for all customers. The food at Mia's is delicious and well worth ordering. This cozy and clean restaurant offers an incredible variety on the menu. 
The tandoori chicken comes sizzling hot, with tender, juicy meat that can be topped off with your favourite sauce if you're feeling extra adventurous. For something different, try their chicken Korma – it has an aroma of coconut from the spices used in cooking this dish to perfection. 
You'll be blown away by how flavorful each meal is; they have something that will suit any spice level from very mild all the way up into some seriously hottest stuff available out there.
"If you are craving for Indian food then definitely should visit this place. Taste was good and we got pure vegetarian (even jain food) dishes as well. We ordered Paneer Masala (must try), Paratha and Roti. Quantity was enough for 2 people."
"Wonderful! The dinner items are all absolutely lovely (we particularly love the butter chicken and the vegetable korma), but the real star is the chicken tandoori wrap special they have for lunch - hands down our favourite sandwich ever.'
FAQs About Bangladeshi Food
Bangladesh is home to some of the most delicious food in the world and it's great for people looking to stay healthy. Bangladeshi food is loved for its intense and unique flavours. From flavours ranging from spicy, sweet, and bitter to salty, there's a Bangladeshi dish for everyone.
If you're looking to grab a delicious Bangladeshi meal in Ottawa, you have to stop by the best Bangladeshi restaurants in the city!