The best vintage clothing stores in Ottawa are selling the coolest clothes in town!
Vintage clothing is perfect for people who want to have their own look, save a couple of dollars, and help the environment. It's super popular to wear vintage now too. In Ottawa, there are many wonderful vintage clothing stores with amazing pieces waiting for you to find. Maybe you're a fan of a certain era or love the craftsmanship of the clothes back then. Whatever kind of clothing you're into, these Ottawa vintage clothing stops can help you!
We selected these Ottawa vintage clothing stores based on the different brands they sell, their clean stores, huge inventory, customer service, and easy-to-navigate organizational systems. Some of these stores also have consignment deals, perfect for people looking to clear up some closet space.
Can't get enough of vintage? Or maybe you're looking to do some more shopping. You'll find some great steals at the best vintage furniture stores and the best shoe stores in Ottawa!
What are the Most Popular Vintage Clothing Items?
There are all sorts of vintage clothing items that people love to wear. The most popular ones include denim jeans, jackets, sweaters, and shirts. Many people also enjoy wearing vintage dresses, skirts, and blouses. 
Some of the most popular brands among vintage shoppers are Levi's, Pendleton, Nike, and Adidas. These brands are often associated with high quality and durability. People also love to shop for vintage designer clothing, like Gucci, Prada, and Versace. 

You can often find high-quality materials and tailoring in vintage clothing that you don't see as much in modern clothing.
The Best Vintage Clothing Stores in Ottawa
Now that you know a little more about vintage clothing, it's time to start shopping! Here are the best vintage clothing stores in Ottawa: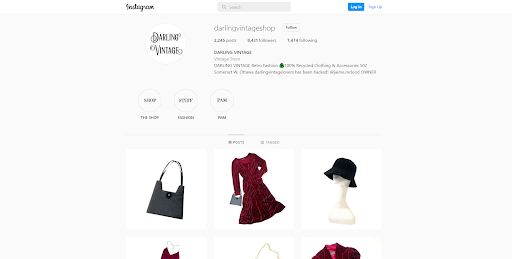 When you walk into Darling Vintage, you're hit with a wave of colour and pattern. It's an explosion of fashion, and at the center of it all is the store's owner, who is a true icon. The store has all the charm to match its fashionable facade. You'll be able to fall head over heels in love with this place after your first visit.
You're guaranteed quality vintage items at an affordable price. They have a huge variety of jackets, dresses, shoes, overalls, denim everything, glassware, swimwear, and more. 
The staff here are very nice and lovely to chat with. They will help you find outfits for every occasion. Their clothes are organized by colour instead of size and it makes finding things easier than ever before. 
So whether you're looking for a unique item for your next big event or just a cute top to wear on a day-to-day basis, Darling Vintage is sure to have something for everyone.
"There is a lot of variety of styles/decades of clothes here. I was kind of lost at first because it's arranged by colour and not by size but the employee working there today was so so helpful and literally picked out like 20 items for me to try and styled some outfits for me. Would definitely go again!"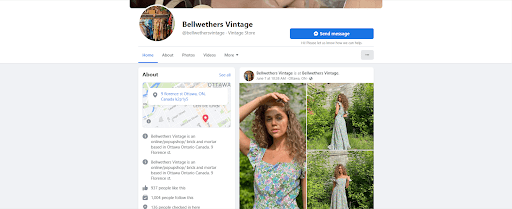 At Bellwethers Vintage, you will find an expertly curated selection of vintage clothing from the 80s and early 90s. Whether you are looking for a statement piece or a simple accessory, you are sure to find something to suit your style. 
The store's owner has hand-selected each piece for its accuracy in period detail and quality, so you can be confident that you are getting the real deal. You may even find yourself wishing that you could take home the whole store! 
With such a wide range of items on offer, Bellwethers Vintage is the perfect place to add a touch of vintage flair to your wardrobe.
"Bellwethers vintage has one of the finest curated selections of vintage clothing you will find in the country. They have an item for every style, that will surely define your wardrobe. Each item is hand selected by the owner to ensure both accuracy of period and quality. The shop is beautifully decorated, it is a guarantee that you will leave wishing you could take the whole store with you."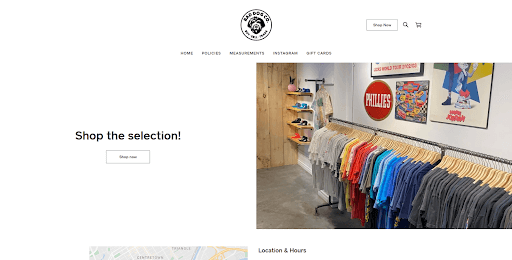 If you're in the market for some vintage streetwear, Bad Dog Co. is the place to go in Ottawa. The store specializes in clothing from the 80's and early 2000's, with brands like Nike, Carhartt, Levi's, Tommy Hilfiger, Ralph Lauren, Harley Davidson, Patagonia, and The North Face represented.
 In addition to clothing, they also sell band tees, souvenir tees and sweatshirts, sports apparel, promotional items like Coca-Cola and beer shirts, and more. Their most popular items include t-shirts, sweatshirts, jackets, pants (denim) and flannel shirts. 
So if you're looking for some stylish and retro clothing options, make sure to check out Bad Dog Co.!
"amazing staff with a very clean and open concept, follows the covid procedures and overall was a super amazing store to visit with great service and super nice vintage wear! highly recommend checking this place out !!"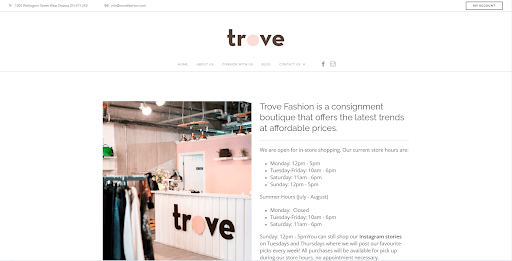 Trove Fashion has a wide range of clothes, shoes and accessories. It was founded by Kelly Gawargy in 2017. They offer the latest fashion trends at affordable prices for both men and women with an emphasis on quality.
The boutique is located in one of Ottawa's trendiest neighbourhoods and they offer pieces that are carefully selected for style, quality and value. With a curated selection of previously loved items from their fabulous neighbours as well as new arrivals from local makers and designers, you'll be sure to find something perfect for you.
The store has everything you need and their customer service is top notch too- they always have the perfect solution for any of your fashion needs no matter how big or small they are.
"Had the best experience today and found some awesome pieces. Can't wait to return and will proudly be a regular! The two ladies at the shop today were awesome to chat with and were a great help. Definitely my new favourite place to shop!!"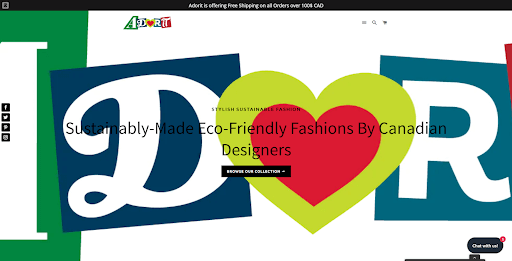 Emma Inns had a vision. A vision of fashionable, socially responsible clothing that contained a personal touch and the story behind it. In 2007, she made that vision a reality with the founding of Adorit. 
Since then, Adorit has been committed to global artisanship, ethically sourced fabrics, and one-of-a-kind quality garments.  Their products are inspired by those made in India, Tibet, and Nepal and are created right here in Canada by Canadian fashion designers. 
So if you're looking for stylish sustainable clothing and accessories, look no further than Adorit. You won't be disappointed.
"What an awesome store! You can tell Emma the owner really cares about people and the planet. I feel great about everything I buy there, I know it's organic, fair trade, eco-friendly, zero waste etc. Always have a nice time when I go there."
6) Clothes Encounters Of A Second Time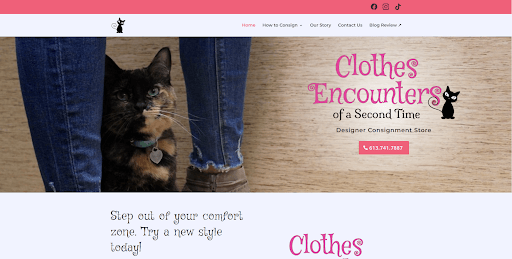 Clothes Encounters is a store where you can try on new clothes and take risks without worrying about the cost. They have all different styles, but their prices are surprisingly affordable.
In the early 1980s, the business provided much-needed clothing to Vietnamese boat people and refugees. After the response from the local community, the founding partners' homes were overwhelmed with donations. They decided that it would be best to open up a store in order to sell all these extra clothes and raise money for refugees directly. 
Today, the company continues to donate clothing and raise money for new communities in Ottawa. Clothes Encounters is your one-stop shop for unique apparel.
 From classic pieces to trendy new releases, you'll be able to find anything that suits any taste or style in their changing selection of men's and women's clothing. Their labels run from Akris to Zara, in a variety of sizes.
If you're looking to sell your high-end designer brands, less than two years old and in perfect condition then consign it to them. They offer 40% of the selling price in the most hassle-free way.
"This store has such a great selection of clothes and accessories. The staff were very friendly and the store had a great vibe. We found some great pieces at very reasonable prices. We will definitely be returning. Also, you can check out some of their new items by following them on Instagram."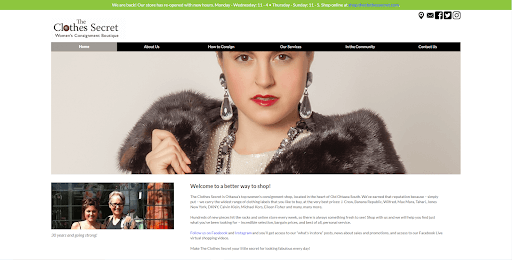 The Clothes Secret is a small business that was started by Valerie MacIntosh, who grew up in Old Ottawa South. She wanted to create an eco-friendly consignment shop when she saw it growing steadily. 
Valerie recognized a great business opportunity and chose her old neighbourhood as the place to establish the store. Now, 30 years later, Valerie has been joined in the business by her husband, Yves, and daughter Chelsea.
The reason they've earned their perfect reputation is simple – here you can find anything that you like at the best prices. J. Crew, Banana Republic, Wilfred, Max Mara, Tahari, Jones New York, DKNY, Calvin Klein, Michael Kors, Eileen Fisher and many more labels are on offer.
'Love it here-great brands in next to perfect condition. Staff is great. Huge selection. Never know what treasure u may find!!! Carefully selected collection. Designer brand items in mint condition. Love to spend a couple of hours here on a Saturday❤️❤️❤️"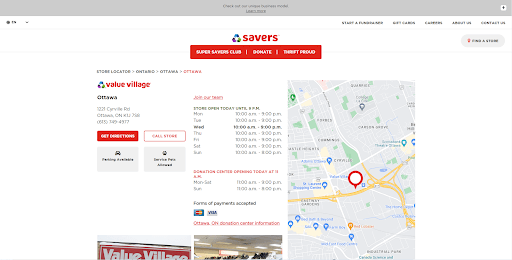 Value Village has come a long way since their humble thrift shop beginnings. What started as a single shop in the Mission District of San Francisco has grown into a global reuse champion. Today, Value Village is known for more than just affordable vintage fashion clothing; they have a wide selection of TV series DVDs, books, and records. 
While some may see Value Village as simply a secondhand store, the reality is that they are so much more. They are a collection of people who believe in the power of reuse, and who are committed to making the world a better place. 
Thanks to Value Village, millions of pounds of clothing and other items have been diverted from landfills each year. So next time you're looking for something new (or old), be sure to check out Value Village. You might be surprised at what you find.
"It is the place where you can get the basic things you need for yourself and for home at affordable prices. It is clean and organized very well. It's worth to visit and explore what they have. You can also sign up for membership to earn points. Thank you:) will visit again for sure."
FAQs About Vintage Clothing Stores
There's nothing quite like vintage clothing.  At these Ottawa vintage clothing shops, you can find pieces that no one else has. With their painstakingly curated selection, you're guaranteed to pick up some amazing pieces. We're sure you'll want to show off your new old clothes right away!
If you're looking to pick up some snazzy threads, visit the best vintage clothing stores in Ottawa!