The best dietitian clinics in Ottawa can help you meet your health goals!
Your health is one of your biggest assets and these Ottawa dietitians understand the importance of staying healthy. These dietitians are experts in their field and can help you create and maintain a balanced diet.
Whether you're looking to lose or gain weight healthily or manage health conditions like diabetes, these Ottawa dietitians will tailor a diet that works for you. 
We chose these dietitian clinics based on their welcoming staff and environment, their lineup of professional dietitians, and the helpfulness of these dietitians. 
Being healthy is more than just eating right. Make sure you exercise enough and visit the best pilates and the best gym memberships in Ottawa!
What's the Average Cost of a Dietitian in Ottawa?
The average cost of a dietitian in Ottawa is $120 per session. However, the price may differ depending on the dietitian's experience and qualifications. Some other factors that may affect the cost of a dietitian are the type of services offered and the length of time required for each session.
Some dietitians offer sliding scale payment options or bulk discounts, so be sure to ask about these when you book your appointment.
It may be worth it to invest in a dietitian if you have specific health goals that you want to achieve. You can also ask your health insurance provider if they cover the cost of seeing a dietitian.
The Best Dietitian Clinics in Ottawa
Now that you know the average cost of a dietitian in Ottawa and what to look for, here are our top 4 picks for the best dietitian clinics in the city!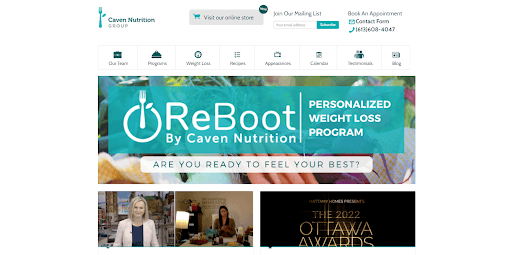 Caven Nutrition Group is a dietitian clinic that offers nutritional counselling in the Ottawa area for weight loss, healthy digestion, pre and post-natal requirements, and sports activities. With a team of professionals, Caven Nutrition Group has a variety of programs that will help you lose fat and improve your overall health. 
Whether you are looking to lose a few pounds or make a complete lifestyle change, Caven Nutrition Group has a program for you. With their knowledge and experience, they will help you reach your goals in a safe and healthy way. 
So if you are ready to make a change, contact Caven Nutrition Group today.
"I highly recommend the team at Caven Nutrition. I worked with Jenni to find the best way of reducing Rheumatoid Arthritis symptoms through nutrition. Jenni was so helpful! She provided good instruction, support, and was incredibly knowledgeable. I thought we would focus only on reducing inflammation, but she helped me in so many more ways! I thought it was normal to have a mid-afternoon tired slump, and to have problems sleeping... well, it turns out that healthy nutrition means energy all day long, and sleeping well at night! Loving it!"
"My experience with Caven Nutrition was phenomenal! I personally worked with Jordan who was very supportive and knowledgeable. Together we were able to create a meal plan that met my goals and needs! I would definitely recommend this to anyone who needs that extra support and confidence to get on the right track with their nutrition!"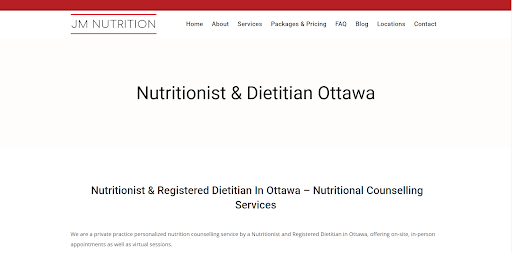 JM Nutrition has a team of highly qualified dietitians and nutritionists, they're dedicated to providing their patients with the best possible care. 
From customized meal plans to health packages specifically designed for women, men and children, they offer a wide range of services to meet your needs. And if you're looking to improve your eating habits outside of work or school, they offer plenty of helpful tips and resources to get you started.
 So whether you're looking to lose weight, eat healthier or just learn more about nutrition, JM Nutrition is the perfect place to start.
"I had a wonderful experience with Nathalie! She was very informative about any nutritional information and was able to explain all of the important information in a simple and broken down manner that even I could easily understand! I am excited to implement the meal plan she has created for me and look forward to seeing any changes in the future! Would recommended this service to anyone who wants to improve their nutrition!"
"Melanie has been a great resource while I've been dealing with diverticulitis. She's been there to answer any of my questions and has been extremely helpful giving me details on what I should be looking out for in food while I'm currently recovering and how to maintain my diet in the future once I've recovered. Greatly recommended."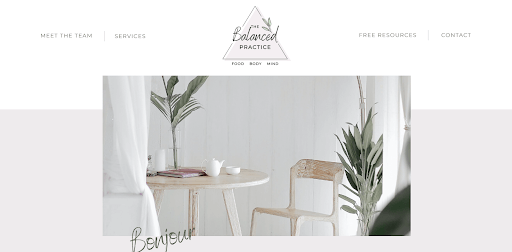 The Balanced Practice is an innovative team of health care specialists who take a circulation and progesterone inclusive strategy to assist you in having a healthier relationship with meals and your body. They operate under the premise that no two people are the same, therefore not every weight loss plan will work for everyone. 
They are dedicated to a process that will oblige great effort yet concur with you with a custom treatment program they can supply. They offer various plans you can take advantage of; they even provide you with clinical mentorship if you are interested. 
The Balanced Practice takes a well-rounded approach to health and wellness, and their custom programs are designed to help you reach your specific goals. 
Whether you're looking to lose weight, gain muscle, or simply improve your overall health, they have a plan that will fit your needs. So if you're ready to make a change, visit The Balanced Practice today. You won't be disappointed.
"Marie-Pier is incredibly helpful in navigating recovering from an eating disorder/disordered eating. It's been a truly eye opening and beneficial experience and Marie-Pier is a joy to work with. I highly recommend The Balanced Practice!"
"Marie-Pier is a great support full of knowledge and skills to heal your relationship with food and your body (her 6 month program). I always felt comfortable talking to her and she shared a lot of compassion and was never judgmental."
4) Personalized Health Center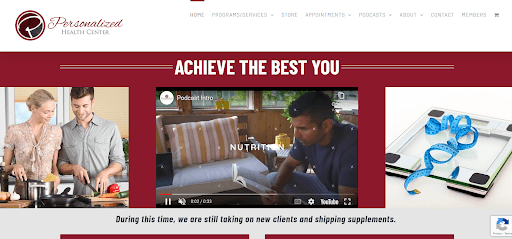 When it comes to getting in shape and reaching your ideal physique, there's no such thing as a one-size-fits-all approach. That's why the team at Personalized Health Center is dedicated to creating unique diet plans that are tailored to each individual's specific needs. 
With years of experience and education, they know how to respect and encourage their patients to reach their goals. And with their unique food sensitivity test, they can determine which foods you're more likely to overeat and help you avoid those triggers. 
So if you're looking for a clinic that will truly cater to your individual needs, look no further than Personalized Health Center.
"Hari is the best around. The hard work and care he puts into the programming for you as a client is outstanding. His knowledge and understanding of nutrition and every component involved has made my lifestyle change easy and exciting! Couldn't have a better person to teach and guide me along the way."
"Hari is a true professional. As someone looking to get the most out of what I eat to improve energy and performance he was able to point me to the foods that work best for me while providing advice and accountability. I dropped 2% of body fat in 1 month and have an incredible baseline as I move forward. Thanks PHC team!"
FAQs About Dietitian Clinics
Staying or getting healthy is probably one of the most important things ever. But understanding what your body needs and how to meet your goals can be hard. That's where these Ottawa dietitians come in. They can find the diet for you to meet all your body's needs.
If you want to start your health journey, you have to visit one of the best dietitian clinics in Ottawa!