The best soccer clubs in Ottawa are perfect for people looking for a great soccer experience!
Joining a soccer club is a great way to meet a community of like-minded individuals who are as crazy about soccer as you are! These Ottawa soccer clubs can help you improve your playing ability or help you get to the big leagues! 
We chose these soccer clubs based on their welcoming team culture, reasonable fees, effective leadership, and skilled coaches on staff. These clubs have teams for all skill levels, so you don't have to be a pro to join. 
Love the green? Why not also check out some of the best golf clubs in the city? And if you're also interested in keeping fit, head on over to the best hot yoga studios in Ottawa and the best pilates in the city!
What's the Average Cost of Soccer Clubs in Ottawa?
Annual membership for an adult starts at about $100 and can increase to around $250 for more competitive clubs. There are even clubs that charge upwards of a few thousand dollars if you're looking to join an academy team.
For children, the average cost of soccer clubs in Ottawa is about $80 to $200 per year. Some clubs offer discounts for multiple siblings who register.
Some other costs to consider are the cost of uniforms, equipment, and tournament fees which can add up to a few hundred dollars.
Joining a soccer club is a significant investment, but it's one that can pay off in so many ways!
The Best Soccer Clubs in Ottawa
Now that we've gone over the cost of joining a soccer club, let's dive into our list of the best soccer clubs in Ottawa!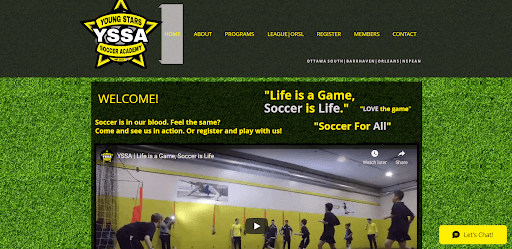 YSSA strives to develop each player's soccer skills as an individual and a member of the team. This will help them build confidence and a mindset for success through active participation in games with positive coaching from elite trainers that specialize in this topic at hand.
 The close relationship between players allows creativity to be freely developed because it's not just one person leading but instead everyone working together towards something bigger than themselves.
Founded in 2011 by a group who had success playing professionally themselves, but knew there were plenty more young people just like them. People looking up towards victory without having been given many opportunities yet; this not-for-profit offers monthly programs over 3 seasons – growing from beginners all the way through advanced techniques while still keeping things fun. 
With their partnership with the Ottawa Recreational Soccer League (ORSL), they provide youth soccer players in this city with weekly indoor and outdoor games. The best part is that it's all available at an affordable cost.
"We've been to a few clubs in the city in the past couple years and YSSA is the best environment your children can be in, to say the least. The coaches have this infectious energy, the training is extremely age specific and specialized, they know everyone's names, and everyone seems so happy. I love watching my children practice or play, would definitely recommend to anyone in the Ottawa area (especially south end). Not to mention, they have a fully operational structured league for developmental players between 6 and 14 that only competitive players would experience at other clubs. Thank you YSSA!"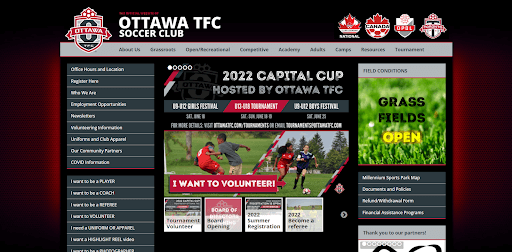 Ottawa TFC is dedicated to providing top-tier players in the capital with all they need for continued growth. They aim at developing people by giving them a humble start as well as encouraging a winning mentality that can last through their entire lives journey. 
They believe that players should have a good work ethic and respect for themselves, their coaches or anyone else they come in contact with on the team. They start by focusing hard on academics before later adding sports into what they call "The Indoor Program." 
Their philosophy behind this approach is to build up strong characters so people will become exceptional human beings who can handle any challenge life might throw their way.
OTFC understands the pressure parents put on their children. That's why they want them as humble warriors, not athletes who are too focused on winning at any cost, including injury or fatigue- which can lead to some unhealthy habits that will hold back future success.
"If you are looking for a soccer club that will feel like family, look no further! Our kids have been involved with Ottawa TFC for over 10 years. I, myself, played with the club (Cumberland United), when I was young, almost 30 years ago. They provide top level coaching, many levels of play, and an environment that grows confident, responsible, talented players. Everything from U4 to adult, from coaching opportunities, to reffing opportunities, they are masters at everything they offer. Provincially, and Nationally accredited!"
3) Bel Air Lions Football Club Of Ottawa
The coaches of Bel-Air Lions Football Club are role models for how a sports organization should be. They have been leading this group and it shows in their work ethic- every returning player and coach knows that consistency comes from being loyal to one another instead of switching up who you play for each game. 
This is a great club with some of the best people you'll ever meet volunteering. They care about the well-being and safety of every child on their squad, going so far as to put them first during competition even if it means victory or defeat. 
Their dedication to the team is unrivalled and it's because they understand that building character takes time and energy. If you want your son or daughter to learn how to be a role model on and off the field, then sign them up for Bel-Air Lions Football Club.
"Great club with some of the best people volunteering. We are on 8 years with this club. John, Creig, Jannet, and so many more have been leading this group for over 40 years. Consistency shows in all the returning players as coaches."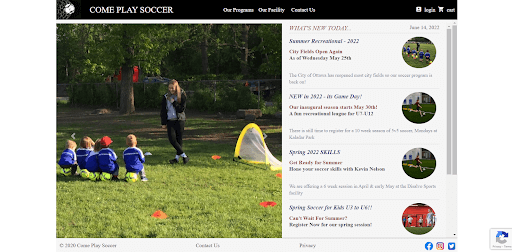 The best way to train is with a coach. Whether you're looking for individual skills sessions or group fitness training, ComePlaySoccer has the expertise and experience that can help your team achieve their goals. 
Competitive soccer is a great way to see how good you really are. The competitive teams practice twice per week throughout the summer and play games once every week at that level. 
This will give you an idea about whether or not your skills have improved since last season, before moving up into higher age groups where there's more competition from other people who want their spot back. 
The facility is excellent and it's clear that they take pride in their work. ComePlaySoccer allows kids to develop and grow their mindset in being engaged with soccer. The coaches know that if a player isn't having a whale of a time they will lose interest, so it's important for them not only to engage you but also to make things fun.
"The training has been exceptional. Our daughters soccer performance has significantly improved with the added training. !"
Whether you're a parent looking to raise the next soccer superstar or want to play soccer yourself, these Ottawa soccer clubs have playing opportunities for everyone. These soccer clubs all work towards taking their players' skills to the next level and creating a team that can work together. 
If you're looking for a friendly community and an opportunity to play some great soccer, consider joining any of the best soccer clubs in Ottawa!