What's the Average Cost of Go-Karting in Ottawa?
The average cost of go-karting in Ottawa is $40 – $90 for a two-hour session.  
Some places charge by the hour, while others charge per race. Usually, the cost includes the rental of the go-kart and all the necessary safety gear. 
Some other factors that can affect the price are whether or not the track is indoor or outdoor, and how many people are racing.
To get the best deals on go-karting, we recommend checking Groupon for coupons and discounts.
The Best Go-Karts Near Ottawa
Now that you know what you should expect to pay for go-karting in Ottawa, it's time to find the perfect spot for you! Continue reading to see our top four picks for the best go-karting spots in Ottawa: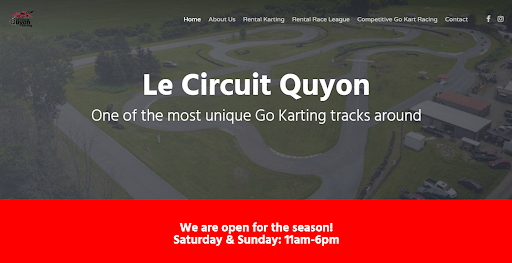 For those looking for a unique go-karting experience, look no further than the Quyon Circuit. This world-renowned track has been leading the Ottawa Gatineau area for five decades and is still considered one of the best go-karting tracks around. 
The track aims to provide a fun and friendly environment to all skill levels, regardless of whether or not they feel capable of giving karting a shot. With highly maintained rental karts that are suitable for drivers of any experience level, the Quyon Circuit is the perfect place to Satisfy your need for speed! 
So come on down and take advantage of this one-of-a-kind go-karting experience. You won't be disappointed!
"This is a family run business. You can tell they take pride in it. Karts and track are well maintained. The track itself is quite challenging with elevation changes, long straights, hairpin, uphill corners, complex corner combinations. The karts we drove were far better than your average concession kart. These were proper race karts. And fast. The people were just awesome. Friendly, knowledgeable and accommodating. Note that they had proper COVID-19 protocols in effect. We had a blast! We will be back! Highly recommended."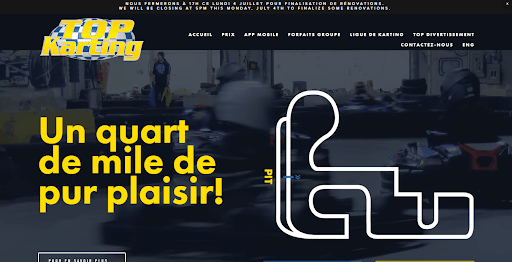 Top Karting is the perfect destination for anyone looking to get their need for speed fulfilled. The tracks are designed and maintained by industry professionals to create the perfect environment to let you race to your heart's content. 
Whether you're racing with friends or strangers, in a league or just for fun, there's something here for everyone. And if you're new to go-karting, don't worry! They have an academy designed specifically for people with no prior experience. 
You'll be taught by the best in the business and be ready to race in no time. So come on down to Top Karting and let your need for speed run wild!
topkarting.com
topkarting1@videotron.ca
+18197790000
200 Rue d'Edmonton, Gatineau, QC J8Y 3S6, Canada
"Amazing track and staff! If you want to have a great time you should definitely visit. All the staff is great with following race precautions, especially Joel, he's one of the best guys there and always ensures that everyone is racing fair and safe! Karts are FAST 100% recommended!"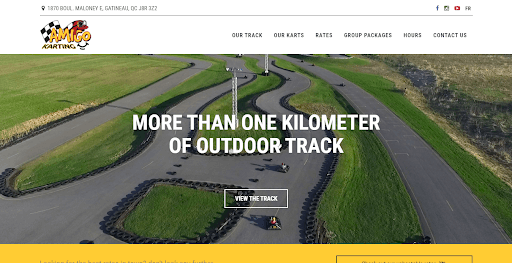 Amigo Karting is your go-to spot for an adrenaline-pumping good time. With the largest fleet of karts in the Gatineau area, we've got something for everyone. looking to race your friends? They've got you covered.
They offer various rates for individuals and groups, so you can race as hard or as little as you want. And with their wide variety of courses, you're guaranteed to find one that suits your style. So what are you waiting for? Come join the fun at Amigo Karting today!
"Good track and fast karts. It would be great if they brought back the MasterKarts or reduce the price a bit. As it's a bit more expensive than it was previous years ( I understand that the gas prices had risen significantly but still everyone always have high expectations ) but it totally deserve 5 STARS"
4) Lombardy Raceway Karting Club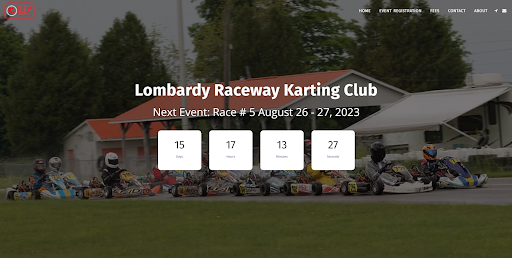 Nestled near Ottawa, Lombardy Raceway Karting Club offers an exhilarating go-karting experience amidst serene landscapes. Catering to a more experienced skill level, this hidden gem features a track that winds through picturesque hills and lush greenery, creating an immersive racing adventure. 
Beyond the track, the club emphasizes community through races and events, fostering a welcoming atmosphere for racers of all stripes. Lombardy Raceway Karting Club is your gateway to a blend of heart-pounding speed and natural beauty, making it a must-visit spot for visitors seeking an unforgettable racing escapade.
"Pretty Fast Karts! Great place for enjoying speed and corners! Would recommend and am definitely going back to this place. Hope they keep offering great stuff all year round!"
With engines roaring and tires screeching, the go-karting scene in and around Ottawa delivers heart-pounding excitement for all. Whether you're a seasoned racer or a newcomer to the world of go-karting, these destinations offer the perfect blend of speed, skill, and fun.

So, gather your friends and family, gear up, and head to these fantastic go-karting venues to create unforgettable memories of racing against the wind.