In a world where we are constantly being pulled in different directions, our minds and bodies need to be as limber as possible. And luckily, there is an answer! Yoga studios around Ottawa offer everything from gentle yoga classes for the elderly to more strenuous sessions that will have you sweating on your mat. No matter what your needs or abilities, there's a class out there for you!
We did the research for you, so you don't have to waste any time searching through endless yoga studios. These 10 Ottawa Yoga Studios are the best in town!
How Much Are Yoga Classes in Ottawa?
The cost of yoga classes in Ottawa varies widely depending on the type of class being taken, how often it is taken and where you take it. Most of these studios offer monthly memberships that will give you the best value if you are planning to attend classes more than once a week.
For a day-pass or drop-in, expect to pay $15- $50
Whereas monthly memberships range from $100- $250
Pro Tip: Yoga studios often have groupons where you can get a hefty discount for signing up.
While yoga studios primarily focus on providing fitness benefits, there are also many studios that offer programs for first-timers. The first-timers program often involves free or reduced yoga classes as well as workshops, to help you get started with your new workout regimen.
The Best Yoga Studios in Ottawa
Now that you know what to look for in a yoga studio, here are the 10 Best Yoga Studios in Ottawa: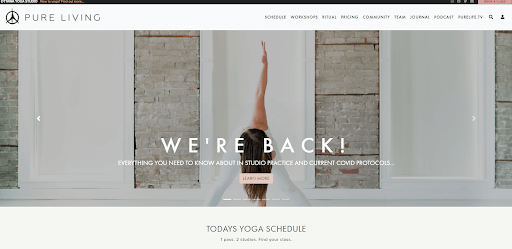 Pure Yoga was founded by lifelong best friends Amber Stratton and Jen Dalgleish. Their vision was to bring their community not just a great yoga studio, but an entire lifestyle! A place where every student feels at home and can grow love for practice as well as receive tools of healthy living both on or off mat.
Pure Yoga offers a range of classes and workshops that are designed to help yogis evolve their practice, as well as teacher training programs. The studio also leads a series of retreats throughout the year in locations such Australia and Costa Rica!
"Pure Yoga Ottawa is by far the best hot yoga studio in the city. The studio itself is gorgeous, clean, and modern. The changerooms, showers, etc. are always perfectly clean and spacious. The staff and instructors are wonderful. Everyone is so friendly and welcoming, they will make you feel right at home! There are so many classes and times to choose from, there is something for everyone at every level. They sell amazing yoga clothes also. Super trendy leggings, crops, shorts, and tops. Both locations are amazing, and I highly recommend you check it out!"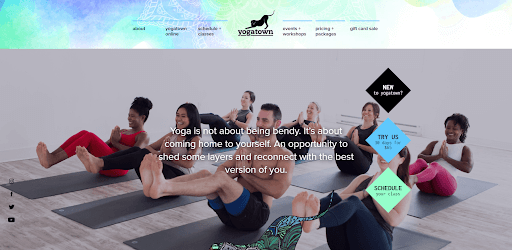 The best way to find your perfect yoga class is at Yogatown which has functioned since 2008! Whether you've been doing it for years or this will be your first time trying out the activity, they have classes and workshops designed with everyone in mind.
They also offer online classes where you can enjoy your yoga relaxation from the comfort of your own home. With the tons of different workshops and events like arm balancing 101 or conscious rest you will always have the opportunity to try and experience something new and more advanced.
"Going to Yogatown is the highlight of my day! The front desk staff is always smiling, friendly, have a positive outlook and greet me by name. The yoga instructors are also very special individuals! They are available before and after class to answer any questions or tailor the class to help deal with any unique physical issues you have. The class descriptions are accurate. The facilities are great with the change rooms feeling like you are at a spa."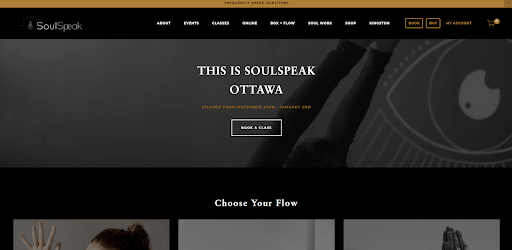 Wherever you are in your spiritual journey, SoulSpeak Ottawa has classes that will guide and inspire. From beginner workshops to more advanced practices like Iyengar yoga nidra (asleep) lessons – we offer something for everyone! Their instructors have years of experience teaching both beginners as well as experts alike how they can find peace through movement at any stage on their mindful path.
They also have Soul Work classes that are inspired by the chakras and provide you experience of moving through 7 phases of pilates-inspired, yoga-based, high-intensity training, inviting you to feel yourself on a deeper level.
"This has been the best place to begin my yoga practice. The instructors are all so lovely & knowledgeable and provide a variety of classes. The studio is warm, inviting and truly a beautiful space with a modern feel (I've already got my merch- loyal yogi) I highly recommend checking Soulspeak out, especially if you live in the area!"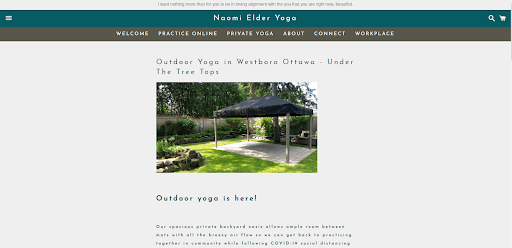 Tree Top Yoga Westboro is a unique place with the most passionate and trained teacher Naomi who believes that the yoga mat can become a place of worship, where you can show up and free yourself. You can purchase online virtual memberships for meditation, breathing, mini personalized 1:1 sessions and also a full spectrum of class styles designed to compliment one another.
She also provides private yoga classes which would help to accelerate your knowledge and strength. During this time the focus is only on you achieving the best results. Not to mention her melodious, wise guiding voice that's easy to follow.
"I've been with Naomi and her yoga for 8 years now. It's a warm and inviting time — Naomi, her studio, and my fellow students make it that way! Recently I've been attending her private lessons and that helps lots by targeting areas that need the most help. Very much recommended!"
5) PranaShanti Yoga Centre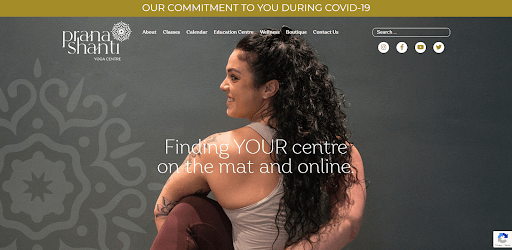 At PranaShanti, they are committed to your mental and physical wellness. Their purpose is to provide an oasis in the city. Slip through their doors feeling an ease that will heal your body, calm mind and strengthen spirit.
They also have an education center that provides workshops, courses, and training to help you deepen your yoga and meditation practice.
They offer a variety of different plans and memberships to meet your needs in relaxation. With classes like Hip opening flow, Power or Restorative yoga your desires are achieved.
"staff. Strict COVID-19 protocols in place. Flexibility of choosing between online and in-person classes. Hands-down my favorite yoga studio in Ottawa. Felt like coming home when I visited today."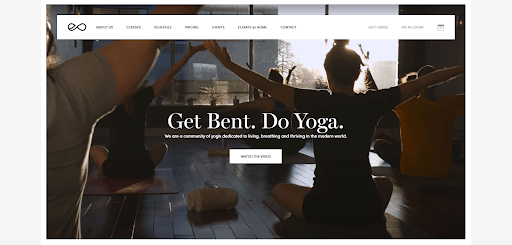 Elevate Yoga is more than a yoga studio. They will become your family who want to help you thrive in the modern world! They believe that everyone should experience freedom and independence through their practice and prove that yoga is not only good for your body, but also for your community. That's why they do lots of charity.
Yin Blend, Mind + Body, Detox + Flow are only a few of their amazing classes available for all levels from novice to guru. They can help you improve your flexibility, alignment, strength and stamina in order to create a deeper connection with your mind and body.
"Great yoga studio! They recently opened a 2nd studio in the back room that looks amazing! No need to reserve, first come first serve. They have showers, lockers and all the equipment necessary for beginners (yoga mat is 2$ per course). Beginners are welcome in every class, and teachers are always super helpful. I recommend it!"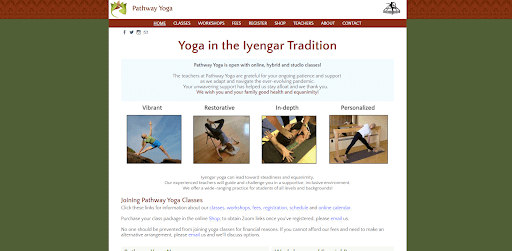 The Pathway Yoga studio in the heart of Ottawa is a place where you can learn to practice yoga with expert teachers. They offer not only classes, but workshops as well in English and French!
The Iyengar Teacher Training programs are also available if you want to become one step higher in your yoga career. They will help you with stretching, balance control and core strength. Group classes as well as personal appointments are available 7 days a week.
"The teachers are great - extremely knowledgeable and great at giving modifications for injuries. I love this studio and Iyengar yoga!"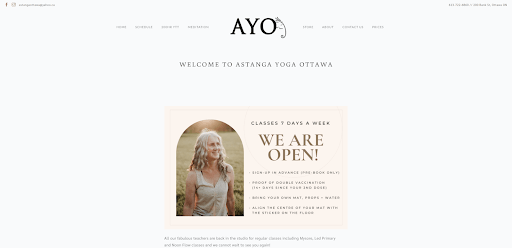 For more than a decade, they have been Ottawa's studio for Astanga Vinyasa Yoga. Founded by Janice DeFilippi who made many trips to Mysore India and brings this ancient style of yoga that originated in Southern India to Canada!
For those looking into new forms or just want their workout routines changed up try out some asana (postures) during their classes like: chair pose, siddhasana, trikonasana, eagle base variations – that will help tone muscles & improve flexibility. At Mysore classes you will practice the fundamentals of yoga body and mind connection and you don't have to be flexible, or know what you're doing – just come as you are.
"I've been practicing at AYO for a few years now. All the teachers are very knowledgeable, easy to talk to, assists are always done taking into consideration a student's specific needs whether it being a physical limitation, an injury or any other type of issue. People at the studio, teachers and students alike, are friendly and welcoming, which makes for a relaxing atmosphere to practice in."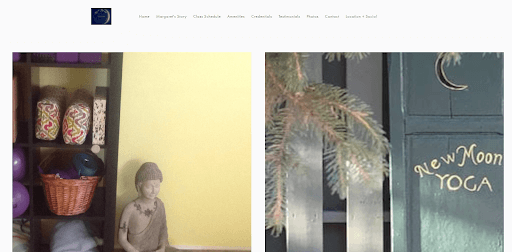 At New Moon Yoga they offer all types of practice. Strengthen & Lengthen, Gentle Mobility, Hatha Yoga, Yin Yoga or even Chair Yoga, they have classes for everyone. Learning true yoga takes time and lots of practice, so no matter what level you are on they have something from advanced to beginners.
With different breathing techniques, they allow the nervous system to settle into a parasympathetic state (rest and digest), which is so helpful for optimal health and overall well being. Their yoga specialist will help you to build up strength, mobility, flexibility, better balance and deeper/smoother breathing.
"I have been to Marg's classes for over three years now, following a mastectomy.I have participated in Gentle Hatha, Yin, Chair and now three times a week, Strengthen and lengthen where we take one pose a week and see how much more flexible we are at the end of the week. Marg explains all our movements while emphasizing our breathing techniques ."
10) Body & Brain Healing Yoga & Tai Chi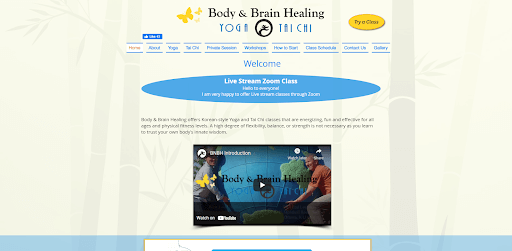 Body & Brain Healing offers a variety of classes to suit your needs. Whether you're looking for an energizing workout or just want some time out, they have the perfect class that will work with what's in store!
The workouts are fun and effective whether it be flexibility, strength-building exercises (such as Korean-style yoga), stress relief techniques such as Tai Chi – all while allowing participants freedom through increased breathing space instead focusing on strict poses like those found at other studios. Breathing deeply during their sessions helps them relax muscles by increasing blood flow throughout the body soothingly providing relaxation from head down toe tips.
"Body & Brain Healing offers a complete system for enhancing physical, emotional and spiritual health and well being. The more often you go the better it gets. I have been a regular, usually attending classes seven days a week since I started eight months ago, and I have had incredible gains in flexibility, balance, strength and clarity. Aside from the Center having a very calming environment, the teachers are always welcoming and after a while everybody is like part of a family."
Yoga is a great way to get in shape as well as improve your mental health. No matter what your needs are, there's a yoga studio out there that has the class for you. So stop wasting time and money going to all those different studios! Try out one of these 10 Best Yoga Studios in Ottawa and let us know how it goes!