The best indoor golf facilities in Ottawa are a total hole-in-one!
You might love golf, but standing outside in the harsh summer heat and sun is another story. Golfing indoors is a great alternative for golf fanatics who want to keep cool and focus on the game. Ottawa boasts many indoor golf facilities, all of which are ready for you to play on.
You can improve your game without worrying about the weather or daylight. Maybe you'll even get a hole-in-one!
We selected these indoor golf clubs based on the variety and difficulty of their courses, the quality instructors they have on staff, the different equipment they have, and cutting-edge simulator technology. Many of these indoor golf clubs sell everything you would need to play a round of golf, like clubs, balls, and clothing, so you don't have to bring anything!
Can't get enough of the green? Then you'll love playing at the best soccer clubs in the city! Or if you want to knock down some pins, you can visit the best bowling alleys in the area. Also don't miss your shot at one of the best archery ranges in Ottawa!
What's the Average Cost of a Round of Indoor Golf in Ottawa?
A round of golf of 18 holes in Ottawa can cost anywhere from $25 to $35.
However the price can vary depending on the course, time of day, and whether or not you are a member. For example, some courses offer discounts for playing during happy hour or twilight hours.
There may also be other costs associated with playing indoor golf, such as renting clubs or shoes. Most courses will have equipment available for rent, but it is always best to call ahead and inquire about pricing.
The Best Indoor Golf Facilities in Ottawa
Now that you know all about indoor golf in Ottawa and what the average cost is, it's time to hit the links! Below we've compiled a list of our favourite indoor golf facilities in the city.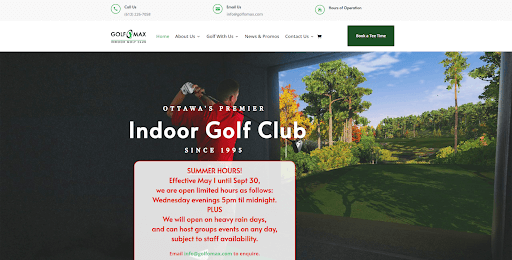 Looking for a fun and challenging way to improve your golf game? Look no further than GOLFOMAX. As an indoor golf facility, GOLFOMAX offers golfers of all ages and skill levels the opportunity to play golf indoors. They offer many different types of equipment and an environment where everyone can enjoy themselves.
Their state-of-the-art simulator technology provides the best simulation experience possible. Their simulators are maintained constantly and carefully for your safety. And their PGA lessons through the King Golf Academy are operated by their head pro, John Watson. 
So whether you're a beginner or a seasoned pro, GOLFOMAX is the perfect place to improve your game.
"First time out this evening and we were impressed! April snow fall on golf night turned in to a great golf round, indoors, with impressive technology. We had a 15 minute orientation to begin with, then our instructor stuck around to help us with some more tips - very helpful. The personnel were very attentive - moderately busy. We really appreciated the technology and detailed feedback. Will return."
2) Kevin Haime Golf Centre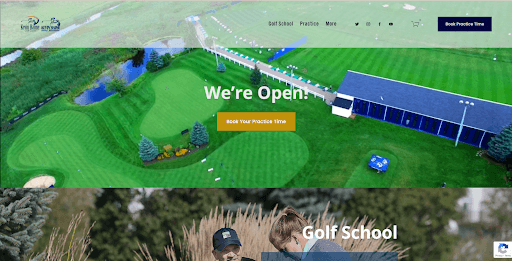 While some people spend their entire lives trying to avoid work, Kevin has been helping golfers of all ages and levels play better for over 30 years now. He is a National Post Top Ten Teacher in Canada and was named the PGA of Canada National Teacher Of The Year in 2000. 
Kevin's passion for teaching led him to open his own academy, where you can find some of the best PGA teachers in the business, all trained by Kevin himself to improve every part of your game. I
f you want to work on your swing in a private or semi-private session, Kevin's Academy is the perfect place for you.  Or, if you're looking for something more educational, join one of their clinics or seminars for fun and informative learning. 
Regardless of your level of interest, Kevin and his team are dedicated to helping you improve your game. And with their state-of-the-art facilities, including a driving range with 21 covered and heated hitting stations and a two-acre short game complex, you'll be able to practice your swing to perfection. 
So if you're ready to tee off on your way to a better game, head to Kevin's Academy and get started today.
"Lots of parking, practice balls in good condition, very friendly staff!"
3) Superdome at Ben Franklin Park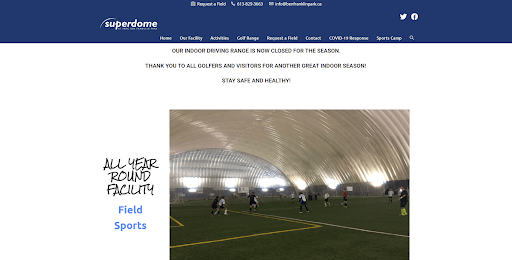 The Superdome at Ben Franklin Park is an essential community resource for residents and organized sports teams. The Superdome is a state-of-the-art sports dome that has a FIFA-approved international soccer field which can be reconfigured into three mini fields for play and practices. 
The field is also suitable for a wide range of sports and activities including walking, golf, soccer, football, rugby, lacrosse, ultimate, cricket, and more. Their experienced and knowledgeable staff are always there to ensure that your visit meets all of your expectations. 
It is essential to provide a safe playing environment for all players. They use the latest equipment and products, ensuring you can take advantage of every opportunity Superdome offers.  Their climate-controlled facility ensures that players can stay comfortable no matter what the weather is like outside. 
Whether you're looking to stay active during the winter or stay cool during the summer, the Superdome is the perfect place for you.
"This is my go to driving range. Love this place!! Able to book online (almost would recommend this way just so you know you have a spot), if you booked the covered section it is unlimited balls for the time period. You get your own booth to swing at and never have to worry about other. One thing people will appreciate is actual ball quality, in a 30 minute time slot I maybe saw two balls that were questionable in quality. The rest were perfect. Another plus is the top tracer at each covered range, for a couple bucks you can get your shots tracked with all the fancy statistics you want(if that is the type of player you are). I recommend this place from beginner to pga tour pro. Highly recommend."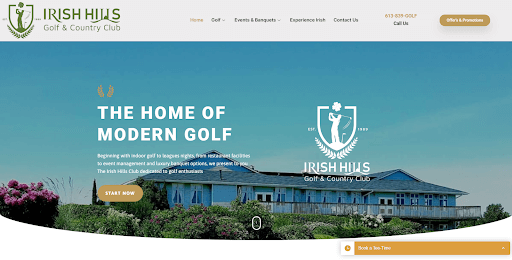 The Irish Hills Golf and Country Club is an Ottawa-led golf course that provides a challenge for all levels of players. The main eighteen-hole course measures 6637 yards from the blue tees, 6173 yards from the white tees, 5831 yards from the gold and 5402 yards from the red tees. 
Indoor golfing is also an experience you can never forget. It takes time to get used to, but once you're able to play the game is fantastic. The Irish Hills golf club offers a luxurious atmosphere for members and guests to enjoy. 
A large lounge with air conditioning is equipped in the facility, as well as other amenities such as a "Dining" room and a 4,000 square foot "Banquet" room for larger functions. There is also an extensive balcony and patio area overlooking the eighteenth green. 
All of these features come together to create a one-of-a-kind golfing experience that Ottawa residents and visitors alike can enjoy.
"Played the 9-hole "yellow" course today. The tee boxes were in good condition and the greens and fairways were well-manicured. The only issue was the driving range, which was not in great condition and slightly overgrown."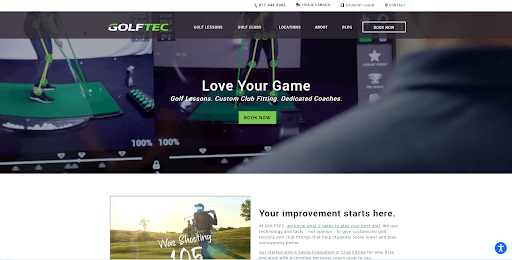 GOLFTEC is the perfect place to unwind after a long day at work and improve your golf game all at the same time. The staff is extremely skillful and knowledgeable, always providing fantastic guidance, structure and corrections with a smile. 
If you're struggling to make those next-level changes that always seem to happen on TV, an hour swing analysis is definitely worth the cost. You'll be amazed at how much you can catch in such a short amount of time. The video analysis removes any subjectivity from the diagnosis and makes it easy to see what your next steps should be for improvement. 
So come on by, relax, and let GOLFTEC help you take your game to the next level.
"Fantastic guidance, structure and corrections provided by coach Teru, helped my score drop from 130 to mid 90s in just my second year learning the game. No more best ball games. Lancaster, Ottawa, location well set up for pointed lessons and practice sessions. Club fitting provided also opened more areas for improvement. Thanks Teru!!"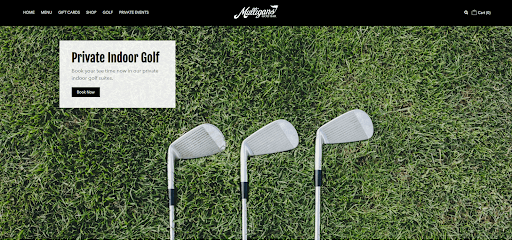 Mulligans is the perfect place to come for a unique and luxurious experience. Their cutting-edge golf simulators are unlike any other, utilizing advanced Computer Vision Technology with smart cameras for ball and club tracking. 
This offers the most accurate and detailed measurements of all golf simulators. Their software combines high-resolution imaging, satellite data and geophysical information into 3D model courses. 
Every game and practice range provides luxurious details and incredible realism that will transport you to some of the world's famous courses like Pebble Beach or St Andrew's. So come on down to Mulligans for an unforgettable time!
"Loved this place! The Mulligan Burger was fantastic, and so were the side of baked mini potatoes! Awesome service, the staff were very attentive, and the guys at the simulated golf activity were entertaining! Told the waiter when I came in that I was headed to Fleetwood Mac concert after supper, and they played their music for my entire visit!"
Golf is a sport like no other, but indoor golfing takes it to another level, without the hassle of the outdoors. These Ottawa indoor golf spots have stunning courses and simulators that are just as good if not better than the real thing. Indoor golf is a great option for people who want to level up their golf playing or simply want to have fun on the greens.