The best indoor tennis courts in Ottawa are a real smash!
Tennis is a sport that rewards but playing outside in the heat isn't very nice. Luckily, in Ottawa, there are many indoor tennis courts where you can improve your game. You can still play on the greens without dealing with the harsh sun, game-altering wind, or worse rain. Indoor tennis courts are a chance to play a match on your own time without worrying about the outdoors and Ottawa is home to some of the best indoor courts in the country!
We selected these Ottawa indoor tennis courts based on customer reviews, the number and quality of their courts, the different lessons and programs they offer, and the different social events some of these clubs host. 
For more exciting indoor sports, head on over to the best indoor golf facilities and the best archery ranges in Ottawa!
What's the Average Cost to Rent an Indoor Tennis Court in Ottawa?
The average cost to rent an indoor tennis court in Ottawa is $20-$30 per hour. 
Some of the factors that can affect the cost of renting an indoor tennis court include the size of the court, the location, the amenities, and whether or not you need to rent any additional equipment. 
When renting an indoor tennis court, you will also need to factor in the cost of membership at the facility. 
The Best Indoor Tennis Courts in Ottawa
Now that you know the average cost to rent an indoor tennis court in Ottawa, it's time to find the best one for your needs.
1) Rockcliffe Lawn Tennis Club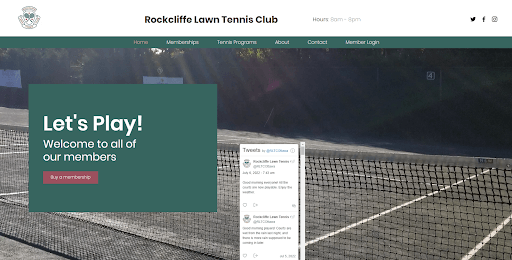 The Rockcliffe Lawn Tennis Club is a hidden gem in the heart of Ottawa. For over 100 years, this club has been bringing people together with their love for tennis and providing them an opportunity to socialize while playing on one of our many courts!
The RLTC provides a welcoming, family-friendly environment for people of all ages and abilities who want to play tennis. They offer private lessons on weekdays as well as social events like round robins or ladder matches throughout the weekends in order to promote an active lifestyle while also enhancing the sense of community with one another!
"This is my fifth summer and I love it. My son and I both took lessons and love this club. Fantastic courts, beautiful location, very friendly and welcoming members and staff. Lots of competitive and recreational tennis programs for adults and kids, great pros, fun social events and just a nice place to hang out after a match."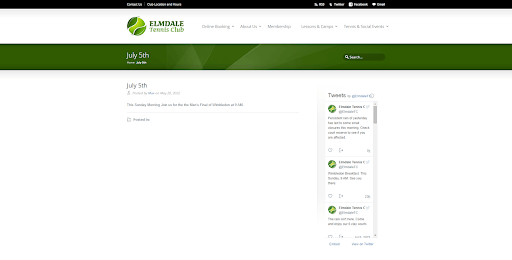 Elmdale Tennis Club is the perfect place to come and play some tennis, regardless of your skill level. With indoor courts, you don't have to worry about inclement weather or traffic, so you can come and play at your convenience. 
The friendly and community-oriented atmosphere is perfect for novices, and professionals alike. Summer camps are also available for kids, or if you're just looking to meet some other players who enjoy playing. 
So whether you're a beginner or a pro, Elmdale Tennis Club is the perfect place for you!
"Great local club with many social events. The clay courts are usually in good condition and the staff are helpful and friendly."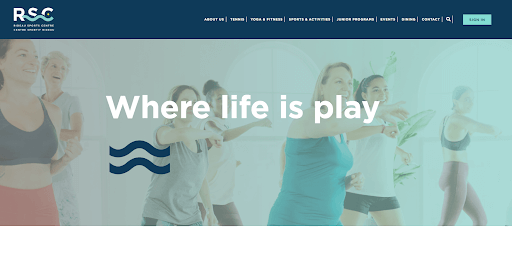 The history of the Rideau Tennis Club is one that has been filled with many traditions and events since 1912. From hosting world-class tennis tournaments, sing-song and dance nights to having generations come together at their courts for family fun.
Whether you are new to tennis, focusing on a specific area of your game or just want an opportunity for fitness and socialization with others – their variety in program offerings will help! 
RSC also is the largest Junior Tennis Development Centre in Ottawa. They have programs designed for all ages and abilities led by a team of certified, passionate and dedicated coaches.
"Great neighbourhood multi-sport facility! Love all the events and programs, there is always something fun happening. I also love that you can pay for drop-in tennis without needing a membership."
4) Carleton Tennis Centre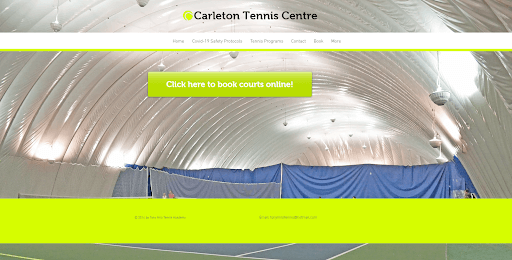 Carleton Tennis Centre offers both adult lessons, which focus on the basics like proper stance or how to hold your racket properly; as well youth programs where they can learn fundamentals from experienced players while still having fun! 
Many people shy away from tennis because they think it takes too long to learn how to play. However, with the professional and experienced staff at Carleton Tennis Centre, you'll be playing like a pro in no time! 
In addition, the social atmosphere of their indoor tennis is hard to beat. What better way to make new friends and get healthy at the same time? So if you're looking for a new hobby or just want to get out of the house for awhile, come down to Carleton Tennis Centre and give indoor tennis a try!
"Amazing faculty for competitive Juniors, Great coaches. Easy to book courts online."
5) Tennis Centre West Ottawa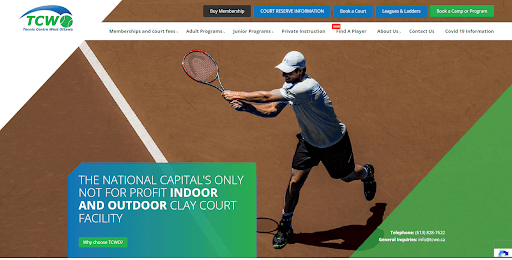 The Tennis Centre West Ottawa is a not-for-profit facility that offers 6 indoor clay and 7 outdoor har-tru courts. 
All of their facilities have an awesome clay surface which will give your game amazing benefits during the game.  The softness underfoot absorbs a significant amount of shock from each step, reducing the stress on joints. This is especially beneficial for those who are recovering from an injury, or just want to take it easy on their bodies. 
So if you're looking for a fun place to play tennis without putting your body under too much stress, be sure to check out the Tennis Centre West Ottawa!
"Always find the staff super friendly and efficient. Premises are always clean. Top Star assigned."
6) Ottawa New Edinburgh Club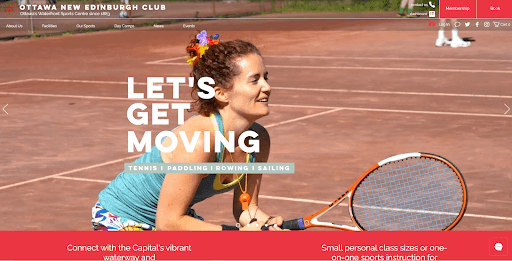 The Ottawa New Edinburgh Club (ONEC) is one of the city's most historic and well-loved sports clubs. Founded in 1887, the club has been a fixture in the community for over 130 years. Today, the club continues to thrive, offering a wide range of programming for both adults and children.
From tennis and rowing to paddling and sailing, ONEC has something for everyone. And what could be more refreshing than spending a summer day outdoors, taking in the fresh air and beauty of nature? 
With seven red clay courts nestled amongst some of Ottawa's oldest oak trees, playing a round of tennis at ONEC is sure to be a memorable experience. So whether you're looking for a fun summer activity or a way to stay fit and active, make sure to check out the Ottawa New Edinburgh Club!
"Great place to play tennis on red clay courts and meet nice people! The best and nicest tennis club in Ottawa and the region."
FAQs About Indoor Tennis Courts
Ottawa is a great city to hone your tennis playing in and you can do that without even having to go outside! Don't let the unpredictable elements stop you from playing. Learn the sport or improve your game with the help of some amazing indoor tennis courts in Ottawa. 
So if you want to take your tennis skills to the next level, then you have to play a match at the best indoor tennis courts in Ottawa!