The best hot yoga studios in Ottawa are turning up the heat and are welcome to everyone!
Unlike regular yoga, hot yoga is practiced in a hot and humid environment, which can help you to sweat out toxins, improve your flexibility, and calm your mind. Hot yoga is a fun way to improve your overall wellness.
If anything, a lot of people say hot yoga is addictive! Hot yoga is a fantastic way to lose some weight, improve your flexibility, and sweat away your worries.
We selected these Ottawa hot yoga studios based on the variety of classes they offer, welcoming and hot atmospheres, competitive prices, and their great hot yoga teachers! These studios are perfect for longtime yoga practitioners and beginners alike.
Ottawa is a great city for people looking to keep fit. Make to also check out the best pilates and the best dance studios in the city! Or kick it up at one of the best Jiu Jitsu schools in Ottawa.
What's the Average Cost of a Hot Yoga Class in Ottawa?
The average cost of a single session at a yoga studio is $15 to $25, and for private yoga training, you will likely spend between $35 and $75 on each lesson. Of course, the actual cost will vary depending on the location, type of studio, and instructor. 
Some other factors to consider are whether you want to purchase a class pass or membership and if the studio offers any discounts.
Most studios offer a variety of class types, so you can choose what fits your schedule and budget the best. For example, some offer drop-in classes that are pay-as-you-go, while others require class packages or memberships.
Class passes typically give you a discount on the per-class rate and usually allow you to attend any type of class the studio offers.  And Memberships typically offer the best value if you plan on attending hot yoga classes frequently. 
The Best Hot Yoga Studios in Ottawa
Now that you know the average cost of a hot yoga class in Ottawa, let's take a look at the best studios!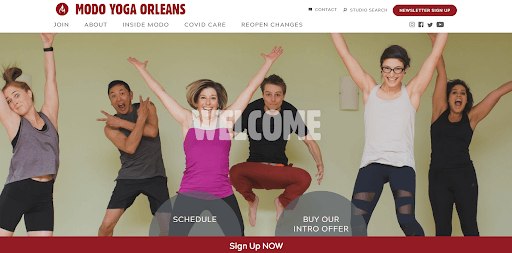 Modo Yoga is a community of inspired students joined together by their love for yoga and commitment to protecting the earth. They have sweaty classes that are fun but also challenging enough so you can grow into your practice! 
Modo Yoga's classes are designed to open and strengthen your entire body. While there may be 40 different poses in a typical class, each one is specifically created with the goal of opening up both physical tension as well mental clarity for an overall improved feeling. 
You don't need to be flexible in order to try out the program. The best thing is that you'll get more comfortable with the art of yoga, and once flexibility sets inside there's no going back. You will probably sweat a lot, so lightweight materials are best. Shorts or leggings with an absorbent shirt are all great options for this type of activity. 
Modo Yoga is the perfect place to stretch out your body and mind. The instructors are friendly, helpful people who will guide you through a variety of poses while providing calm attention in an environment that feels like home.
"I have thoroughly enjoyed my yoga classes at Modo Yoga. I was a beginner when I started the classes, but the instructors are very kind and eager to help new clients. Modo offers a great variety of classes for all interests. If hot yoga is not your thing, you have lots to choose from. Not to mention excellent customer service at the front desk and very clean facilities. You will not regret your visit to Modo Yoga :)"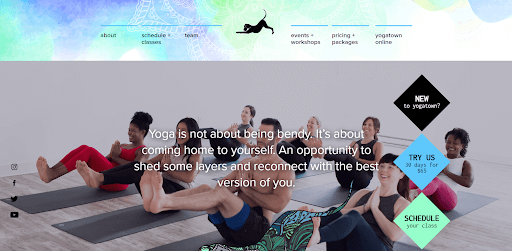 Yogatown offers a wide range of classes and workshops for all levels, including new beginners. Whether you are just starting out or looking to restart your practice after some time away – their knowledgeable teachers will help guide you through it. 
They also provide spacious change rooms where students can relax in between sessions without feeling cramped on their own personal mat space. The best way to describe their class experience is a comfortable heat. They use the latest in infrared heating panel technology and air exchangers, which allows them careful control over how hot or cold it feels inside your workout room at any given time–all while providing you with benefits like increased blood flow for an energized feeling.
Practicing yoga in a heated room can give you many advantages, such as detoxification through sweating and improved cardiovascular function. You may also experience other things from practicing this tradition including increased resilience to stress or greater productivity at work.
"I've been to quite a few studios in Ottawa, and Yogatown is by far my favourite. The spiritual elements of yoga are always effortlessly tied in to each class, irregardless of the physical intensity of the practice. The instructors are phenomenal, not to mention I was really drawn to the community of members that attend the studio. Unlike other studios I've been to, I love how Yogatown attracts people of all ages, abilities, shapes and sizes. It's a super inclusive and positive space that I always feel great going to. Keep it up!"
3) Prana Shanti Yoga Centre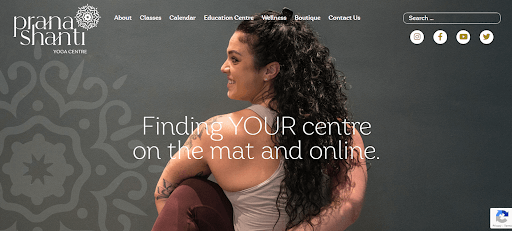 Yoga and meditation come to life at PranaShanti. Whether you are seeking healing, strength-building or deep spiritual reflection their teachers will guide your practice with expertise that spans all styles of yoga as well as many different traditions. 
They provide you with an opportunity not only to improve physical health but also mental clarity through mindfulness practices. They have created a space where everyone is welcomed. 
PranaShanti is a community that fully embraces sustainable business practices and they practice mindful living on the mat, and off it as well. They host events to raise money for causes close to their hearts through yoga classes taught by teachers who donate proceeds from their fees towards nonprofit organizations they believe in – all while having fun getting fit. 
The various styles of yoga offered at the center are designed for those who want to explore different ways they can practice as many classes per week. This provides students with benefits and flexibility that may not be possible otherwise.
"Authentic, warm and friendly, quality classes and teachers! Even though we can't enjoy the beautiful atmosphere at the centre right now, Pranashanti is offering FREE online yoga classes! Two each day! I am so grateful for this generous offering during these stressful days. They have been there for their community and have strengthened my already present loyalty."
4) Inner Soul Yoga & Cycle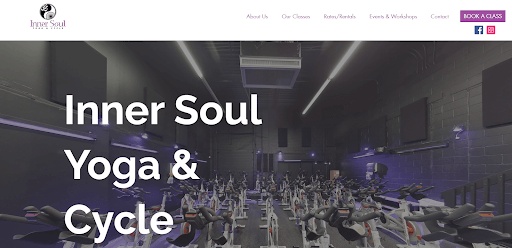 Their spacious and welcoming yoga studio is the perfect spot to relax after a long day. They give all types of classes for people looking to gain strength, flexibility or just have some peace in their lives. 
Whether you're a newcomer who wants help getting started with their friendly staff that will customize your workout according to what works best suited to your needs – no one gets left behind at Inner Soul Yoga & Cycle. 
Inner Soul offers a variety of classes to suit the needs and interests of all types, including spinning, yoga sessions with both individualized instruction as well as group settings so you can work on your own or get fit alongside others at varying levels; they also provide SUP yoga training if that's more up your alley.
This is a place that offers great prices for the high-quality classes they give. Their owners are responsive and kind, which makes you feel at home during your first few months of practicing yoga. The environment is so supportive that it makes you feel like your goals are their own too! 
"I absolutely love spinning at inner soul! I have been going there for years and can honestly say it's my favourite studio in Ottawa. The high ceilings make the room so comfortable and set it apart from other studios. The yoga studio is also so spacious and well decorated! Not to mention this studio is very reasonably priced for all the amenities you get. 10/10 recommend!"
In Ottawa, there are many hot yoga instructors and studios who want to see you succeed. Hot yoga is extremely popular and it's easy to see why. The trendy exercise has all the benefits of regular yoga, but with better results. For example, it's a faster way to lose a few pounds, a good way to reduce stress, and increase your flexibility.
Whether you're a regular face at the yoga studios or completely new to the exercise, these hot yoga studios are more than happy to guide you on your hot yoga journey!