The best golf clubs in Ottawa are total aces!
There's nothing like golfing on the greens. In Ottawa, there are many golf clubs and courses that are waiting for you to take on.  We found the very best outdoor golf courses in Ottawa, so you just need to worry about improving your golfing game!
We selected these Ottawa golf clubs based on customer reviews, the quality and difficulty of their courses, their knowledgeable staff, and the other amenities they offer. Many of these golf clubs offer programs and lessons for players of all skill levels, so anyone and everyone can play!
There's nothing like playing on or walking through the greens. For more fun, head on over to the best indoor golf facilities and the best flower fields in and around Ottawa!
What's the Average Cost of a Round of Golf in Ottawa?
The average cost of a round of golf in Ottawa is $36 – $54. This includes the green fee, cart rental, and any other associated costs. 
Some of the factors that affect the cost of a round of golf include the time of day, the day of the week, and the season. For example, tee times during peak hours (early morning or late afternoon) will typically be more expensive than tee times during off-peak hours (mid-morning or mid-afternoon).
 Similarly, rounds played on weekends are usually more expensive than rounds played during the week. And finally, golfers can expect to pay more to play during the summer months than during the winter months. 
So, if you're looking to save some money on your next round of golf, consider playing during off-peak hours and during the week. You might also want to consider playing during the shoulder seasons (spring and fall), when the weather is still nice but the prices are lower.
The Best Golf Courses in Ottawa
Now that you know the average cost of a round of golf in Ottawa, you might be wondering which courses are the best bang for your buck. Here are our top picks:
1) Ottawa Hunt and Golf Club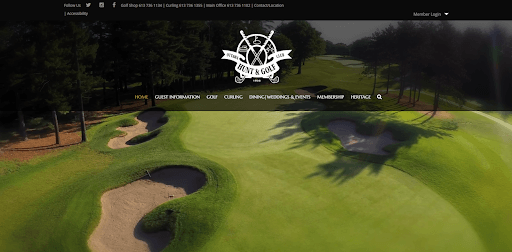 The Ottawa Hunt and Golf Club is one of the top 100 golf courses in Canada. You'll be impressed with its well-appointed clubhouse amenities that include lounges, a dining room as well as modern lockers available to members year-round. 
The Club's practice facilities are perfect for members and guests to work on their skills before playing a round of golf. There is an extensive driving range with chipping greens as well, all conveniently located near the clubhouse. 
They also have a wide range of merchandise for their business golfers, including golf balls, hats, shirts, and other equipment. 
If you're looking for a curling program- they offer it too. To get in on the action make sure not to miss out at The Ottawa Hunt & Golf Club where they host six sheets of ice for all levels from beginners to professionals.
"Great place. This was my first time golfing so I have nothing to compare the facility to but to me, it was a great experience. The pricing was pretty good, the staff very friendly and there was lots of room on the really nice driving range. They also let you use clubs for free for the driving range!"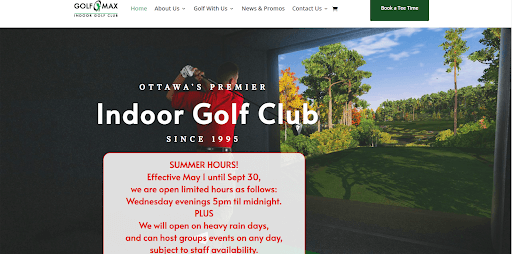 Indoor Golf Ottawa offers an indoor golf experience that allows players of all ages and skill levels to enjoy their game in a safe, realistic environment. They strive for excellence with their simulator technology developed by Full Swing Golf Company in California. 
Their staff is well experienced and knowledgeable about what it takes for people who play golf. They're here to make sure you have a full understanding of how to play on their golf simulators. They must also ensure that you enjoy the atmosphere at this clubhouse and all its amenities. 
They'll help guide your game with expert advice from one professional golfer after another. The club also offers PGA lessons through King Golf Academy, operated by one of their top professionals – John Watson. 
The owner Dru Lafave has put his heart and soul into trying to make your experience at the club great. He guarantees that you will have fun, and enjoy playing with friends in that welcoming environment where they all try hard so everyone can succeed together.
"Great alternative with the guys out of season. Don't take it too seriously and enjoy being with the lads. Also do yourself a favor and set the putting gimme to at least 10ft as it's easily the least accurate aspect of the game. The food and drinks are priced reasonably and the booths are adequately spaced and private. Staff is awesome as well!"
3) Kevin Haime Golf Centre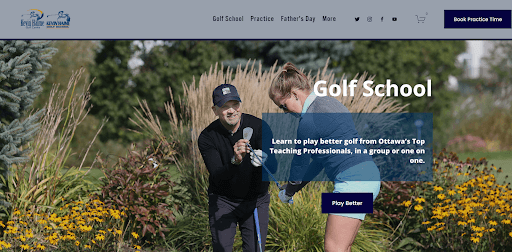 Kevin Haime Golf Centre is one of the premier practice centers in all of Canada. They have an excellent driving range with 21 covered and heated hitting stations, 34 open air areas as well as a two-acre short game complex.
Kevin is a passionate and dedicated teacher who has been teaching golf for over 30 years. He believes that everyone can improve their game, no matter what level they are at. His skills have earned him both Canadian Teacher of the Year & Junior Leader distinctions from PGA Canada. 
Kevin Haime's Golf School has some of the best PGA teachers in the business, all trained by him himself and ready for you. Whether it be a private or semi-private session they can help improve every part of your game. 
Here you can play unlimited balls for half or full hours. The automatic ball replaces feature also makes this place great, as well as their tracer technology.
"The staff over here are absolutely amazing and nice people. Right now you can play unlimited balls in half or full hour. Online booking is also easy. I really liked the automatic ball replace feature. The tracer technology is also nice. Would definitely visit here again."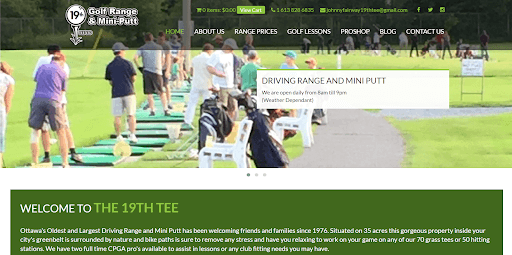 The welcoming staff at Ottawa's Oldest and Largest Driving Range are there to help you perfect your game. Joe from 19th Tee is a fantastic coach; he patiently explains everything that comes up during your session as well as provides insights into where these mistakes come from in order to make sure they don't happen again.
Whether it be on one of their 70 grass tees or 50 hitting stations, they guarantee that relaxing will become a priority while playing with them. With two full-time CPGA pros available for lessons as well as any club fitting needs, there is no need to go anywhere else. 
They strive toward ensuring each customer has an unforgettable experience. At the club family-friendly fun meets professional excellence all within 35 acres surrounded by nature. 
You'll love their mini golf course too; kids will enjoy themselves while adults work on improving those shots from behind trees or grass tee sections. They also have a great vendor with picnic tables & umbrellas so you can bring along family members or spend some time with your friends.
"Great place. Can be busy at peak times. Seems Ottawa is losing its driving ranges so this one fills up quick. That being said there is lots of room. Colorful targets to aim for makes the experience more fun, especially for those who aren't avid golfers."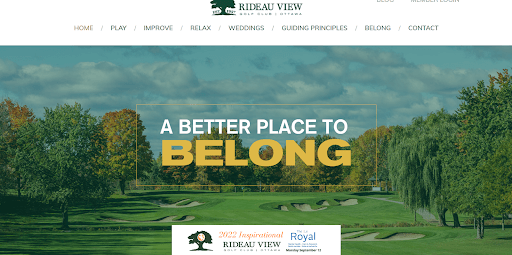 Come to Rideau View Golf Club for an unforgettable experience that will leave you feeling like a part of their family. They are proud to be Canada's premier golf club, with facilities designed for both pros and casual players alike in a caring community environment where everyone has the opportunity to succeed. 
As a member of Rideau View, you will have access to a wide range of practice facilities including a 7,500 sq ft Putting Green, Chipping Area, Driving and Pitching Ranges, and Practice bunker. 
In addition, different social activities are held every month throughout the season ranging from Saturday Nine and Dine to mixed golf/dinner events, Beer/Wine Food Pairing Evenings. Whether you're looking for an active or relaxing night, Rideau View has got something that will suit your taste. So come join the family today!
rideauview.com
+16136923442
6044 Rideau Valley Dr N, Manotick, ON K4M 1B3, Canada
"My husband and I had our wedding here in 2019, and we still talk about how amazing the experience was! From the food that everyone loved, to the beautiful scenery, to our amazing wedding coordinator who helped the day run flawlessly. They were also so accommodating in helping us offer halal food and making substitutions to the menu to cater to the needs of our guests. If you are looking for a fantastic all-in-one venue for your big day, or any other event, I highly recommend!"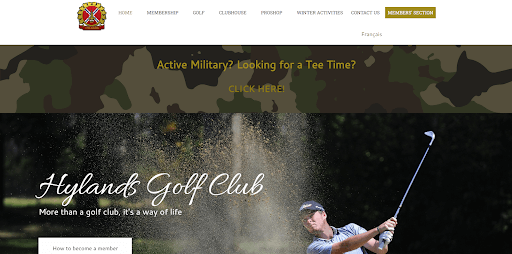 Hylands Golf Club is a hidden gem tucked away in the heart of Ottawa. This affordable and unique venue is perfect for members of the Canadian Forces and their families. The mission of the club is to provide a first-class and enjoyable experience for all. 
The venue includes golf courses, practice ranges, pro-shops, and a Junior Program that supports young players just getting started in the sport. In addition, the groomed trail system and rentable xc skis, snowshoes, and snow bikes make Hylands the perfect spot for winter fun. 
Despite being hidden away, Hylands continues to strive and improve so that it can provide challenging golf courses and aesthetically pleasing grounds for all to enjoy.
"Been a member for years. Worked there in my youth. Best value in the National Capital region. Two 18's. Two practice areas. 3 putting greens. Great driving range now with optional mats. Electric Carts, pro shop and club house. Mackenzie tour played there on North Course. Great members and youth program. DND affiliated. Located adjacent to Ottawa international airport (YOW). If you like great Golf and planes, this place is for you."
Spend the day on the greens! Ottawa is a golfer's paradise. Enjoy a leisurely day at any of the best golf clubs in Ottawa. At these courses, you can improve your game and develop your golfing technique. Who knows, maybe you'll even get a hole-in-one?
So if you're looking to play a great round of golf, you have to play at the best golf clubs in Ottawa!