When your jewellery gets broken, it can be frustrating and costly to fix. That's why it's important to get the best jewellery repair shops in Ottawa when you experience a problem with your jewelry. These professionals are experts at fixing damaged or malfunctioning pieces of jewelry quickly and reasonably pricedly. They will also provide you with helpful advice on how to care for your jewels so that they last longer and look their best! We chose these local jewelers based on their years of experience, the quality of their services, and the positive feedback from other customers. 
They have years of experience and use only the highest quality materials and tools available. So whether you lost a stone from your engagement ring or your bracelet snapped in two, don't despair – simply bring it on over to one of these 10 reputable jewellers and they will take care of everything for you! When you need help restoring or repairing your precious metalsmithing items, call one of these top Ottawa jewellery repair shops!
If you're looking to add more beautiful pieces to your jewellery collection, visit the best jewellery stores in Ottawa!
What is the average cost of jewelry repair in Ottawa, Ontario?
The cost of jewelry repair in Ottawa, Ontario can vary widely, as it depends on factors such as the type of repair being done, the complexity of the work, and the materials being used. In general, you can expect to pay anywhere from $50 to $500 or more for jewelry repair services, although the exact cost will depend on the specific circumstances of your case. Some jewelers may offer discounted rates for jewelry repair services, so it is a good idea to shop around and compare prices before making a decision. It is also worth considering whether it would be more cost-effective to replace your jewelry altogether, rather than paying for repairs.
Best jewelry repair in Ottawa
1) Thompson Jewellers & Watch Repairs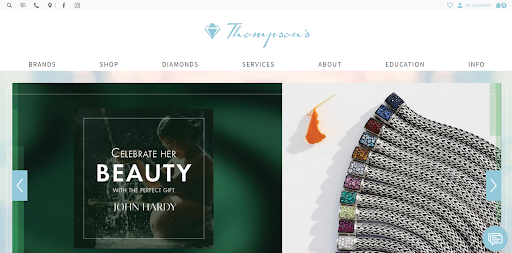 When you need help with your jewellery, Thompson Jewellers & Watch Repairs is a go-to place. Their staff are very friendly and knowledgeable; they will ensure that the vision of what you want comes true!
They can repair anything from earrings to your family heirloom engagement ring! The prices are reasonable and they work really fast. They can also transform your old jewellery into new totally unique pieces.
Phones:  +16132338839
Address: 193 Bank St, Ottawa, ON K2P 1W7, Canada
"Stellar experience. I had a watch band repaired here. They were good communicators, very quick, very professional, and priced competitively for services. This will be my go-to jeweler going forward."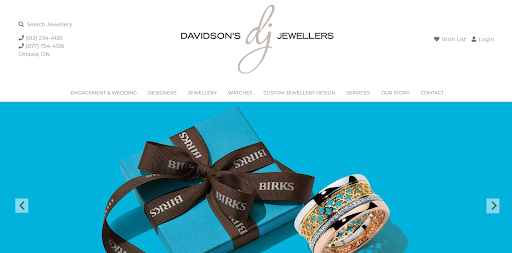 Davidson's Jewellers will evaluate all of your jewellery in order to make sure there isn't anything wrong. Maybe you want your favourite chain fixed, or repair the claws on your engagement ring that are wearing thin. Maybe it's a bit too loose and needs to be sized up again – no problem! Their shop is equipped with the latest technology so every repair is expertly done to their meticulous standards. They can also clean and polish your jewellery so it will look like you just bought it!
Phones:  +16132344136
Address:  790 Bank St, Ottawa, ON K1S 3V6, Canada
"Valarie provided outstanding design and customer service for a very special ring. She was creative while respecting our suggestions. She was also helpful in "fixing" several items in need of repair. All work was completed in a timely and professional way. Working with Davidson's Glebe Jewellers has been a very enjoyable journey."
3) Howard Fine Jewellers - Official Rolex Retailer Ottawa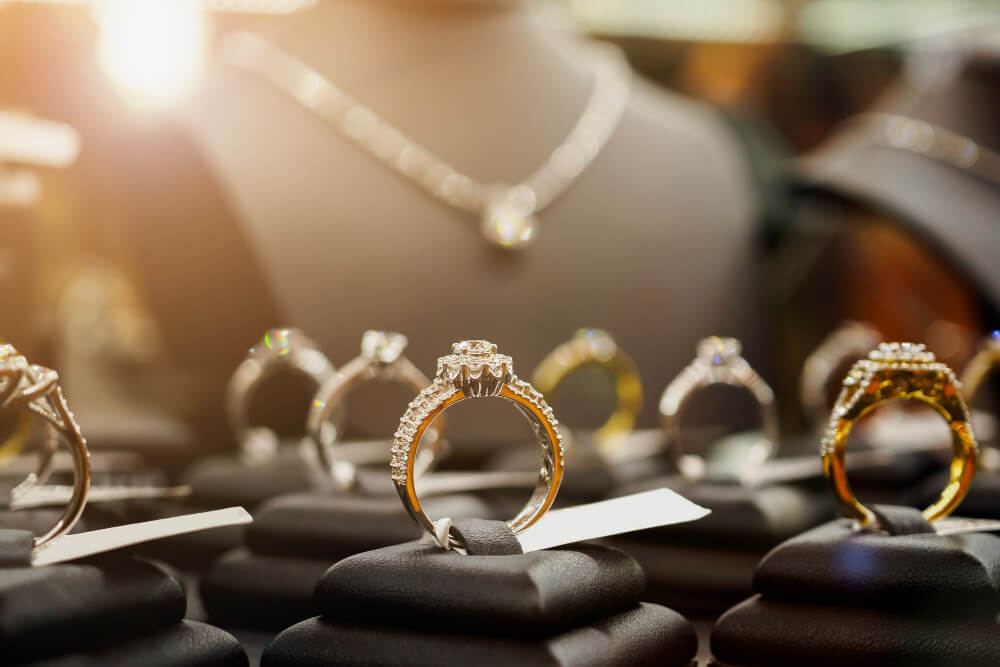 All jewellery repairs at Howard Fine Jewellers are completed by their team of master jewellers in a secure, on-site factory. Your items remain solely with them as they undergo expert care while you wait for your desired repair turnaround time; this option ensures their safety and security from start to finish!
From stone-setting, re-tipping or replacement to resizing or soldering, they can do it all. They also offer an excellent restring service for pearls and other beaded jewellery.
Phones:  +16132383300
Address:  220 Sparks St., Ottawa, ON K1P 5C1, Canada
"Sladjana at Howard Fine Jewellers did it again!!! Exceptional service that always makes you feel welcomed and appreciated. Thank you so much. 5-star service to go along with a beautiful shop."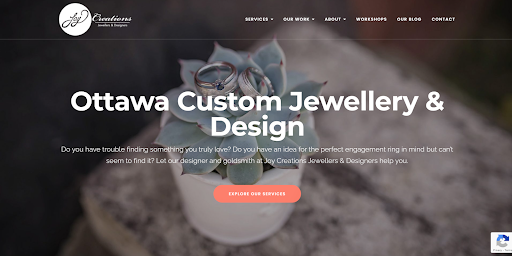 At Joy Creations they have a professional goldsmith who provides complimentary cleaning and inspection services while you wait. If you are looking for jewellery repairs, ring resizing service, or to get an estimate on your repair- he's the one! 
They work with all metals: from sterling silver, the most popular, to gold, and platinum palladium. No job too big or small! They also do refining so your jewellery can restore its sparkle.
Email:  info@joycreations.ca
Phones:  +16136807997
Address: 738A Bank Street, 2F, Unit 202, Ottawa, ON K1S 3V4, Canada
"Awesome and amazing service!! We were looking for someplace to resize my engagement and wedding rings and since we had gems on the sides we were worried no place would do them. We emailed Joy Creations and the wonderful Samuel was super quick to respond to our inquiry."
5) Fooshin Jewellery & Watch Repair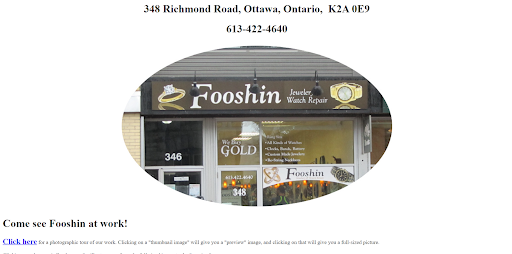 If you find yourself in need of jewellery repair you need to go to Fooshin, he and his team can not only repair your jewellery but also craft new ones from pieces that haven't been used for years!
The prices are the best in town and the attention to detail is everything! Their friendly and fast staff can fix your stuff right on spot in no time. Your old jewellery will be sparkling again! They also are professionals in watch repair. 
Phones:  +16134224640
Address: 348 Richmond Rd, Ottawa, ON K2A 0E8, Canada
"Honest and integral. I had my wife's anklet with me that I bought from people. The clasp has detached from the chain. People looked at it and told me it would be $60 to fix. So I took it somewhere else. Well. When I brought it here the goldsmith took one look at it, 5 seconds later had it fixed and refused to let me pay. He saw it was just the connector that had spread a bit and reattached and clamped it together."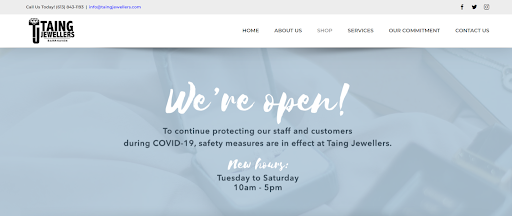 Taing Jewellers is a family-owned company that has been serving the Ottawa community with fine jewellery craftsmanship and expertise since its inception. Their exceptional selection of services for rings, necklaces & bracelets will transform your old jewellery. 
They know how hard it is to part with jewellery that's been passed down through the generations, which makes them want to help even more. They offer efficient and on-site jewellery repairs for most pieces in a few days or less at our store! Re-tipping worn settings and claw replacement or proper ring sizing—  they can help with everything.
"Brought in 2 rings from my great grandmothers to be made into one. The ring was so beautifully done, crafted with such care. The process was quick and easy and we were kept informed along the whole process. I was so happy to be able to keep the family heirlooms! Thank you again!"
7) TS Watch and Jewellery FIX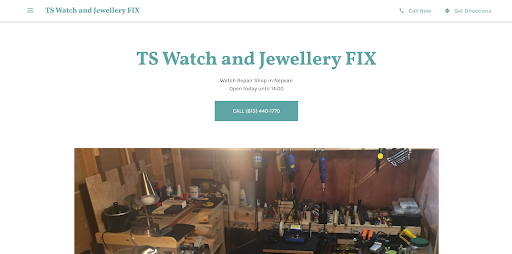 At TS Watch and Jewellery FIX, they are ready to perform any types of repairs that your jewellery pieces need. Their services are top-notch. 
If you have a small ring that needs resizing or a broken chain they will do it quickly with little hassle for an affordable price! 
They also are great with watches. Your battery will be changed in no time as well as they will give you your watch back cleaner than it has ever been. By providing you with a necessary education they can help you to escape having the same problem with your jewellery again. 
Phones:  +16134401770
Address: 177 Tacom Cir, Nepean, ON K2G 4P8, Canada
"Excellent service and does excellent work, everything was done professionally and in no time! Excellent communication! Highly recommended!"
8) K T Jewellery & Watch Repair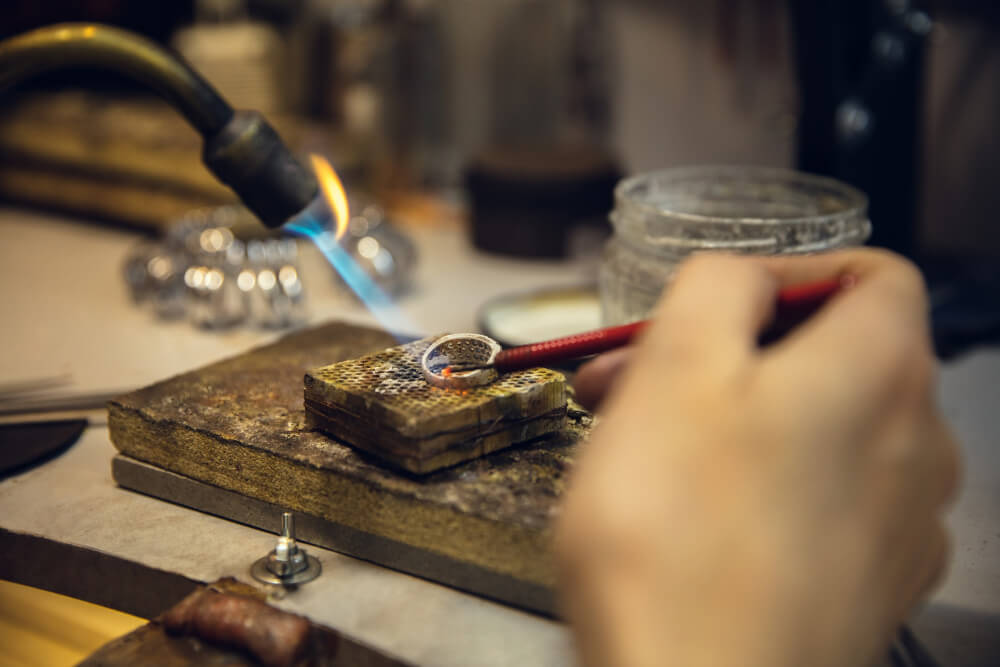 K T Jewellery & Watch Repair offers a wide range of jewellery services in Ottawa and surrounding areas. The store specializes in repairing watches and other jewelry items, including rings, necklaces, earrings, bracelets and anklets. In addition to providing quality repairs, the store also offers custom design services for customers who want their jewellery items customized according to their specifications. Whether you need your watch or diamond ring repaired or just need some new accessories added to your collection, K T Jewellery & Watch Repair is sure to have what you're looking for.
Phones:  +16132264270
Address: 178 Meadowlands Dr W, Nepean, ON K2G 2S6, Canada
"I needed my watch crystal replaced. I spoke with the jeweler at KT Jewellery and was told if the crystal was in stock he would do it right away. I came in and had the work done as well as 2 batteries replaced all within 1 hour. Highly recommend KT Jewellery."
9) Nettleton's Jewellery Ltd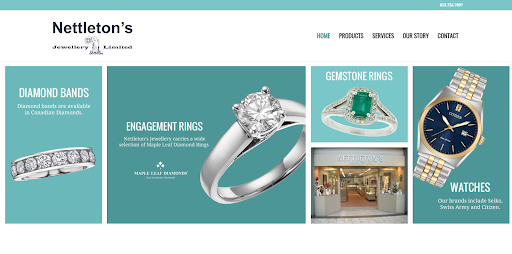 Nettleton's Jewellery has been repairing jewellery since 1916. They can put a hinged shank on your ring for arthritic fingers, re-knot fresh or saltwater pearls and machine engrave pieces as well! 
You can drop by anytime for a complimentary and honest assessment of your jewellery, it will only take a few moments of your time. They also do jewellery appraisals which come with a detailed description of your jewellery and retail replacement value. They also do watch repairs of any brand from Rolex to Longines. 
"The Nettleton family has truly run this delightful, honest, refreshingly diligent jewellery business, for as long as I can remember. Great, friendly, loving service, whichever Nettleton family member you choose!"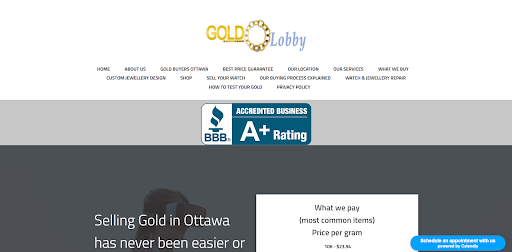 Gold Lobby has been in business since 1967, and they stand out as the best place to buy, sell or repair gold in Ottawa. Their repair services include but are not limited to, clasp and stone replacement, jewellery mounting, ring resizing, refurbishment and custom jewellery design.
Their jewellery repair professionals are patient and dexterous. When making the decision to repair your delicate pieces, it is very important to deal with reliable staff.
"I absolutely and highly recommend Gold Lobby. Outstanding service, highly reputable and with fair pricing. I was greeted with a friendly hello, all covid protocols and safety measures were in place, and I received detailed information on my items. I will be recommending you to all my family and friends."
FAQs About Jewellery Repair
When your favourite piece of jewellery needs a little TLC, it's important to take it to a qualified jeweller for repair. The list above features some of the best jewellery repair shops in Ottawa, so you can be sure that your treasured items are in good hands. From fixing broken chains to restoring vintage pieces, these businesses have got you covered. So if your jewellery is looking a little worse for wear, don't hesitate to give one of these shops a call – they'll be more than happy to help!
For more content on the city of Ottawa, check out the best make-up artists, the best vegan restaurants and the 10 best shoe stores in Ottawa.