Ottawa is home to a wide variety of high-end jewellery stores, each with their own unique selection of precious gems and metals. If you're looking for the perfect gift for that special someone or simply want to spoil yourself, Ottawa's jewellery stores have something for everyone!
In this article, we will be sharing with you our list of 20 best jewellers in Ottawa. We hope that this list will help make your shopping experience easier and more enjoyable!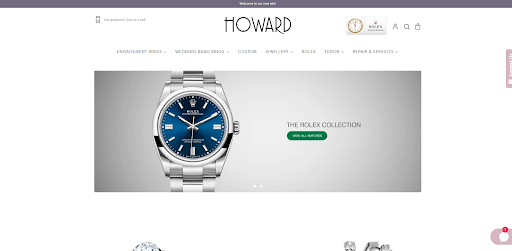 HOWARD Fine Jewellers and Custom Designers has been a leader in the fine jewellery industry since it first opened its doors 67 years ago. 
With an excellent reputation for quality, selection on hand as well as customer service – this family owned business is able to offer their clients something special: heirloom pieces that will become treasures passed down through generations!
They have a wide variety of jewellery to suit any taste, from classic pieces by world-renowned designers like Rolex and Tudor all the way through modern evolution with our own custom designed designs. 
Their selection includes everything you could imagine – there's something here for everyone!
"Extremely Happy with my purchase experience at Howard's. Howard and his team are treating all customers like VIPs. I went there 3 times and each time was the best customer service possible. Their top priority, other than quality, is customer satisfaction and Happiness. I will keep visiting Howard each time I am in Ottawa."
2) Davidson's Jewellers Limited Glebe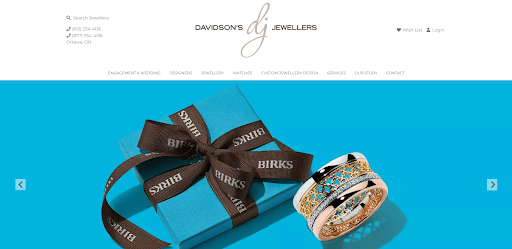 At Davidson's Jewellers Limited Glebe – Ottawa jewellery shop, you will find the best of custom designs. If you're looking for something unique and special that speaks to your individual style, then this is the place for you! 
They have one-of-a-kind pieces as well as designs that are perfect for anyone who wants something truly beautiful. In addition, they are happy to create a ring specifically for you depending on your idea and price range so that everyone can afford their dream ring. 
Plus, they are willing to show customers the ring at various stages of production so any necessary adjustments can be made before it's too late! As long as you're a customer, good service is guaranteed.
bands and more recently updated my engagement ring and couldn't be happier with the result thanks to Enrico and his team 🙂 The attention to detail and customer care is truly excellent!"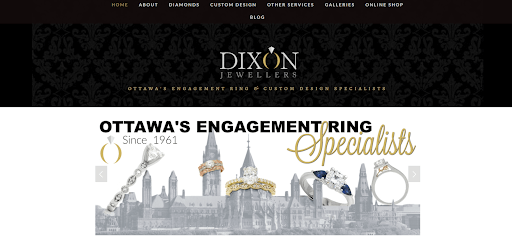 Dixon Jewellers has been providing custom engagement rings and jewellery design services to the Ottawa market for over five decades. Whether you're looking to make your partner's day or just need some assistance with something small like repairing a broken earring, these experts are here! 
They have the knowledge and experience necessary to help you create beautiful pieces that will perfectly match your style. Plus, their customer service is top-notch – from start to finish, they'll provide you with a wonderful experience that you won't forget anytime soon.
"Everyone at Dixon's is incredibly knowledgeable, friendly and helpful. I've had several pieces of heirloom jewelry serviced by them, and have always been more than satisfied by the work done, the turnaround time and prices. I love that they do their work on site, and are locally owned."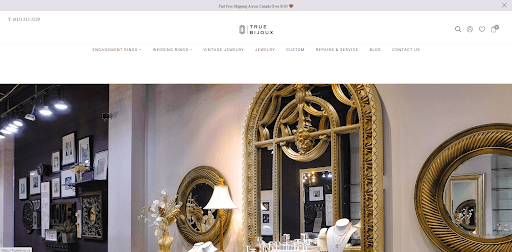 True Bijoux started out as a small, family-owned business but has since grown into a large company that offers unique and distinctive costume jewellery designs. You can buy exclusive wedding rings and have a huge variety of engagement rings to choose from for your fiancé. 
They also sell unique vintage bracelets, necklaces, earrings and rings which you won't find anywhere else. If you want a customized sapphire ring that suits your colour palette, they give you the opportunity to view their huge selection of sapphires and find the Sapphire of your dreams.
"I would highly recommend True Bijoux. I recently bought an engagement ring from them and my experience was fantastic. Josh was very helpful, patient and knowledgeable, and the other staff were very kind. I especially appreciated that they took the time to walk me through everything and paid special attention to what I wanted. In the end, it was a great success and I couldn't have been happier buying from such a great local business."
5) Disegno Fine Jewellery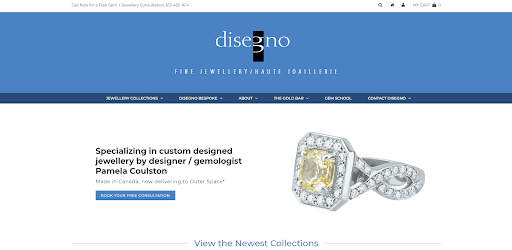 The jewellery design process is a collaboration between artist and customer. At Disegno, jewellery designer Pamela Coulston creates pieces that she knows will be loved for years to come by including you throughout each step of the way. 
She designs jewellery in 18 K gold and platinum with a strong aesthetics and reflects your idea and you. And with the Gold Bar you can turn your outdated style into a new custom jewellery while getting 100% full value for your re-used gold.
"Since discovering Disegno Fine Jewellery, while out on a walk 8 years ago, they have become my go to store when I want to treat myself. Pamela takes the time to explain quality & what goes into the design. The pieces I have purchased give me flexibility to change the look. Some of my rings can be worn alone or I can build 3X rings together."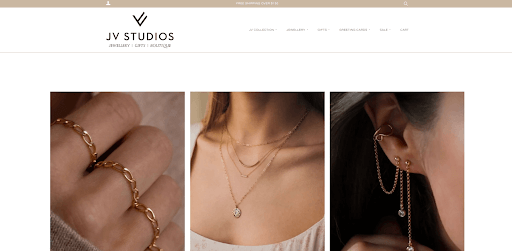 JV Studios is a woman-owned designer boutique located in the heart of Ottawa's trendy neighbourhood Westboro. The shop offers an exclusively curated selection that features handmade jewellery from emerging brands & independent artists. 
From necklaces to bracelets, rings and earrings the shop presents a huge variety of options so you can find wherever you like. All of their jewellery is modern and high-quality and will be timeless. They offer works from different designers like Lissa Bowie, Kara Yoo, Zaleska and more. 
"My first time buying from here and I am so happy with my purchase! If you are looking for unique pieces of jewellery this seems to be the go-to place, not just judging from my own experience but judging from their many good reviews as well. I purchased two rings and am in love with them!"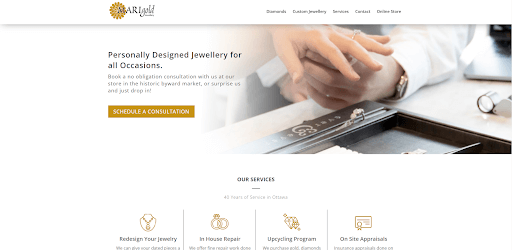 The team at Marigold Jewellers hand-picks each piece of jewellery to ensure that it's perfect for you. They offer personally designed jewellery for any occasion, so you can have the ring of your dreams! 
If you want a custom design ring, then Marilyn will work with you every step of the way to make sure the final design is exactly what you wanted. 
With her professional expertise and ability to interpret your preferences, she'll come up with a beautiful piece of jewellery that's uniquely yours. Plus, she can even recycle your unworn gold and gemstones to use in a brand-new creation!
"Marylin is not only a very skilled and creative jewellery designer but also a very friendly lady. Marylin re-designed a Navajo Walrus tusk ring and transformed it into a unique one-of-a-kind artistic piece of jewellery while keeping the integrity of the original Navajo design. Impressive work, on time and on budget. Thank you Marylin and Ali."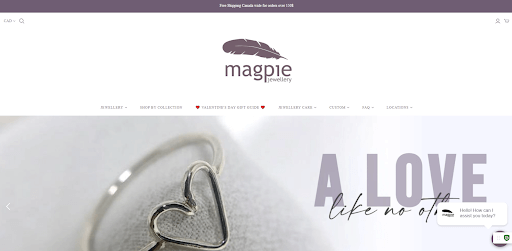 Magpie Jewellery is a trusted Ottawa-based company that has been in business for more than 20 years. They're committed to offer you the best in contemporary jewellery designs from Canada and around the world.
They also sell custom designs, gorgeous hand-made engagement and wedding rings and selection from boutique designers from Canada and the USA, featuring gold & diamonds and other precious metals and gemstones. 
They have on-site Certified Gemologists with over 20 years of jewellery experience so you can contact them for all your diamond needs. 
"I was searching for a special style of a diamond ring in white gold. Found Magpie Jewelry and I was very happy I did! They will use your own gold, weigh it and use the dollars from it towards a custom diamond piece. They have many special designers working for them. I love this store ! Full of sparkles and attention from their staff ."
Conger's Jewellers is a trusted Ottawa jeweller that specializes in custom-made jewellery and expert jewellery appraisals for insurance and probate purposes. The business was started back in 1981! You will find Conger's Jewellers an excellent place to check out for jewellery redesign and restyling of your heirloom jewellery. Conger's Jewellers has a proud history of providing quality products and excellent customer service. Over the years, David Conger has developed into one of Canada's top Gemologists and Jewellery Designers – specializing in finding you that perfect gem for your needs and creating unique jewellery! You can see examples from his previous work on display at their gallery or read about custom engagement rings by visiting them online today. 
"Dave was amazing to work with. We created a custom engagement ring with him. The process from start to finish was really exciting. We got an inside look into the process of making a ring. We shared all of our ideas with Dave and he was able to give us expert advice into which ideas would hold up well and which wouldn't (something I would have never thought about on my own). If you're looking for a jeweler to bring your dreams to life, I highly recommend Dave."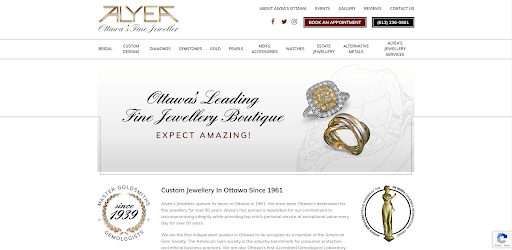 Alyaea's Jewellers has been Ottawa's leading destination for fine jewellery since 1961. Offering world class service with an unmatched commitment to integrity, they provide their customers with unbeatable value every day! 
Specializing in custom jewellery made with diamonds, coloured gemstones and pearls, they also have a huge variety of men's jewellery and accessories as well as fine watches. 
Estate jewellery has been their specialty since the 1960's – so if you're looking for something unique and special, then Alyea's is definitely the place to go!
"Amazing service staff helping me to bring my vision for an engagement ring to life! Great vintage options that can easily be updated to the look you're going for."
11) Goldform Manufacturing Jewellers Ltd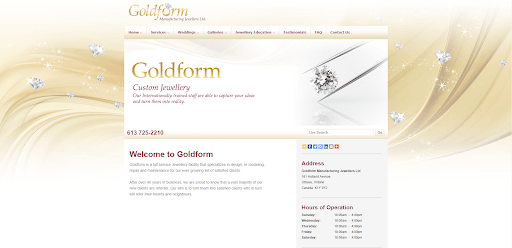 Goldform is a full service jewellery facility that specializes in design, remodeling and maintenance for their ever growing list of satisfied clients. After over 40 years in business they are proud to provide you with beautiful pieces of jewellery that can be worn on a special occasion or as an everyday accessory. 
Their rings come in different setting styles, metals and metal colours, with and without diamonds or gemstones. So you don't have to worry about the lack of options for your perfect wedding or engagement ring. 
"Shane and his team are incredible to work with. They are extremely welcoming, knowledgeable and professional when I came in to purchase an engagement ring. Shane took the time to explain the differences and cost in different diamonds. Their pricing was exceptionally fair compared to others I went to. I will be recommended everyone to Goldform in the future."
12) Goldart Jewellery Studio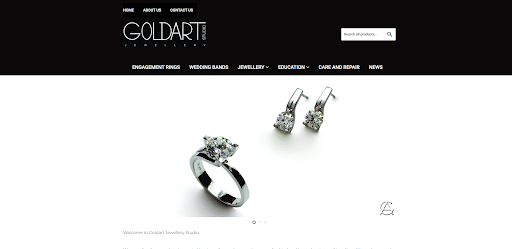 They are a family-owned business that has been operating for nearly four decades. Their workmanship is impeccable and they pay attention to detail in every project, whether it be designed on your own or as part of an ensemble set. 
Their jewellery creations may come at different price points but they all hold the same level of excellence: handcrafted items using only high quality materials. You can buy their unique custom earrings, cufflinks, engagement rings, wedding bands, necklaces and pendants. 
"Mark (the owner) is a wonderful jeweler and was happy to fix my crooked ring. His staff is amazing and the shop is full of treasures. Unique designs and just top-notch craftsmanship... glad I found this gem of a shop in Ottawa. 10/10!"
13) Denis Fairhead Jewellers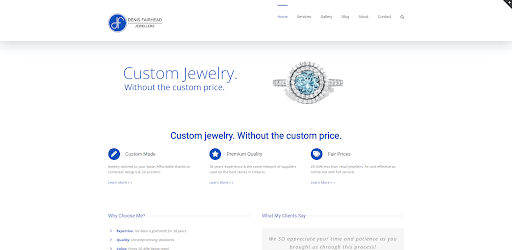 At Denis Fairhead Jewellers you can shop custom jewellery without the high price with 3D printers & computer designs.  With 38 years of experience he is providing customers with high-quality products through the network of suppliers used by some of the best stores in Ontario. 
Denis offers custom made jewellery, tailored to your tastes precisely. And if you are looking for more standard designs, he sources some ready-made beautiful rings. Overall he is very knowledgeable and with his attention to details your ring wherever it's for wedding or for engagement will be one of a kind. 
"Just recently got engaged to my beautiful fiancee and she absolutely loves the custom ring from Denis Fairhead. The design process was made super simple, and being able to see the size of the stone/ring before committing to the ring was super helpful in the decision making process. I would highly recommend Denis Fairhead to anyone looking for a custom ring."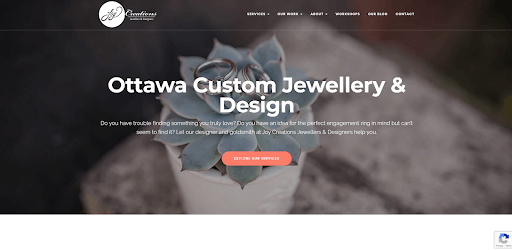 With their attention to detail and pride in what they do, you can be confident that your custom-made piece will become an heirloom for years. At Joy Creations, they are transparent about the process from start to finish so there are no surprises when it arrives at its destination – giving customers peace of mind knowing exactly how their dream jewelry was made!
With CAD (computer- aided design) technology they will create a rendering of your design on the computer for preview. And  after that they will make it with sterling silver, gold, platinum or palladium. No job is too big or too small!
joycreations.ca
+16136807997
738A Bank Street, 2F, Unit 202, Ottawa, ON K1S 3V4, Canada
"Sam and Dennis are talented experts and great people. Each interaction we've had has been friendly, professional, and incredibly supportive. Their inventory is beautiful. Their custom work is unparalleled. If you care about value, supporting good people, or getting the best possible product, search no further than Joy Creations."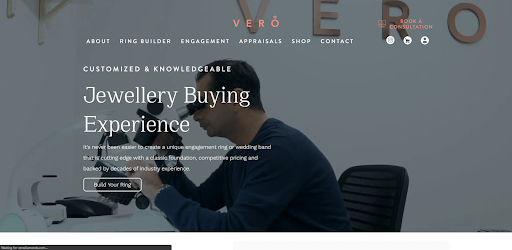 Vero is a company that believes in delivering high-quality jewellery to their clients from the comfort of home. The pieces deserve special attention and should be treated with care, because they represent your soul—something you cannot compromise on!
Your virtual consultation will feature top-grade customer service where you will be discussing the design of your jewellery. The diamonds that they use can be mined and also grown in the lab. They try to offer gems that are ethical and better for the future. 
verodiamonds.com
+13438045965
135 Laurier Ave W Unit 405, Ottawa, ON K1P 5J2, Canada
"Vero Diamonds shows nothing but elegance to the art of diamonds. From my son's beautiful cross piece to my mothers diamond earnings. It has never felt so easy to find the perfect gift for my special someone as Ali himself has made it for me. Vero diamonds will find the perfect piece for you."
16) La Maison d'Or Jewellers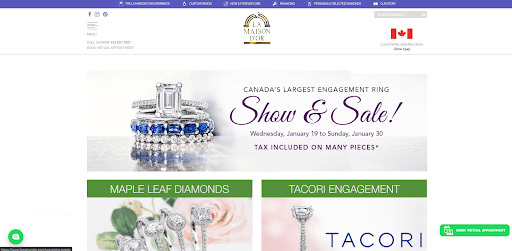 La Maison D'or is a truly special place to buy jewellery. With its beautiful, classic designs and excellent customer service you'll be sure not only to have an amazing time shopping but also enjoy this unique experience!
Come in and experience a one of its kind service. You can give them your ideas, or let their designers create the perfect ring for you with their step by step process – completely committed to 100% customer satisfaction! 
You can select everything from diamond size to metal and metal colour  14kt, 18kt,  platinum, white, rose or yellow gold.
lamaisondor.com
+16138371001
110 Place d'Orléans Dr #582, Ottawa, ON K1C 2L9, Canada
"I highly recommend La Maison D'or for any custom designs. I had a complicated ring design and they exceeded my expectations! There were aspects of the design that I didn't realize would be challenging for them but their expertise shined through. The details were amazing!"
17) Nettleton's Jewellery Ltd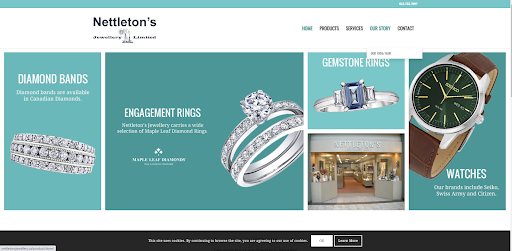 Nettleton's Jewellery Ltd has been providing one of the best jewellery services for the Ottawa area for more than 100 years. They believe in offering only the finest quality service and products, so you can be sure that you're getting something truly special.
With a team of experts on hand, you'll be able to find a perfect piece – made from superior materials that meet exceptional safety standards! Not to mention, Nettleton's Jewellery will also work with you to create a beautiful new piece of jewellery from scratch.
You can trust their experience when it comes time to design something amazing that will suit all ages perfectly – making us your go-to spot when it comes time to bring an old favourite back into style!
"The Nettleton family has truly run this delightful, honest, refreshingly diligent jewellery business, for as long as I can remember. Great, friendly, loving service, whichever Nettleton family member you choose!"
18) Devine Fine Jewellery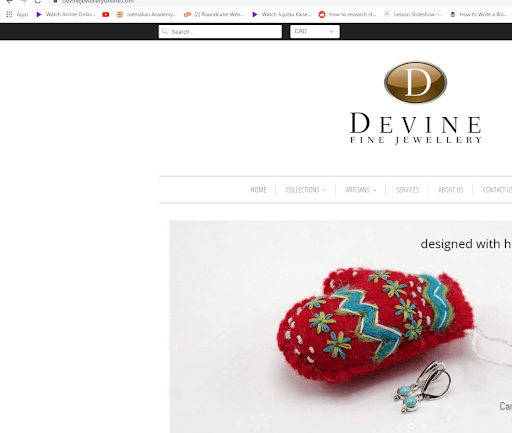 At Devine Fine Jewellery, their work is beautiful. You will love one-of-a-kind pieces with clean lines and elegant designs. The shop has become famous because of their artistry in crafting jewellery made from silver or gold with precious stones like rubies, sapphires, blue topazes, yellow diamonds, and more – all done by hand! 
Stone polishing, setting and marking are all processes that are completed by hand so you can be sure that your purchase is unique and high quality. In addition to custom pieces, the store also sells jewellery from one of their pre-made collections which are sophisticated, stylish and truly unique.
"Devine has created some truly spectacular pieces for us over the years. We are always quite pleased with the work, the service and the care that goes into making sure each purchase is exactly what you imagined. It is evident that the team takes great pride in what they do."
19) Atlantica Fine Jewellery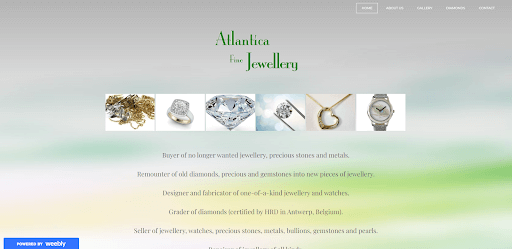 Atlantica Fine Jewellers has been around for years and knows exactly what it takes to provide their customers with the best service possible when it comes to jewellery. The owner is honest, professional and always willing to help out – he'll educate you about your specific needs so that you can make the right decision. 
In addition, they have fair prices for top-quality pieces – meaning you won't have to break the bank in order to get something truly special. They work with any design and stone combinations, such as diamonds, sapphires or emeralds, so that you can create a one-of-a-kind wedding or engagement ring!
"Hazem is the best. We built my fiancés custom made engagement ring from scratch and Hazem did an amazing job taking all my ideas and pulling it together into a beautiful engagement ring that my fiance loves and everyone drools over."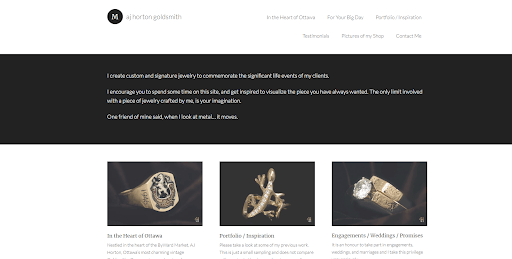 Designing your own custom jewellery is the perfect way to commemorate any significant life event. At AJ Horton Goldsmith, you can choose from a variety of materials and techniques to create a piece that's uniquely suited to you! 
Whether you're looking for an engagement ring or wedding band, he has everything you need in stock at his studio right now. 
The options for materials and stones are endless – from silver to platinum, coral to diamonds, matte to shiny finishes, engravings and more. He will sketch out a design based on your research and personal style.
"AJ does amazing work. I've had a ring custom made, and numerous pieces sized, and he's always been pleasant, efficient, and priced well below everyone else. I cannot recommend him enough."
FAQs About Jewellery Stores
When it comes to finding the perfect piece of jewellery, Ottawa's best jewellers have you covered. From diamond rings and necklaces to watches and earrings, these stores offer something for everyone. 
Whether you're looking for a classic style or something more trendy, there's sure to be a store on this list that will meet your needs. So if you're ever in need of some new bling, be sure to check out one of these top-notch jewellery stores in Ottawa!