What's the Average Cost of a Boat?
The cost of a boat varies depending on the type, size, and features of the boat. For example, a small fishing boat can cost as little as $5,000 while a large yacht can cost upwards of $1 million. 
Below is a list of the most popular types of boats and their average prices:
Fishing boats – $5,000 to $50,000

Pontoon boats – $10,000 to $30,000

Sailing boats – $10,000 to $100,000

Speedboats – $20,000 to $150,000

Yachts – $100,000 to $1 million
Some other costs to consider include:
Boat insurance – $300 to $1,000 per year

Boat trailer – $500 to $5,000

Boat dock – $500 to $5,000
Owning a boat is a great way to relax and have fun, but it's important to do your research before making such a big purchase. These boat dealerships will help you find the perfect vessel for both you and your budget!
The Best Boat Dealers Near Ottawa
Now that you know what you're looking for, it's time to start boat shopping! Here are the best boat dealers near Ottawa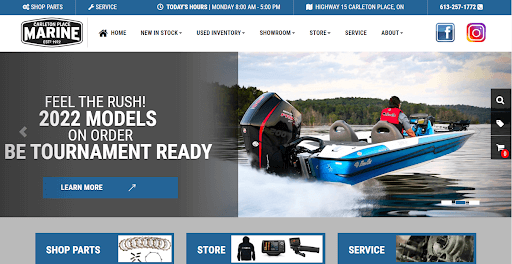 At Carleton Place Marine, they know that when it comes to finding the right dealership, customers have a lot of options. However, they also know that once customers come to them, they won't want to go anywhere else! 
They proudly offer a full line of Yamaha products, as well as a wide variety of other high-quality brands. In addition, they have a team of experts who are always available to answer any questions and provide guidance. 
And if you ever need parts or services, you can rest assured that they will be in good hands. So whether you're looking for a new boat or just need some routine maintenance, Carleton Place Marine is the place to go.
"Great place, I bought a 2018 waverunner and the whole experience was amazing. The price was on point and by far the best price but aside from the price, the service was the best part. Very quick to reply to emails/phone calls about little random questions I had. Everything was perfectly set up and ready for when I picked it up. They also made sure I had every little bit I needed to be ready to go out on the water."
2) Laurentian Marine Sales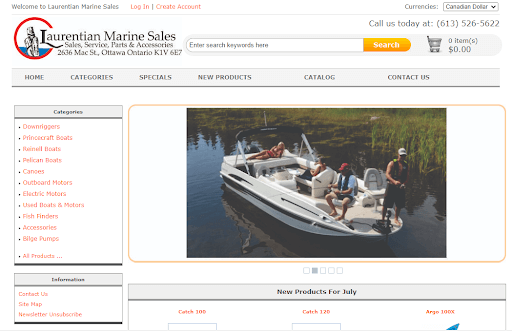 Laurentian Marine Sales is the go-to source for anyone in the market for a new boat. They carry all the major brands, including Prince Craft boats, Pelican boats, and more. And they're not just limited to selling boats. 
They also have a wide range of internal products and services, fish-finders, and other instruments, as well as exciting accessories. Plus, their inventory is always changing, so there's always something new to see when you visit them. 
Whether you're a first-time buyer or a seasoned pro, Laurentian Marine Sales is the only place you need to go for all your boating needs.
"Recently dealt with Al for the purchase of my new fishing boat. Couldn't be happier with the level of service and knowledge that Al provided. Al was always available to answer any questions with regards to my boat and when I wanted to make changes last minute to my electronics setup it wasn't an issue, he even offered to store it for me until I am able to put it in the water. 100% I will continue using Laurentian Marine for all my boats needs."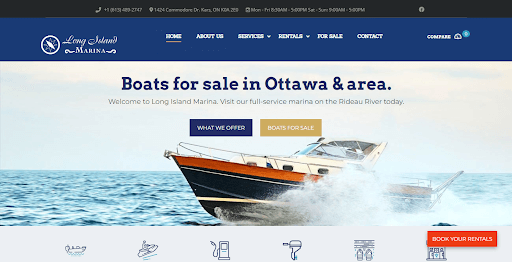 The Long Island Marina is the perfect place to set sail for your next adventure. With 80 slips for seasonal customers and transient renters, there's sure to be a spot for you. And, if you're not quite ready to commit to owning a boat, you can always rent one of their Sea-Doos or Pontoon boats for a few hours (minimum of four hours). But beware, once you experience the joy of being out on the water, you may be hooked for life! 
In addition to being a great destination for tourists, the Long Island Marina is also a proud Crownline, Mirrocraft, Montego Bay and Suzuki dealer. So whatever your maritime needs may be, they will be able to assist you. 
So what are you waiting for? Come on down to the Long Island Marina and set sail for an unforgettable experience.
"Brought my boat here for a new suzui motor, Kevin got me a great price and had everything done in a timely manner. They have a large lot for boats and many slips on the water. Great place to do business with, would highly recommend. Beautiful spot on the water "
4) André Lalonde Marine Service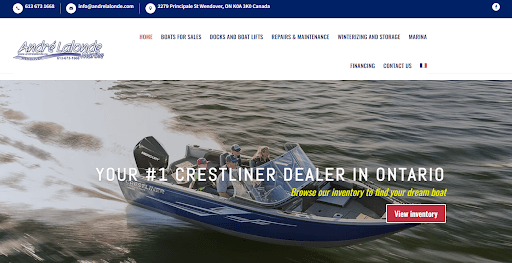 At André Lalonde Marine, they understand that a boat is a big investment. That's why they pride themselves on providing an outstanding total customer experience, high-quality goods, and highly competitive prices. 
They provide two state-of-the-art warehouses of 12,000 square feet, each accessible securely from Route 17. They also have boat trailering devices that enable them to skillfully linkage and upkeep boats as much as 45 feet in length. Plus, their marina is located on-site! 
You will find a massive inventory of ships of all types, including various models, sizes, and brands. So whether you're in the market for a new boat or just need your current boat serviced, André Lalonde Marine is the place to go.
"I bought a Crestliner boat from Andre in the Fall and it was the easiest, most honest and encouraging major purchase I have made in years. He is a really nice, friendly gentleman who does what he says he will do. His pricing is more than fair and he will take care of you during, and more importantly, after the sale. It is an old school approach to sales and one that is very rare today. Don't take my word for it. Stop in and talk to him. You will feel great about dealing with him. If I could give him 6 stars I would."