Find your perfect used car in Ottawa at the best dealerships in town! Ottawa's trusted dealers offer high-quality cars at competitive prices, backed by transparency and fair deals. We've handpicked these dealerships based on their reputation, experience, and the quality of their used cars. 
Many also offer flexible payment options for budget-conscious buyers. And after you drive off with your new car, check out the top car detailers, the best car washes and auto repair shops in Ottawa!
What's the Cost of a Used Car in Ottawa?
For a used car in Ottawa you can expect to pay between $9,000 to $13,000. However, keep in mind that prices can vary considerably based on factors such as the vehicle's make, model, age, and condition.
Several other factors influence the price of a used car, including:
Demand:

If there's high demand for a specific car model, prices tend to be higher.

Season:

Prices may be lower in the winter months when there's typically less demand.

Location:

Cars in larger cities often come with a higher price tag compared to those in smaller towns or rural areas.

When shopping for a used car, conducting thorough research and exploring various options is essential to ensure you secure the best possible deal.
The Best Used Car Dealerships in Ottawa
Now that you know what to look for in a used car dealership, let's take a look at some of the best in Ottawa.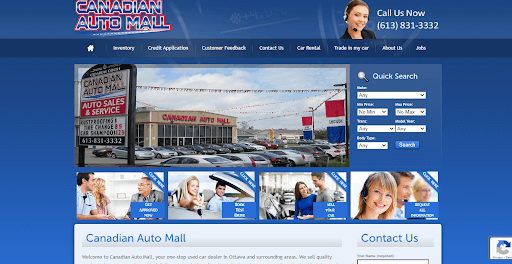 At Canadian Auto Mall, they believe that buying a used car should be a simple and straightforward process. That's why they offer a wide range of quality used cars to choose from, as well as total finance solutions for all credit situations. 
Their on-site service center ensures that your vehicle is in perfect condition upon delivery, and their dedicated financial experts are always on hand to offer you the best possible used car loan rate. 
So whether you're looking for your next dream car or simply searching for an affordable way to get around town, Canadian Auto Mall is your one-stop-shop for all your used car needs. Come and see us today!
"Great dealership with good inventory!! It was our second purchase with Ott and he is laid back, professional and great to deal with. If you want a low stress, easy to do business with, team, then Canadian Auto Mall is the place to purchase your vehicle from."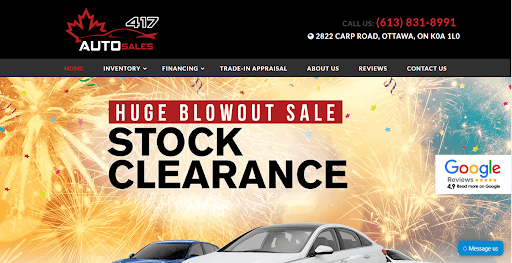 At 417 Auto Sales, they are proud to serve Ottawa and the surrounding areas and go the extra mile to ensure their customers' complete satisfaction. When buying a car from 417 Auto Sales, you will find a large inventory of unique vehicles. 
They also offer Trade-In Appraisals, which are free to see what amount of money you can get for your car. Financing is also available with beneficial deals that will make this process as friendly as possible.
 So whether you're in the market for a new car or just want to know what your current car is worth, stop by 417 Auto Sales. You won't be disappointed.
"I bought a Nissan at 417 Auto Sales few weeks ago. After getting in touch with Neil, he was very helpful, professional, and made sure to respond to all my questions . Definitely I would recommend people to 417 Auto Sales, they're friendly and easy to connect."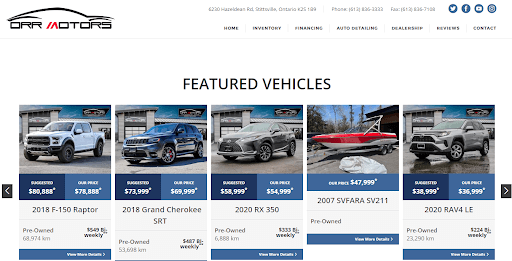 Orr Motors is a great place to go shopping for a wide variety of used vehicles. Not only does Orr Motors provide all kinds of great cars, including power and sports models, but they also own lovely boats if you're looking for anything to outboard! 
Whether you want to lease or take out a loan, they make it an incredibly fast and easy process through their website. Not only that, but all of their cars have constant discounts, making it much easier to afford a car. 
The discounts can range from $2000 to $6000, making Orr Motors the perfect place to shop for your next vehicle.
"We were very happy with our experience at Orr Motors. Nick, the General Manager, and Eric, the Sales Associate took great care of us during the whole process. We got a fair price for our trade-in, and are very happy with our new, pre-owned vehicle. I'd definitely recommend Orr Motors for all of your hassle-free, used car needs!"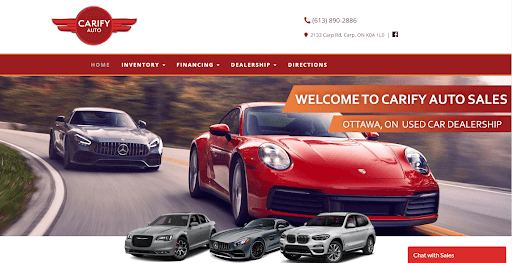 CLARIFY Auto Sales offers a wide selection of high-quality vehicles to choose from. You can browse their inventory on their website or visit their showroom to find the perfect vehicle. They're happy to help you purchase a car as they know it can be a stressful experience and work hard to make it easier, trouble-free, and enjoyable. 
They offer a large inventory of sedans, pickups, coupes, and convertibles on top of other cars. And if you are a fan of looking ahead before visiting any showroom, you can browse their inventory on their website. 
So whether you're in the market for a new car or just want to browse, CLARIFY Auto Sales is the perfect place to go!
"These guys know what they're doing. Amazing customer service and huge selection of cars to choose from. Made the experience of buying a car less stressful with their hospitality. I am glad I chose them. I highly recommend Carify Auto to anyone wishing to buy a vehicle."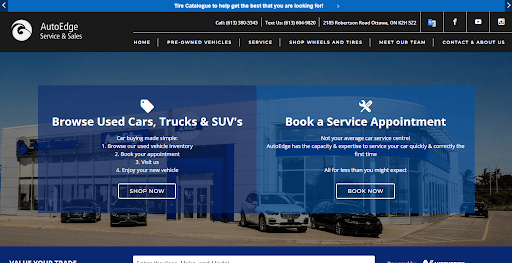 At Tony Graham Automotive Group's AutoEdge, you will find high-quality vehicles of all types ranging from SUVs to your generic family cars. For over 50 years now, they have been servicing and selling vehicles in Ottawa and are able to provide quality vehicle care all at affordable prices
And while shopping with them, you could get a free credit check or value a trade-in. Their highly trained staff are able to offer repairs for all makes and models. So if you're looking for a well-known and reputable dealership, look no further than Tony Graham Automotive Group's AutoEdge.
"I've had very positive experiences with everyone I encountered on both visits to AutoEdge. First visit was for more extensive work and the second was a smaller job but they were able to book me in quickly, they were communicative and they honoured the quotes which is always appreciated. Their rates are competitive and their customer service was great. I've also referred a friend who was pleased as well! Happy customer : )"
6) Myers Kanata Chevrolet Buick GMC Corvette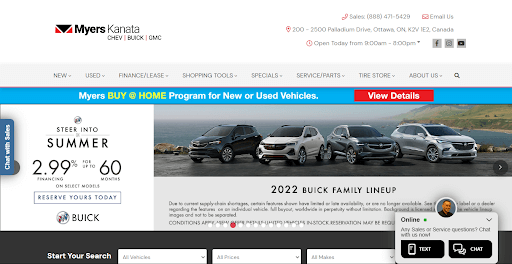 Myers Kanata is the perfect place to find your next used vehicle. They always go the extra mile to offer you the best possible experience, from browsing to negotiating to closing the deal. You'll feel comfortable and confident throughout the entire process. 
In addition, they offer an extensive selection of new and used cars, trucks, SUVs, and other brands. Plus, their advantageous services and programs are second to none. 
For example, they offer a 30-Day Tire Price Match Guarantee and No Charge Engine Transmission that continue for life. So if you're in the market for a used car, be sure to check out Myer's Kanata! You won't be disappointed.
"The Manager Nick assisted my husband and I with a Lease Buy-out and made the transaction process seamless and stress free. He is very approachable and honest. I definitely would recommend Myers Kanata and Nick for the excellent service provided."
FAQs About Buying a Used Car in Ottawa