Factors to Take Into Account When Choosing a High School
Choosing the ideal high school for you or your teen involves crucial considerations that shape their education and future prospects. Amid Ottawa's diverse education options, here's a concise guide to help you make an informed decision:

Academics

: Review the curriculum and available programs, such as AP or IB, aligning with your teen's goals.

Extracurriculars

: Check for clubs, sports, and arts activities that nurture interests beyond academics.

Class Size

: Opt for schools with smaller classes for personalized attention and engagement.

Location: Prioritize proximity to ensure a convenient and less stressful commute.
Reputation

: Research rankings, reviews, and attend open houses for insights into the school's quality.

Support Services

: Ensure availability of tutoring, counseling, and special education resources.

College Prep:

Look for schools with strong college placement records and guidance.

Diversity

: Choose a school fostering inclusion and cultural sensitivity in its environment.

Facilities

: Consider modern facilities, libraries, tech, and sports resources.

Communication

: Opt for schools promoting parent-teacher interaction and progress update.



If you're a parent, involving your teen in the decision-making process while considering these factors ensures they embark on a fulfilling educational journey aligned with their needs and aspirations.
The Best High Schools in Ottawa
Now that you know how to select the school that best suits you or your teens' needs, let's dive into our list of the best high schools in Ottawa!
1) Canterbury High School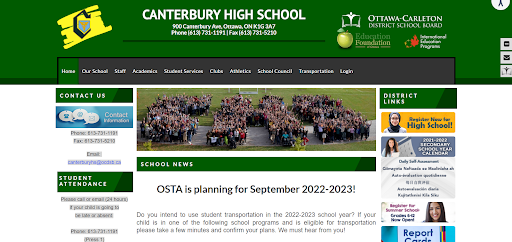 Escape to the natural oasis of Mooney's Bay Park and Beach, a hidden gem that stands as one of Ottawa's finest coastal retreats. This beach offers more than just a picturesque view; it boasts an expansive playground that will delight both young and young-at-heart beachgoers. What sets Mooney's Bay apart is its commitment to inclusivity, providing wheelchair accessibility to ensure everyone can enjoy the beauty of the beach. 
And for those seeking convenience, worry not about parking fees as they remain affordable, allowing you to immerse yourself in the tranquil surroundings for hours on end. Whether you're lounging under the sun, taking a refreshing dip, or enjoying the playground's delights, every moment at Mooney's Bay is a treasured memory waiting to be made!
Student / Parent Testimonial:
"Everyone who works here from the principal to custodial is amazing. Helpful, courteous, friendly. They literally just want what's best for your kids. I am thrilled mine go here."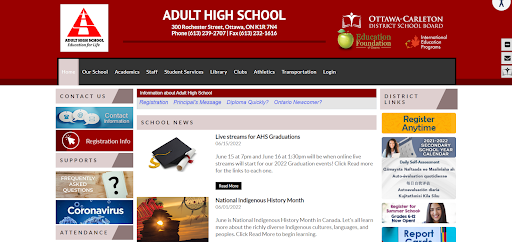 Adult High School offers a diverse range of academic credit courses for students in grades 10 to 12. With dedicated counselors, AHS supports students through their educational journey. Its cultural diversity fosters a rich learning environment where students can explore various cultures and languages. 
A highly qualified faculty provides quality education in a challenging and engaging atmosphere. Acknowledging students' contributions through various means, AHS has established itself as a preferred choice, enrolling over 1200 students who seek quality education and personalized support.
Student / Parent Testimonial:
"The Adult High school is an amazing place for adults who are trying to change educational paths, adults trying to get a diploma, or simply getting that extra credit that's required for his/her higher post-secondary education. The staff is amazing, helpful, and always dynamic. The food at the school is fantastic, with a menu that changes regularly, keeping things fresh and exciting."
3) Colonel By Secondary School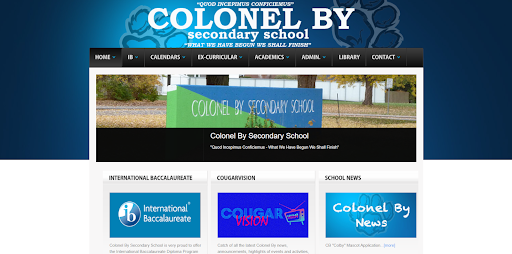 Colonel By Secondary School is a close-knit community dedicated to academic excellence. It offers the International Baccalaureate Diploma Programme and stands out in technological innovation education. 
The school's Special Education Department collaborates with families and teachers to support all students, providing accommodations and tutorials. With a commitment to personalized education, Colonel By empowers students to reach their personal best, offering a blend of academic prowess and skills development.
Student / Parent Testimonial:
"Strong academic credentials school. Has the only IB program in Ottawa making the school very academically rigorous and competitive. Apart from excessive amount of students (The school runs at over 100% capacity) I highly recommend sending your kid here!"
4) St Nicholas Adult High School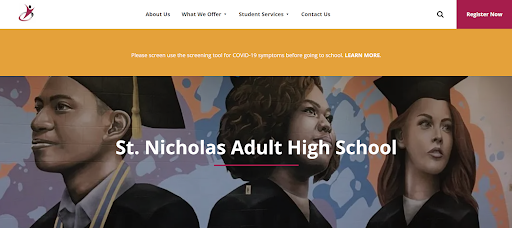 St. Nicholas Adult High School empowers adult learners with flexible asynchronous online credit classes. Supporting high school completion, credit upgrading, and prerequisites for post-secondary programs, the school offers teacher-supported courses and credits at work for working students.
With central and west locations, equipped with resources and welcoming spaces, students find opportunities to succeed and progress toward their education goals in a supportive and accommodating environment.
Student / Parent Testimonial:
"I just wanted to thank the teachers who contributed to my education this year. Without all your support, I'll not finish the program. I would like to encourage people to continue their education at St Nicholas High School on admiral Ave. This location is the best school to make you achieve your goal. During my education, I received all the support necessary from all my teachers and admin staff."
5) St. Pius X High School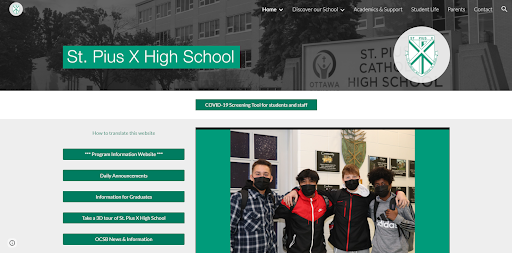 St. Pius X High School, part of the OCSB, offers a variety of programs catering to diverse student learning styles and interests. With a focus on character education and global citizenship, it hosts Specialist High Skills Major (SHSM) programs in Arts & Culture, Healthy & Wellness, and Justice, Community Safety & Emergency Services. 
The school celebrates diversity and provides a safe and caring environment for over 550 students, fostering an excellent education and unique experiences that your or your child cannot miss out on.
Student / Parent Testimonial:
"My dad's in the military, so I've been to many schools. This is by far my favorite! Pretty clean, ish. Old ish. But pretty damn good."
6) Brookfield High School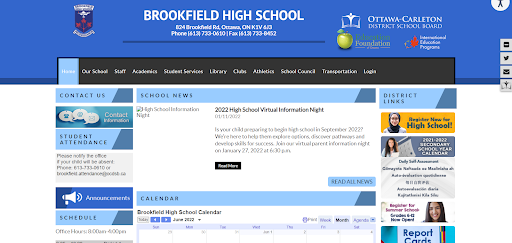 Brookfield High School offers a quality education to 550 students in a safe and caring environment. Embracing Character Education, it prepares students for global citizenship and provides diverse cultural experiences. 
Representing over 60 countries and languages, Brookfield fosters a unique educational experience. The school offers a comprehensive academic program, French Immersion, and a cooperative education program. With engaged teachers and a student-focused approach, Brookfield High School is committed to excellence.
Student / Parent Testimonial:
"Amazing school. Teachers and staff are very kind, warm and always motivate you to do your best. Very good atmosphere. The building is pretty and clean."
Choosing the right high school is a pivotal step in shaping a student's academic and personal journey, and Ottawa's educational landscape offers a wealth of options for excellence. As students strive to achieve their aspirations and pave the way for their futures, these six institutions stand out as pillars of learning, ready to guide them toward success in a dynamic world.