Deck builders in Ottawa can help you create the perfect outdoor space for your home! Deck building is a popular way to add extra living area or recreation space to your property. Many homeowners choose deck builders because they offer an easy, professional solution that doesn't require any extensive carpentry skills. 
In addition to deck construction, many of these businesses also offer roofing and siding services. When you hire a deck builder in Ottawa, you can be sure that they will provide high-quality workmanship and customer service at all times! 
We selected these four Ottawa deck builders based on their years of experience, the different types of decks they build (from wooden decks to covered platforms), their team of expert employees, and the quality of their finished products.
If you're planning to update your home a little bit or just make it more beautiful and cozier, look no further than the best general contractors, the best carpenters, the best roofing contractors, or the best stair contractors in Ottawa!
What is the average cost of a brand-new deck in Ottawa, Ontario?
The average cost of a brand-new deck in Ottawa, Ontario can vary depending on the size, materials, and complexity of the deck. Generally speaking, a basic deck with pressure-treated wood and basic railings can cost anywhere from $15 to $25 per square foot. This means that a 10×10 foot deck would cost between $1,500 and $2,500. 
If you want to upgrade your deck with more complex materials and features, the cost can increase significantly. For example, composite decking materials can cost up to $35 per square foot, and adding features such as built-in benches, planters, and lighting can add to the cost. If you want to build a multi-level deck, the cost can be even higher. 
In addition to the cost of materials, you will also need to factor in the cost of labor. Depending on the complexity of the deck, you may need to hire a professional contractor to build it. The cost of labor can range from $50 to $100 per hour, and the total cost of the project can range from $2,000 to $10,000 or more. 
Overall, the average cost of a brand-new deck in Ottawa, Ontario can range from $1,500 to $10,000 or more, depending on the size, materials, and complexity of the deck.
The Best Deck Builders In Ottawa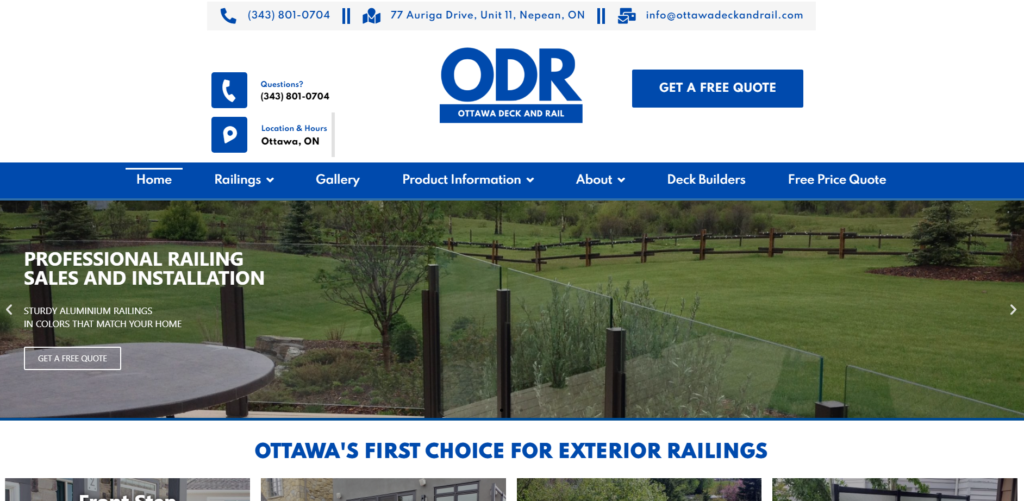 Ottawa Deck and Rail is a branch of Winnipeg Deck and Rail, a business based in Winnipeg, Manitoba since 2007. They provide aluminum railing solutions to fit all of your needs. The Home Rail aluminum railing system allows for quick installation with a large variety of styles and colors available in the store's warehouse. This means that customers can easily find the perfect solution for their home or office space.
If you're looking for a professional installation service for your new deck or balcony, then look no further than these experts. Not only do they provide an installation service, but they also supply only the best products and materials to those who like to tackle their own projects! 
Plus, if you ever have any questions or concerns about your project afterwards, these experts are available 24/7 to guide you through everything step by step!
Website: ottawadeckandrail.com
Email: info@ottawadeckandrail.com
Phone: +16132256782
Address: 77 Auriga Dr Unit 11, Nepean, ON K2E 7X7, Canada
" Ottawa Granite Pro Inc. was recommended to us by our Cabinet Makers... we were welcomed into the warehouse to see in person all options available and made our selection... when it came to installation, we were pleasantly surprised that it took place almost 10 days earlier than originally planned. You will not be disappointed! Nick was our main contact, he was very pleasant and professional. LOOKS GREAT!! "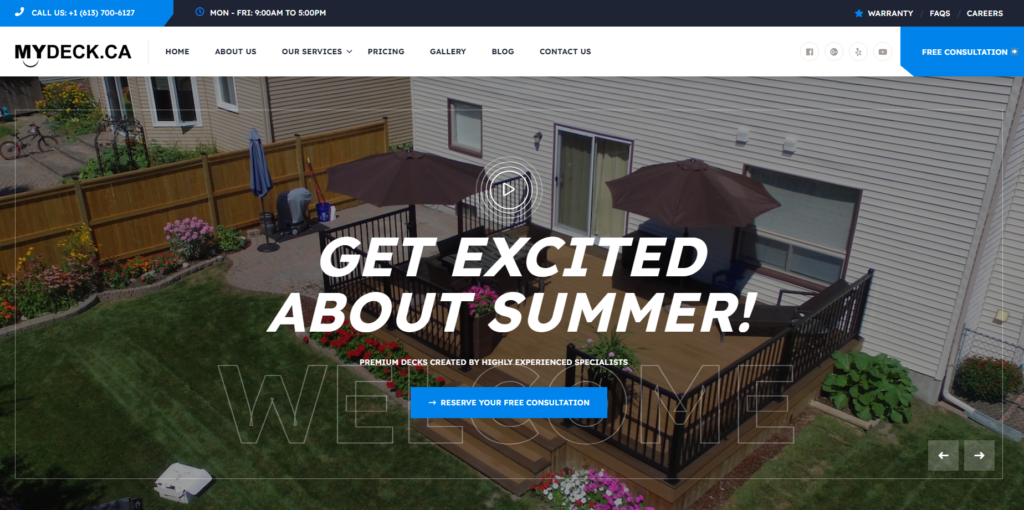 MyDeck.ca Ottawa provides a low maintenance deck building service that is designed to fit all your needs and budget. The decks are made from composite, PVC or cedar materials, which all have the ability to withstand harsh weather conditions and provide years of use.
In addition, the team at MyDeck.ca Ottawa will help you choose the right deck for your specific needs and style preferences. Whether you're looking for a traditional or contemporary design, they can create a deck that perfectly suits your home décor.
Website: mydeck.ca
Email: info@mydeck.ca
Phone: +16137006127
Address: Ottawa, ON, Canada
" I've been a customer of Planet Granite for years. It's very hard these days to find a business that's as honest, delivers a great product and is competitively priced as Planet Granite. The owner and her team are absolutely amazing to deal with. On my last project, I was very tight on time and although I went to planet granite last minute, they accommodated me and delivered my quartz counter way before schedule. Thank you! "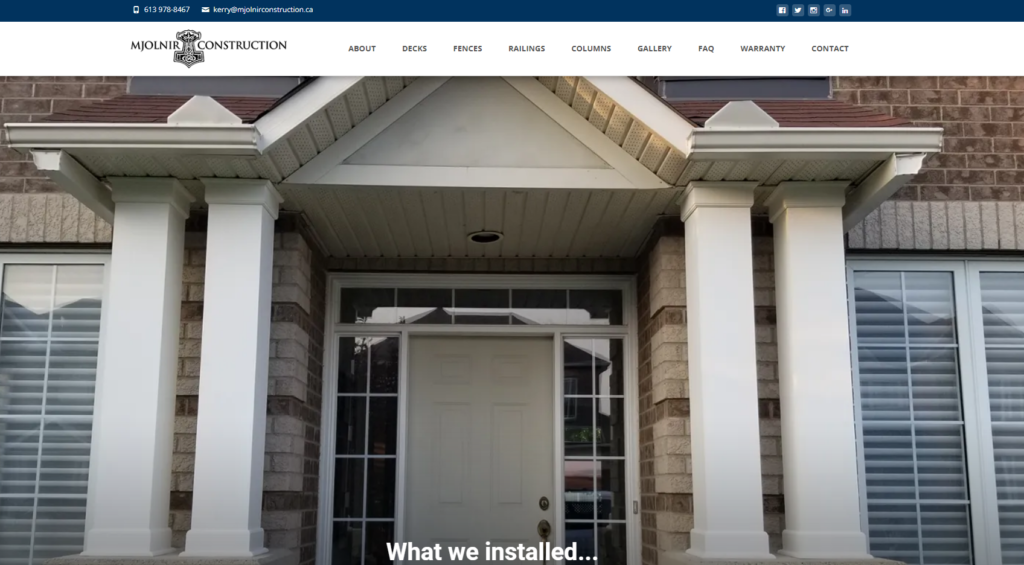 Kerry Murray started Mjolnir Construction in 2006 with the goal of providing high-quality construction services to his neighbours in Stittsville. In 2007, he was awarded a contract by the City of Ottawa for roof repairs and replacement on several municipal buildings. 
Kerry has years of experience working alongside new home builders. He has a wealth of knowledge about the OBC (Ontario Building Code), having worked with construction vice presidents and construction managers from most major new home builders in Ottawa. His skills include designing decks, railings and columns to meet the needs of customers.
Kerry's focus has always been on customer service and meeting all of his clients' needs. He takes great pride in being able to provide quick turnaround times, fair prices, excellent workmanship, and top-notch finishes.
Website: mjolnirconstruction.ca
Email: kerry@mjolnirconstruction.ca
Phone: +16139788467
Address: 819 Stallion Cres, Stittsville, ON K2S 0Y4, Canada
" Exceptional service! From the moment We walked in until installation, the service we received from TGI was amazing. Jennifer was knowledgeable about all the products offered and could almost read my mind when I explained what I was looking for! Would definitely recommend this business to anyone and everyone looking for countertops for their home renovation. "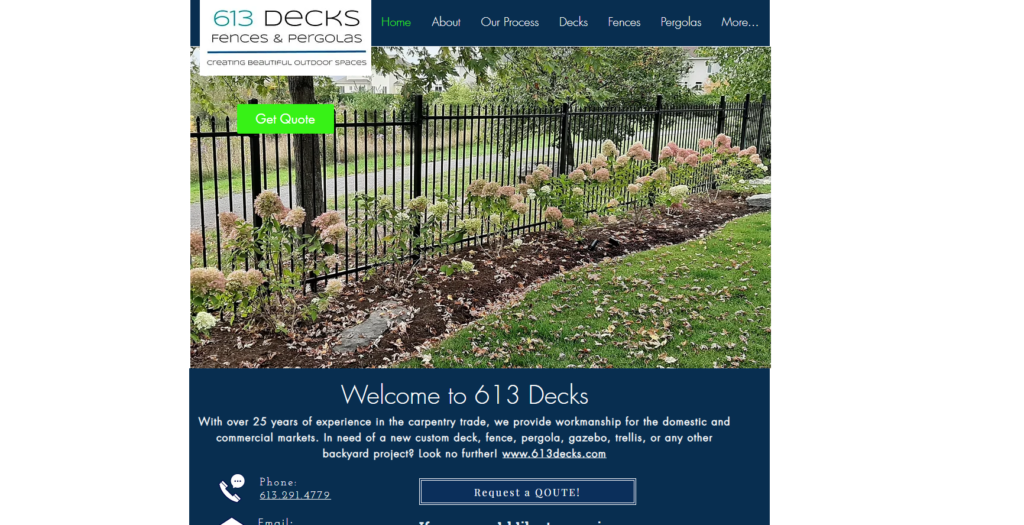 613 Decks is a construction company with over 25 years of experience. The team at 613 Decks are confident that they can exceed all your expectations when it comes to building projects. They use the latest technology and construction techniques to create high-quality structures that will last for many years. 
From custom decks to fences, pergolas, gazebos, and more, their team can create a backyard perfectly suited for your needs. They also offer a wide range of customization options so that you can fully customize the look and feel of your backyard masterpiece. 
Whether you're looking for a simple addition to your home or an extensive renovation, 613 Decks has the skills and resources necessary to complete the job quickly and efficiently. Contact them today if you need help creating a beautiful space in which to live or work!
Website: 613decks.com
Email: 613decks@gmail.com
Phone: +16132914779
Address: 27 Benchland St, Nepean, ON K2J 4E2, Canada
" I would Recommend 100% without a doubt I've been dealing with platinum for over 20 Houses and they came and did my mother's place as well. Their customer service is impeccable their installers are really good. Always had a good experience with Moe, Carol and the installers. If you're looking for a place to get quartz it's definitely the place. Thanks Again to Moe and his team! "
We have compiled a list of the best deck builders in Ottawa to help you with your next home improvement project. Whether you're looking for a new deck or need repairs on an existing one, these companies will be able to get the job done quickly and efficiently. 
With years of experience and many happy customers, they are sure to leave you satisfied with their work. Contact them today for a free quote!
If your home is in need of some great stuff from amazing retailers, check out our lists of  the best furniture stores, the best vintage furniture stores, or the best kitchen cabinet stores in Ottawa.