Choosing a preschool for your child can be a daunting task. With so many options available, how do you know which one is the best fit for your family?
To make things a little bit easier, we've put together a list of 10 of the best preschools in Ottawa. All of these schools have been carefully researched and come highly recommended by parents and educators alike.
So whether you're looking for an academic-based program or something more creative and playful, there's sure to be an option on this list that will interest you!
1) Good Morning Creative Arts and Preschool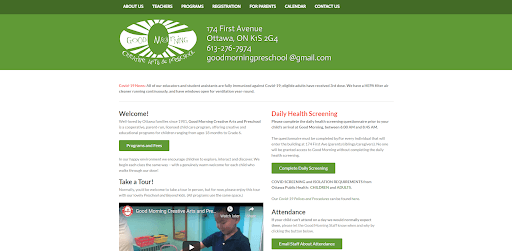 Good Morning is the place where your child can be as comfortable there as he is at home and learn new things. All the teachers there are working towards increasing your child's social skills and also the confidence by playing and having group conversations on different topics.
Their plan is perfect to get children ready for school and give them all possible and needed knowledge. Not to mention that the atmosphere as a facility is very friendly and creative.
"We've had wonderful experiences in every program. We particularly love the StoryScapes program for our 3 year olds because it's such a small, intimate class with a strong focus on various arts, such as drama, music and visual arts. The strength of the school is definitely the teachers, who make it a home away from home for the children."
2) Little Munchkins Hideout Daycare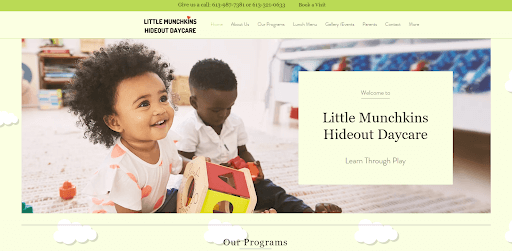 As a licensed public daycare center, they are dedicated to the safety and well-being of your children. Their founder Sonia has been caring for young ones since 30 years ago with love in her heart!
Their staff are thoroughly screened before being hired. They all Registered Early Childhood Educators. So when your children enter Little Munchkin Hideout Daycare you can be sure they are taken care of.
They also provide the daily updates with pics and videos and there is no TV and the focus is really on learning the fundamentals to get you little ones ready for school.
"My daughter has loved her experience here. She learned so much; from ABC's and songs, to some French, sign language and printing. They have a huge backyard to play in and she always eats nutritious meals and snacks. Her moments with Little Munchkins will always be remembered fondly. Thank you!"
3) Bettye Hyde Cooperative Early Learning Centre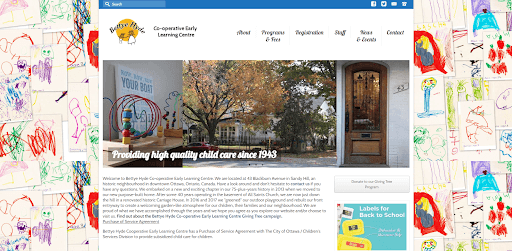 Bettye Hyde Cooperative ELC is a unique, caring environment where children can grow and develop at their own pace. From early childhood through adolescence they are given the attention that every child deserves to thrive both socially as well academics while building friendships along the way!
Their staff includes 10 full-time Registered Early Childhood Educators, including Chef. With bilingual teaching (French & English) in both pre-school programs for toddlers as well as an introduction to French during the year long toddler program; they're confident that your child will be learning about more than just one language here!
"My two children attended Betty Hyde and had a wonderful experience. The caring, committed and skilled educators make families feel welcome and part of a true community. Bettye Hyde will remain part of our family always."
4) Little Love Bugs Daycare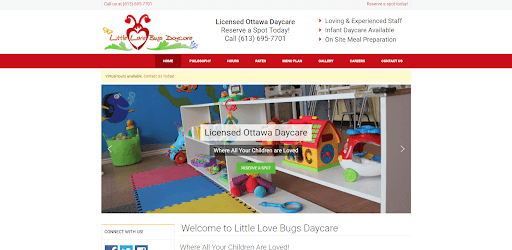 The staff at their facility is extremely loving and experienced in the care for children that they provide. They treat each child as an individual, encouraging self-confidence while providing them with tools for socialization through one-on-one or small group settings which help promote their independence!
With reflective teaching practices, they support children as they move through their preschool years and enhance their learning experiences. The lunches and snacks are made by their professional qualified chef, who knows everything about children's nutrition.
"Terrific teachers, lots of great activities, and because it is in an old school there is lots of room to play inside and out. And our child lives it there!"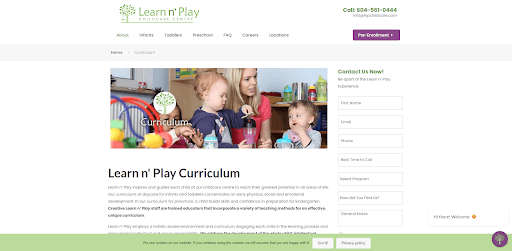 Learn N' Play is a safe home daycare that is dedicated to give your child a chance to play and learn with peers. It includes daily activities like story time, painting and coloring, singing and dancing, indoor and outdoor games. Your child can also learn how to bake bread as well as model with natural beeswax instead of plasticine.
The owner of Learn N' Play Daycare is a retired teacher with 27 years of experience and is bilingual in Spanish and English. She knows how important it is to give a child the ability to develop at his own pace in social, emotional and intellectual skills.
"Our daughter spent the summer with Graciela and she absolutely loved it. We know she is happy, safe and so very well taken care of. Graciela takes them on walks, to the library and to the park often. They have such a cute set up in the backyard, and her entire home it organized for the children. Thank you Graciela!"
6) Fairview Child Care Centre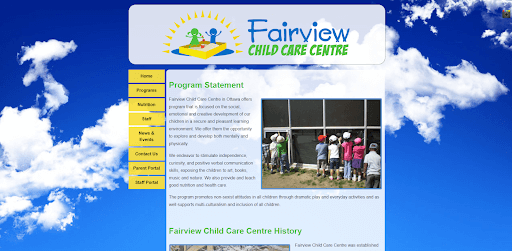 The Fairview Child Care Centre in Ottawa offers a program that is focused on the social, emotional and creative development of your children. They provide them with an opportunity to explore both mentally as well physically while also developing their independence skills through playtime activities such art classes or nature walks-allowing.
They strive not only to teach good nutritional habits like eating lots of fruits and vegetables, but work at maintaining active lifestyles so they can grow up healthy adults living balanced lives.
"Best daycare in town. The director Paula is very knowledgeable and she keeps his staff to high standards. The quality of this daycare and the activity is great. This is the best place for your child to learn and enjoy. The place is clean, smells nice, always organized, the kitchen is super clean and the food is great. I guarantee you will not be disappointed."
7) Woodroffe High School Infant/ Toddler/ Preschool Program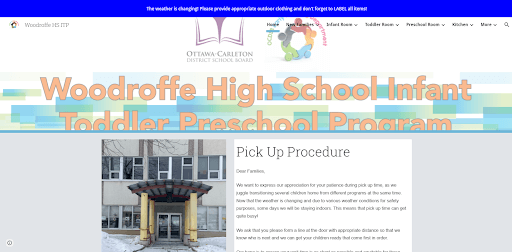 Infants, toddlers and preschoolers can enjoy a safe environment with licensed care from The OCDSB's two infant programs or one toddler program. At each location there are caregivers that have been trained in child development principles as they work towards meeting the needs of your little ones!
They also provide on-site child care, so that families can go to classes for English as a Second Language (ESL) or Literacy and Basic Skills. Childcare is available from six months old up until their seventh birthday years!
8) Westboro Children's Centre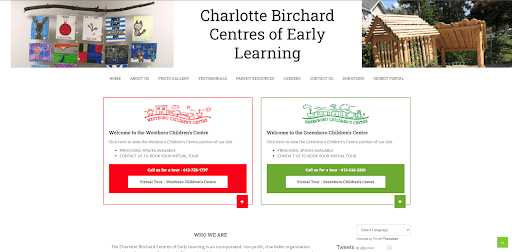 Located in a bright and beautiful facility for over 40 years their natural playground encourages the children to discover their environment through exploration. With opportunities both indoors and out at all times of year. Their kitchen is equipped with cooking equipment that makes it available to prepare nice nutritious food!
They ensure accessibility compliance as well: air conditioning allows them to keep things cool during summer months while heating facilities help in cold Canadian winters. Their Educators plan, create, implement, document, assess and adapt the curriculum based on children's growing interests and inquiries.
"Our daughter currently attends the preschool 2 group. We could not be more thrilled with the quality of care she receives every single day. The program is truly child-driven and unique. The educators are top notch, going above and beyond to create an inviting and warm space for the kids to spend the day doing unique and thoughtful learning activities with natural materials. It truly is a unique program. The new play yards are stunning! We count ourselves lucky to have obtained a space in this centre. Well done!"
9) Westboro Village Co-Operative Preschool Inc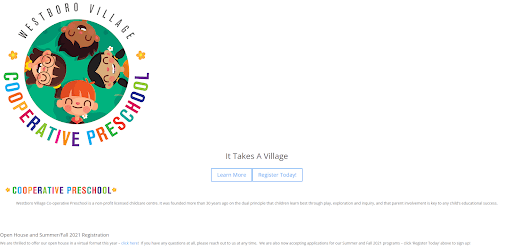 Westboro Village Cooperative Preschool is committed to provide a stimulating, safe and caring environment for every child's development. They do this through the dual principle that encourages play-based learning along with parent involvement which is essential in developing successful children!
Their program is based on the four foundations of learning; Expression, Belonging, Well-Being, and Engagement. Also the school environment supports not only physical health and security but also emotional comfort.
"Our son is now in his 2nd year at the preschool, and is loving it. We've seen improvements in his counting, concentration, and his manners at the dinner table. Big kudos to the teachers (Sabina, Lawrence, and Taylor) for creating such an engaging and fun program for the kids!"
10) ABC Preschool Learning Centre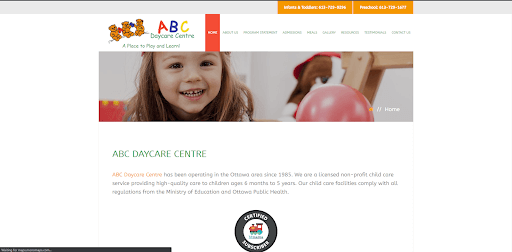 ABC Daycare is a high-quality, licensed non profit child care service that has been providing excellent services to children in Ottawa since 1985. With their facilities fully compliant with Ministry of Education and Public Health regulations they can provide the best possible care for your little ones!
At ABC Daycare Centre, they believe that, as an inclusive learning environment, every child's needs are special, whereby staff focus on the individual interests, skill level, and abilities of each child. They know that all children are competent and capable learners, curious investigators, and rich in their potential.
"We can't speak highly enough about this organization. From the staff to the management, all amazing sweethearts! They really cater to each lil one's unique personalities. They are gentle, kind and understanding. They also know how to help a set of new parents when they need advice or a push ;). If you are looking to have your child attend, know they will be well looked after and loved as if they are at home with family."
Choosing the right preschool for your child is an important decision that should not be taken lightly. By doing your research and considering all of your options, you can ensure that your child gets off to a great start in their education.
The list above provides information on some of the best preschools in Ottawa, so be sure to check them out if you're looking for a quality learning environment for your little one.