Let the best financial advisors in Ottawa work for you and your money will be working for you next!
Your finances are key to living the good life, but for most people, managing their finances can be tricky and hard. Financial advisors are great for people who don't have a lot of finance know-how or simply don't have the time to manage their money. Whether you have questions about your pension, want to diversify your portfolio, or are thinking of starting a business, these are all things where Ottawa's best financial advisors in Ottawa can step in.
We selected these Ottawa financial advisors based on client reviews, the variety of services they offer, creative, forward-thinking solutions, and the personalized, welcoming treatment they give to each and every client. You can trust these Ottawa financial services to get your finances in order!
Ottawa is home to many other pros who can help you manage your money. For more, visit the best financial planners and the best mortgage brokers in Ottawa!
What's the Average Cost of Financial Advisors in Ottawa?
The average cost of financial advisors in Ottawa is $120 – $500 per hour. However, some may charge a flat rate, which could be anywhere from $1,000 to $3,500. It all depends on the services you require and the complexity of your financial situation. 
Some other factors that will affect the cost of financial advisors in Ottawa are:
The type of services you need

The complexity of your financial situation

The financial advisor's experience and credentials

The number of meetings you have with the financial advisor


To get a better sense of what you can expect to pay for financial advisor services in Ottawa, request a free consultation from one of the advisors on our list!
The Best Financial Advisors in Ottawa
Now that we've gone over the average cost of financial advisors in Ottawa, let's get to the good stuff: the best financial advisors in Ottawa!
1) Potvin Financial Services Ottawa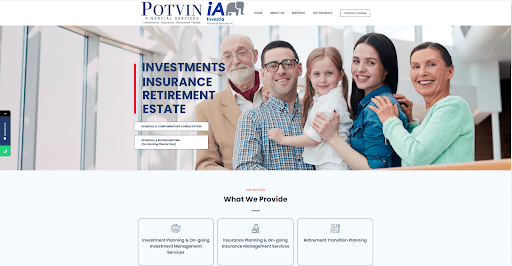 At Potvin Financial Services in Ottawa, their number one priority is providing you with personnel solutions for all of your financial needs. They have a team of highly skilled professionals who are experts in the field and who aim to meet your unique goals and aspirations.
They offer flexible fee options, which include commission-based or fee-based so that you can choose what works best for you. When you use their services, you can expect investment planning, estate planning, investment tax planning, and retirement income planning with investment decumulation strategies. 
You can rest assured knowing that you are in good hands when you use Potvin Financial Services.
I have worked with Kevin at Potvin Financial for many years now. Everyone I have worked with is helpful, considerate and very responsive. Kevin is amazing to work with, he always makes time for questions and in my experience he treats every client like they are most important in that moment. I have really appreciated the work that Kevin has done, and I never feel like I cannot reach out if I have questions or concerns. A 5 star company for sure!
2) Adam Schacter CFP, Financial and Investment Advisor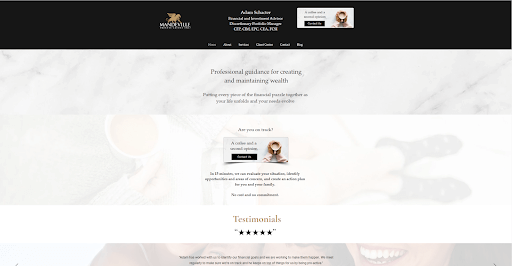 Adam Schacter CFP is a financial advisor firm that offers its customers a personalized and independent financial process. He has a team of outstanding professionals who create long-term personalized financial plans, oversees the investment portfolio design, and even help with finances in case you are planning to retire or are planning to give your fortune to the next generation. 
The firm's services are designed to help you achieve your financial goals and build a spectacular future. If you are looking for an advisor who can provide you with the guidance and support you need to reach your full potential, contact Adam Schacter CFP today.
"I have been working with Adam for a number of years. He is honest and has his clients' best interests at heart. Adam puts every effort into ensuring clients pay less in taxes, have an understanding of their financial plan, and are on track to meet their financial goals. Highly recommended!"
3) McAuley Financial Services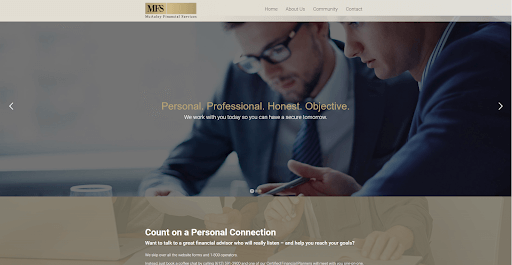 McAuley Financial Services is a certified firm with financial planners trained to provide professional financial planning advice. With over 40 years of experience, they have the knowledge and expertise to adapt to any type of financial life situation. 
McAuley Financial Services offers a variety of services including Personal Financial Management and custom Corporate advice. Their staff is dedicated to creating tailored strategies to fit any situation. 
So whether you're looking for long-term planning or need help with a specific financial goal, McAuley Financial Services is a perfect choice.
"I highly recommend McAuley Financial. I have been dealing with Angela for 20+ years. She has always gone over and above any expectations I have needed. Her expertise has helped me immensely with preparing for retirement. She likes to meet once a year in person with my wife and I to discuss our portfolio and any concerns or questions. Angela and her staff are very professional. We have always felt that Angela genuinely cares about our welfare. We highly recommend her and her associates."
4) Ecivda Financial Planning Boutique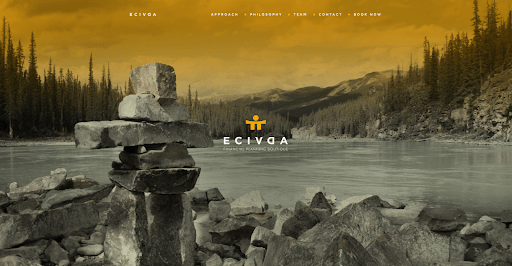 Ecivda Financial Planning Boutique is a fantastic financial planning company that will help you with clarity, competence, and care so you can receive from your finances what you want. They take the time to find out your financial goal and then develop a customized strategy to accomplish it.  Whether you're a business owner or just a family man who is planning his retirement, Ecivda can help!
So if you're looking for a financial planner who will really take the time to understand your needs and develop a plan specifically for you, then Ecivda is the company for you.
"We have been with Shawn and his team for over 8 years. I can honestly say, I have never seen better communication from a service in my life. They always get back to you promptly and work with you and your comfort area with zero pressure. Much appreciated honesty with integrity. Thanks Shawn"
FAQs About Financial Advisors
Ottawa is home to many professionals who know the ins and outs of everything to do with finance. If your savings plans are confusing or managing your assets is overwhelming, don't stress all by yourself, call Ottawa's best financial advisors!
If you're looking for a financial advisor, visit the offices of the best financial advisors in Ottawa!